Cell Wall Epitopes and Endoploidy as Reporters of Embryogenic Potential in
Brachypodium Distachyon

Callus Culture

1

Department of Plant Anatomy and Cytology, Faculty of Biology and Environmental Protection, University of Silesia in Katowice, Katowice 40-007, Poland

2

Department of Genetics, Faculty of Biology and Environmental Protection, University of Silesia in Katowice, Katowice 40-007, Poland

3

Department of Cell Biology, Faculty of Biology and Environmental Protection, University of Silesia in Katowice, Katowice 40-007, Poland

4

National Plant Phenomics Centre, IBERS, Aberystwyth University, Aberystwyth SY23 3EE, UK

*

Author to whom correspondence should be addressed.

Received: 31 October 2018 / Revised: 26 November 2018 / Accepted: 27 November 2018 / Published: 29 November 2018
Abstract
Effective regeneration of callus tissue into embryos and then into whole plants is essential for plant biotechnology. The embryonic potential is often low and can further decrease with time in culture, which limits the utilisation of calli for transformation procedures and in vitro propagation. In this study, we show that the loss of embryogenic potential in callus cultures of
Brachypodium distachyon
is progressive over time. Flow cytometry analyses indicated endoploidy levels increased in 60- and 90-day-old calli with effective loss of the 2C DNA content peak in the latter. Analysis of indolic compounds content revealed a decrease in 60- and 90-day-old calli compared to either freshly isolated explants or 30-day-old calli. Immunohistochemical analysis revealed a decrease in arabinogalactan proteins (AGP) signal with the time of culture, but extensin (EXT) epitopes either increased (JIM12 epitopes) or decreased (JIM11 epitopes). The transcript accumulation levels of
AGPs
and
EXTs
confirmed these results, with most of
AGP
and
EXT
transcripts gradually decreasing. Some chimeric
EXT
transcripts significantly increased on the 30th day of culture, perhaps because of an increased embryogenic potential. Selected somatic embryogenesis-related genes and cyclins demonstrated a gradual decrease of transcript accumulation for
YUCCA (YUC
),
AINTEGUMENTA-LIKE
(
AIL
),
BABY BOOM
(
BBM
), and
CLAVATA
(
CLV3
) genes, as well as for most of the cyclins, starting from the 30th day of culture. Notably,
WUSCHEL
(
WUS
) transcript was detectable only on the 30th and 60th day and was not detectable in the zygotic embryos and in 90-day-old calli.
View Full-Text
►

▼

Figures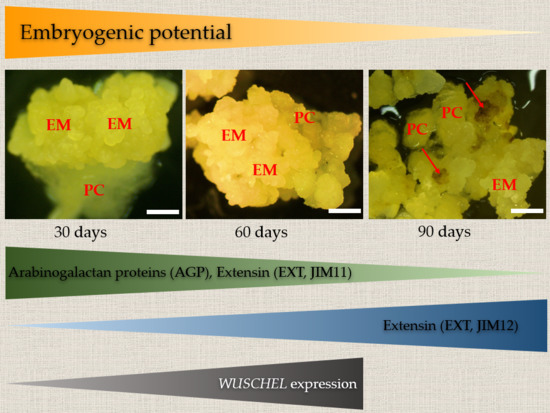 Graphical abstract
This is an open access article distributed under the
Creative Commons Attribution License
which permits unrestricted use, distribution, and reproduction in any medium, provided the original work is properly cited (CC BY 4.0).

Share & Cite This Article
MDPI and ACS Style
Betekhtin, A.; Rojek, M.; Nowak, K.; Pinski, A.; Milewska-Hendel, A.; Kurczynska, E.; Doonan, J.H.; Hasterok, R. Cell Wall Epitopes and Endoploidy as Reporters of Embryogenic Potential in Brachypodium Distachyon Callus Culture. Int. J. Mol. Sci. 2018, 19, 3811.
Note that from the first issue of 2016, MDPI journals use article numbers instead of page numbers. See further details here.
Related Articles
Comments
[Return to top]