Development of Pectin-Type B Gelatin Polyelectrolyte Complex for Curcumin Delivery in Anticancer Therapy
1
Ph. D. Program for Biotech Pharmaceutical Industry, School of Pharmacy, China Medical University, Taichung 404, Taiwan
2
Department of Biotechnology, Southern Taiwan University of Science and Technology, Tainan 710, Taiwan
3
Department of Pathology, National Cheng Kung University Hospital, Tainan 704, Taiwan
4
National Institute of Infectious Diseases and Vaccinology, National Health Research Institutes, Tainan 704, Taiwan
5
School of Pharmacy, China Medical University, Taichung 404, Taiwan
6
Department of Chemical Engineering, University of Washington, Seattle, WA 98195, USA
7
Chinese Medicine Research Center, China Medical University, Taichung 404, Taiwan
8
Research Center for Chinese Herbal Medicine, China Medical University, Taichung 404, Taiwan
†
These authors contributed equally to this manuscript.
*
Author to whom correspondence should be addressed.
Received: 11 November 2018 / Accepted: 14 November 2018 / Published: 17 November 2018
Abstract
Curcumin has been proven to be a potent agent in colon cancer treatment. However, its hydrophobicity and low oral bioavailability hampered its clinical application. These limitations could be improved through appropriate formulations such as using polyelectrolyte complexes (PECs). PECs were self-assembled with polycations and polyanions in polar solvents. In this study, a novel pectin-type B gelatin PEC was developed for use in curcumin formulation. At pH 4.0, natural polyanions pectin and polycations type B gelatin spontaneously formed PECs in ethanol/water solution, whereas under mimetic gastrointestinal tract (GI tract) conditions, at pH 2.0 and 8.0, pectin and type B gelatin were electrically neutralized, and the PECs swelled to allow payload release. After being transferred to pH 7.0 condition, as in the colon environment, PECs were internalized into colon carcinomas. Thus, pectin-type B gelatin PECs were successfully prepared, and their constituent ratio and drug-loading process were also optimized. The optimum particle size of the PECs was 264.0 ± 3.1 nm and they could swell as the zeta potential was altered at either pH 2.0 or 8.0. The optimum drug content and loading efficiency were 40% and 53%, respectively. At pH 2.0, curcumin was rapidly released from curcumin-loaded PECs, whereas at pH 8.0, curcumin-loaded PECs showed a sustained-release of curcumin. The bare PECs showed very low toxicity toward human normal cells, whereas curcumin-loaded PECs, after incubation at pH 2.0 for 2 h and at pH 8.0 for 4 h, induced cell cycle arrest and exhibited cytotoxic effect to HCT116 human colon cancer cells, even though these loaded PECs were pretreated with mimetic GI tract conditions. Our pectin-type B gelatin PECs were shown to be a promising oral formulation for curcumin delivery in anticancer therapy.
View Full-Text
►

▼

Figures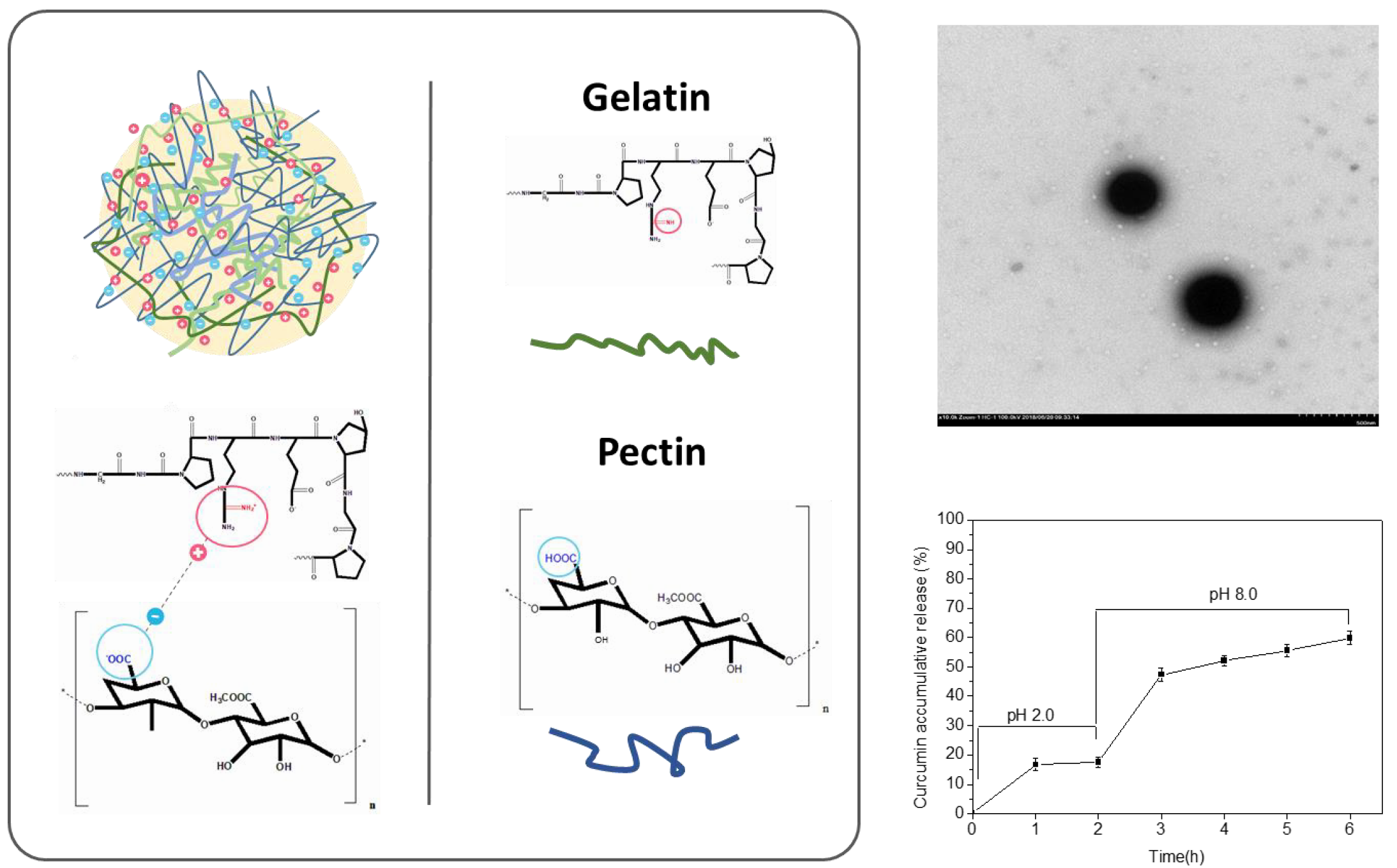 Graphical abstract
This is an open access article distributed under the
Creative Commons Attribution License
which permits unrestricted use, distribution, and reproduction in any medium, provided the original work is properly cited (CC BY 4.0).

Share & Cite This Article
MDPI and ACS Style
Shih, F.-Y.; Su, I.-J.; Chu, L.-L.; Lin, X.; Kuo, S.-C.; Hou, Y.-C.; Chiang, Y.-T. Development of Pectin-Type B Gelatin Polyelectrolyte Complex for Curcumin Delivery in Anticancer Therapy. Int. J. Mol. Sci. 2018, 19, 3625.
Note that from the first issue of 2016, MDPI journals use article numbers instead of page numbers. See further details here.
Related Articles
Comments
[Return to top]