Open Access This article is
freely available
re-usable
Review
Prevention Is the Best Treatment: The Case for Understanding the Transition from Monoclonal Gammopathy of Undetermined Significance to Myeloma
1
Department of Internal Medicine, Hematology, Oncology, and Bone Marrow Transplant Division, University of Iowa, Iowa City, IA 52242, USA
2
Holden Comprehensive Cancer Center, University of Iowa, Iowa City, IA 52242, USA
3
Graduate Program in Molecular Medicine, University of Iowa, Iowa City, IA 52242, USA
4
Department of Health Human Physiology, University of Iowa, Iowa City, IA 52242, USA
5
Stead Family Department of Pediatrics, University of Iowa, Iowa, IA 52242, USA
*
Author to whom correspondence should be addressed.
Received: 28 September 2018 / Accepted: 13 November 2018 / Published: 16 November 2018
Abstract
:
Multiple myeloma is an invariably fatal cancer of plasma cells. Despite tremendous advances in treatment, this malignancy remains incurable in most individuals. We postulate that strategies aimed at prevention have the potential to be more effective in preventing myeloma-related death than additional pharmaceutical strategies aimed at treating advanced disease. Here, we present a rationale for the development of prevention therapy and highlight potential target areas of study.
Keywords:
multiple myeloma; prevention; monoclonal gammopathy of undetermined significance; plasma cell disease; therapy
Multiple Myeloma (MM) is a neoplasm of clonal plasma cells that is characterized by the presence of elevated serum monoclonal protein and end organ damage, collectively known as CRAB features (hyper
C
alcemia,
R
enal insufficiency,
A
nemia, and
B
one lesions) [
1
]. Despite tremendous advances in patient care, MM remains incurable in the majority of patients [
2
]. The five-year overall survival rate is ~50%, with worse prognosis in older adults and some improvements with the use of newer, novel agents (bortezomib, thalidomide, or lenalidomide) [
3
,
4
]. The number of patients with MM is expected to continue increasing because of the increased size of the aging population and overall improvements in medical care that contribute to increased longevity [
5
].
We offer this review because, like prostate and some breast cancers, MM has a requisite pre-malignant stage that may predate the transition to malignancy by many years [
6
]. Recent updates to the diagnostic criteria for MM using sensitive magnetic resonance imaging of small bone lesions has pushed diagnosis earlier in the disease process. Developing treatment and prevention strategies in MM is particularly attractive because MM meets 8 of 10 Wilson and Junger criteria for disease screening and prevention (
Figure 1
). These factors include the long, requisite pre-malignant phase (monoclonal gammopathy of uncertain significance, MGUS), and the significant morbidity and inevitable mortality that accompany a diagnosis of myeloma. Unique to myeloma are the existence of two screening blood tests for MGUS and myeloma that approach 99% sensitivity and specificity, e.g., serum protein electrophoresis and serum-free light chains. There currently are no interventions known to halt the progression of MGUS to MM. In solid tumor cancers, tremendous focus has been placed on preventing the transition from pre-malignancy to malignancy (examples in [
7
,
8
,
9
]). We contend that there are opportunities to apply a similar focus to MM, thereby developing treatments to prevent MM. Indeed, given the resistance of MM to current treatment regimens, the most effective way to cure MM may be to prevent it from developing.
1. Multiple Myeloma Is a Terminal Disease that Proceeds Through a Requisite Pre-Malignant Stage
MM is consistently preceded by a pre-malignant condition termed Monoclonal Gammopathy of Undetermined Significance (MGUS). The pre-malignant condition is termed to be of "undetermined significance" because some, but not all, patients will progress to malignancy. The pre-malignant MGUS is rare in the young (0.34% of 10–49 year olds) [
10
], but more common in those over 50 years old (1–3%) [
11
]. The incidence of MGUS increases with age and is defined by the presence of serum monoclonal protein of <3g/dL or bone marrow plasmacytosis of <10% in the absence of MM-associated end-organ damage or amyloidosis. MGUS has an annual risk of 1% for progression into MM [
12
]. This progression occurs with or without an intermediate stage referred to as smoldering multiple myeloma (SMM).
SMM is a clinically significant stage between MGUS and MM that has a higher rate of progression into MM, at 10% per year. SMM is characterized by a level of serum monoclonal protein that is higher than that of MGUS at >3 g/dL or bone marrow plasmacytosis between 10% and 60% in the absence of end-organ damage or amyloidosis [
13
]. Critical to the transition from SMM to MM is the fact that the transition may not necessarily be associated with an increase in bone marrow plasma cells. Rather, end organ damage is the defining feature of MM (see
Figure 2
). Both MGUS and SMM are frequently asymptomatic conditions and diagnosis is typically made when high monoclonal protein is incidentally discovered on laboratory testing during work up for other disorders. The discovery of MGUS in patients is often not intentional and the initial finding is frequently not made by a hematologist or oncologist.
2. MGUS Itself Is Not a Benign Condition
Although pre-malignant condition has been termed to be of "undetermined significance" in terms of the transition to MM, it does not mean that it is not clinically important. The monoclonal antibody population may have characteristics that lead to deposit in or target host tissues. MGUS associated pathologies include sensorimotor neuropathy [
15
], renal Falconi syndrome [
16
] and glomerulonephritis [
17
,
18
], POEMS [
19
], capillary leak syndrome [
20
], ocular disease [
21
,
22
], and crystal storing histiocytosis [
23
,
24
,
25
], among others. These may be referred to as "monoclonal gammopathy with clinical significance". There may be value in defining intervention strategies to reduce monoclonal antibody populations, beyond preventing the MGUS to MM transition.
3. Factors Associated with the MGUS to MM Transition
Compared with other solid tumor cancers that have been subject to multiple, large screening and prevention trials, there have yet been no efforts to try and prevent the development of multiple myeloma. There are several well-identified anthropometric and cytogenetic risk factors for the development of MM, namely age, sex, body mass index, African ancestry, and high risk chromosomal translocation. These, coupled with the key phenotypic changes that occur in the bone marrow that occur in the MGUS to MM transition provide rationale for potential prevention interventions (see summary in
Figure 3
). We do not presume to offer a comprehensive review of the mechanisms that drive MM, but offer an overview of some topics that may be relevant to prevention researchers.
4. Potential Therapeutic Targets and Strategies in Preventing Myeloma
5. If Treatments Are Improving, Why Study Prevention in Myeloma?
Myeloma treatments developed over the last 10 years are impressively effective and have improved overall survival significantly. But, with rapid therapeutic advances have come extremely high financial costs. Myeloma drugs are a case study in the skyrocketing costs of cancer drugs. In addition to rising drug costs, MM treatment necessitates weeks spent away from home to receive chemotherapy and/or hematopoetic stem cell transplantation, routine clinic visits, and loss of income associated with disability. Even high-income individuals and those with good insurance find years of deductibles, out of pocket drug costs, and co-pays to cause significant "financial toxicity." Even successful myeloma treatment is associated with toxicities and morbidity including bone fractures, neuropathy, and pain. Goodwin, et al. surveyed 1015 MM patients and found that 29% lost medical coverage during the course of their treatment [
130
]. At the time of diagnosis, 66% of patients were employed, compared to only 33% at the time of the survey, including many patients that had not reached retirement age. Participants reported spending 38% of their income on MM-related expenses and one participant reported in a narrative response:
"Medicine was high—Sometimes you have to choose between medicine or food."
An accurate accounting and modeling of myeloma treatment costs is a complicated endeavor because drug treatments alone can be broken down into induction regimens, transplantation, maintenance regimen, and relapse regimens, and other healthcare costs related to supportive care, infusion, inpatient care, and emergency care. Stem cell transplantation is thought to be the most expensive part of the treatment of a myeloma patient, but that is not the case. Most recent published data for the maintenance therapy period indicate costs between
$
22,527 and
$
47,417 per patient per month (data from 2006–2013) [
131
]. Contrary to the notion that drug costs are the major driver of cost, anti-MM pharmacy costs contributed to only a quarter of these total costs. At the University of Iowa Holden Comprehensive Cancer Center, the cost of a transplant is about
$
80,000. We frequently perform tandem transplants, which therefore, therefore cost
$
160,000 (S. Ouverson, personal communication). We give two years of maintenance chemotherapy, and total cost estimates from the most recent fiscal year indicate that patient care in this two-year period averages
$
85,000 per patient per month (G. Tricot, personal communication). If we consider that the most recent costs for lenalidomide, bortezomib, and dexamethasone average
$
18,700 per month [
132
], then our current costs are comparable to data from 2006–2013, with pharmacy costs contributing to 22% of total patient per month cost. Non-transplant care given for five years at an estimated cost of
$
125,000 per patient per month could total
$
7,500,000. Relapse therapy, which has a likelihood of >80% at 10 years, can be more expensive. Daratumumab alone is
$
120,000 per year and the commonly used VRd regimen is
$
220,000 for induction treatment. The anticipated D-KRd regimen under investigation is estimated to cost
$
590,000 [
132
]. New immunotherapy agents such as Chimeric antigen receptor (CAR) T cells and bispecific T cell engagers (BiTE) are still in development but have shown great promise in myeloma and will certainly become part of the treatment armamentarium and costs. If they follow the same path as B-ALL CAR-T, they will likely cost more than
$
300,000 and will be used (at least at first) after the other modalities above have failed.
That prices and design of specific regimens may vary can be debated, but the diagnosis of myeloma in the US inarguably brings staggering financial burden. The reasons why cancer drugs are so expensive, whether high prices are justified or not, and potential ways to address these costs have been discussed elsewhere. With the current rate of innovation, we may optimistically hope myeloma will be cured in the next five years, but even if so, significant financial toxicity will persist, and the development of an inexpensive myeloma prevention strategy will remain. Treatments that prevent the development of MM are likely to ease this burden.
6. Conclusions
In order to move towards clinical trials in myeloma prevention, we need more research on the basic biology underlying the transition from premalignant to malignant myeloma. The goal of this review is not to change current management at this time, but to raise awareness for the concept of disease prevention in multiple myeloma. Our laboratory is interested in the relationship between obesity, sleep apnea, and myeloma pathophysiology and we feel this deserves closer study. Finally, it is important for healthcare providers to comprehensively evaluate the financial costs of current myeloma treatments at their institutions in order to justify the cost of prevention strategies.
Acknowledgments
This work was supported by Grant IRG-15-176-40 from the American Cancer Society (Bates), administered through The Holden Comprehensive Cancer Center at The University of Iowa. The authors are grateful to Guido Tricot and Sheila Ouverson for providing treatment costs data from our institution.
Conflicts of Interest
The authors declare no conflict of interest.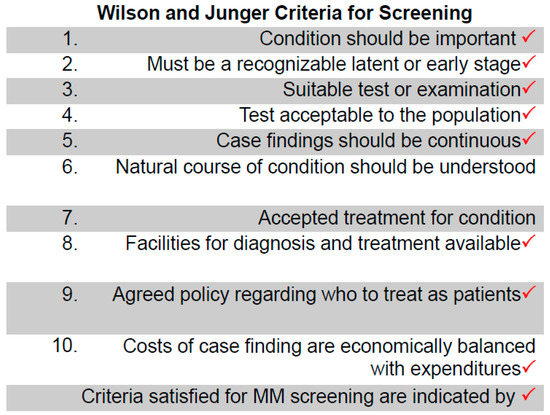 Figure 1. Wilson and Junger criteria for screening. Multiple myeloma meets 8 of 10 criteria necessary for developing a screening and prevention strategy.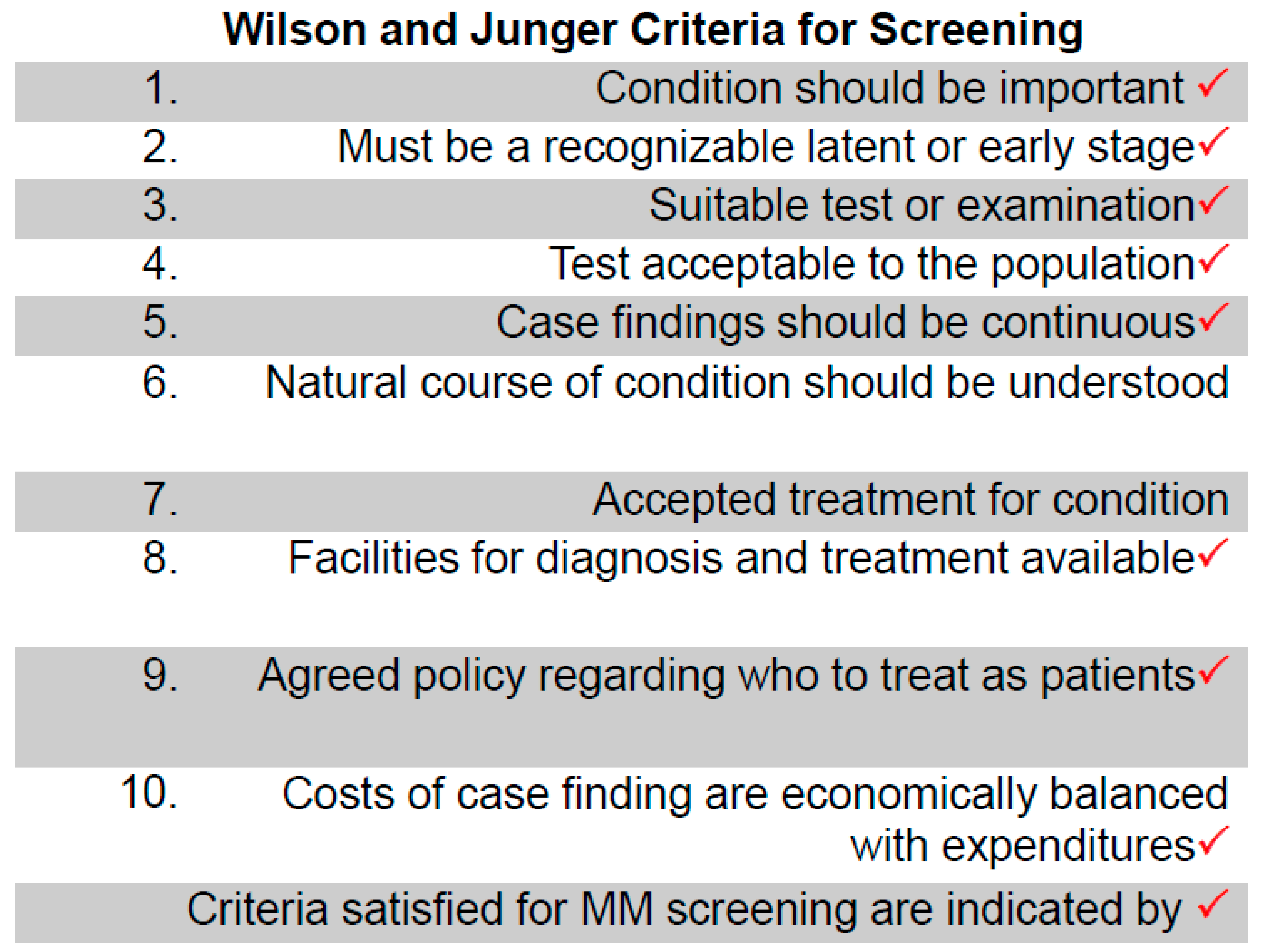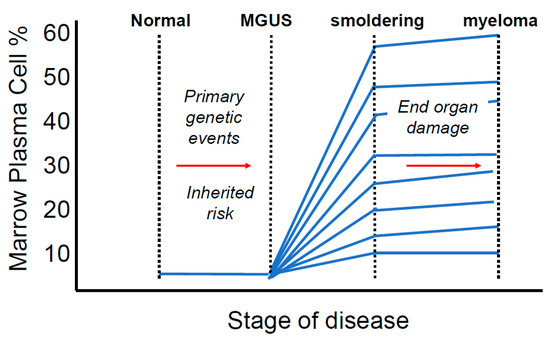 Figure 2.
Overview of the development of multiple myeloma. Myeloma progresses through two pre-malignant stages, monoclonal gammopathy of undetermined significance and smoldering myeloma. Although all cases of MM are preceded by MGUS with or without intervening SMM, not all MGUS or SMM cases progress into MM. Therefore, the standard care for MGUS and SMM is careful observation until the development symptomatic MM [
14
]. Many risk stratification techniques have been suggested to monitor patients with MGUS and SMM and predict those at higher risk of progression for preventive treatment. However, due to the incurable nature of the disease, we and others [
6
] emphasize the importance of identifying and treating patients at high risk of progression into MM before the onset of symptoms and development of end-organ damage.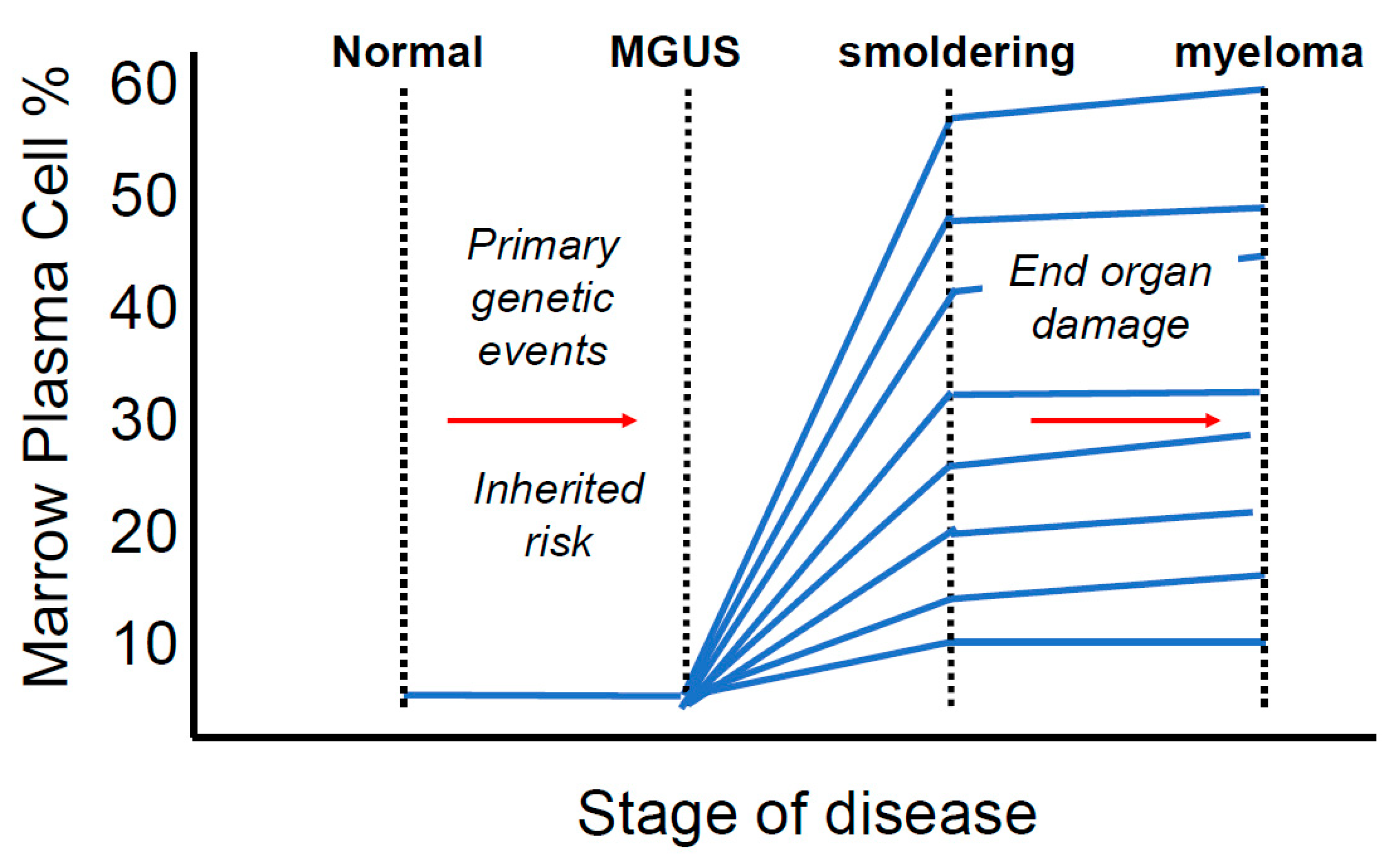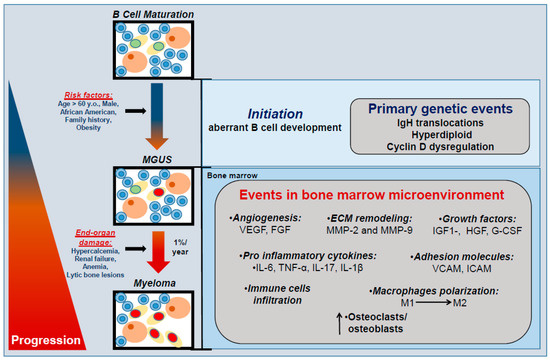 Figure 3. Anthropometric and genetic factors in myeloma initiation and progression. The malignant transformation of a normal B cell to MGUS and then to myeloma is multifactorial. Initiation involves IgH translocations, hyperdiploid, and cyclin D dysregulation. MGUS progression to myeloma is characterized by end-organ damage and remodeling of the bone marrow microenvironment. VEGF, vascular endothelium growth factor; FGF, fibroblast growth factor; MMP-2, matrix metalloproteinase-2; MMP-9, matrix metalloproteinase-9; IGF-1, insulin-like growth factor 1; HGF, hepatocyte growth factor; G-CSF, granulocyte colony stimulating factor; IL-6, interleukin 6; IL-17, interleukin 17; IL-1 β, interleukin 1 β, TNF- α, tumoral necrosis factor-alpha; VCAM, Vascular cell adhesion protein; ICAM, Intercellular adhesion molecule; M1, macrophages M1; M2, macrophages M2.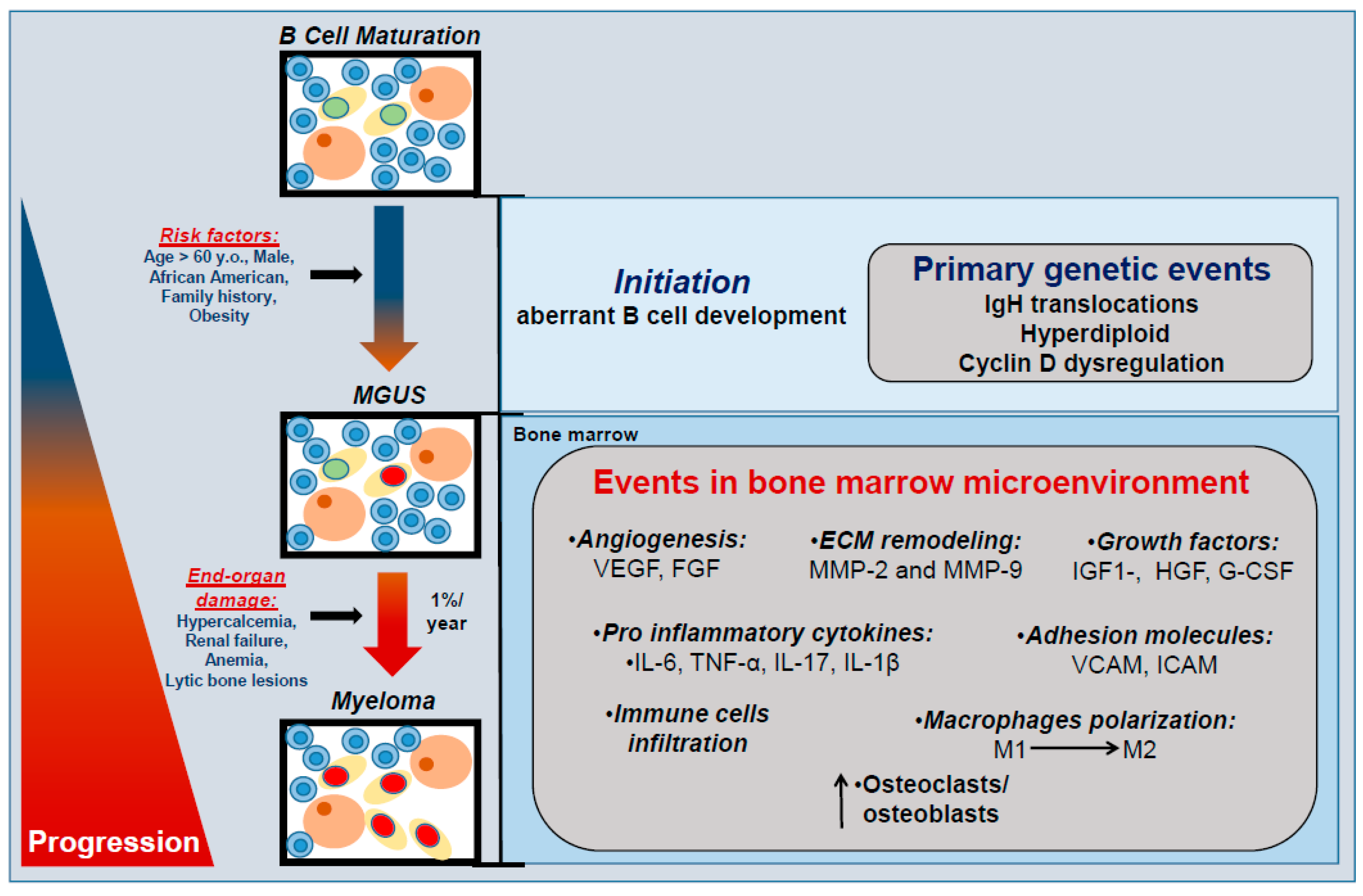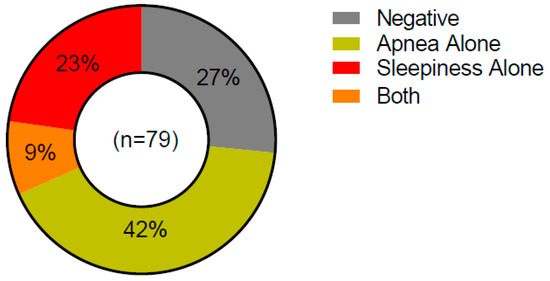 Figure 4. Results of sleep quality questionnaire screening in myeloma patients at the University of Iowa. Patients are identified as at risk of sleep apnea via the Berlin Questionnaire and general sleep disturbance and sleepiness via the Epworth Sleepiness Scale.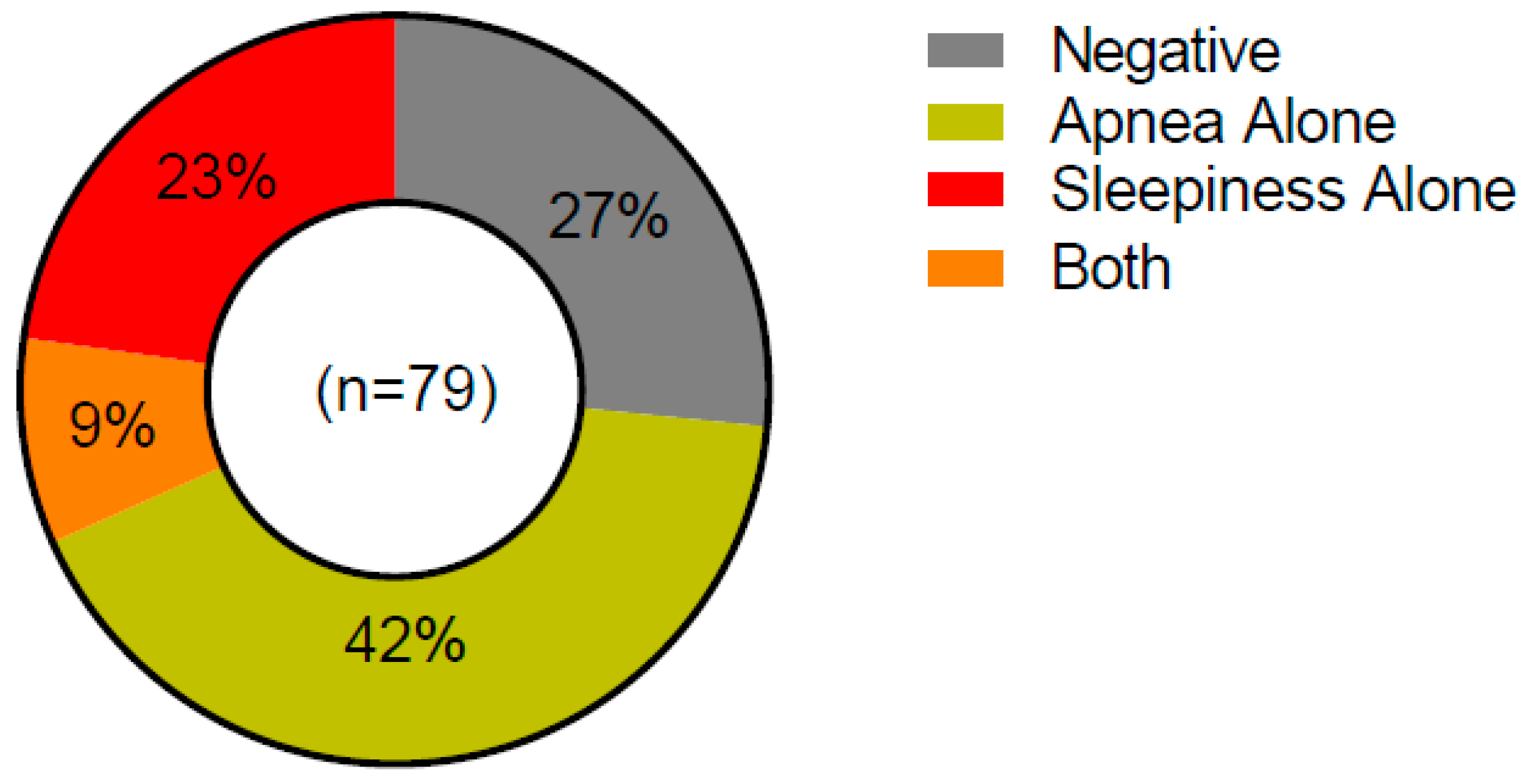 © 2018 by the authors. Licensee MDPI, Basel, Switzerland. This article is an open access article distributed under the terms and conditions of the Creative Commons Attribution (CC BY) license (http://creativecommons.org/licenses/by/4.0/).