Genomic and Transcriptomic Analysis of Hypercholesterolemic Rabbits: Progress and Perspectives
1
Department of Molecular Pathology, Faculty of Medicine, Graduate School of Medical Sciences, University of Yamanashi, Yamanashi 409-3898, Japan
2
Department of Pathology, Xi'an Medical University, Xi'an 710021, China
3
Research Institute of Atherosclerotic Disease and Laboratory Animal Center, School of Medicine, Xi'an Jiaotong University, Xi'an 710061, China
4
Center for Advanced Models for Translational Sciences and Therapeutics, University of Michigan Medical Center, Ann Arbor, MI 48109, USA
5
Institute of Translational Medicine, Medical College, Yangzhou University, Yangzhou 225001, China
6
Jiangsu Key Laboratory of Integrated Traditional Chinese and Western Medicine for Prevention and Treatment of Senile Diseases, Yangzhou University, Yangzhou 225001, China
7
Jiangsu Co-Innovation Center for Prevention and Control of Important Animal Infectious Disease and Zoonoses, Yangzhou 225001, China
*
Authors to whom correspondence should be addressed.
Received: 31 October 2018 / Revised: 4 November 2018 / Accepted: 5 November 2018 / Published: 8 November 2018
Abstract
Rabbits (Oryctolagus cuniculus) are one of the most widely used animal models for the study of human lipid metabolism and atherosclerosis because they are more sensitive to a cholesterol diet than other experimental animals such as rodents. Currently, two hypercholesterolemic rabbit models are frequently used for atherosclerosis studies. One is a cholesterol-fed wild-type rabbit and the other is the Watanabe heritable hyperlipidemic (WHHL) rabbit, which is genetically deficient in low density lipoprotein (LDL) receptor function. Wild-type rabbits can be easily induced to develop severe hypercholesterolemia with a cholesterol-rich diet due to the marked increase in hepatically and intestinally derived remnant lipoproteins, called β-very low density lipoproteins (VLDL), which are rich in cholesteryl esters. WHHL rabbits are characterized by elevated plasma LDL levels on a standard chow diet, which resembles human familial hypercholesterolemia. Therefore, both rabbit models develop aortic and coronary atherosclerosis, but the elevated plasma cholesterol levels are caused by completely different mechanisms. In addition, cholesterol-fed rabbits but not WHHL rabbits exhibit different degrees of hepatosteatosis. Recently, we along with others have shown that there are many differentially expressed genes in the atherosclerotic lesions and livers of cholesterol-fed rabbits that are either significantly up- or down-regulated, compared with those in normal rabbits, including genes involved in the regulation of inflammation and lipid metabolism. Therefore, dietary cholesterol plays an important role not only in hypercholesterolemia and atherosclerosis but also in hepatosteatosis. In this review, we make an overview of the recent progress in genomic and transcriptomic analyses of hypercholesterolemic rabbits. These transcriptomic profiling data should provide novel insight into the relationship between hypercholesterolemia and atherosclerosis or hepatic dysfunction caused by dietary cholesterol.
View Full-Text
►

▼

Figures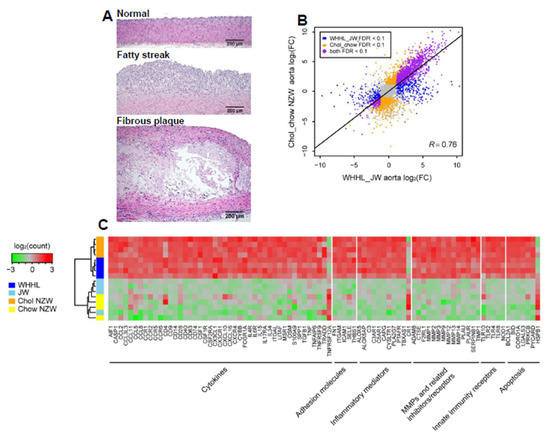 Figure 1
This is an open access article distributed under the
Creative Commons Attribution License
which permits unrestricted use, distribution, and reproduction in any medium, provided the original work is properly cited (CC BY 4.0).

Share & Cite This Article
MDPI and ACS Style
Fan, J.; Chen, Y.; Yan, H.; Liu, B.; Wang, Y.; Zhang, J.; Chen, Y.E.; Liu, E.; Liang, J. Genomic and Transcriptomic Analysis of Hypercholesterolemic Rabbits: Progress and Perspectives. Int. J. Mol. Sci. 2018, 19, 3512.
Note that from the first issue of 2016, MDPI journals use article numbers instead of page numbers. See further details here.
Related Articles
Comments
[Return to top]