Open Access This article is
freely available
re-usable
Review
The Role of PPAR-δ in Metabolism, Inflammation, and Cancer: Many Characters of a Critical Transcription Factor
1
Department of Gastrointestinal Medical Oncology, The University of Texas MD Anderson Cancer Center, 1515 Holcombe Boulevard, Unit 426, Houston, TX 77030-4009, USA
2
Department of Gastroenterology, Hepatology, and Nutrition, The University of Texas MD Anderson Cancer Center, Houston, TX 77030, USA
*
Author to whom correspondence should be addressed.
Received: 2 October 2018 / Accepted: 23 October 2018 / Published: 26 October 2018
Abstract
:
Peroxisome proliferator-activated receptor-delta (PPAR-δ), one of three members of the PPAR group in the nuclear receptor superfamily, is a ligand-activated transcription factor. PPAR-δ regulates important cellular metabolic functions that contribute to maintaining energy balance. PPAR-δ is especially important in regulating fatty acid uptake, transport, and β-oxidation as well as insulin secretion and sensitivity. These salutary PPAR-δ functions in normal cells are thought to protect against metabolic-syndrome-related diseases, such as obesity, dyslipidemia, insulin resistance/type 2 diabetes, hepatosteatosis, and atherosclerosis. Given the high clinical burden these diseases pose, highly selective synthetic activating ligands of PPAR-δ were developed as potential preventive/therapeutic agents. Some of these compounds showed some efficacy in clinical trials focused on metabolic-syndrome-related conditions. However, the clinical development of PPAR-δ agonists was halted because various lines of evidence demonstrated that cancer cells upregulated PPAR-δ expression/activity as a defense mechanism against nutritional deprivation and energy stresses, improving their survival and promoting cancer progression. This review discusses the complex relationship between PPAR-δ in health and disease and highlights our current knowledge regarding the different roles that PPAR-δ plays in metabolism, inflammation, and cancer.
Keywords:
PPAR-δ; β-oxidation metabolism; inflammation; cancer
Author Contributions
Conception and design: Y.L., J.K.C., and I.S. Conceptual feedback and writing of the manuscript: Y.L., J.K.C., X.Z., J.J., D.W., and I.S.
Funding
This work was supported by grants R01CA142969, R01CA195686, and R01CA206539 awarded to I.S. from the National Cancer Institute at the National Institutes of Health, and grant RP140224 from the Cancer Prevention and Research Institute of Texas (to I.S).
Conflicts of Interest
The authors declare no competing interests.
Abbreviations
AKT
Cellular homolog of viral

akt

gene, also known as protein kinase B
AOM
azoxymethane
APC
Adenomatous polyposis coli
BCL-6
B cell lymphoma 6
CAC
colitis-associated cancer
CRC
Colorectal cancer
COX-2
cyclooxygenase-2
CXCL1
Chemokine (C-X-C motif) ligand 1
CXCL2
Chemokine (C-X-C motif) ligand 2
CXCL4
Chemokine (C-X-C motif) ligand 4
DSS
dextran sodium sulfate
EAE
experimental autoimmune encepaholmyelitis
EMT
Epithelial mesenchymal transition
FABP
Fatty acid binding protein
FAT
Fatty acid translocase
FATP
Fatty acid transport protein
IDO-1
indoleamine 2,3-dioxygenase 1
IFN-γ
Interferon-γ
IL-1β
Interleukin-1β
IL-6
Interleukin-6
IL-8
Interleukin-8
MCP
monocyte chemoattractive protein
MDM
monocyte-derived macrophage
MSC
mesenchymal stem cell
MMTV
Mouse mammary tumor virus
NRG1
Neuregulin 1
NF-κB
Nuclear factor kappa-light-chain-enhancer of activated B cells
PGE2
prostaglandin E2
PI3K
phosphatidyl inositol 3 kinase
PPRE
PPAR response element
PUFA
polyunsaturated fatty acid
RXR
retinoid X receptor
STAT1/3
Signal Transducer and Activator of Transcription 1/3
STC1
Stanniocalcin 1
TAM
tumor-associated macrophage
TGF-β1
transforming growth factor-β 1
TNF-α
tumor necrosis factor α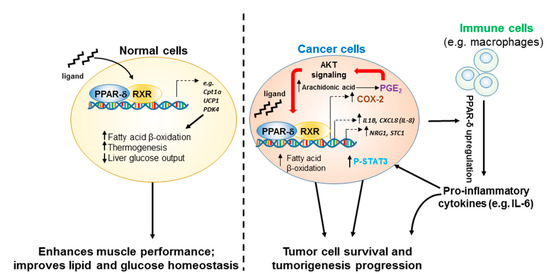 Figure 1. Ligand-dependent actions of PPAR-δ in normal versus cancer cells. Binding of PPAR-δ agonists in normal cells (left) leads to the upregulation of genes associated with a switch to using fatty acids as an energy source (increased β-oxidation). It is also associated with systemic improvements in serum glucose regulation through effects on multiple tissues, including pancreas, adipose, liver, and muscle. In cancer cells (right), this capacity for PPAR-δ to promote use of fatty acid substrates as an energy source can enhance cell survival and proliferation under harsh metabolic conditions frequently found in tumors. In addition, both COX-2 and PI3K/AKT signaling pathways are often upregulated in tumor cells. Interaction of activated PPAR-δ with these key signaling hubs leads to establishment of a feed-forward circuit promoting cancer development and progression through upregulation of additional factors that enhance neoplastic processes in cancer cells themselves as well as noncancer cells (e.g., tumor-associated macrophages) that make up the tumor microenvironment. See text for additional details.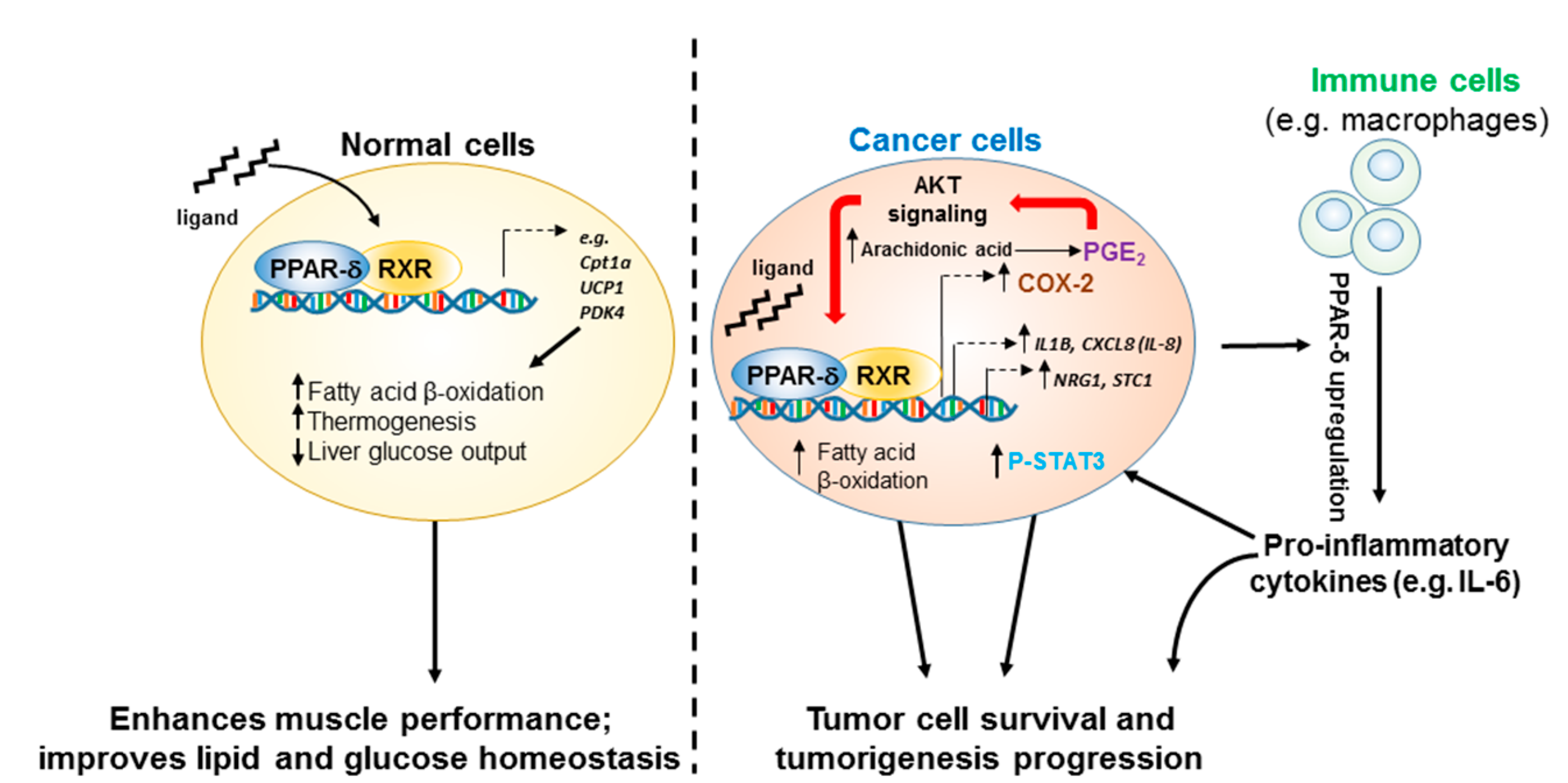 © 2018 by the authors. Licensee MDPI, Basel, Switzerland. This article is an open access article distributed under the terms and conditions of the Creative Commons Attribution (CC BY) license (http://creativecommons.org/licenses/by/4.0/).