Human Mesenchymal Stem Cell Secretome from Bone Marrow or Adipose-Derived Tissue Sources for Treatment of Hypoxia-Induced Pulmonary Epithelial Injury
1
The Discipline of Anesthesia and Lung Biology Group, National University of Ireland Galway, H91 TK33 Galway, Ireland
2
Critical Care Medicine and Intensive Care, University Hospital Galway, H91 YR71 Galway, Ireland
*
Author to whom correspondence should be addressed.
Received: 27 July 2018 / Revised: 20 September 2018 / Accepted: 27 September 2018 / Published: 30 September 2018
Abstract
Alveolar epithelial dysfunction induced by hypoxic stress plays a significant role in the pathological process of lung ischemia-reperfusion injury (IRI). Mesenchymal stem cell (MSC) therapies have demonstrated efficacy in exerting protective immunomodulatory effects, thereby reducing airway inflammation in several pulmonary diseases. Aim: This study assesses the protective effects of MSC secretome from different cell sources, human bone marrow (BMSC) and adipose tissue (ADSC), in attenuating hypoxia-induced cellular stress and inflammation in pulmonary epithelial cells. Methods: Pulmonary epithelial cells, primary rat alveolar epithelial cells (AEC) and A549 cell line were pre-treated with BMSC, or ADSC conditioned medium (CM) and subjected to hypoxia for 24 h. Results: Both MSC-CM improved cell viability, reduced secretion of pro-inflammatory mediators and enhanced IL-10 anti-inflammatory cytokine production in hypoxic injured primary rat AECs. ADSC-CM reduced hypoxic cellular injury by mechanisms which include: inhibition of p38 MAPK phosphorylation and nuclear translocation of subunits in primary AECs. Both MSC-CM enhanced translocation of Bcl-2 to the nucleus, expression of cytoprotective glucose-regulated proteins (GRP) and restored matrix metalloproteinases (MMP) function, thereby promoting repair and cellular homeostasis, whereas inhibition of GRP chaperones was detrimental to cell survival. Conclusions: Elucidation of the protective mechanisms exerted by the MSC secretome is an essential step for maximizing the therapeutic effects, in addition to developing therapeutic targets-specific strategies for various pulmonary syndromes.
View Full-Text
►

▼

Figures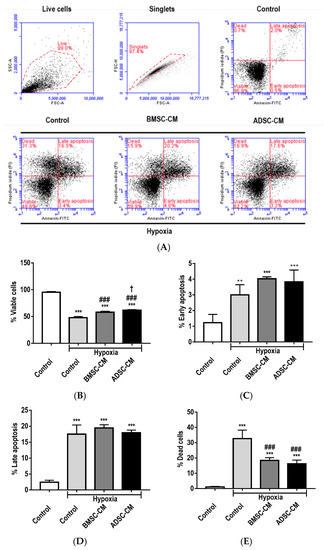 Figure 1
This is an open access article distributed under the
Creative Commons Attribution License
which permits unrestricted use, distribution, and reproduction in any medium, provided the original work is properly cited (CC BY 4.0).

Share & Cite This Article
MDPI and ACS Style
Shologu, N.; Scully, M.; Laffey, J.G.; O'Toole, D. Human Mesenchymal Stem Cell Secretome from Bone Marrow or Adipose-Derived Tissue Sources for Treatment of Hypoxia-Induced Pulmonary Epithelial Injury. Int. J. Mol. Sci. 2018, 19, 2996.
Note that from the first issue of 2016, MDPI journals use article numbers instead of page numbers. See further details here.
Related Articles
Comments
[Return to top]