Correlations between Phytohormones and Drought Tolerance in Selected
Brassica

Crops: Chinese Cabbage, White Cabbage and Kale

1

Laboratory for Chemical Biology, Department of Molecular Biology, Ruđer Bošković Institute, Bijenička cesta 54, Zagreb 10000, Croatia

2

Laboratory of Growth Regulators, Centre of the Region Haná for Biotechnological and Agricultural Research, Faculty of Science of Palacký University & Institute of Experimental Botany of the Czech Academy of Sciences, Šlechtitelů 27, Olomouc 78371, Czech Republic

3

Faculty of Humanities and Social Sciences, and Faculty of Dental Medicine and Health, Josip Juraj Strossmayer University of Osijek, Lorenza Jägera 9, Osijek 31000, Croatia

4

Department of Biology, Faculty of Science, University of Zagreb, Rooseveltov trg 6, Zagreb 10000, Croatia

*

Authors to whom correspondence should be addressed.

Received: 25 July 2018 / Revised: 11 September 2018 / Accepted: 12 September 2018 / Published: 21 September 2018
Abstract
Drought is one of the major abiotic stresses affecting the productivity of
Brassica
crops. To understand the role of phytohormones in drought tolerance, we subjected Chinese cabbage (
B. rapa
ssp.
pekinensis
), white cabbage (
B. oleracea
var.
capitata
), and kale (
B. oleracea
var.
acephala
) to drought and examined the stress response on the physiological, biochemical and hormonal levels. The phytohormones abscisic acid (ABA), auxin indole-3-acetic acid (IAA), brassinosteroids (BRs), cytokinins (CKs), jasmonates (JAs), and salicylic acid (SA) were analyzed by ultra-high-performance liquid chromatography–tandem mass spectrometry (UHPLC-MS/MS). Based on the physiological and biochemical markers the Chinese cabbage exhibited the lowest tolerance, followed by the white cabbage, while the kale appeared to be the most tolerant to drought. The drought tolerance of the kale correlated with increased levels of SA, ABA, IAA, CKs iP(R) and
c
Z(R), and typhasterol (TY), a precursor of active BRs. In contrast, the drought sensitivity of the Chinese cabbage correlated with a significant increase in ABA, JAs and the active BRs castasterol (CS) and brassinolide (BL). The moderately tolerant white cabbage, positioned between the kale and Chinese cabbage, showed more similarity in terms of the phytohormone patterns with the kale. We concluded that the drought tolerance in Brassicaceae is mostly determined by the increased endogenous levels of IAA, CKs, ABA and SA and the decreased levels of active BRs.
View Full-Text
►

▼

Figures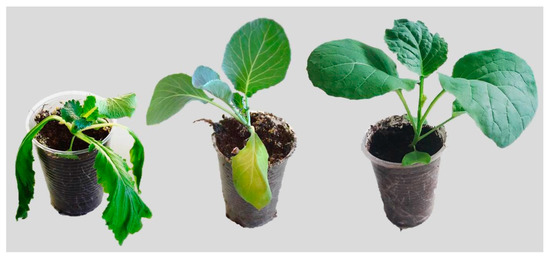 Figure 1
This is an open access article distributed under the
Creative Commons Attribution License
which permits unrestricted use, distribution, and reproduction in any medium, provided the original work is properly cited (CC BY 4.0).

Share & Cite This Article
MDPI and ACS Style
Pavlović, I.; Petřík, I.; Tarkowská, D.; Lepeduš, H.; Vujčić Bok, V.; Radić Brkanac, S.; Novák, O.; Salopek-Sondi, B. Correlations between Phytohormones and Drought Tolerance in Selected Brassica Crops: Chinese Cabbage, White Cabbage and Kale. Int. J. Mol. Sci. 2018, 19, 2866.
Note that from the first issue of 2016, MDPI journals use article numbers instead of page numbers. See further details here.
Related Articles
Comments
[Return to top]