Motor, Somatosensory, Viscerosensory and Metabolic Impairments in a Heterozygous Female Rat Model of Rett Syndrome
1
Department of Molecular and Integrative Physiology, University of Kansas Medical Center, Kansas City, KS 66160, USA
2
Kansas Intellectual and Developmental Disabilities Research Center, University of Kansas Medical Center, Kansas City, KS 66160, USA
3
Department of Anatomy and Cell Biology, University of Kansas Medical Center, Kansas City, KS 66160, USA
*
Author to whom correspondence should be addressed.
Received: 3 October 2017 / Revised: 19 December 2017 / Accepted: 22 December 2017 / Published: 29 December 2017
Abstract
Rett Syndrome (RTT), an autism-related disorder caused by mutation of the X-linked Methyl CpG-binding Protein 2 (
MECP2
) gene, is characterized by severe cognitive and intellectual deficits. While cognitive deficits are well-documented in humans and rodent models, impairments of sensory, motor and metabolic functions also occur but remain poorly understood. To better understand non-cognitive deficits in RTT, we studied female rats heterozygous for
Mecp2
mutation (
Mecp2−/x
); unlike commonly used male
Mecp2−/y
rodent models, this more closely approximates human RTT where males rarely survive.
Mecp2−/x
rats showed rapid, progressive decline of motor coordination through six months of age as assessed by rotarod performance, accompanied by deficits in gait and posture.
Mecp2−/x
rats were hyper-responsive to noxious pressure and cold, but showed visceral hyposensitivity when tested by colorectal distension.
Mecp2−/x
rats ate less, drank more, and had more body fat resulting in increased weight gain. Our findings reveal an array of progressive non-cognitive deficits in this rat model that are likely to contribute to the compromised quality of life that characterizes RTT.
View Full-Text
►

▼

Figures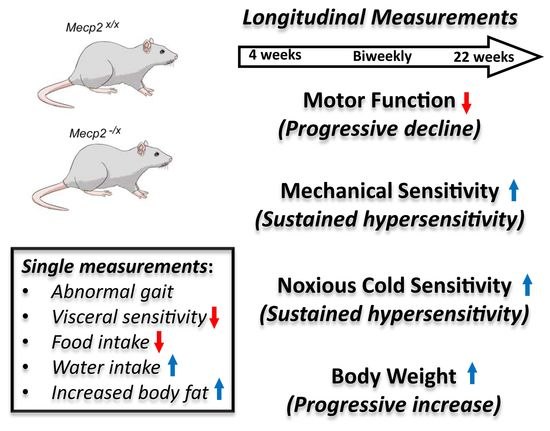 Graphical abstract
This is an open access article distributed under the
Creative Commons Attribution License
which permits unrestricted use, distribution, and reproduction in any medium, provided the original work is properly cited (CC BY 4.0).

Share & Cite This Article
MDPI and ACS Style
Bhattacherjee, A.; Winter, M.K.; Eggimann, L.S.; Mu, Y.; Gunewardena, S.; Liao, Z.; Christianson, J.A.; Smith, P.G. Motor, Somatosensory, Viscerosensory and Metabolic Impairments in a Heterozygous Female Rat Model of Rett Syndrome. Int. J. Mol. Sci. 2018, 19, 97.
Note that from the first issue of 2016, MDPI journals use article numbers instead of page numbers. See further details here.
Related Articles
Comments
[Return to top]