Relationship between Lipid Phenotypes, Overweight, Lipid Lowering Drug Response and
KIF6

and

HMG-CoA

Genotypes in a Subset of the Brisighella Heart Study Population

1

Department of Pharmacy and Biotechnology, via Irnerio 48, University of Bologna, 40126 Bologna, Italy

2

Department of Medical and Surgical, University of Bologna, 40126 Bologna, Italy

3

Department of Public Health, Epidemiological Service, Local Health Authority of Bologna, 40126 Bologna, Italy

4

Department of Biotechnology, Faculty of Biology and Biotechnology, Кazakh National University Named after al-Farabi, 050040 Almaty, Kazakhstan

5

Department for Life Quality Studies, Corso d'Augusto 237, University of Bologna, 47921 Rimini, Italy

*

Author to whom correspondence should be addressed.

†

These authors contributed equally to this work.

‡

These two authors jointly directed this work.

Received: 4 December 2017 / Revised: 19 December 2017 / Accepted: 20 December 2017 / Published: 24 December 2017
Abstract
The existence of genetic traits might explain the susceptibility to develop hypercholesterolemia and the inter-individual differences in statin response. This study was performed to evaluate whether individuals' polymorphisms in
HMG-CoA
and
KIF6
genes are independently associated with hypercholesterolemia, other lipid-associated traits, and statin response in unselected individuals enrolled in the Brisighella heart study (Survey 2012). A total of 1622 individuals, of which 183 under statin medication, were genotyped for a total of five polymorphisms (KIF6 rs20455, rs9471077, rs9462535; HMG-CoA rs3761740, rs3846662). The relationships between the five loci and clinical characteristics were analyzed. The principal basic parameters calculated on 12 h fasting blood included total cholesterol (TC), High Density Lipoprotein Cholesterol (HDL-C), Low-Density Lipoprotein Cholesterol (LDL-C), and triglycerides (TG). Hypercholesterolemia was defined as a TC >200 mg/dL or use of lipid-lowering medication. 965 individuals were characterized by hypercholesterolemia; these subjects were significantly older (
p
< 0.001), with body mass index (BMI) and waist circumference significantly higher (
p
< 0.001) compared to the others.
HMG-CoA
rs3846662 GG genotype was significantly over-represented in the hypercholesterolemic group (
p
= 0.030).
HMG-CoA
rs3846662 genotype was associated with the level of TC and LDL-C. Furthermore, in the same subset of untreated subjects, we observed a significant correlation between the
KIF6
rs20455 and HDL-C.
KIF6
variants were associated with a significantly lower (rs20455) or higher (rs9471077 and rs9462535) risk of obesity, in males only. No association between responsiveness to statins and the polymorphisms under investigation were observed. Our results showed associations between
HMG-CoA
rs3846662 and
KIF6
rs20455 and lipid phenotypes, which may have an influence on dyslipidemia-related events. Moreover, this represents the first study implicating
KIF6
variants with obesity in men, and point to the possible involvement of this genetic locus in the known gender-related differences in coronary artery disease.
View Full-Text
►

▼

Figures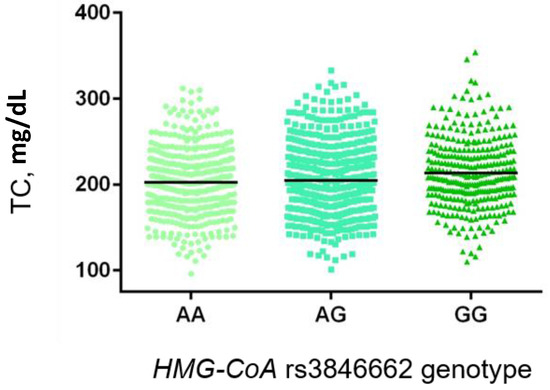 Figure 1
This is an open access article distributed under the
Creative Commons Attribution License
which permits unrestricted use, distribution, and reproduction in any medium, provided the original work is properly cited (CC BY 4.0).

Share & Cite This Article
MDPI and ACS Style
Angelini, S.; Rosticci, M.; Massimo, G.; Musti, M.; Ravegnini, G.; Consolini, N.; Sammarini, G.; D'Addato, S.; Rizzoli, E.; Botbayev, D.; Borghi, C.; Cantelli-Forti, G.; Cicero, A.F.; Hrelia, P. Relationship between Lipid Phenotypes, Overweight, Lipid Lowering Drug Response and KIF6 and HMG-CoA Genotypes in a Subset of the Brisighella Heart Study Population. Int. J. Mol. Sci. 2018, 19, 49.
Note that from the first issue of 2016, MDPI journals use article numbers instead of page numbers. See further details here.
Related Articles
Comments
[Return to top]