Non-Native Conformational Isomers of the Catalytic Domain of PCSK9 Induce an Immune Response, Reduce Lipids and Increase LDL Receptor Levels
1
Research Center for Human Genetics at Brown Foundation Institute of Molecular Medicine, The University of Texas Health Science Center at Houston, 1825 Pressler St., Houston, TX 77030, USA
2
Research Center for Precision Biomedicine at Brown Foundation Institute of Molecular Medicine, The University of Texas Health Science Center at Houston, 1825 Pressler St., Houston, TX 77030, USA
3
Department of Biostatistics, The University of Texas MD Anderson Cancer Center, 1400 Pressler St., Houston, TX 77030, USA
4
Consortium on Aging, The University of Texas Health Science Center at Houston, Houston, TX 77030, USA
5
The University of Texas MD Anderson Cancer Center UTHealth Graduate School of Biomedical Sciences, Houston, TX 77225, USA
*
Author to whom correspondence should be addressed.
†
These authors contributed equally to this work.
Received: 11 January 2018 / Revised: 16 February 2018 / Accepted: 19 February 2018 / Published: 24 February 2018
Abstract
PCSK9 (Proprotein convertase subtilisin/kexin type 9) increases plasma cholesterol levels by promoting LDL receptor degradation. Current antibody inhibitors block the interaction between PCSK9 and LDL receptors, significantly decrease plasma cholesterol levels, and provide beneficial clinical outcomes. To reduce the action of PCSK9 in plasma, a novel strategy that will produce a panel of non-native, conformationally-altered isomers of PCSK9 (X-PCSK9) to develop active immunotherapy targeting of native PCSK9 and inhibiting/blocking the interaction of PCSK9 with LDL receptor, thus decreasing plasma cholesterol levels is proposed. The authors used the scrambled disulfide bond technique to generate conformationally-altered isomers of the catalytic domain of mouse PCSK9. The focus was on the immune response of four X-isomers and their effects on plasma cholesterol and triglyceride levels in both C57BL/6J and Apoe−/− mice. The authors showed that the four immunogens produced significant immunogenicity against native PCSK9 to day 120 after immunization of C57BL/6J and Apoe−/− mice. This resulted in significantly decreased plasma cholesterol levels in C57BL/6J mice, and to a lesser degree in Apoe−/− mice. The X-PCSK9-B1 treated mice had increased LDL receptor mRNA and protein levels at day 120 after treatment. Thus, this study provides a new, potentially promising approach that uses long-term immunotherapy for a treatment of hypercholesterolemia.
View Full-Text
►

▼

Figures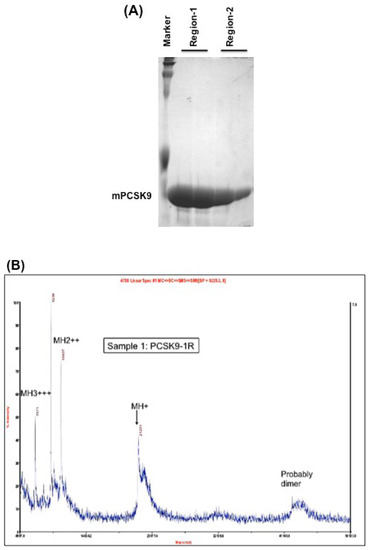 Figure 1
This is an open access article distributed under the
Creative Commons Attribution License
which permits unrestricted use, distribution, and reproduction in any medium, provided the original work is properly cited (CC BY 4.0).

Share & Cite This Article
MDPI and ACS Style
Jiang, C.; Nischal, H.; Sun, H.; Li, L.; Cao, Y.; Wei, P.; Chang, J.-Y.; Teng, B.-B. Non-Native Conformational Isomers of the Catalytic Domain of PCSK9 Induce an Immune Response, Reduce Lipids and Increase LDL Receptor Levels. Int. J. Mol. Sci. 2018, 19, 640.
Note that from the first issue of 2016, MDPI journals use article numbers instead of page numbers. See further details here.
Related Articles
Comments
[Return to top]