Influence of Botanical Origin and Chemical Composition on the Protective Effect against Oxidative Damage and the Capacity to Reduce In Vitro Bacterial Biofilms of Monofloral Honeys from the Andean Region of Ecuador
1
Facultad de Ingeniería y Ciencias Agropecuarias, Universidad de Las Américas, Quito 170125, Ecuador
2
Laboratorios de Investigación, Universidad de Las Américas, Quito 170125, Ecuador
3
Facultad de Ingeniería y Ciencias Agropecuarias, Grupo de Bioquimioinformática, Universidad de Las Américas, Quito 170125, Ecuador
4
Colegio de Administración y Economía, Universidad San Francisco de Quito, Cumbayá, Quito 170157, Ecuador
5
Dipartimento di Scienze Cliniche Specialistiche ed Odontostomatologiche (DISCO)-Sez. Biochimica, Facolta di Medicina, Università Politecnica delle Marche, 60121 Ancona, Italy
6
Escuela de Medicina Veterinaria y Zootecnia, Grupo de Investigación en Biotecnología Aplicada a Biomedicina (BIOMED), Universidad de Las Américas, Quito 170125, Ecuador
*
Authors to whom correspondence should be addressed.
†
These authors contributed equally to this work.
Received: 23 November 2017 / Revised: 8 December 2017 / Accepted: 23 December 2017 / Published: 23 December 2017
Abstract
Three types of monofloral honey from the Andean regions of Ecuador (Avocado, Eucalyptus, and Rapeseed honey) were analyzed to determine their floral origin, physicochemical parameters, chemical composition, antioxidant capacity, and their capacity to reduce in vitro bacterial biofilms. The chemical composition varied considerably depending on floral origin. The highest values of bioactive compounds were found in Avocado honey, classified as dark amber in color, while the lowest values were found in Eucalyptus honey followed by Rapeseed honey, both classified as extra light amber. When compared to Eucalyptus and Rapeseed honey, Avocado honey showed a more effective superoxide scavenging activity, chelating metal ions capacity, and a higher ability to protect human erythrocyte membranes against lipid peroxidation. For antimicrobial activity, the hydrogen peroxide content and the capacity to inhibit the biofilm formation, and to remove preformed biofilm from
Staphylococcus aureus
and
Klebsiella pneumoniae
was determined. Avocado honey showed the highest values of hydrogen peroxide content, as well as the highest capacity to reduce in vitro bacterial biofilms. A correlation between color vs. phenolics content vs. superoxide scavenging activity vs. chelating metal ions capacity, and the capacity to protect human erythrocyte membranes against lipid peroxidation was found.
View Full-Text
►

▼

Figures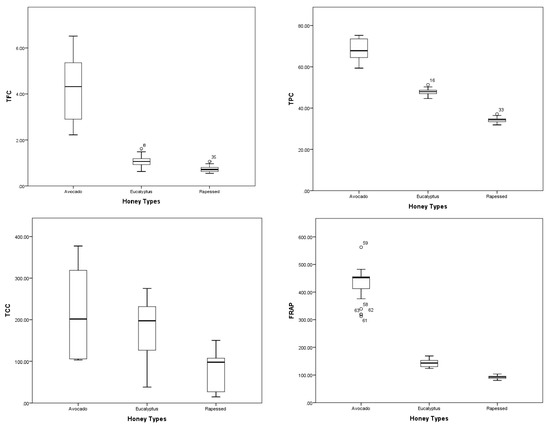 Figure 1
This is an open access article distributed under the
Creative Commons Attribution License
which permits unrestricted use, distribution, and reproduction in any medium, provided the original work is properly cited (CC BY 4.0).

Share & Cite This Article
MDPI and ACS Style
García-Tenesaca, M.; Navarrete, E.S.; Iturralde, G.A.; Villacrés Granda, I.M.; Tejera, E.; Beltrán-Ayala, P.; Giampieri, F.; Battino, M.; Alvarez-Suarez, J.M. Influence of Botanical Origin and Chemical Composition on the Protective Effect against Oxidative Damage and the Capacity to Reduce In Vitro Bacterial Biofilms of Monofloral Honeys from the Andean Region of Ecuador. Int. J. Mol. Sci. 2018, 19, 45.
Note that from the first issue of 2016, MDPI journals use article numbers instead of page numbers. See further details here.
Related Articles
Comments
[Return to top]