Exploring the Mechanisms of Electroacupuncture-Induced Analgesia through RNA Sequencing of the Periaqueductal Gray
1
College of Veterinary Medicine, Huazhong Agricultural University, Wuhan 430070, China
2
College of Physiology and Pharmacology, Auburn University, Auburn, AL 36849, USA
*
Author to whom correspondence should be addressed.
Received: 22 October 2017 / Revised: 15 December 2017 / Accepted: 17 December 2017 / Published: 25 December 2017
Abstract
Electroacupuncture (EA) can relieve various pains. However, its mechanism in terms of the transcriptome is still not well-known. To explore the full profile of EA-induced molecular modification in the central nerve system, three twins of goats were selected for a match-paired experiment: EA stimulation (60 Hz, 30 min) and none-EA (control). Goats in the EA group showed an increased (
p
< 0.05) nociceptive threshold compared with the control goats. Experimental goats were sacrificed at 4 h of the experiment, and the periaqueductal grays were harvested for RNA sequencing. As a result, 2651 differentially expressed genes (1803 up-regulated and 848 down-regulated genes) were found and enriched in 30 Kyoto Encyclopedia of Genes and Genomes pathways and 149 gene ontology terms. EA-regulated five neuropeptide genes (
proenkephalin
,
proopiomelanocortin
,
preprodynorphin
,
diazepam-binding inhibitor
and
proprotein convertase 1 inhibitor
) were validated with quantitative PCR. Furthermore, up-regulated glutamate receptors, glutamate transporters, γ-aminobutyric acid (
GABA
) receptors, GABA transporters, synaptotagmins or mitogen-activated protein kinase (
MAPK
) genes might contribute to EA-induced analgesia through regulating the glutamatergic synapse, GABAergic synapse, MAPKs, ribosome or ubiquitin-proteasome pathways. Our findings reveal a full profile of molecular modification in response to EA and provide a solid experimental framework for exploring the mechanisms underlying EA-induced analgesia.
View Full-Text
►

▼

Figures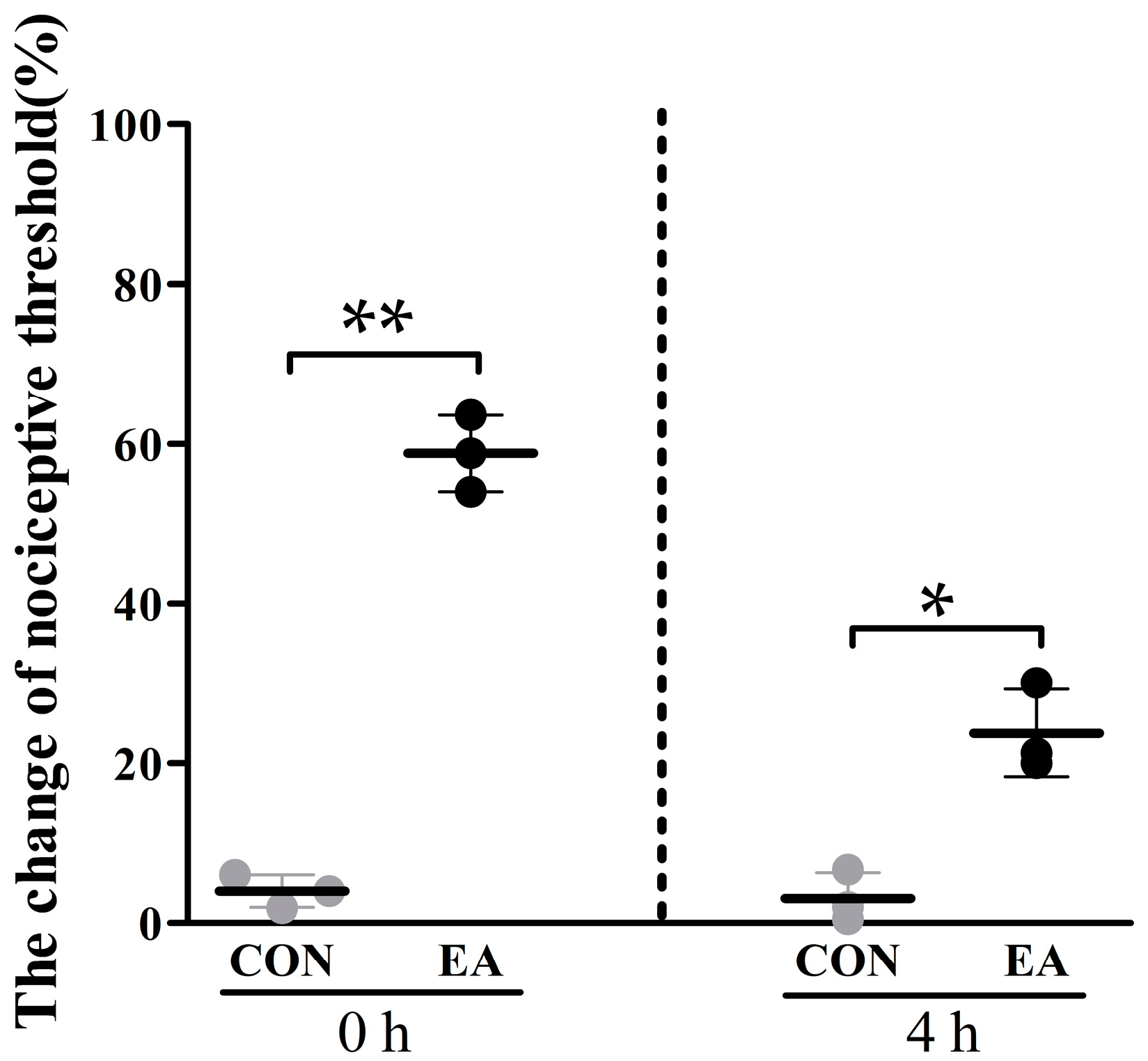 Figure 1
This is an open access article distributed under the
Creative Commons Attribution License
which permits unrestricted use, distribution, and reproduction in any medium, provided the original work is properly cited (CC BY 4.0).

Share & Cite This Article
MDPI and ACS Style
Hu, M.-L.; Zhu, H.-M.; Zhang, Q.-L.; Liu, J.-J.; Ding, Y.; Zhong, J.-M.; Vodyanoy, V.; Ding, M.-X. Exploring the Mechanisms of Electroacupuncture-Induced Analgesia through RNA Sequencing of the Periaqueductal Gray. Int. J. Mol. Sci. 2018, 19, 2.
Note that from the first issue of 2016, MDPI journals use article numbers instead of page numbers. See further details here.
Related Articles
Comments
[Return to top]