Oncomirs Expression Profiling in Uterine Leiomyosarcoma Cells
Laboratório de Ginecologia Estrutural e Molecular (LIM 58), Disciplina de Ginecologia, Departamento de Obstetricia e Ginecologia, Hospital das Clinicas da Faculdade de Medicina da Universidade de Sao Paulo, HCFMUSP, SP, BR Av. Dr Arnaldo 455, sala 4121, 05403-010 Cerqueira Cesar, São Paulo, Brazil
*
Author to whom correspondence should be addressed.
Received: 1 December 2017 / Revised: 16 December 2017 / Accepted: 21 December 2017 / Published: 25 December 2017
Abstract
MicroRNAs (miRNAs) are small non-coding RNAs that act as regulators of gene expression at the post-transcriptional level. They play a key role in several biological processes. Their abnormal expression may lead to malignant cell transformation. This study aimed to evaluate the expression profile of 84 miRNAs involved in tumorigenesis in immortalized cells of myometrium (MM), uterine leiomyoma (ULM), and uterine leiomyosarcoma (ULMS). Specific cell lines were cultured and qRT-PCR was performed. Thirteen miRNAs presented different expression profiles in ULM and the same thirteen in ULMS compared to MM. Eight miRNAs were overexpressed, and five were underexpressed in ULM. In ULMS cells, five miRNAs exhibited an overexpression and eight were down-regulated. Six miRNAs (miR-1-3p, miR-130b-3p, miR-140-5p, miR-202-3p, miR-205-5p, and miR-7-5p) presented a similar expression pattern in cell lines compared to patient samples. Of these, only three miRNAs showed significant expression in ULM (miR-1-3p, miR-140-5p, and miR-7-5p) and ULMS (miR-1-3p, miR-202-3p, and miR-7-5p). Our preliminary approach identified 24 oncomirs with an altered expression profile in ULM and ULMS cells. We identified four differentially expressed miRNAs with the same profile when compared with patients' samples, which strongly interacted with relevant genes, including apoptosis regulator (BCL2), epidermal growth factor receptor (EGFR), vascular endothelial growth factor A (VEGFA), insulin like growth factor 1 receptor (IGF1R),serine/threonine kinase (RAF1), receptor tyrosine kinase (MET), and bHLH transcription factor (MYCN). This led to alterations in their mRNA-target.
View Full-Text
►

▼

Figures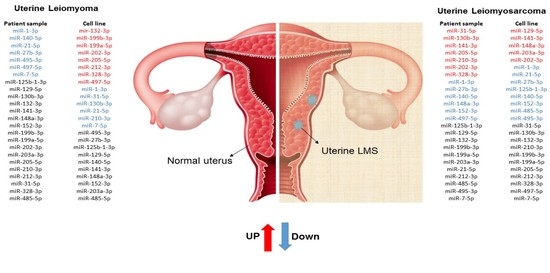 Graphical abstract
This is an open access article distributed under the
Creative Commons Attribution License
which permits unrestricted use, distribution, and reproduction in any medium, provided the original work is properly cited (CC BY 4.0).

Share & Cite This Article
MDPI and ACS Style
De Almeida, B.C.; Garcia, N.; Maffazioli, G.; Gonzalez dos Anjos, L.; Chada Baracat, E.; Candido Carvalho, K. Oncomirs Expression Profiling in Uterine Leiomyosarcoma Cells. Int. J. Mol. Sci. 2018, 19, 52.
Note that from the first issue of 2016, MDPI journals use article numbers instead of page numbers. See further details here.
Related Articles
Comments
[Return to top]