Liver Graft Susceptibility during Static Cold Storage and Dynamic Machine Perfusion: DCD versus Fatty Livers
1
Department of Internal Medicine and Therapeutics, Unit of Cellular and Molecular Pharmacology and Toxicology, University of Pavia, 27100 Pavia, Italy
2
Department of Molecular Science, IRCCS S. Matteo, University of Pavia, 27100 Pavia, Italy
3
Centro Grandi Strumenti, University of Pavia, 27100 Pavia, Italy
4
Institute of Molecular Genetics, Italian National Research Council (CNR), 27100 Pavia, Italy
5
Department of Biology and Biotechnology, University of Pavia, 27100 Pavia, Italy
*
Author to whom correspondence should be addressed.
Received: 27 November 2017 / Revised: 15 December 2017 / Accepted: 26 December 2017 / Published: 31 December 2017
Abstract
We compared static preservation (cold storage, CS, 4 °C) with dynamic preservation (machine perfusion, MP, 20 °C) followed by reperfusion using marginal livers: a model of donation after cardiac death (DCD) livers and two models of fatty livers, the methionine-choline deficient (MCD) diet model, and obese Zucker (fa/fa) rats. CS injury in DCD livers was reversed by an oxygenated washout (OW): hepatic damage, bile flow, and the ATP/ADP ratio in the OW + CS group was comparable with the ratio obtained with MP. Using fatty livers, CS preservation induced a marked release in hepatic and biliary enzymes in obese Zucker rats when compared with the MCD group. The same trend occurred for bile flow. No difference was found when comparing MP in MCD and obese Zucker rats. Fatty acid analysis demonstrated that the total saturated (SFA)/polyunsaturated fatty acid (PUFA) ratio was, respectively, 1.5 and 0.71 in obese Zucker and MCD rats. While preservation damage in DCD livers is associated with the ATP/ADP recovered with OW, injury in fatty livers is linked to fatty acid constituents: livers from obese. Zucker rats, with greater content in saturated FA, might be more prone to CS injury. On the contrary, MCD livers with elevated PUFA content might be less susceptible to hypothermia.
View Full-Text
►

▼

Figures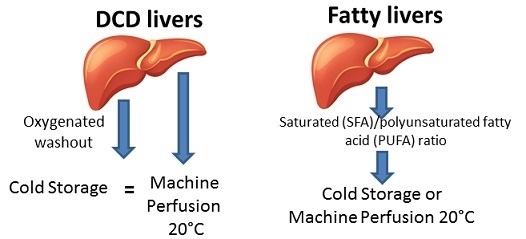 Graphical abstract
This is an open access article distributed under the
Creative Commons Attribution License
which permits unrestricted use, distribution, and reproduction in any medium, provided the original work is properly cited (CC BY 4.0).

Share & Cite This Article
MDPI and ACS Style
Ferrigno, A.; Di Pasqua, L.G.; Berardo, C.; Siciliano, V.; Rizzo, V.; Mannucci, B.; Richelmi, P.; Croce, A.C.; Vairetti, M. Liver Graft Susceptibility during Static Cold Storage and Dynamic Machine Perfusion: DCD versus Fatty Livers. Int. J. Mol. Sci. 2018, 19, 109.
Note that from the first issue of 2016, MDPI journals use article numbers instead of page numbers. See further details here.
Related Articles
Comments
[Return to top]