Open Access This article is
freely available
re-usable
Review
Roles of Long Noncoding RNAs in Recurrence and Metastasis of Radiotherapy-Resistant Cancer Stem Cells
1
Radiation Biology Research Center, Institute for Radiological Research, Chang Gung University/Chang Gung Memorial Hospital, Linkou, Taoyuan 333, Taiwan
2
Kidney Research Center and Department of Nephrology, Chang Gung Immunology Consortium, Chang Gung Memorial Hospital, Chang Gung University College of Medicine, Taoyuan 333, Taiwan
3
Department of Nursing, Chang-Gung University of Science and Technology, Taoyuan 333, Taiwan
4
Department of General Surgery, Chang Gung Memorial Hospital, Chiayi 613, Taiwan
5
Liver Research Center, Chang Gung Memorial Hospital, Linkou, Taoyuan 333, Taiwan
6
Department of Biochemistry, College of Medicine, Chang-Gung University, Taoyuan 333, Taiwan
7
Research Center for Chinese Herbal Medicine, College of Human Ecology, Chang Gung University of Science and Technology, Taoyuan 333, Taiwan
*
Author to whom correspondence should be addressed.
Received: 13 July 2017 / Accepted: 30 August 2017 / Published: 5 September 2017
Abstract
:
Radiotherapy is a well-established therapeutic regimen applied to treat at least half of all cancer patients worldwide. Radioresistance of cancers or failure to treat certain tumor types with radiation is associated with enhanced local invasion, metastasis and poor prognosis. Elucidation of the biological characteristics underlying radioresistance is therefore critical to ensure the development of effective strategies to resolve this issue, which remains an urgent medical problem. Cancer stem cells (CSCs) comprise a small population of tumor cells that constitute the origin of most cancer cell types. CSCs are virtually resistant to radiotherapy, and consequently contribute to recurrence and disease progression. Metastasis is an increasing problem in resistance to cancer radiotherapy and closely associated with the morbidity and mortality rates of several cancer types. Accumulating evidence has demonstrated that radiation induces epithelial–mesenchymal transition (EMT) accompanied by increased cancer recurrence, metastasis and CSC generation. CSCs are believed to serve as the basis of metastasis. Previous studies indicate that CSCs contribute to the generation of metastasis, either in a direct or indirect manner. Moreover, the heterogeneity of CSCs may be responsible for organ specificity and considerable complexity of metastases. Long noncoding RNAs (lncRNAs) are a class of noncoding molecules over 200 nucleotides in length involved in the initiation and progression of several cancer types. Recently, lncRNAs have attracted considerable attention as novel critical regulators of cancer progression and metastasis. In the current review, we have discussed lncRNA-mediated regulation of CSCs following radiotherapy, their association with tumor metastasis and significance in radioresistance of cancer.
Keywords:
radiotherapy; radioresistance; CSCs; EMT; metastasis; LncRNAs
1. Introduction
Radiotherapy has remained one of the mainstay treatments for cancer in the clinic for over 100 years. The principle of the treatment is based on the theory that cancerous regions are more sensitive than normal tissues to radiation because cancer cells have a limited ability to repair damaged DNA and tend to divide more quickly, while the normal tissue parts surrounding tumor lesions can withstand radiotherapy and recover [
1
]. However, the biological complexity and heterogeneity of cancers lead to certain tumor types being more resistant to radiotherapy. Importantly, resistance to treatment often leads to subsequent recurrence and metastasis of cancer in numerous patients [
2
,
3
]. Previous studies have reported that intrinsic cancer stem cells (CSC) representing a small subpopulation of cancer cells existing within heterogeneous tumors are responsible for radioresistance and metastasis in various cancer types [
4
,
5
,
6
]. In contrast, rather than CSCs, the progeny that differentiates from CSCs accounting for substantial tumor regions is hypothesized to be sensitive to radiotherapy, leading to short-term regression of cancer. Failure to treat and prevent cancer is therefore attributable to the fact that radiotherapy is aimed at the tumor bulk but not CSCs [
7
]. Findings to date have implied that radiation can paradoxically enhance tumor recurrence and metastasis [
3
,
8
,
9
].
The process of cancer metastasis is thought to consist of several steps. The initial escape from the primary region requires the epithelial tumor cells to become motile and degrade the underlying basement membrane and extracellular matrix (ECM). Activation of epithelial–mesenchymal transition (EMT) is considered necessary to allow epithelial cancer cells local invasion and dissemination at distant organs [
10
,
11
]. Moreover, radiation induces EMT in several cancer cell types [
12
,
13
]. EMT is closely linked to CSC generation and radioresistance [
2
,
14
,
15
]. As mentioned above, several CSC characteristics are relevant to metastasis, such as motility, invasiveness, and resistance to radiotherapy.
Therefore, regulation of CSCs and therapies that specifically target stem cells are required for prevention of radiation-induced metastasis and developing improved radiotherapeutic strategies. A small fraction of the human genome (~1.5%) codes for proteins [
16
]. The majority of the remaining noncoding regulatory regions transcribed are defined as noncoding RNAs (ncRNA). ncRNAs have been shown to influence a variety of human diseases, including cancers. Long noncoding RNAs (lncRNAs) are a subclass of ncRNAs implicated in the development and progression of cancers [
17
]. Several investigations on large clinical cancer samples have demonstrated that specific lncRNAs, such as HOX transcript antisense RNA (
HOTAIR
) and Growth arrest specific 5 (
GAS5
), can influence the outcomes of radiotherapy and act as valuable prognostic biomarkers [
18
]. Increasing studies have focused on the biological functions and mechanisms of lncRNAs in recurrence or progression following radiotherapy.
While the relationship between lncRNAs and CSCs has gradually become an important topic in cancer research, the specific cellular mechanisms by which these RNAs regulated in the cancer stem cells and subsequently affect recurrence and metastasis of radioresistant cancers remain unclear at present. In the current review, we have summarized recent studies focusing on: (1) the relationship between CSCs and radiotherapy; (2) underlying mechanisms implicated in radiation-induced metastasis, radioresistance and CSC generation; (3) roles of lncRNAs participating in radioresistance and radiotherapy-induced cancer metastasis; and (4) roles of lncRNAs in the progression and metastasis of CSCs. It is speculated that the long noncoding RNAs potentially contribute to radioresistant tumor occurrence and metastasis by affecting the population or behavior of cancer stem cells. Elucidation of the molecular cues underlying the effects of noncoding RNAs on CSCs may thus facilitate the design of effective strategies to improve radiotherapy and prevent cancer metastasis.
2. Cancer Stem Cells and Radiotherapy
Several reports to date have demonstrated that CSCs serve as the crucial contributor to radioresistance and recurrence after radiotherapy in the majority of cancers, including lung cancer, breast cancer and hepatocellular carcinoma (HCC) [
4
,
5
,
6
,
19
]. CSCs are defined as a small population of cancer cells within tumors that exhibit self-renewal capacity. These cells can effectively differentiate into the heterogeneous lineages of tumor cells constituting a specific cancer type [
20
]. At present, it is hypothesized that tumor development is triggered by the capacity of self-renewal and multi-lineage differentiation of CSCs, whereas differentiated offspring of CSCs do not display the ability to self-renew and extensively proliferate, therefore losing tumorigenesis potential [
21
].
CSCs were initially identified in human acute myeloid leukemia (AML) with the capacity to reconstruct the original disease entirely over several transplantations into immunocompromised mice. In this study, self-renewal and differentiation properties were only detected within the immature CD34
+
/CD38
−
population of cells [
22
]. CSCs from solid tumors were identified initially in breast tumors [
23
] and subsequently in a broad spectrum of solid tumors, including colorectal, brain, melanoma, pancreatic, ovarian, lung, prostate and gastric cancers [
24
]. As CSCs display similar characteristics as normal stem cells with self-renewal and differentiation capacities, they have high clonogenic ability and can generate a serially transplantable phenocopy of the primary tumor in immunocompromised or syngenic animals [
20
]. At present, however, no reliable markers that allow precise measurement of CSCs in different tumors are available in the clinic. The most widely used strategy for isolation of CSCs is based on specific sets of surface markers [
20
]. Several specific surface markers of CSCs have been identified in diverse human tumors, including CD133, CD44, CD44
+
/CD24
−
and CD34
+
/CD38
−
[
2
,
24
]. Furthermore, specific membrane transporters and activities or expression patterns of enzymes in CSCs are different from those in non-CSCs. For instance, levels of adenosine triphosphate-binding cassette (ABC) transporters on the cell membrane are increased and consequently facilitate efflux of Hoechst dye in CSCs of several cancer types, including ovarian, lung, glioma and nasopharyngeal carcinoma [
25
,
26
,
27
]. ALDH1 (aldehyde dehydrogenase 1) activity in CSCs is additionally enhanced in several tumor types, such as lung, breast and pancreatic cancers [
28
,
29
,
30
]. Transcription factors, such as NANOG (Nanog homeobox), OCT4 (POU class 5 homeobox 1, POU5F1), SOX2 (SRY-box 2), c-MYC (MYC proto-oncogene, bHLH transcription factor) and KLF4 (Kruppel like factor 4), and signaling pathways, including WNT (Wingless-type MMTV integration site family), Hh (Hedgehog), Notch, TGF-β (Transforming growth factor beta), PDGF (Platelet derived growth factor) and JAK (Janus kinase 1)/STAT (signal transducer and activator of transcription), play crucial roles in maintaining self-renewal capacity in CSCs and therefore present potential targets in the development of therapeutic strategies [
2
,
31
]. In addition to surface markers and functional regulators, CSCs display unique characteristics, including increased levels of anti-apoptotic regulators, enhanced DNA repair efficiency and cellular quiescence [
2
,
31
].
The radioresistant ability of CSC markers/regulator-positive cells has been established [
2
,
4
,
32
,
33
,
34
]. Functional markers/regulators, together with the stem cell characteristics, influence the outcomes of radiotherapy [
31
,
35
,
36
]. Moreover, markers of CSCs may serve as predictors of clinical outcomes in patients receiving radiotherapy. In view of the crucial effects of CSCs on radiotherapy, clarification of the underlying mechanisms that mediate radioresistance is an urgent consideration. Generally, radioresistance of CSCs is associated with increased self-renewal capacity, activation of anti-apoptosis genes, enhanced capacity of DNA repair and reduced DNA damage via inhibition of reactive oxygen species (ROS) [
36
]. Additionally, radiotherapy has been shown to trigger EMT, and, consequently, metastasis and radioresistance of cancer cells [
12
,
13
]. The relationship between radiation and EMT is discussed below.
3. Mechanisms Implicated in Radiation-Induced Metastasis, Radioresistance and CSC Generation
3.1. Radiation Promotes Cancer Metastasis and Radioresistance via Induction of EMT
3.2. Radiation Promotes CSC Generation
Radiation treatment causes enrichment of CSCs both in vitro and in vivo, implying that CSC generation is triggered by radiation. For instance, radiotherapy has been shown to enhance the population of CD44
+
cells that display CSC properties in patients with prostate cancer [
59
]. Another study reported an increase in expression of CSC surface markers in the MDA-MB-231-xenograft model after stimulation with fractionated radiation [
60
]. Enrichment of breast CSCs via radiation is considered the result of different sensitivities of CSC and non-CSC cancer cells to radiotherapy. Notably, earlier studies have demonstrated that radiation promotes reprogramming of differentiated cancer cells into CSCs. Enrichment of breast CSCs after radiation stimulation is implicated in the induction of stem cell-like characteristics in non-stem cancer cells [
61
,
62
]. In these studies, ALDH1
−
breast cancer cells in a single cell suspension were isolated from either human breast specimens or established cell lines and subsequently subjected to various doses of radiation. The number of ALDH1
+
cells was dramatically increased in a dose-dependent manner after five days of radiation treatment. The results clearly indicate that radiotherapy can induce the CSC phenotype in non-stem breast cancer cells. Moreover, radiation-induced CSCs display better capacity of mammosphere formation and tumorigenicity, and express stem cell-related genes similar to breast CSCs isolated from samples without radiation treatment. In addition to breast cancers, radiotherapy could induce a stem cell-like phenotype in non-stem HCC cells [
63
]. Non-CSCs isolated from HepG2 and Huh7 cells display better sphere formation ability and express stem cell-related genes after exposure to radiation [
63
].
Non-stem cancer cells can generate cells with CSC properties via the EMT process [
15
,
64
,
65
]. Additionally, radiation treatment induces cancer cells to undergo EMT, leading to radioresistance [
49
]. For example, after radiotherapy, resistant cells display a complex phenotype involving a combination of the properties of CSCs and EMT with higher expression of Snail, CD44, CD24, and PDGFR-β (platelet derived growth factor receptor β) in non-small cell lung cancer (NSCLC) cells [
6
]. Additionally, the subpopulation of CD133
+
colorectal or CD24
+
ovarian cancer cells exhibits both properties of CSC and EMT, characterized as increased SNAIL, TWIST, and Vimentin along with decreased E-cadherin expression [
66
,
67
]. EMT is reported to induce transcriptional regulators or signaling pathways, such as SNAIL, STAT3, NF-κB, Notch and PI3K/AKT and the MAPK (mitogen-activated protein kinase) cascade, indicative of a critical role in radiation-induced CSC properties [
2
]. The collective findings suggest that radiation promotes the generation of CSCs from non-stem cancer cells and shed light on the novel interactions between cancer cells and radiotherapy, which pave the way for clarifying the precise mechanisms leading to cancer radioresistance.
4. Cellular Functions of LncRNAs in Radioresistance
With the advent of genome sequencing efforts [
68
,
69
], numerous RNA transcripts with similar properties to mRNAs that are not translated into proteins have been identified. These transcripts, collectively defined as long noncoding RNAs (lncRNAs), are generally primary non-protein coding sequences greater than 200 nucleotides in length [
70
]. Although the cellular function of the majority of lncRNAs is still unknown [
70
], a number of reports are suggested to be functional RNA molecules involved in the regulation of diverse biological processes [
70
]. LncRNAs can interact with DNA, RNA or proteins. Recent large-scale sequencing analyses have revealed that many transcripts of lncRNAs may, in fact, be translated into functional peptides [
71
]. Accumulating studies indicate that lncRNAs regulate the transcription of genes related to the DNA damage response via different regulatory modes, including signal, decoy, guide, and scaffold [
72
]. DNA damage response and repair capacity are closely related to sensitivity to radiotherapy. In addition, numerous lncRNAs are aberrantly expressed in cancer cells and have been implicated in development of the radioresistant phenotype of cancer cells. Thus, lncRNAs may present effective target molecules in combination with radiation treatment for cancer. Here, we have systematically reviewed documented literature focusing on the lncRNAs participating in resistance to radiotherapy.
5. Cellular Functions of LncRNAs in CSCs
Targeting of CSCs is considered a promising approach for improving radiotherapeutic outcomes and preventing tumor recurrence and metastasis. Several studies have demonstrated that the dysregulation of lncRNAs in malignant tumors is closely related to the function of CSCs. Investigations linking lncRNAs with CSCs are an increasing focus of cancer therapy. Here, we have reviewed documented studies in the literature regarding lncRNAs participating in CSC regulation.
5.1. LncRNAs Associated with Stemness and Self-Renew of CSCs
5.2. LncRNAs Associated with both EMT and CSCs Generation
Acknowledgments
This work was supported by grants from Chang Gung Memorial Hospital, Taoyuan, Taiwan (CMRPD1D381, CMRPD1D382, CMRPD1D383, CRRPD1F0011, and CRRPD1F0012 to KHL) and from the Ministry of Science and Technology of the Republic of China (MOST 103-2320-B-182-018-MY3, 103-2320-B-182-017-MY3 to KHL; 105-2811-B-182-018, and 105-2321-B-182-002-MY3 to HCC).
Conflicts of Interest
The authors declare no conflict of interest.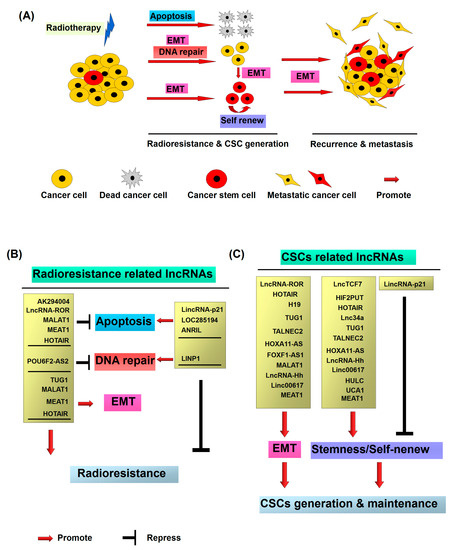 Figure 1. Molecular mechanisms of radiotherapy induced cancer recurrence and metastasis: (A) Cancer stem cells (CSCs) representing a small subpopulation of cancer cells existing within heterogeneous tumors are responsible for radioresistance and metastasis. After the radiation treatment, the majority of cancer cells are killed via the induction of apoptosis or mitotic death. However, a small number of non-CSCs exhibit the radioresistant property and dedifferentiate and transform into CSCs through radiation induced epithelial–mesenchymal transition (EMT). The newly generated CSCs from non-CSCs, together with the intrinsic CSCs, consequently contribute to recurrence and metastasis of cancer; (B) radioresistant CSC associated long noncoding RNAs (lncRNAs); and (C) CSC associated lncRNA.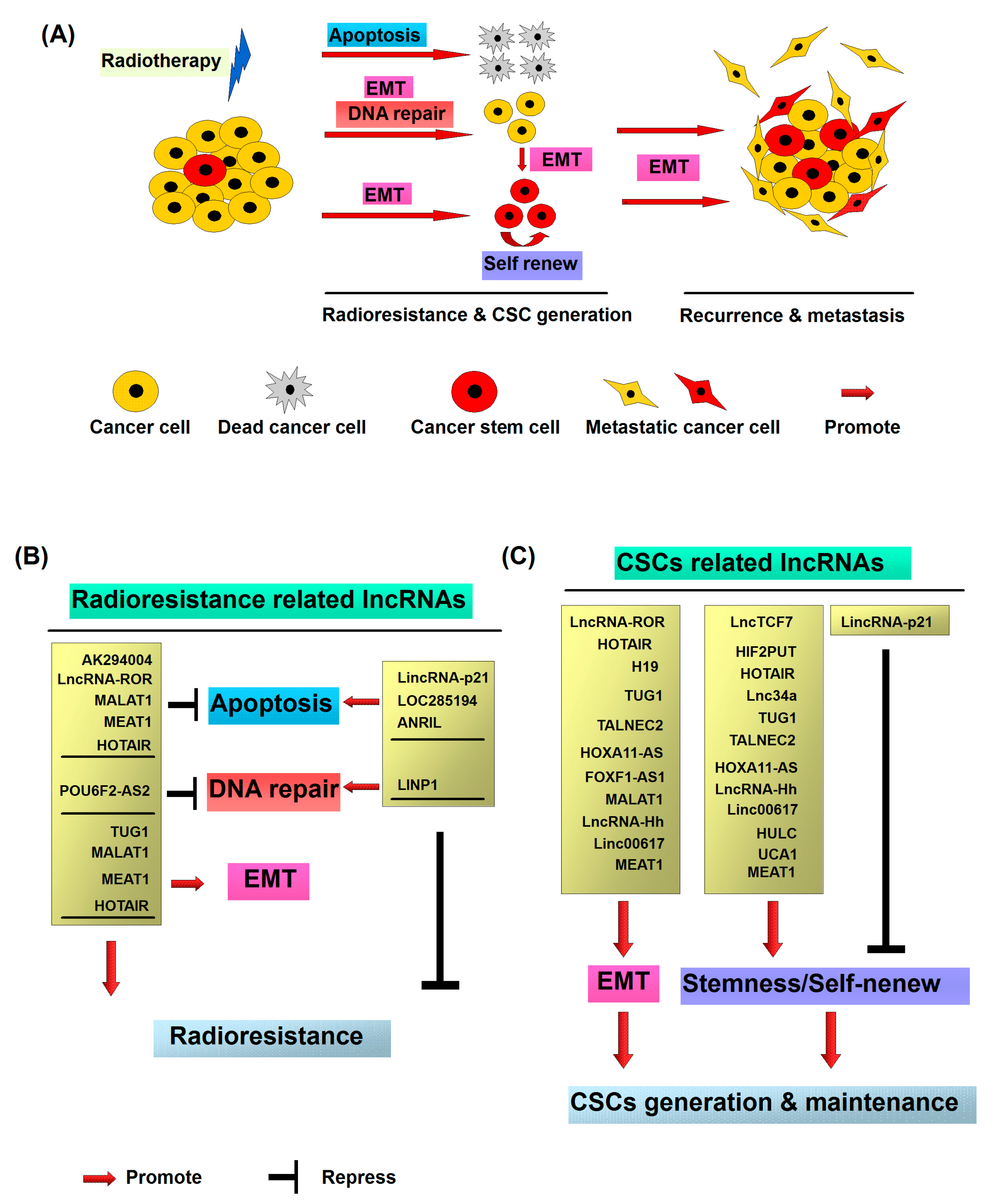 Table 1. Summary of the relevant long noncoding RNAs (lncRNAs) in radioresistance, epithelial–mesenchymal transition (EMT)/metastasis and cancer stem cells (CSCs) generation in cancer.
Gene Name
Physiological Functions
Molecules and Signaling Pathways Involved
Expression Status in Cancers
Prognostic Marker of Cancer
Reference
Radioresistance
EMT and Metastasis
CSCs Generation

LincRNA-p21

●
●
WNT/β-catenin and p21
Down
[73,74,75,76,77,78,79,141]

LOC285194

●
●
VEGF receptor 1 and miR-211
Down
●
[80,81,82]

ANRIL

●
●
miR-125a, Bax, Smac and Bcl-2
Up
●
[83,84,85,86,87,88]

AK294004

●
Cyclin D1
Up
[89,90]

LncRNA-ROR

●
●
●
p53, ZEB2, Oct4, SOX2, Nanog, miR-205 and miR-145
Up
●
[91,92,93,94,95,96,97,176,177]

MALAT1

●
●
●
Slug, SOX2, Cks1, miR-1, miR-145 and miR-200C
Up
●
[98,99,100,101]

NEAT1

●
●
●
miR-204 and ZEB1
Up
●
[104,105,106,107,108,174,175]

LINP1

●
Ku80 and DNA-PKcs
Up
[109,110,111]

POU6F2-AS2

●
YBX1
ND
●
[112,113]

TUG1

●
●
●
miR-145,

BDNF

,

NGF

, and

NTF3

Up
●
[114,115,116,117,118,119,120,155]

HOTAIR

●
●
●
p21, Bcl-2, Bax, WIF-1, HOXD10, Bcl-2, PI3K/AKT-BAD, WNT/β-catenin, CD44, STAT3, ALDH2, ZEB1, Vimentin and SOX2
Up
●
[122,123,124,125,126,127,128,129,130,131,132,148,149,150,151]

PARTICLE

●
MAT2A
ND
[133]

GAS5

●
ND
Up
●
[18,137]
TCONS_00026506
●
ND
ND
[138]
ENST00000468960
●
ND
ND
[138]
NR_038990
●
ND
ND
[138]
n373932
●

SLITRK5

ND
[139]
n409627
●
ND
ND
[139]
n386034
●
ND
ND
[139]
TCONS_00018436
●
ND
Up regulation in recurrent cancers
[140]
lncTCF7
●
●
TCF7
Up
[142,143]

HIF2PUT

●
HIF-2α
Up regulation in cancers
●
[144,145,146,147]

Lnc34a

●
●
miR-34a
Up
[152,153,154]

TALNEC2

●
●
miR-21 and miR-191
Up
●
[158,159,160]

HOXA11-AS

●
●
Nanog, Oct4, Sox2 and β-catenin
Up
●
[161,162]

LncRNA-Hh

●
●
Hh signaling, GAS1, SOX2 and Oct4
ND
[163]

Linc00617

●
●
Nanog, Sox2, and Fgf4
Up
●
[164,165]

HULC

●
TRF2, MALAT-1 and miR-9
Up
●
[166,167,168]

UCA1 (CUDR)

●
●
SET1A, pRB1, HULC, β-catenin, CTCF, C-Myc, cyclinD1, TERT and

H19

Up
●
[169,170,171,172]

H19

●
●
SOX2, Oct4 and Nanog
Up
●
[178,179,180,181,182,183]

FOXF1-AS1

●
●
EZH2
Down
[184]
ND: not determined; ●: determined.

© 2017 by the authors. Licensee MDPI, Basel, Switzerland. This article is an open access article distributed under the terms and conditions of the Creative Commons Attribution (CC BY) license (http://creativecommons.org/licenses/by/4.0/).