Herbal Supplement in a Buffer for Dry Eye Syndrome Treatment
1
Department of Chemical Engineering and Biotechnology, National Taipei University of Technology, Taipei 10608, Taiwan
2
Graduate Institute of Biomedical Materials and Tissue Engineering, College of Biomedical Engineering, Taipei Medical University, Taipei 11031, Taiwan
3
Department of Ophthalmology, Taipei Medical University Hospital, Taipei 11031, Taiwan
4
Department of Ophthalmology, School of Medicine, College of Medicine, Taipei Medical University, Taipei 11031, Taiwan
5
International Ph.D. Program in Biomedical Engineering, College of Biomedical Engineering, Taipei Medical University, Taipei 11031, Taiwan
6
Institute of Biomedical Engineering and Nanomedicine, National Health Research Institutes, Miaoli 35053, Taiwan
7
Institute of Biomedical Engineering, National Taiwan University, Taipei 10051, Taiwan
*
Authors to whom correspondence should be addressed.
Received: 28 May 2017 / Revised: 28 July 2017 / Accepted: 29 July 2017 / Published: 3 August 2017
Abstract
Dry eye syndrome (DES) is one of the most common types of ocular diseases. There is a major need to treat DES in a simple yet efficient way. Artificial tears (AT) are the most commonly used agents for treating DES, but are not very effective. Herbal extractions of ferulic acid (FA), an anti-oxidant agent, and kaempferol (KM), an anti-inflammatory reagent, were added to buffer solution (BS) to replace ATs for DES treatment. The cytotoxicity and anti-inflammatory effects were examined in vitro by co-culture with human corneal epithelial cells (HCECs) to obtain the optimal concentration of KM and FA for treating HCECs. Physical properties of BS, such as pH value, osmolality, and refractive index were also examined. Then, rabbits with DES were used for therapeutic evaluation. Tear production, corneal damage, and ocular irritation in rabbits' eyes were examined. The non-toxic concentrations of KM and FA for HCEC cultivation over 3 days were 1 µM and 100 µM, respectively. Live/dead stain results also show non-toxicity of KM and FA for treating HCECs. Lipopolysaccharide-stimulated HCECs in inflammatory conditions treated with 100 µM FA and 1 µM KM (FA100/KM1) showed lower
IL-1B
,
IL-6
,
IL-8
, and
TNFα
expression when examined by real-time PCR. The BS with FA100/KM1 had neutral pH, and a similar osmolality and refractive index to human tears. Topical delivery of BS + FA100/KM1 showed no irritation to rabbit eyes. The corneal thickness in the BS + FA100/KM1 treated group was comparable to normal eyes. Results of DES rabbits treated with BS + FA100/KM1 showed less corneal epithelial damage and higher tear volume than the normal group. In conclusion, we showed that the combination of FA (100 µM) and KM (1 µM) towards treating inflamed HCECs had an anti-inflammatory effect, and it is effective in treating DES rabbits when BS is added in combination with these two herbal supplements and used as a topical eye drop.
View Full-Text
►

▼

Figures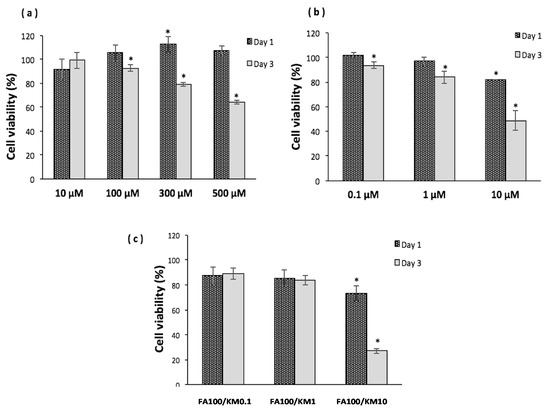 Figure 1
This is an open access article distributed under the
Creative Commons Attribution License
which permits unrestricted use, distribution, and reproduction in any medium, provided the original work is properly cited (CC BY 4.0).

Share & Cite This Article
MDPI and ACS Style
Chen, H.-C.; Chen, Z.-Y.; Wang, T.-J.; Drew, V.J.; Tseng, C.-L.; Fang, H.-W.; Lin, F.-H. Herbal Supplement in a Buffer for Dry Eye Syndrome Treatment. Int. J. Mol. Sci. 2017, 18, 1697.
Note that from the first issue of 2016, MDPI journals use article numbers instead of page numbers. See further details here.
Related Articles
Comments
[Return to top]