Taxifolin Activates the Nrf2 Anti-Oxidative Stress Pathway in Mouse Skin Epidermal JB6 P+ Cells through Epigenetic Modifications
1
Key Laboratory of Chinese Materia Medica, Heilongjiang University of Chinese Medicine, Harbin 150040, China
2
Department of Pharmaceutics, Ernest Mario School of Pharmacy, Rutgers, The State University of New Jersey, Piscataway, NJ 08854, USA
3
College of Pharmacy, Harbin Medical University, Harbin 150086, China
*
Authors to whom correspondence should be addressed.
Received: 26 May 2017 / Revised: 4 July 2017 / Accepted: 7 July 2017 / Published: 17 July 2017
Abstract
Nuclear factor erythroid-2 related factor 2 (Nrf2) is a vital transcription factor that regulates the anti-oxidative defense system. Previous reports suggested that the expression of the
Nrf2
gene can be regulated by epigenetic modifications. The potential epigenetic effect of taxifolin (TAX), a potent cancer chemopreventive agent, in skin cancer chemoprotection is unknown. In this study, we investigated how Nrf2 is epigenetically regulated by TAX in JB6 P+ cells. TAX was found to inhibit the 12-
O
-tetradecanoylphorbol-13-acetate (TPA)-induced colony formation of JB6 P+ cells. TAX induced antioxidant response element (ARE)-luciferase activity in HepG2-C8 cells and up-regulated mRNA and protein levels of Nrf2 and its downstream genes heme oxygenase-1 (HO-1) and NAD(P)H quinone oxidoreductase 1 (NQO1), in JB6 P+ cells. Furthermore, bisulfite genomic sequencing revealed that TAX treatment reduces the methylation level of the first 15 CpGs sites in the Nrf2 promoter. Western blotting showed that TAX inhibits the expression levels of DNA methyltransferase (DNMT) and histone deacetylase (HDAC) proteins. In summary, our results revealed that TAX can induce expression of Nrf2 and its downstream target genes in JB6 P+ cells by CpG demethylation. These finding suggest that TAX may exhibit a skin cancer preventive effect by activating Nrf2 via an epigenetic pathway.
View Full-Text
►

▼

Figures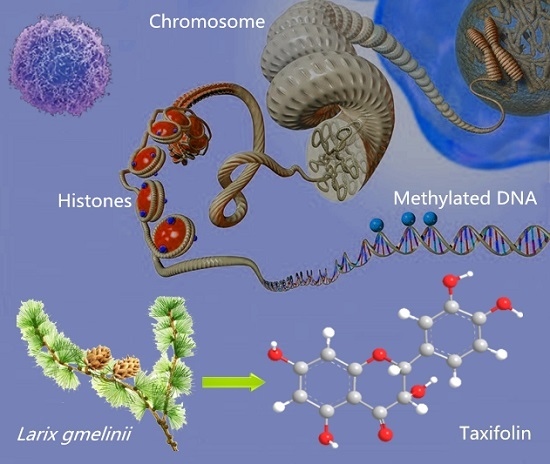 Graphical abstract
This is an open access article distributed under the
Creative Commons Attribution License
which permits unrestricted use, distribution, and reproduction in any medium, provided the original work is properly cited (CC BY 4.0).

Share & Cite This Article
MDPI and ACS Style
Kuang, H.; Tang, Z.; Zhang, C.; Wang, Z.; Li, W.; Yang, C.; Wang, Q.; Yang, B.; Kong, A.-N. Taxifolin Activates the Nrf2 Anti-Oxidative Stress Pathway in Mouse Skin Epidermal JB6 P+ Cells through Epigenetic Modifications. Int. J. Mol. Sci. 2017, 18, 1546.
Note that from the first issue of 2016, MDPI journals use article numbers instead of page numbers. See further details here.
Related Articles
Comments
[Return to top]