Dose-Dependent Responses of I3C and DIM on T-Cell Activation in the Human T Lymphocyte Jurkat Cell Line
1
Department of Biomedicine and Food Science, College of Life Science, Jiangsu Normal University, Xuzhou 221116, Jiangsu Province, China
2
Diet, Genomics and Immunology Lab, Beltsville Human Nutrition Research Center, Agricultural Research Service (ARS), United States Department of Agriculture (USDA), Beltsville, MD 20705, USA
3
Department of Nutrition and Food Science, University of Maryland, College Park, , MD 20742, USA
4
Nutritional Sciences Research Group, Division of Cancer Prevention, National Cancer Institute, NIH, Bethesda, MD 20892, USA
*
Author to whom correspondence should be addressed.
†
These authors contributed equally to this work.
Received: 25 May 2017 / Revised: 27 June 2017 / Accepted: 28 June 2017 / Published: 1 July 2017
Abstract
Indole-3-carbinol (I3C) and its dimer diindolylmethane (DIM) are bioactive metabolites of a glucosinolate, glucobrassicin, found in cruciferous vegetables. Both I3C and DIM have been reported to possess pro-apoptotic, anti-proliferative and anti-carcinogenic properties via modulation of immune pathways. However, results from these studies remain inconclusive since they lack thorough evaluation of these bioactives' physiological versus pharmacological effects. In the present study, we investigated I3C and DIM's dose-dependent effects on cytokines production in human T lymphocytes Jurkat cell line (Clone E6-1). The results showed that I3C and DIM pretreatment, at higher concentrations of 50 and 10 μM, respectively, significantly increased PMA/ionomycin-induced interleukin-2 (IL-2), interleukin-8 (IL-8) and tumor necrosis factor-α (TNF-α) production, measured by real time polymerase chain reaction (RT-PCR) and enzyme linked immunosorbent assay (ELISA). As a plausible mechanism underlying such pronounced cytokine release, we found robust increase in downstream nuclear factor κB (NF-κB) and nuclear factor of activated T-cells 1 (NFAT1) signaling with I3C pretreatment, whereas DIM pretreatment only significantly induced NF-κB activation, but not NFAT1. We hypothesize that I3C/DIM pretreatment primes the T cells to become hyperresponsive upon PMA/ionomycin stimulation which in turn differentially induces two major downstream Ca
2+
-dependent inflammatory pathways, NF-κB and NFAT1. Our data show novel insights into the mechanisms underlying induction of pro-inflammatory cytokine release by pharmacological concentrations of I3C and DIM, an effect negligible under physiological conditions.
View Full-Text
►

▼

Figures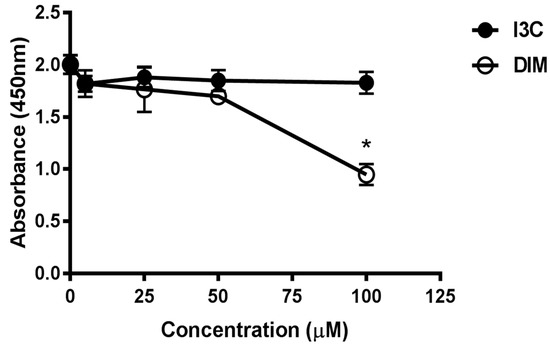 Figure 1
This is an open access article distributed under the
Creative Commons Attribution License
which permits unrestricted use, distribution, and reproduction in any medium, provided the original work is properly cited (CC BY 4.0).

Share & Cite This Article
MDPI and ACS Style
Liu, M.; Yasmeen, R.; Fukagawa, N.K.; Yu, L.; Kim, Y.S.; Wang, T.T.Y. Dose-Dependent Responses of I3C and DIM on T-Cell Activation in the Human T Lymphocyte Jurkat Cell Line. Int. J. Mol. Sci. 2017, 18, 1409.
Note that from the first issue of 2016, MDPI journals use article numbers instead of page numbers. See further details here.
Related Articles
Comments
[Return to top]