A Tox21 Approach to Altered Epigenetic Landscapes: Assessing Epigenetic Toxicity Pathways Leading to Altered Gene Expression and Oncogenic Transformation In Vitro
1
Mechanistic Studies Division, Environmental Health Science and Research Bureau,HealthyEnvironments and Consumer Safety Branch, Health Canada, 50 Columbine Driveway,Tunney's Pasture, Ottawa, ON K1A 0K9, Canada
2
Hazard Identification Division, Environmental Health Science and Research Bureau,HealthyEnvironments and Consumer Safety Branch, Health Canada, 50 Columbine Driveway,Tunney's Pasture, Ottawa, ON K1A 0K9, Canada
*
Author to whom correspondence should be addressed.
Received: 12 January 2017 / Revised: 19 May 2017 / Accepted: 22 May 2017 / Published: 1 June 2017
Abstract
An emerging vision for toxicity testing in the 21st century foresees in vitro assays assuming the leading role in testing for chemical hazards, including testing for carcinogenicity. Toxicity will be determined by monitoring key steps in functionally validated molecular pathways, using tests designed to reveal chemically-induced perturbations that lead to adverse phenotypic endpoints in cultured human cells. Risk assessments would subsequently be derived from the causal in vitro endpoints and concentration vs. effect data extrapolated to human in vivo concentrations. Much direct experimental evidence now shows that disruption of epigenetic processes by chemicals is a carcinogenic mode of action that leads to altered gene functions playing causal roles in cancer initiation and progression. In assessing chemical safety, it would therefore be advantageous to consider an emerging class of carcinogens, the epigenotoxicants, with the ability to change chromatin and/or DNA marks by direct or indirect effects on the activities of enzymes (writers, erasers/editors, remodelers and readers) that convey the epigenetic information. Evidence is reviewed supporting a strategy for in vitro hazard identification of carcinogens that induce toxicity through disturbance of functional epigenetic pathways in human somatic cells, leading to inactivated tumour suppressor genes and carcinogenesis. In the context of human cell transformation models, these in vitro pathway measurements ensure high biological relevance to the apical endpoint of cancer. Four causal mechanisms participating in pathways to persistent epigenetic gene silencing were considered: covalent histone modification, nucleosome remodeling, non-coding RNA interaction and DNA methylation. Within these four interacting mechanisms, 25 epigenetic toxicity pathway components (SET1, MLL1, KDM5, G9A, SUV39H1, SETDB1, EZH2, JMJD3, CBX7, CBX8, BMI, SUZ12, HP1, MPP8, DNMT1, DNMT3A, DNMT3B, TET1, MeCP2, SETDB2, BAZ2A, UHRF1, CTCF, HOTAIR and ANRIL) were found to have experimental evidence showing that functional perturbations played "driver" roles in human cellular transformation. Measurement of epigenotoxicants presents challenges for short-term carcinogenicity testing, especially in the high-throughput modes emphasized in the Tox21 chemicals testing approach. There is need to develop and validate in vitro tests to detect both, locus-specific, and genome-wide, epigenetic alterations with causal links to oncogenic cellular phenotypes. Some recent examples of cell-based high throughput chemical screening assays are presented that have been applied or have shown potential for application to epigenetic endpoints.
View Full-Text
►

▼

Figures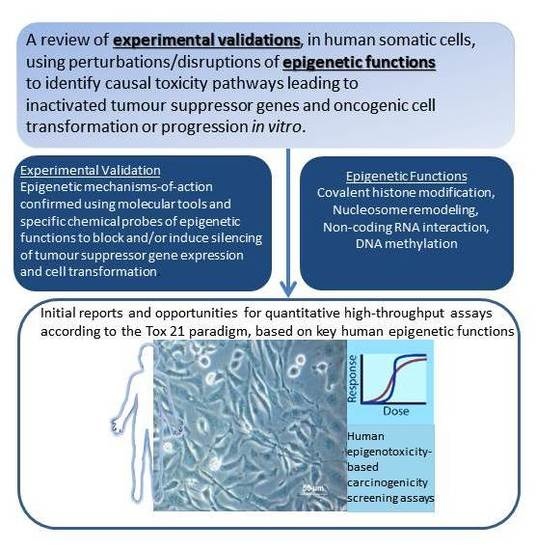 Graphical abstract
This is an open access article distributed under the
Creative Commons Attribution License
which permits unrestricted use, distribution, and reproduction in any medium, provided the original work is properly cited (CC BY 4.0).

Share & Cite This Article
MDPI and ACS Style
Parfett, C.L.; Desaulniers, D. A Tox21 Approach to Altered Epigenetic Landscapes: Assessing Epigenetic Toxicity Pathways Leading to Altered Gene Expression and Oncogenic Transformation In Vitro. Int. J. Mol. Sci. 2017, 18, 1179.
Note that from the first issue of 2016, MDPI journals use article numbers instead of page numbers. See further details here.
Related Articles
Comments
[Return to top]