Differential Sarcomere and Electrophysiological Maturation of Human iPSC-Derived Cardiac Myocytes in Monolayer vs. Aggregation-Based Differentiation Protocols
1
Sorbonne Universités, UPMC Univ Paris 06, AP-HP, INSERM, Pitié-Salpêtrière Hospital, F-75013 Paris, France
2
Institute of Cardiometabolism and Nutrition (ICAN), F-75013 Paris, France
3
Institut du Cerveau et de la Moelle épinière, ICM, CNRS UMR 7225, Inserm U 1127, UPMC-P6 UMR S 1127, Plateforme d'exploration cellulaire, CELIS-Culture Cellulaire, F-75013 Paris, France
4
Sanofi Recherche et Développement, F-91380 Chilly-Mazarin, France
5
Sanofi Recherche et Développement, F-94403 Vitry, France
*
Author to whom correspondence should be addressed.
Academic Editor: Maurizio Muraca
Received: 20 April 2017 / Revised: 24 May 2017 / Accepted: 26 May 2017 / Published: 1 June 2017
Abstract
Human induced pluripotent stem cells (iPSCs) represent a powerful human model to study cardiac disease in vitro, notably channelopathies and sarcomeric cardiomyopathies. Different protocols for cardiac differentiation of iPSCs have been proposed either based on embroid body formation (3D) or, more recently, on monolayer culture (2D). We performed a direct comparison of the characteristics of the derived cardiomyocytes (iPSC-CMs) on day 27 ± 2 of differentiation between 3D and 2D differentiation protocols with two different Wnt-inhibitors were compared: IWR1 (inhibitor of Wnt response) or IWP2 (inhibitor of Wnt production). We firstly found that the level of Troponin T (
TNNT2
) expression measured by FACS was significantly higher for both 2D protocols as compared to the 3D protocol. In the three methods, iPSC-CM show sarcomeric structures. However, iPSC-CM generated in 2D protocols constantly displayed larger sarcomere lengths as compared to the 3D protocol. In addition, mRNA and protein analyses reveal higher cTNi to ssTNi ratios in the 2D protocol using IWP2 as compared to both other protocols, indicating a higher sarcomeric maturation. Differentiation of cardiac myocytes with 2D monolayer-based protocols and the use of IWP2 allows the production of higher yield of cardiac myocytes that have more suitable characteristics to study sarcomeric cardiomyopathies.
View Full-Text
►

▼

Figures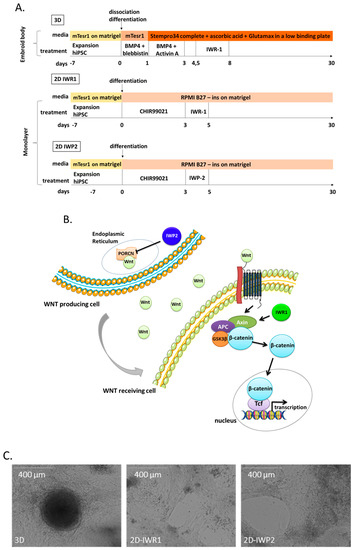 Figure 1
This is an open access article distributed under the
Creative Commons Attribution License
which permits unrestricted use, distribution, and reproduction in any medium, provided the original work is properly cited (CC BY 4.0).

Share & Cite This Article
MDPI and ACS Style
Jeziorowska, D.; Fontaine, V.; Jouve, C.; Villard, E.; Dussaud, S.; Akbar, D.; Letang, V.; Cervello, P.; Itier, J.-M.; Pruniaux, M.-P.; Hulot, J.-S. Differential Sarcomere and Electrophysiological Maturation of Human iPSC-Derived Cardiac Myocytes in Monolayer vs. Aggregation-Based Differentiation Protocols. Int. J. Mol. Sci. 2017, 18, 1173.
Note that from the first issue of 2016, MDPI journals use article numbers instead of page numbers. See further details here.
Related Articles
Comments
[Return to top]