Dietary Intervention by Phytochemicals and Their Role in Modulating Coding and Non-Coding Genes in Cancer
1
Research Center for Functional Genomics, Biomedicine and Translational Medicine, University of Medicine and Pharmacy "Iuliu-Hatieganu", 400012 Cluj-Napoca, Romania
2
MEDFUTURE-Research Center for Advanced Medicine, University of Medicine and Pharmacy "Iuliu-Hatieganu", 400012 Cluj-Napoca, Romania
3
Department of Prosthodontics and Dental Materials, Faculty of Dental Medicine, University of Medicine and Pharmacy "Iuliu Hatieganu", 23 Marinescu Street, 400012 Cluj-Napoca, Romania
4
Surgical Clinic II, 4–6 Clinicilor Street, 400006 Cluj-Napoca, Romania
5
Department of Surgery, University of Medicine and Pharmacy "Iuliu Haţieganu", 8 Victor Babes Street, 400012 Cluj-Napoca, Romania
6
Department of Functional Genomics and Experimental Pathology, Oncological Institute "Prof. Dr. Ion Chiricuţă", 400015 Cluj-Napoca, Romania
*
Author to whom correspondence should be addressed.
Academic Editor: Martin Pichler
Received: 21 April 2017 / Revised: 20 May 2017 / Accepted: 24 May 2017 / Published: 1 June 2017
Abstract
Phytochemicals are natural compounds synthesized as secondary metabolites in plants, representing an important source of molecules with a wide range of therapeutic applications. These natural agents are important regulators of key pathological processes/conditions, including cancer, as they are able to modulate the expression of coding and non-coding transcripts with an oncogenic or tumour suppressor role. These natural agents are currently exploited for the development of therapeutic strategies alone or in tandem with conventional treatments for cancer. The aim of this paper is to review the recent studies regarding the role of these natural phytochemicals in different processes related to cancer inhibition, including apoptosis activation, angiogenesis and metastasis suppression. From the large palette of phytochemicals we selected epigallocatechin gallate (EGCG), caffeic acid phenethyl ester (CAPE), genistein, morin and kaempferol, due to their increased activity in modulating multiple coding and non-coding genes, targeting the main hallmarks of cancer.
View Full-Text
►

▼

Figures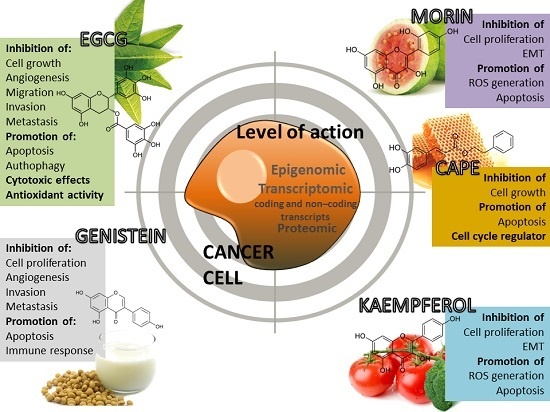 Graphical abstract
This is an open access article distributed under the
Creative Commons Attribution License
which permits unrestricted use, distribution, and reproduction in any medium, provided the original work is properly cited (CC BY 4.0).

Share & Cite This Article
MDPI and ACS Style
Budisan, L.; Gulei, D.; Zanoaga, O.M.; Irimie, A.I.; Chira, S.; Braicu, C.; Gherman, C.D.; Berindan-Neagoe, I. Dietary Intervention by Phytochemicals and Their Role in Modulating Coding and Non-Coding Genes in Cancer. Int. J. Mol. Sci. 2017, 18, 1178.
Note that from the first issue of 2016, MDPI journals use article numbers instead of page numbers. See further details here.
Related Articles
Comments
[Return to top]