Open Access This article is
freely available
re-usable
Article
The Lys-Asp-Tyr Triad within the Mite Allergen Der p 1 Propeptide Is a Critical Structural Element for the pH-Dependent Initiation of the Protease Maturation
1
Macromolécules Biologiques, Centre for Protein Engineering, University of Liège, B-4000 Liège, Belgium
2
Department of Infection and Immunity, Luxembourg Institute of Health (LIH), L-4354 Esch-sur-Alzette, Luxembourg
3
NMR and Structure Analysis Unit, Department of Organic Chemistry, Ghent University, B-9000 Ghent, Belgium
4
Laboratoire d'Enzymologie, Centre for Protein Engineering, University of Liège, B-4000 Liège, Belgium
5
Department of Medicine, Faculty of Medicine, Chulalongkorn University, Bangkok 10330, Thailand
*
Author to whom correspondence should be addressed.
Academic Editors: Fatima Ferreira and Terrence Piva
Received: 8 February 2017 / Accepted: 12 May 2017 / Published: 20 May 2017
Abstract
:
The major house dust mite allergen, Der p 1, is a papain-like cysteine protease expressed as an inactive precursor, proDer p 1, carrying an N-terminal propeptide with a unique structure. The maturation of the zymogen into an enzymatically-active form of Der p 1 is a multistep autocatalytic process initiated under acidic conditions through conformational changes of the propeptide, leading to the loss of its inhibitory ability and its subsequent gradual cleavage. The aims of this study were to characterize the residues present in the Der p 1 propeptide involved in the initiation of the zymogen maturation process, but also to assess the impact of acidic pH on the propeptide structure, the activity of Der p 1 and the fate of the propeptide. Using various complementary enzymatic and structural approaches, we demonstrated that a structural triad K17p-D51p-Y19p within the N-terminal domain of the propeptide is essential for its stabilization and the sensing of pH changes. Particularly, the protonation of D51p under acidic conditions unfolds the propeptide through disruption of the K17p-D51p salt bridge, reduces its inhibition capacity and unmasks the buried residues K17p and Y19p constituting the first maturation cleavage site of the zymogen. Our results also evidenced that this triad acts in a cooperative manner with other propeptide pH-responsive elements, including residues E56p and E80p, to promote the propeptide unfolding and/or to facilitate its proteolysis. Furthermore, we showed that acidic conditions modify Der p 1 proteolytic specificity and confirmed that the formation of the first intermediate represents the limiting step of the in vitro Der p 1 maturation process. Altogether, our results provide new insights into the early events of the mechanism of proDer p 1 maturation and identify a unique structural triad acting as a stabilizing and a pH-sensing regulatory element.
Keywords:
cysteine protease; Der p 1; pH sensor; pH unfolding; propeptide; maturation
Acknowledgments
This work was supported by the Belgian "Fonds de la Recherche Scientifique" (FRS-FNRS), the "Fonds de la Recherche and Fondamentale et Collective" (2.4.524.03, 2.4.511.06), IUAP P6/19, the Ministry of Research of Luxembourg, Luxembourg Institute of Health Grants 20160116 and 20170113 and the "Fonds National de la Recherche" (FNR) Luxembourg, Grants AFR-3004509. Vincenzo Campizi was Fonds pour la formation a la Recherche dans l'Industrie et dans l'Agriculture (FRIA) fellow (FRS-FNRS, Belgium). The authors thank GlaxoSmithKline Belgium for access to the proDer p 1 DNA sequence. Alain Jacquet is supported by National Research University Project, Office of Higher Education Commission (NRU59-003-HR), as well as by Chulalongkorn Academic Advancement Second Century Project (CUAASC).
Author Contributions
Andy Chevigné, Moreno Galleni, Alain Jacquet, André Matagne, José C. Martins and Marie-Eve Dumez conceived of and designed the experiments; Vincenzo Campizi, Andy Chevigné and David Bourry performed the experiments. Andy Chevigné, André Matagne, José C. Martins, Alain Jacquet and Marie-Eve Dumez analyzed the data. Andy Chevigné, Martyna Szpakowska and Alain Jacquet wrote the manuscript.
Conflicts of Interest
The authors declare no conflict of interest.

Figure 1.
Structural comparison between the propeptides of Der p 1 and caricain. The propeptides of Der p 1 (PDB 1XKG) [
22
] and caricain (PDB 1PCI), a typical family L propeptide, are colored green and grey, respectively. (
A
,
B
) The overlay of the N-terminal domain shows that the Lys-Asp-Tyr (K-D-Y) triad located in the coil between α-helices 1 and 2 is conserved in both propeptides (
A
), whereas the triad composed of the Glu-Arg-Glu residues (E38pR44pFNIN motif) is not present in the propeptide Der p 1 and is replaced by a Glu-Asn (E56p-N31p) interaction (
B
); (
C
) Representation of the interactions within the Lys-Asp-Tyr triad of the Der p 1 propeptide illustrated by the electron density map.


Figure 2.
Schematic representation of Der p 1 zymogen and location of the cleavage sites identified during autocatalytic processing of proDer p 1. (
A
) Overall structure of the proDer p 1 zymogen (PDB 1XKG) [
22
]. The propeptide is colored green, whereas the structure of the mature protease is shown in grey; (
B
) Sequence of the Der p 1 propeptide. Helices 1, 2, 3 and 4 are represented by green boxes. The propeptide residue numbers are indicated with the letter p. Arrows 1, 2, 3 and 4 indicate the positions of the different cleavage sites generating the ATFE-, SNGG-, AETN- or TNAC-forms, respectively (underlined sequences). The residues involved in the K17p-D51p-Y19p triad are colored red. The
N
-glycosylation site corresponding to the N16p-K17p-S18p sequence located just upstream of the cleavage site generating the first intermediate (ATFE-) is colored blue and indicated by a star.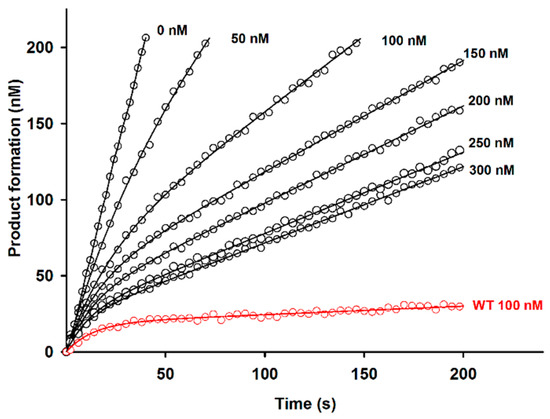 Figure 3.
D51pA propeptides inhibitory capacity. Time-dependent inhibition of Der p 1 (5 nM) by D51pA propeptide (0–300 nM) and comparison to WT propeptide at 100 nM (red). The corresponding dissociation constant and individual association and dissociation rate constants are detailed in
Table 1
. The protease activity was measured at the steady-state using Boc-Gln-Ala-Arg-AMC as a substrate. The data shown are representative of three independent experiments.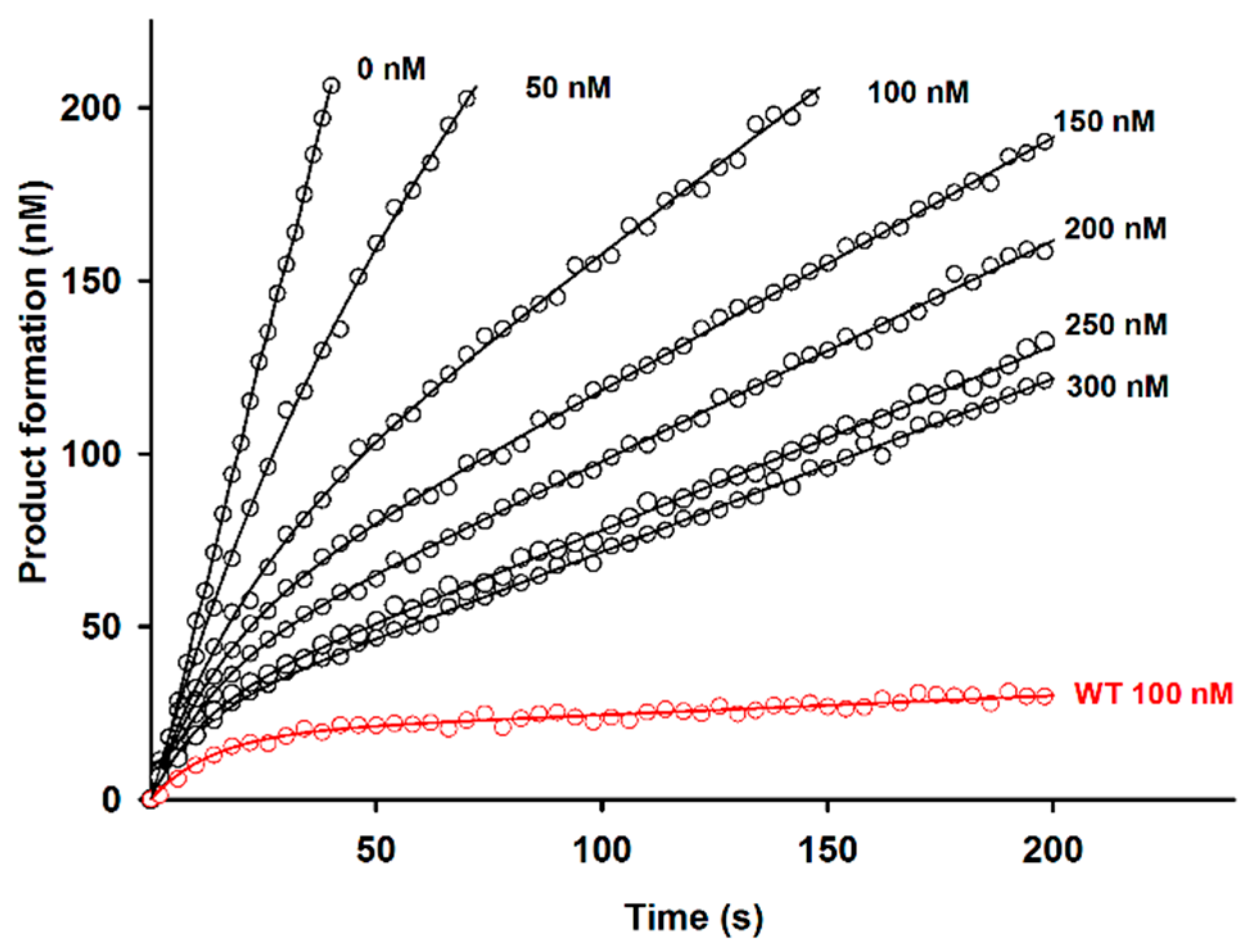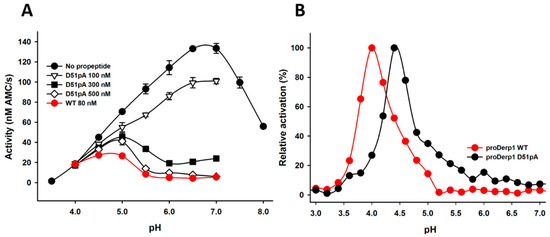 Figure 4.
Impact of D51pA mutation on the pH-dependence of Der p 1 propeptide inhibitory capacity and proDer p 1 activation. (
A
) Inhibition of the Der p 1 protease activity by WT or D51pA propeptide monitored at different pH values. Data related to WT propeptide at 80 nM are from [
15
]. Inhibition is indicated as the percentage of residual activity (%) of Der p 1 considering the activity of Der p 1 in the absence of propeptide as 100%. Der p 1 protease activity was measured at the steady-state using Boc-Gln-Ala-Arg-AMC as a substrate. Data are presented as the mean of duplicates ± the standard deviation and are representative of two independent experiments; (
B
) pH dependence of WT and D51pA proDer p 1 maturation. The percentage of activation was estimated by measuring the enzymatic activity generated at pH 7 after incubation of the zymogens at pH ranging from 3–7 and considering the maximal activity obtained as 100%.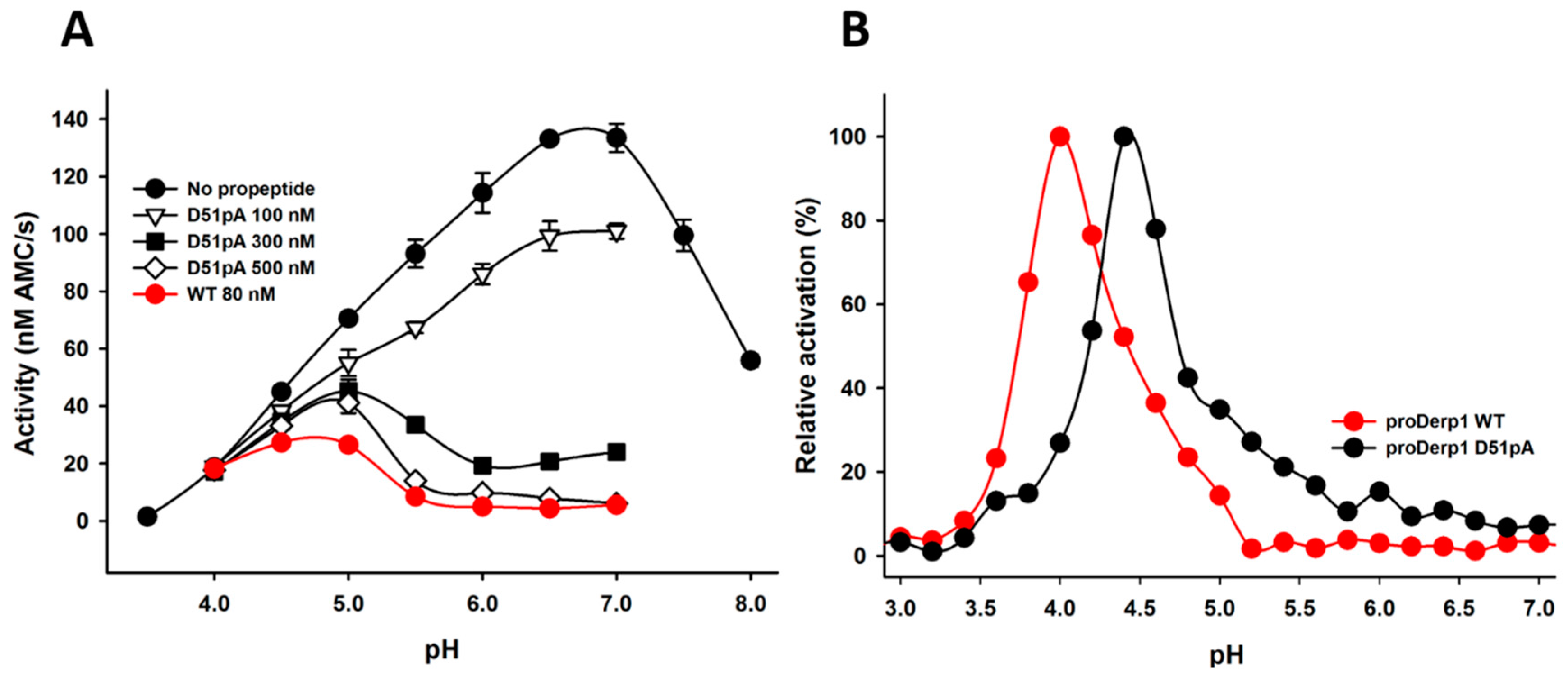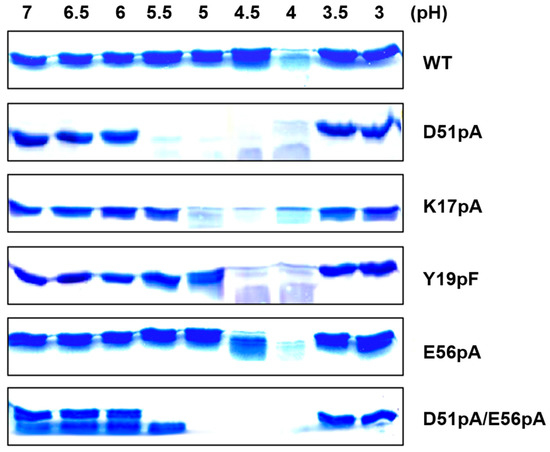 Figure 5. Impact of mutation on the susceptibility to Der p 1 proteolysis of the propeptide variants at different pH. WT, as well as D51pA, K17pA, Y19pF, E56pA, D51pA/E56pA propeptide mutants were incubated with recombinant Der p 1 at different pH values, and proteolysis was detected by SDS PAGE stained by Coomassie blue. M: molecular weight (10 kDa). Data shown are representative of two independent experiments.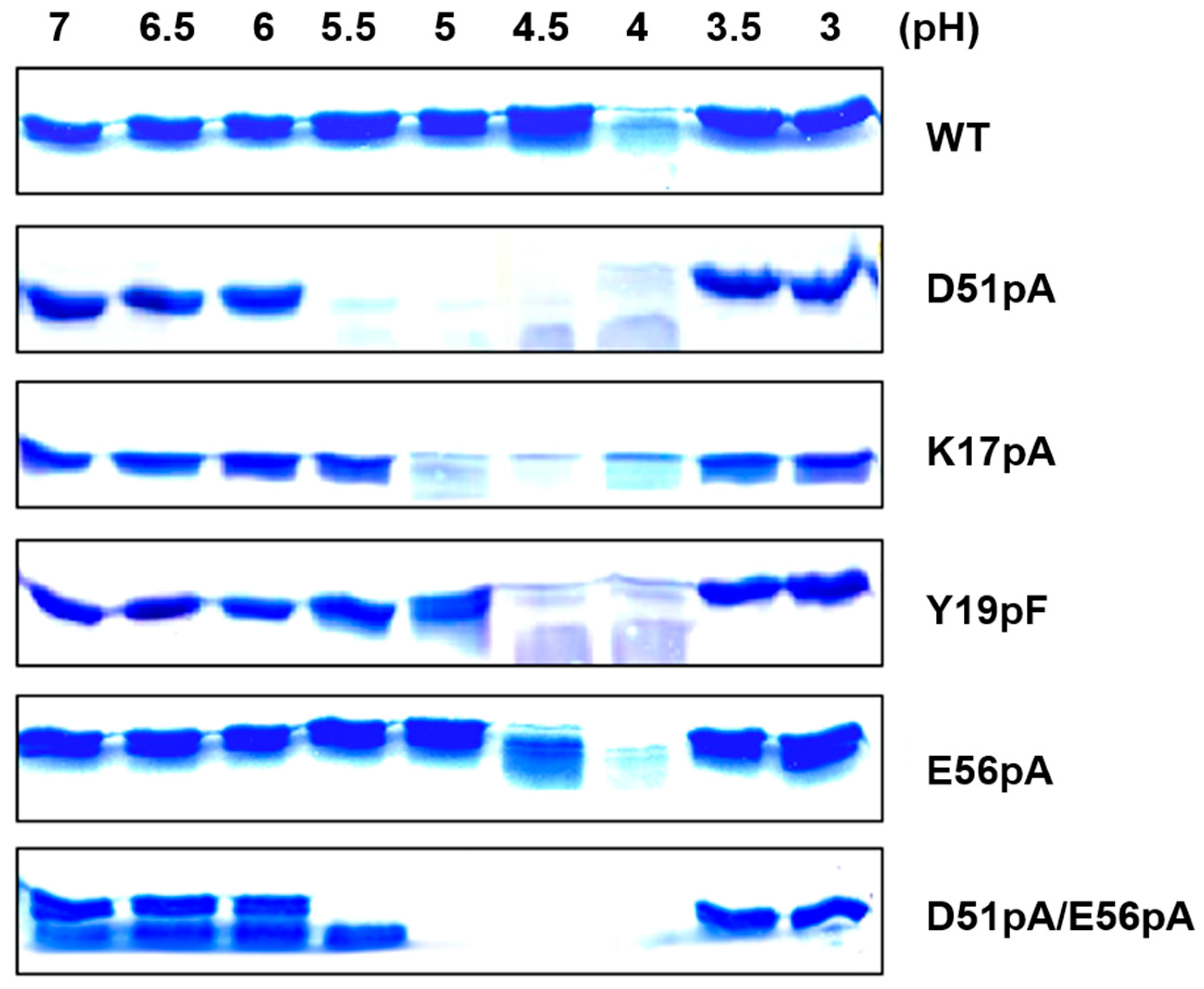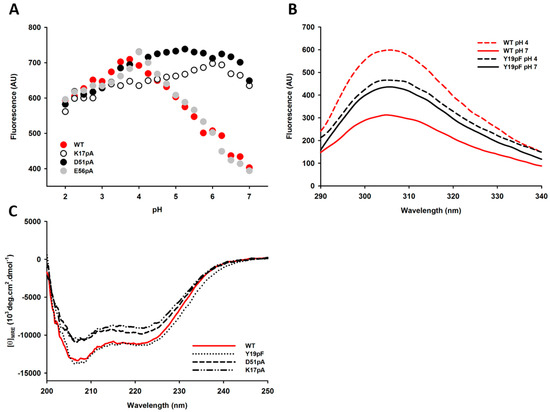 Figure 6. Structural analysis of the propeptide mutants and pH dependence of the conformational changes. (A) Effect of pH on intrinsic tyrosine emission fluorescence intensity at 305 nm for WT, D51pA, K17pA and E56pA propeptides; (B) intrinsic emission fluorescence spectra of WT and Y19pF mutant at pH 7 and 4; (C) UV-Circular dichroism spectrum of WT, D51pA, K17pA, Y19pF mutants at pH 7. Data shown are representative of two independent experiments.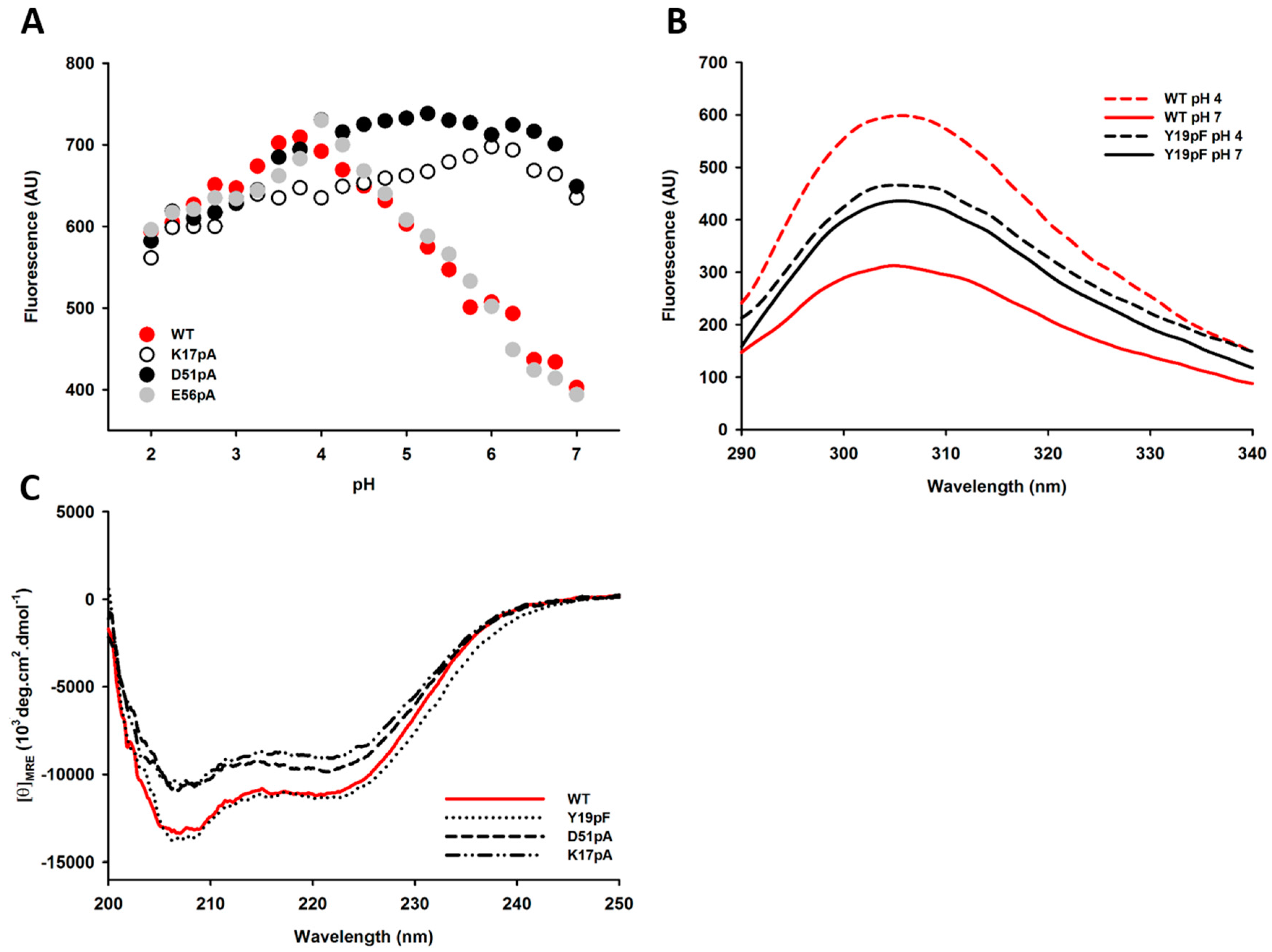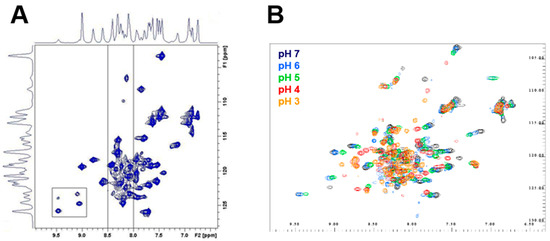 Figure 7. NMR spectra and pH titration of WT propeptide N-terminal domain. (A) 2D 1H–15N HSQC of WT propeptide N-terminal domain (R1–R60) at pH 7 and 20 °C. The lined box indicates areas suggestive of the presence of multiple conformations for the propeptide in solution. The area between 8 and 8.5 ppm is defined by vertical lines; (B) pH titration of WT propeptide by 2D 1H–15N in the amide region at pH 7 (black), pH 6 (blue), pH 5 (green), pH 4 (red) and pH 3 (orange) at 20 °C.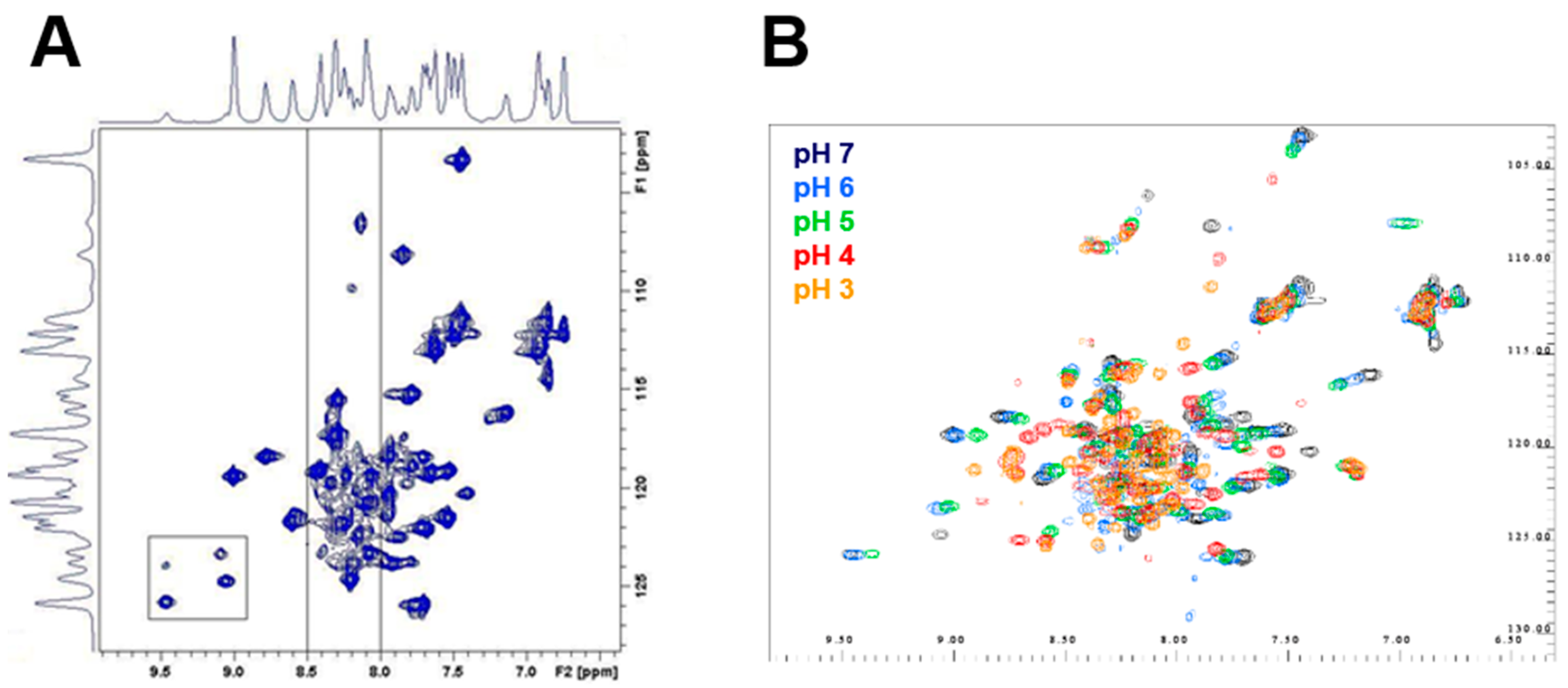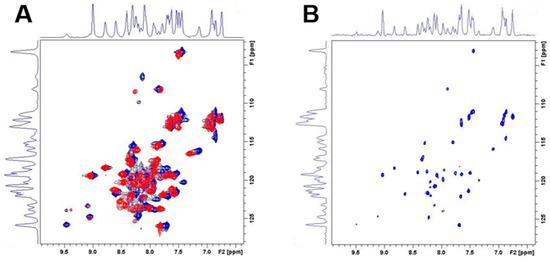 Figure 8. Hydrogen/deuterium (H/D) exchange analysis of WT and D51pA proDer p 1 monitored by NMR. (A) Overlay of the WT (blue) and D51pA (red) proDer p 1 2D 1H–15N HSQC spectra at pH 7 and 20 °C; (B) 2D 1H–15N HSQC spectrum showing the fingerprint of WT proDer p 1 90 min after H/D exchange. All of the peaks of D51pA propeptide vanished, demonstrating the high flexibility of its N-terminal domain.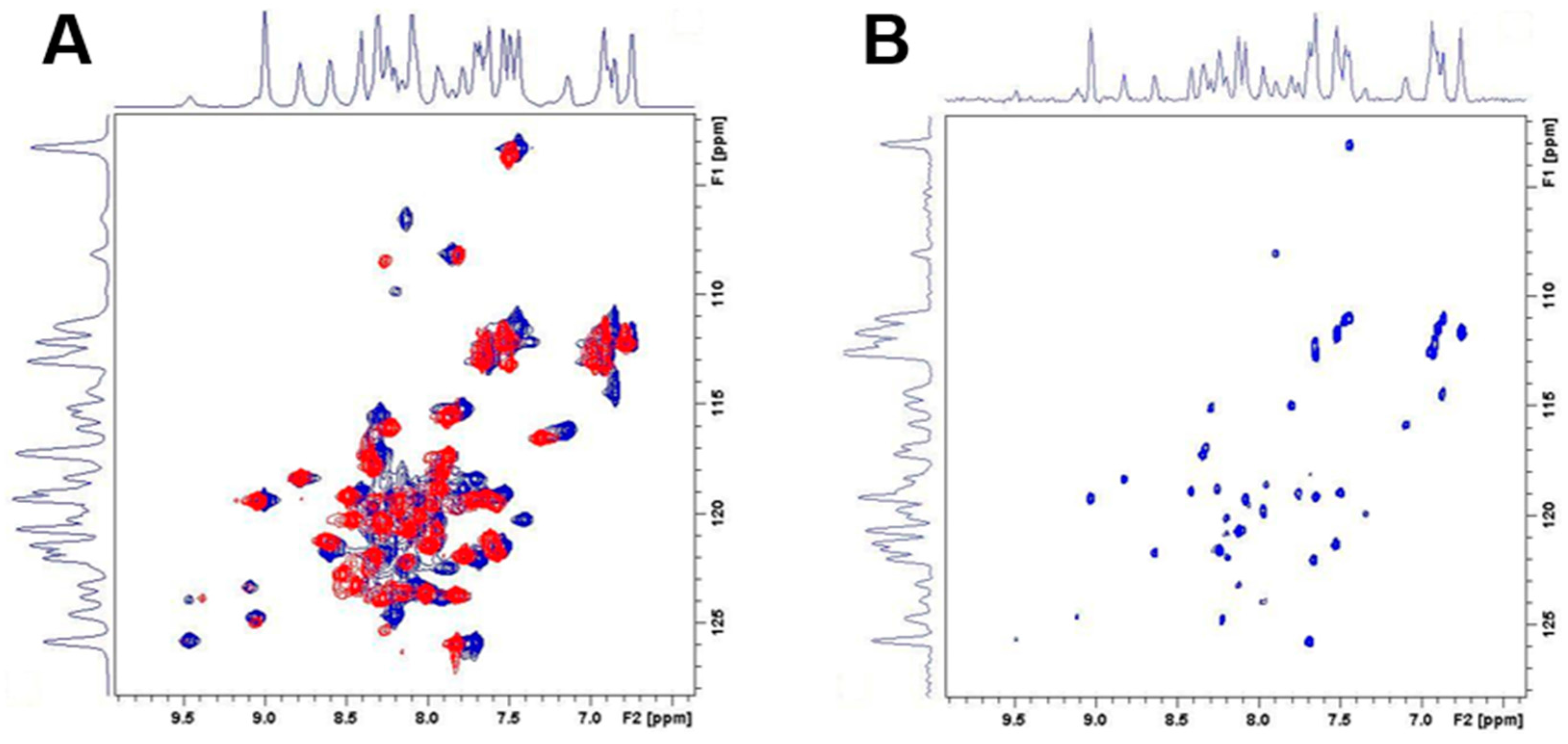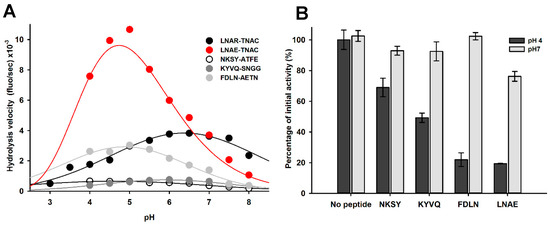 Figure 9. Interaction of Der p 1 with peptides covering the sequences of the different zymogen activation sites. (A) Effect of pH on the hydrolysis of octapeptidyl FRET substrates (2.5 µM) corresponding to proDer p 1 maturation sites by Der p 1 (5 nM); (B) Inhibitory activity of tetrapeptides (10 mM) mimicking the activation sites. All activity data are expressed as the mean ± standard error from at least two independent experiments performed in duplicate.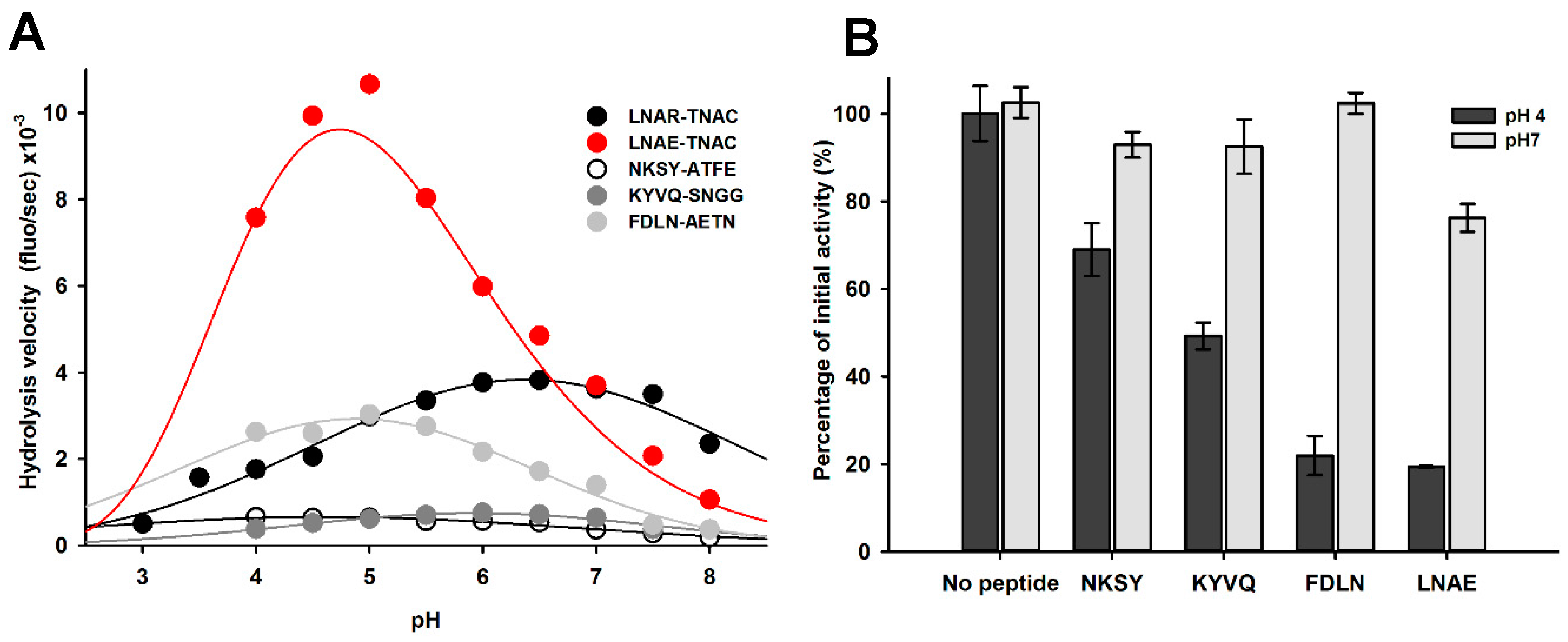 Table 1. Affinity and association/dissociation rate constants of propeptide variants at pH 7.
Constants
WT
D51pA
K17pA
Y19pF
E56pA
D51pA/E56pA

k

on (M−1·s−1 × 104)
110 ± 2
44 ± 7
46 ± 4
120 ± 4
150 ± 5
ND

k

off (s−1 × 10−3)
7.8 ± 1
17 ± 2
7 ± 1
7 ± 2
7 ± 3
ND

K

D Global (M × 10−9)
7 ± 1
37 ± 5
15 ± 3
6 ± 2
5 ± 2
130 ± 6
ND: Not determined, WT: wild-type. Data show mean affinity and rate constants + standard error of the mean of three independent experiments.
Table 2. Hydrolysis of FRET substrates corresponding to proDer p 1 maturation sites by Der p 1.
Cleavage Site
FRET Substrate

k

cat/

K

m (min−1·mM−1) *
NKSY19p–A20pTFE

Dabcyl

-NKSY↓ATFE-

EDANS

1221.7 ± 142.3
KYVQ40p–S41pNGG

Dabcyl

-KYVQ↓SNGG-

EDANS

2722.4 ± 119.7
FDLN78p–A79pETN

Dabcyl

-FDLN↓AETN-

EDANS

3863.0 ± 722.0
LNAE80p–T1NAC

Dabcyl

-LNAE↓TNAC-

EDANS

6614.2 ± 204.0
* pH 7, ↓ indicates the cleavage site. Data show mean specific activity of recombinant Der p 1 towards the different FRET substrates + SEM and are representative of two independent experiments.
© 2017 by the authors. Licensee MDPI, Basel, Switzerland. This article is an open access article distributed under the terms and conditions of the Creative Commons Attribution (CC BY) license ( http://creativecommons.org/licenses/by/4.0/).