In-Depth Lipidomic Analysis of Molecular Species of Triacylglycerides, Diacylglycerides, Glycerophospholipids, and Sphingolipids of Buttermilk by GC-MS/FID, HPLC-ELSD, and UPLC-QToF-MS
1
Institute of Food Science Research, Spanish National Research Council (CIAL, CSIC-UAM), Bioactivity and Food Analysis Department, Food Lipid Biomarkers and Health, Campus of Autonoma University of Madrid, 28049 Madrid, Spain
2
Centre for Biotechnology Development, Spanish National Research Council (CDB, CSIC), 47151 Valladolid, Spain
*
Author to whom correspondence should be addressed.
Academic Editors: David Arráez-Román, Vito Verardo and Maurizio Battino
Received: 16 November 2016 / Revised: 27 February 2017 / Accepted: 3 March 2017 / Published: 10 March 2017
Abstract
Buttermilk, a byproduct of butter manufacturing, has gained considerable attention due to its high concentration of polar lipids as phospho- and sphingolipids from the milk fat globule membrane (MFGM). These polar lipids (PLs) are essential components of all cellular membranes and exert a variety of indispensable metabolic, neurological, and intracellular signaling processes. Despite its importance, there are few research studies that report a comprehensive characterization of the lipid molecular species of MFGM that could contribute to a better understanding of their putative healthful activities. In this study, procedures such as pressurized liquid extraction of polar and nonpolar lipids and their fractionation by flash chromatography have been carried out. The obtained fractions were submitted to an exhaustive characterization from a lipidomic point of view. The characterization includes new data about the identification and quantification of triacylglycerides (TAG), diacylglycerides (DAG), and phospho- and sphingolipids using different chromatographic techniques. The fatty acid profile was comparable to that of the milk fat but with a highly diverse composition of fatty acids. Molecular species have also been determined by using ultra-high performance liquid chromatography/quadruple-time-of-flight mass spectrometry (UPLC/QToF-MS). The TAG (16:0/16:0/6:0) and TAG (16:0/16:0/8:0) were the predominant saturated TAG species and TAG (14:0/18:1/16:0) and TAG (16:0/16:0/18:1) presented the highest content of monounsaturated TAG species. Furthermore; over 30 molecular species of phosphatidylcholine (PC), phosphatidylethanolamine (PE), phosphatidylserine (PS), and phosphatidylinositol (PI) could be identified within PL, with PC (16:0/18:1) being the most abundant species. Whereas C16:0 was found to be the preferred FA in TAGs, it was C18:1 in PLs. Several ganglioside species have also been characterized with d18:1 ceramide moiety and secondary acyl chains ranging from C20:0 to C26:1. This approach could broaden the applications of high-resolution mass spectrometry for a better understanding of the role of MFGM and its functionality.
View Full-Text
►

▼

Figures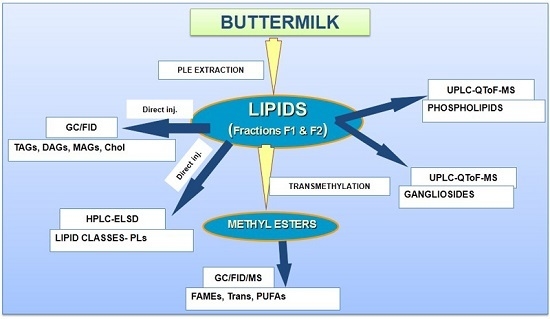 Graphical abstract
This is an open access article distributed under the
Creative Commons Attribution License
which permits unrestricted use, distribution, and reproduction in any medium, provided the original work is properly cited (CC BY 4.0).

Share & Cite This Article
MDPI and ACS Style
Castro-Gómez, P.; Montero, O.; Fontecha, J. In-Depth Lipidomic Analysis of Molecular Species of Triacylglycerides, Diacylglycerides, Glycerophospholipids, and Sphingolipids of Buttermilk by GC-MS/FID, HPLC-ELSD, and UPLC-QToF-MS. Int. J. Mol. Sci. 2017, 18, 605.
Note that from the first issue of 2016, MDPI journals use article numbers instead of page numbers. See further details here.
Related Articles
Comments
[Return to top]