Open Access This article is
freely available
re-usable
Review
The Development of a Novel Therapeutic Strategy to Target Hyaluronan in the Extracellular Matrix of Pancreatic Ductal Adenocarcinoma
Gastroenterological Surgery, Hirosaki University Graduate School of Medicine, 5 Zaifu-cho, Hirosaki, Aomori 036-8562, Japan
*
Author to whom correspondence should be addressed.
Academic Editors: Srikumar Chellappan and Jaya Padmanabhan
Received: 30 January 2017 / Accepted: 6 March 2017 / Published: 9 March 2017
Abstract
:
Pancreatic ductal adenocarcinoma (PDAC) is one of the most lethal diseases to affect humans, regardless of whether patients receive multimodal therapy (including surgery, radiotherapy, and chemotherapy). This resistance to intervention is currently considered to be caused by the desmoplastic change of the extracellular matrix (ECM) in PDAC tissues, which is characterized by the accumulation of cancer-associated fibroblasts, collagen, proteoglycan, and hyaluronan. Among these ECM components, hyaluronan has attracted interest because various studies have indicated that hyaluronan-rich PDAC is correlated with the progressive properties of cancer cells, both in experimental and clinical settings. Hence, the reduction of hyaluronan in cancer tissue may represent a novel therapeutic approach for PDAC. 4-methylumbelliferone (4-MU) is a derivative of coumarin that was reported to suppress the synthesis of hyaluronan in cultured human skin fibroblasts in 1995. As an additional study, our group firstly reported that 4-MU reduced the hyaluronan synthesis of mouse melanoma cells and exerted anti-cancer activity. Subsequently, we have showed that 4-MU inhibited liver metastasis in mice inoculated with human pancreatic cancer cells. Thereafter, 4-MU has been accepted as an effective agent for hyaluronan research and is expected to have clinical applications. This review provides an overview of the interaction between PDAC and hyaluronan, the properties of 4-MU as a suppressor of the synthesis of hyaluronan, and the perspectives of PDAC treatment targeting hyaluronan.
Keywords:
hyaluronan; 4-methylumbelliferone; pancreatic ductal adenocarcinoma; extracellular matrices
Acknowledgments
We thank Masahiko Endo, ex-president of Hirosaki University, for providing the collection of papers describing the inhibitors of hyaluronan synthesis.
Author Contributions
Daisuke Kudo wrote the paper, Akiko Suto prepared the figures and Kenichi Hakamada checked it.
Conflicts of Interest
The authors declare no conflicts of interest.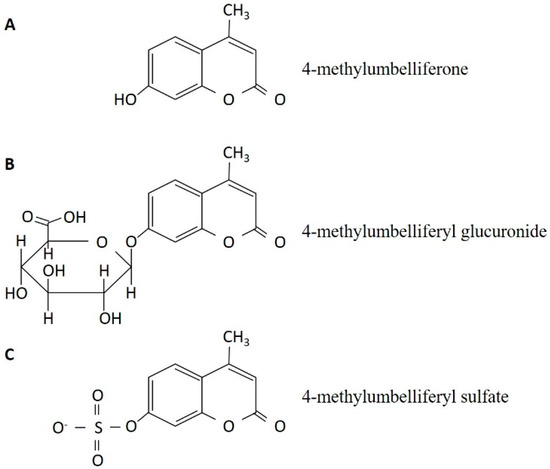 Figure 1. The chemical structure of 4-methylumbelliferone (A) and its metabolites, 4-methylumbelliferyl glucuronide (B) and 4-methylumbelliferyl sulfate (C).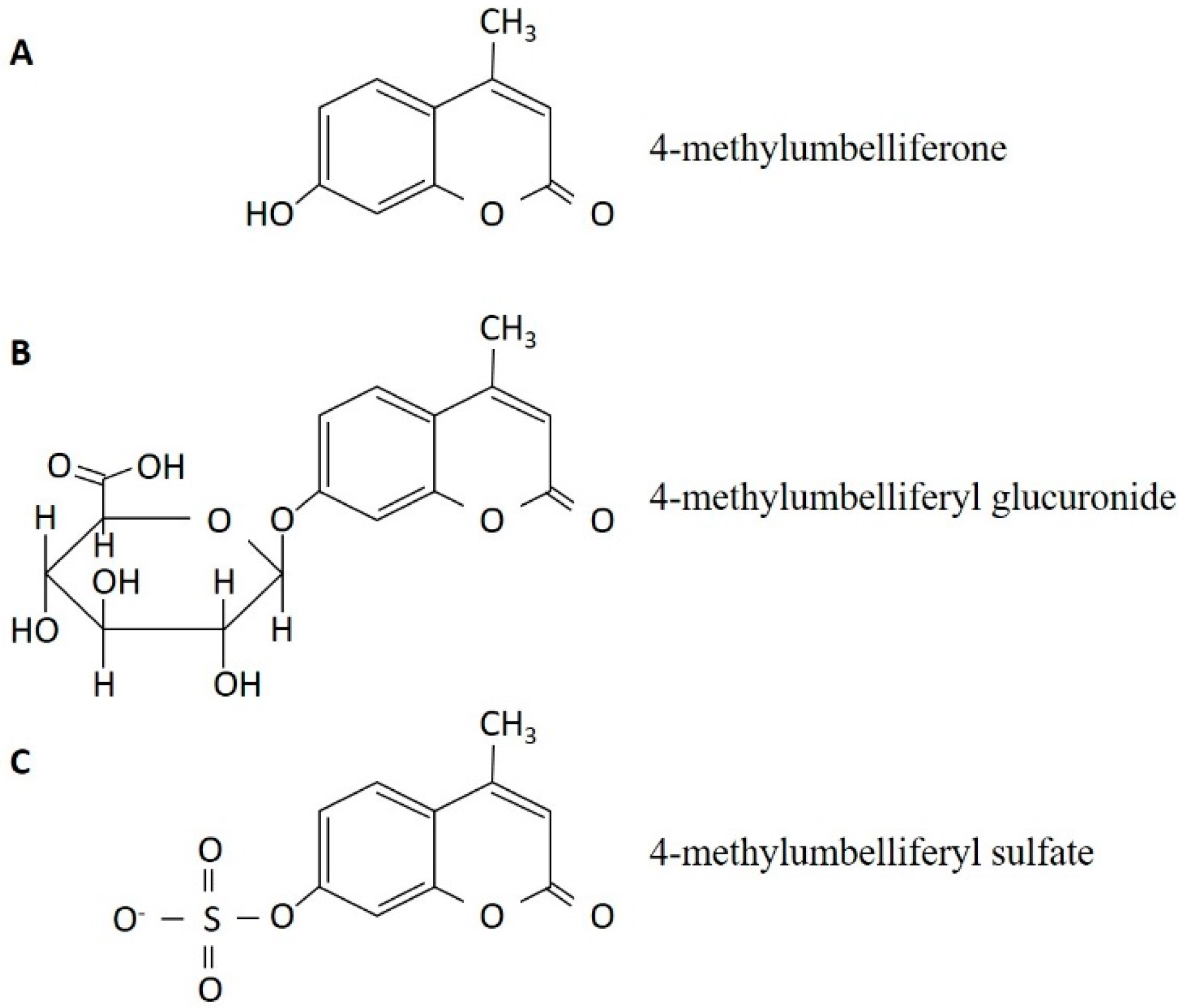 Figure 2. The reduction of hyaluronan accumulation in cancer tissues of mice inoculated with human pancreatic ductal adenocarcinoma cells by 4-methylumbelliferone (4-MU). The animals were treated without 4-MU (A) or with 4-MU (B). Hyaluronan in the pancreatic tumors was detected using immunohistochemical staining with hyaluronan-binding proteins. Black bars represent 200 mm.

Table 1. The inhibitors of hyaluronan synthesis.
No.
Substance
Cells
Author (year)
Ref.
1.
anti-inflammatory steroids
Human skin fibroblasts
Saarni, H. et al. (1978)
[37]
2.
Monensin
Rat fibrosarcoma cells
Goldberg, R.L. and Toole, B.P. (1983)
[38]
3.
Cyclofenil diphemol
Rat chondrocytes
Mason, R.M. et al. (1984)
[39]
4.
Periodae-oxidized UDP-GlcNAc
Human fibrosarcoma cells
Prehm P. (1985)
[40]
5.
n-Butylate
Rat liver fat-storing cells
Gressner, A.M. and Haarmann, R. (1988)
[41]
6.
Dexamethasone
Human skin fibroblasts
Smith, T.J. (1988)
[42]
7.
All-trans retinoic acid
Human skin fibroblasts
Smith, T.J. (1990)
[43]
8.

p

-Nitrophenol-β-

d

-xyloside
Rat liver fat-storing cells
Gressner, A.M. (1991)
[44]
9.
Genistein
Rabbit mesothelial cells
Honda, A. et al. (1991)
[45]
10.
Suramin
Mouse skin fibroblasts
August, E.M. et al. (1993)
[46]
11.
Vanadate
Mouse skin fibroblasts
Zaharevitz, D.W. et al. (1993)
[47]
12.
4-methylumbelliferone
Human skin fibroblasts
Nakamura, T. et al. (1995)
[48]
13.
Fluoxetine, amitriptyline
Human synovial cells
Yaron, I. et al. (1999)
[49]
14.
Vesnarinone
Human myofibroblasts
Ueki, N. et al. (2000)
[50]
15.
Mannose
Human myofibroblasts
Jokela, T.A. et al. (2008)
[51]
16.
Methyl-β-cyclodextrin
Human breast cancer cells
Kultti, A. et al. (2010)
[52]
17.
Estradiol
Human vascular smooth muscle cells
Freudenberger, T. et al (2011)
[53]
18.
Collagen fragments
Human skin fibroblasts
Röck, K. et al. (2011)
[54]
© 2017 by the authors. Licensee MDPI, Basel, Switzerland. This article is an open access article distributed under the terms and conditions of the Creative Commons Attribution (CC BY) license ( http://creativecommons.org/licenses/by/4.0/).