Open Access This article is
freely available
re-usable
Review
Matrix Metalloproteinases as Regulators of Periodontal Inflammation
1
Department of Conservative Dentistry, School of Dentistry, Universidad de Chile, Santiago 8380492, Chile
2
Department of Biological Sciences, School of Dentistry of Bauru, University of São Paulo (FOB/USP), Bauru, São Paulo 17012-901, Brazil
3
Center for Craniofacial Research, University of Texas School of Dentistry at Houston, Houston, TX 77054, USA
4
Department of Oral and Maxillofacial Diseases, Helsinki University and Helsinki University Central Hospital, Helsinki 00290, Finland
5
Division of Periodontology, Department of Dental Medicine, Karolinska Institutet, Huddinge 14183, Sweden
6
Laboratory of Periodontal Biology, Faculty of Dentistry, Universidad de Chile, Santiago 8380492, Chile
7
Dentistry Unit, Faculty of Health Sciences, Universidad Autónoma de Chile, Santiago 8910060, Chile
*
Author to whom correspondence should be addressed.
Academic Editor: Masatoshi Maki
Received: 12 January 2017 / Accepted: 8 February 2017 / Published: 17 February 2017
Abstract
:
Periodontitis are infectious diseases characterized by immune-mediated destruction of periodontal supporting tissues and tooth loss. Matrix metalloproteinases (MMPs) are key proteases involved in destructive periodontal diseases. The study and interest in MMP has been fuelled by emerging evidence demonstrating the broad spectrum of molecules that can be cleaved by them and the myriad of biological processes that they can potentially regulate. The huge complexity of MMP functions within the 'protease web' is crucial for many physiologic and pathologic processes, including immunity, inflammation, bone resorption, and wound healing. Evidence points out that MMPs assemble in activation cascades and besides their classical extracellular matrix substrates, they cleave several signalling molecules—such as cytokines, chemokines, and growth factors, among others—regulating their biological functions and/or bioavailability during periodontal diseases. In this review, we provide an overview of emerging evidence of MMPs as regulators of periodontal inflammation.
Keywords:
MMPs; chronic periodontitis; periodontal inflammation regulation; modulation
2. Matrix Metalloproteinase Activation Cascades
3. MMP-Mediated Regulation of Inflammatory Response
4. Concluding Remarks
Increasing evidence suggests that MMPs play a much more significant role in inflammation and immune response regulation than previously recognized. In periodontally inflamed sites, they are capable of participating in cross-activation and auto-activation cascades, as well as regulating the availability of many inflammatory signaling molecules. The bidirectional regulation of MMPs and cytokine/chemokine levels appears to be tightly controlled, but our current understanding of the process is far from complete. As previously discussed, there are profound interactions between cytokines and MMP, with mutual regulatory features at all levels, from transcription to proteolytic modulation of biological functions. Depending on the stimulus and the local environment, MMPs could increase or decrease the bioavailability of signaling molecules by several different and often complementary mechanisms that can result in widespread periodontal supporting tissue loss and sustained inflammation.
Acknowledgments
Funding was provided by the Fondo Nacional de Desarrollo Científico y Tecnológico (FONDECYT) 1160741, 1120138 and 1090461.
Conflicts of Interest
The authors declare no conflict of interest.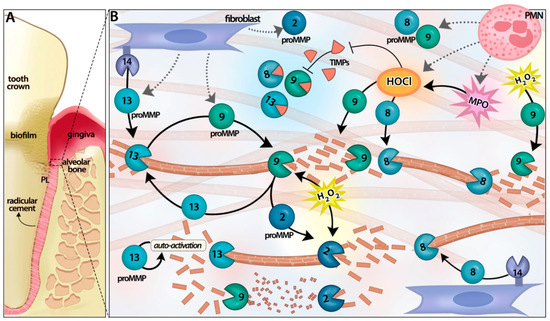 Figure 1. Matrix metalloproteinase (MMP) activation cascades in connective tissue catabolism during periodontitis. Full and partial circles with their respective number represent latent and activated specific MMPs. Brown T bars represent collagen fibers. (A) Tooth and its supporting structures: radicular cement, periodontal ligament (PL) and alveolar bone; (B) Membrane bounded MMP-14 activates proMMP-13 to degrade type I collagen, which constitutes the bulk component of radicular cement, periodontal ligament (PL) and alveolar bone extracellular matrix; MMP-13 activates proMMP-9, which in turn might activate proMMP-2 and proMMP-13. MMP-2 and MMP-9 further process gelatin resulting from collagenase activity. MMP-13 can undergo auto-activation by self-proteolysis. Reactive oxygen species, such as HOCl and H2O2, from phagocytes can also modify the proteases/anti-proteases balance, activating latent MMPs and inactivating the tissue inhibitor of MMPs (TIMP)-1. MPO, myeloperoxidase.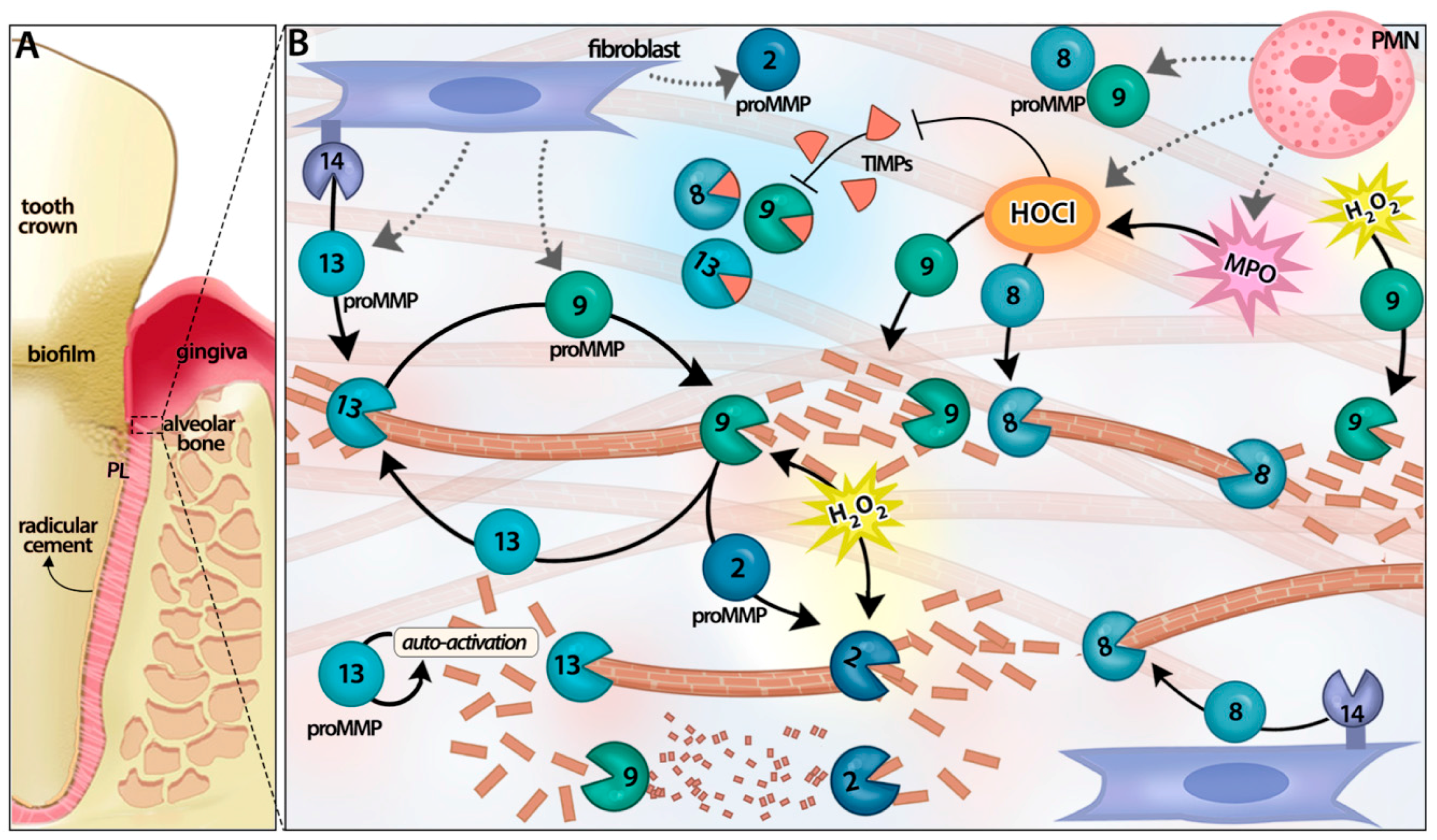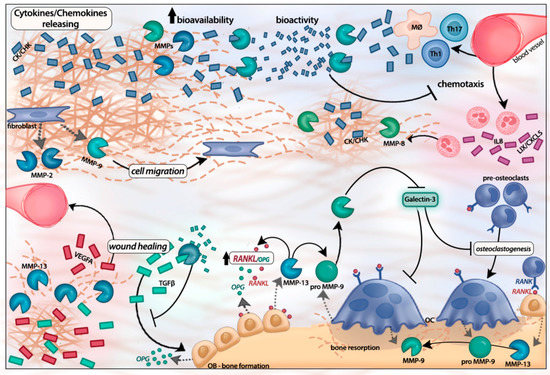 Figure 2. MMPs as regulators of periodontal inflammation. MMPs release cytokines/chemokines from the ECM, increasing their bioavailability and modifying their bioactivity. Conversely, MMPs can also cleave cytokines/chemokines generating truncated products that can act as competitive antagonists. The relative abundance of chemokines and cytokines favoring the infiltration of neutrophils (e.g., CXC motif chemokine ligand 8, a.k.a. CXCL8; LIX/CXCL5), macrophages (e.g., CC motif chemokine ligand 2, a.k.a. CCL2), and Th1/Th17 lymphocytes (e.g., CC motif chemokine ligand 20, a.k.a. CCL20) is determinant in the inflammatory destruction of periodontal tissues. MMPs can regulate wound healing, releasing angiogenic factors—such as VEGF A—from the extracellular matrix or through modifying transforming growth factor (TGF)-β1 signaling. MMPs also regulate bone resorption. MMP-13 activates osteoclast-secreted proMMP-9, inactivates galectin-3, an inhibitor of osteoclastogenesis, and favors receptor activator of nuclear factor-κB ligand (RANKL) and TGF-β1 signaling. CK/CC = cytokines/chemokines; OB = osteoblast; OC = osteoclast; MØ = macrophage; Th = T helper CD4+ lymphocytes.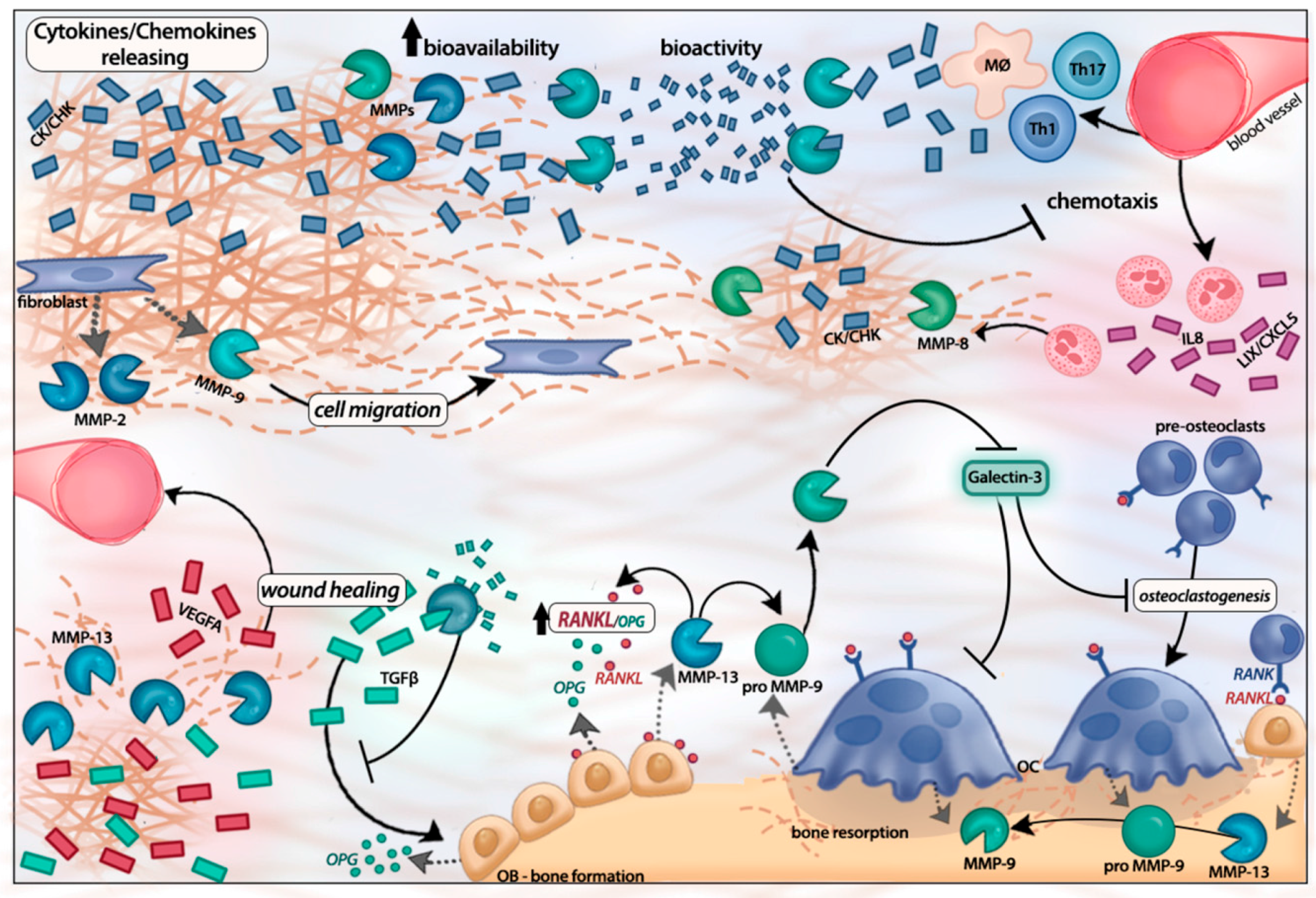 © 2017 by the authors. Licensee MDPI, Basel, Switzerland. This article is an open access article distributed under the terms and conditions of the Creative Commons Attribution (CC BY) license ( http://creativecommons.org/licenses/by/4.0/).