Azacitidine for Front-Line Therapy of Patients with AML: Reproducible Efficacy Established by Direct Comparison of International Phase 3 Trial Data with Registry Data from the Austrian Azacitidine Registry of the AGMT Study Group
1
3rd Medical Department with Hematology and Medical Oncology, Hemostaseology, Rheumatology and Infectious Diseases, Laboratory for Immunological and Molecular Cancer Research, Oncologic Center, Paracelsus Medical University, Salzburg 5020, Austria
2
Salzburg Cancer Research Institute—Center for Clinical Cancer and Immunology Trials, Salzburg 5020, Austria
3
Cancer Cluster, Salzburg 5020, Austria
4
Department of Medicine and Internal Medicine III, Universitätsklinikum Ulm, Ulm D-89081, Germany
5
Institut Universitaire d'Hématologie, Hôpital Saint Louis, University Paris Diderot, Paris 75010, France
6
Peter MacCallum Cancer Centre, East Melbourne, Australia, and University of Melbourne, Parkville 3000, Australia
7
Princess Margaret Cancer Centre, Toronto, ON M5G 2M9, Canada
8
Celgene Corporation, Summit, NJ 07901, USA
9
Department of Internal Medicine IV, Klinikum WelsGrieskirchen, Wels 4600, Austria
10
Department of Internal Medicine V, Innsbruck Medical University, Innsbruck 6020, Austria
11
Department of Hematology and Oncology, Elisabethinen Hospital, Linz 4020, Austria
12
Department of Hematology, Medical University of Graz, Graz 8036, Austria
13
Department for Hematology and Oncology, LKH Leoben, Leoben 8700, Austria
14
3rd Medical Department for Hematology and Oncology, Hanusch Hospital, Vienna 1140, Austria
15
First Medical Department, Center for Oncology, Hematology and Palliative Care, Wilhelminenspital, Vienna 1160, Austria
16
Department of Internal Medicine, Landeskrankenhaus Feldkirch (LKH) Feldkirch, Feldkirch 6800, Austria
17
5th Medical Department, Hospital Hietzing, Vienna 1130, Austria
18
Department of Internal Medicine III, General Hospital, Linz 4020, Austria
19
Department of Internal Medicine I, Division of Hematology and Hemostaseology, Medical University of Vienna, Vienna 1090, Austria
20
Department of Internal Medicine, LKH Fürstenfeld, Fürstenfeld 8280, Austria
21
Department of Hematology, Clinical Hospital Merkur, Zagreb 10000, Croatia
22
Department of Internal Medicine II, LKH Steyr, Steyr 4400, Austria
*
Author to whom correspondence should be addressed.
Academic Editors: Geoffrey Brown and Ewa Marcinkowska
Received: 8 December 2016 / Revised: 6 February 2017 / Accepted: 8 February 2017 / Published: 15 February 2017
Abstract
We recently published a clinically-meaningful improvement in median overall survival (OS) for patients with acute myeloid leukaemia (AML), >30% bone marrow (BM) blasts and white blood cell (WBC) count ≤15 G/L, treated with front-line azacitidine versus conventional care regimens within a phase 3 clinical trial (AZA-AML-001; NCT01074047; registered: February 2010). As results obtained in clinical trials are facing increased pressure to be confirmed by real-world data, we aimed to test whether data obtained in the AZA-AML-001 trial accurately represent observations made in routine clinical practice by analysing additional AML patients treated with azacitidine front-line within the Austrian Azacitidine Registry (AAR; NCT01595295; registered: May 2012) and directly comparing patient-level data of both cohorts. We assessed the efficacy of front-line azacitidine in a total of 407 patients with newly-diagnosed AML. Firstly, we compared data from AML patients with WBC ≤ 15 G/L and >30% BM blasts included within the AZA-AML-001 trial treated with azacitidine ("AML-001" cohort;
n
= 214) with AAR patients meeting the same inclusion criteria ("AAR (001-like)" cohort;
n
= 95). The current analysis thus represents a new sub-analysis of the AML-001 trial, which is directly compared with a new sub-analysis of the AAR. Baseline characteristics, azacitidine application, response rates and OS were comparable between all patient cohorts within the trial or registry setting. Median OS was 9.9 versus 10.8 months (
p
= 0.616) for "AML-001" versus "AAR (001-like)" cohorts, respectively. Secondly, we pooled data from both cohorts (
n
= 309) and assessed the outcome. Median OS of the pooled cohorts was 10.3 (95% confidence interval: 8.7, 12.6) months, and the one-year survival rate was 45.8%. Thirdly, we compared data from AAR patients meeting AZA-AML-001 trial inclusion criteria (
n
= 95) versus all AAR patients with World Health Organization (WHO)-defined AML ("AAR (WHO-AML)" cohort;
n
= 193). Within the registry population, median OS for AAR patients meeting trial inclusion criteria versus all WHO-AML patients was 10.8 versus 11.8 months (
p
= 0.599), respectively. We thus tested and confirmed the efficacy of azacitidine as a front-line agent in patients with AML, >30% BM blasts and WBC ≤ 15 G/L in a routine clinical practice setting. We further show that the efficacy of azacitidine does not appear to be limited to AML patients who meet stringent clinical trial inclusion criteria, but instead appears efficacious as front-line treatment in all patients with WHO-AML.
View Full-Text
►

▼

Figures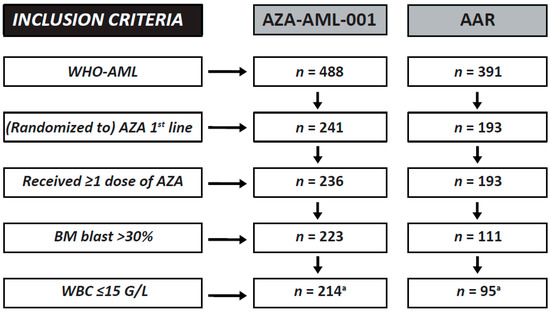 Figure 1
This is an open access article distributed under the
Creative Commons Attribution License
which permits unrestricted use, distribution, and reproduction in any medium, provided the original work is properly cited (CC BY 4.0).

Printed Edition Available!
A printed edition of this Special Issue is available
here
.
Share & Cite This Article
MDPI and ACS Style
Pleyer, L.; Döhner, H.; Dombret, H.; Seymour, J.F.; Schuh, A.C.; Beach, C.; Swern, A.S.; Burgstaller, S.; Stauder, R.; Girschikofsky, M.; Sill, H.; Schlick, K.; Thaler, J.; Halter, B.; Machherndl Spandl, S.; Zebisch, A.; Pichler, A.; Pfeilstöcker, M.; Autzinger, E.M.; Lang, A.; Geissler, K.; Voskova, D.; Sperr, W.R.; Hojas, S.; Rogulj, I.M.; Andel, J.; Greil, R. Azacitidine for Front-Line Therapy of Patients with AML: Reproducible Efficacy Established by Direct Comparison of International Phase 3 Trial Data with Registry Data from the Austrian Azacitidine Registry of the AGMT Study Group. Int. J. Mol. Sci. 2017, 18, 415.
Note that from the first issue of 2016, MDPI journals use article numbers instead of page numbers. See further details here.
Related Articles
Comments
[Return to top]