Evidence of a DHA Signature in the Lipidome and Metabolome of Human Hepatocytes
1
Center of Magnetic Resonance (CERM), University of Florence, Via Luigi Sacconi, 6-50019 Sesto Fiorentino (FI), Italy
2
Interdepartmental Centre for Industrial Agri-Food Research, University of Bologna, Via Quinto Bucci, 336-47521 Cesena (FC), Italy
3
Department of Experimental and Clinical Medicine, University of Florence, Largo Brambilla, 3-50134 Florence (FI), Italy
4
Department of Agri-Food Sciences and Technologies (DISTAL), University of Bologna, Piazza Goidanich, 60-47521 Cesena (FC), Italy
5
Department of Chemistry, University of Florence, Via della Lastruccia, 3-50019 Sesto Fiorentino (FI), Italy 6 GIOTTO Biotech S.r.l., Via Madonna del Piano, 6-50019 Sesto Fiorentino (FI), Italy
6
GIOTTO Biotech S.r.l., Via Madonna del Piano, 6-50019 Sesto Fiorentino (FI), Italy
*
Author to whom correspondence should be addressed.
Academic Editors: David Arráez-Román and Vito Verardo
Received: 7 November 2016 / Revised: 25 January 2017 / Accepted: 26 January 2017 / Published: 8 February 2017
Abstract
Cell supplementation with bioactive molecules often causes a perturbation in the whole intracellular environment. Omics techniques can be applied for the assessment of this perturbation. In this study, the overall effect of docosahexaenoic acid (DHA) supplementation on cultured human hepatocyte lipidome and metabolome has been investigated using nuclear magnetic resonance (NMR) in combination with traditional techniques. The effect of two additional bioactives sharing with DHA the lipid-lowering effect—propionic acid (PRO) and protocatechuic acid (PCA)—has also been evaluated in the context of possible synergism. NMR analysis of the cell lipid extracts showed that DHA supplementation, alone or in combination with PCA or PRO, strongly altered the cell lipid profile. The perfect discrimination between cells receiving DHA (alone or in combination) and the other cells reinforced the idea of a global rearrangement of the lipid environment induced by DHA. Notably, gas chromatography and fluorimetric analyses confirmed the strong discrimination obtained by NMR. The DHA signature was evidenced not only in the cell lipidome, but also in the metabolome. Results reported herein indicate that NMR, combined with other techniques, represents a fundamental approach to studying the effect of bioactive supplementation, particularly in the case of molecules with a broad spectrum of mechanisms of action.
View Full-Text
►

▼

Figures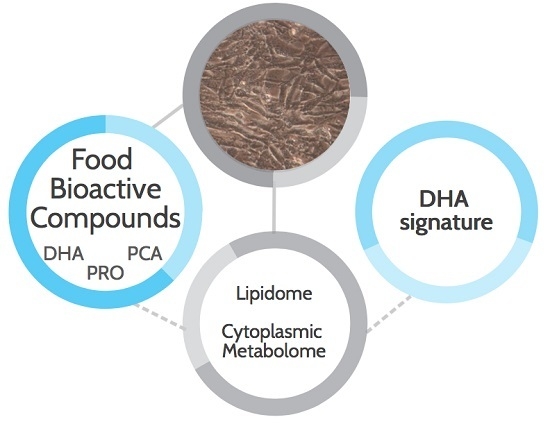 Graphical abstract
This is an open access article distributed under the
Creative Commons Attribution License
which permits unrestricted use, distribution, and reproduction in any medium, provided the original work is properly cited (CC BY 4.0).

Share & Cite This Article
MDPI and ACS Style
Ghini, V.; Di Nunzio, M.; Tenori, L.; Valli, V.; Danesi, F.; Capozzi, F.; Luchinat, C.; Bordoni, A. Evidence of a DHA Signature in the Lipidome and Metabolome of Human Hepatocytes. Int. J. Mol. Sci. 2017, 18, 359.
Note that from the first issue of 2016, MDPI journals use article numbers instead of page numbers. See further details here.
Related Articles
Comments
[Return to top]