Lannea coromandelica

(Houtt.) Merr. Induces Heme Oxygenase 1 (HO-1) Expression and Reduces Oxidative Stress via the p38/c-Jun N-Terminal Kinase–Nuclear Factor Erythroid 2-Related Factor 2 (p38/JNK–NRF2)-Mediated Antioxidant Pathway

1

Department of Food Science and Biotechnology, Graduate School, Kyungpook National University, Daegu 41566, Korea

2

Food and Bio-Industry Research Institute, Kyungpook National University, Daegu 41566, Korea

*

Author to whom correspondence should be addressed.

†

These authors contributed equally to this work.

Academic Editor: Maurizio Battino

Received: 21 December 2016 / Revised: 22 January 2017 / Accepted: 23 January 2017 / Published: 29 January 2017
Abstract
The leaves of
Lannea coromandelica
(Houtt.) Merr. are used in the Garo, Pahan, and Teli tribal communities of Bangladesh as a traditional medicinal plant to treat hepatitis, diabetes, ulcers, heart disease, and dysentery. However, there have been limited phytochemical and biological studies on the bark of
L. coromandelica
. This study aimed to investigate the antioxidant activities of
L. coromandelica
bark extract (LCBE) and the underlying mechanism using RAW 264.7 cells. The LCBE was analysed by high-pressure liquid chromatography (HPLC) to detect its key polyphenolic compounds. Various in vitro antioxidant assays were performed using RAW 264.7 cells to assess the antioxidant effects of the LCBE and to understand the underlying molecular mechanism. HPLC revealed the presence of gallic acid, (−)-epigallocatechin-3-gallate, catechin, chlorogenic acid, and caffeic acid in the LCBE. The extract showed a very potent capacity to scavenge numerous free radicals through hydrogen atom transfer and/or electron donation and also quenched cellular reactive oxygen species (ROS) generation without showing any toxicity. The LCBE was found to combat the oxidative stress by enhancing the expression, at both transcriptional and translational levels, of primary antioxidant enzymes as well as phase II detoxifying enzymes, especially heme oxygenase 1, through the upregulation of the nuclear factor erythroid 2-related factor 2 (NRF2)-mediated pathway in RAW 264.7 cells via the phosphorylation of p38 kinase and c-Jun N-terminal kinase (JNK). The LCBE exhibited strong antioxidant activities and mitigated the cellular ROS production. These results provide scientific evidence of its potential as an ideal applicant for a cost-effective, readily available, and natural phytochemical, as well as a strategy for preventing diseases associated with oxidative stress and attenuating disease progress.
View Full-Text
►

▼

Figures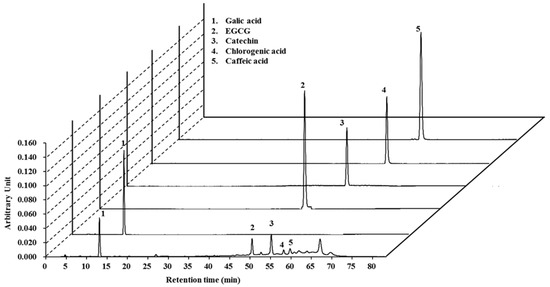 Figure 1
This is an open access article distributed under the
Creative Commons Attribution License
which permits unrestricted use, distribution, and reproduction in any medium, provided the original work is properly cited (CC BY 4.0).

Share & Cite This Article
MDPI and ACS Style
Alam, M.B.; Kwon, K.-R.; Lee, S.-H.; Lee, S.-H. Lannea coromandelica (Houtt.) Merr. Induces Heme Oxygenase 1 (HO-1) Expression and Reduces Oxidative Stress via the p38/c-Jun N-Terminal Kinase–Nuclear Factor Erythroid 2-Related Factor 2 (p38/JNK–NRF2)-Mediated Antioxidant Pathway. Int. J. Mol. Sci. 2017, 18, 266.
Note that from the first issue of 2016, MDPI journals use article numbers instead of page numbers. See further details here.
Related Articles
Comments
[Return to top]