Two Cycloartenol Synthases for Phytosterol Biosynthesis in
Polygala tenuifolia

Willd

Department of Herbal Crop Research, National Institute of Horticultural and Herbal Science, Rural Development Administration, Eumseong 27709, Korea

*

Author to whom correspondence should be addressed.

Received: 22 October 2017 / Revised: 11 November 2017 / Accepted: 11 November 2017 / Published: 15 November 2017
Abstract
Oxidosqualene cyclases (OSCs) are enzymes that play a key role in control of the biosynthesis of phytosterols and triterpene saponins. In order to uncover
OSC
genes from
Polygala tenuifolia
seedlings induced by methyl jasmonate (MeJA), RNA-sequencing analysis was performed using the Illumina sequencing platform. A total of 148,488,632 high-quality reads from two samples (control and the MeJA treated) were generated. We screened genes related to phytosterol and triterpene saponin biosynthesis and analyzed the transcriptional changes of differentially expressed unigene (DEUG) values calculated by fragments per kilobase million (FPKM). In our datasets, two full-length cDNAs of putative
OSC
genes,
PtCAS1
, and
PtCAS2
, were found, in addition to the
PtBS
(β-amyrin synthase) gene reported in our previous studies and the two cycloartenol synthase genes of
P. tenuifolia
. All genes were isolated and characterized in yeast cells. The functional expression of the two
PtCAS
genes in yeast cells showed that the genes all produce a cycloartenol as the sole product. When qRT-PCR analysis from different tissues was performed, the expressions of
PtCAS1
and
PtCAS2
were highest in flowers and roots, respectively. After MeJA treatment, the transcripts of
PtCAS1
and
PtCAS2
genes increased by 1.5- and 2-fold, respectively. Given these results, we discuss the potential roles of the two
PtCAS
genes in relation to triterpenoid biosynthesis.
View Full-Text
►

▼

Figures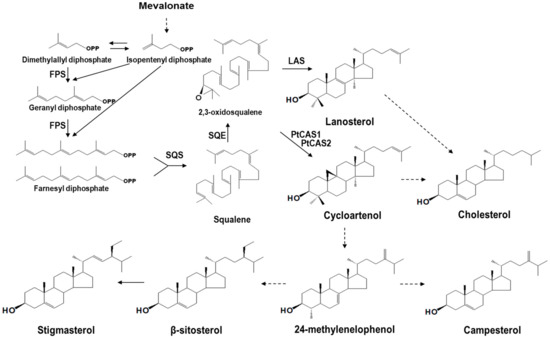 Figure 1
This is an open access article distributed under the
Creative Commons Attribution License
which permits unrestricted use, distribution, and reproduction in any medium, provided the original work is properly cited (CC BY 4.0).

Share & Cite This Article
MDPI and ACS Style
Jin, M.L.; Lee, W.M.; Kim, O.T. Two Cycloartenol Synthases for Phytosterol Biosynthesis in Polygala tenuifolia Willd. Int. J. Mol. Sci. 2017, 18, 2426.
Note that from the first issue of 2016, MDPI journals use article numbers instead of page numbers. See further details here.
Related Articles
Comments
[Return to top]