Heparan Sulfate Biosynthetic System Is Inhibited in Human Glioma Due to
EXT1/2

and

HS6ST1/2

Down-Regulation

1

Institute of Molecular Biology and Biophysics, Novosibirsk 630117, Russia

2

Novosibirsk State University, Novosibirsk 630090, Russia

3

National Institute of Applied Sciences, 31400 Toulouse, France

4

Meshalkin National Medical Research Centre, 630055 Novosibirsk, Russia

5

Novosibirsk State Medical University, 630090 Novosibirsk, Russia

6

European Medical Centre, 129110 Moscow, Russia

*

Author to whom correspondence should be addressed.

Received: 23 September 2017 / Revised: 23 October 2017 / Accepted: 28 October 2017 / Published: 1 November 2017
Abstract
Heparan sulfate (HS) is an important component of the extracellular matrix and cell surface, which plays a key role in cell–cell and cell–matrix interactions. Functional activity of HS directly depends on its structure, which determined by a complex system of HS biosynthetic enzymes. During malignant transformation, the system can undergo significant changes, but for glioma, HS biosynthesis has not been studied in detail. In this study, we performed a comparative analysis of the HS biosynthetic system in human gliomas of different grades. RT-PCR analysis showed that the overall transcriptional activity of the main HS biosynthesis-involved genes (
EXT1
,
EXT2
,
NDST1
,
NDST2
,
GLCE
,
HS2ST1
,
HS3ST1
,
HS3ST2
,
HS6ST1
,
HS6ST2
,
SULF1
,
SULF2
,
HPSE
) was decreased by 1.5–2-fold in Grade II-III glioma (
p
< 0.01) and by 3-fold in Grade IV glioma (glioblastoma multiforme, GBM) (
p
< 0.05), as compared with the para-tumourous tissue. The inhibition was mainly due to the elongation (a decrease in
EXT1/2
expression by 3–4-fold) and 6-
O
-sulfation steps (a decrease in
6OST1/2
expression by 2–5-fold) of the HS biosynthesis. Heparanase (
HPSE
) expression was identified in 50% of GBM tumours by immunostaining, and was characterised by a high intratumoural heterogeneity of the presence of the HPSE protein. The detected disorganisation of the HS biosynthetic system in gliomas might be a potential molecular mechanism for the changes of HS structure and content in tumour microenvironments, contributing to the invasion of glioma cells and the development of the disease.
View Full-Text
►

▼

Figures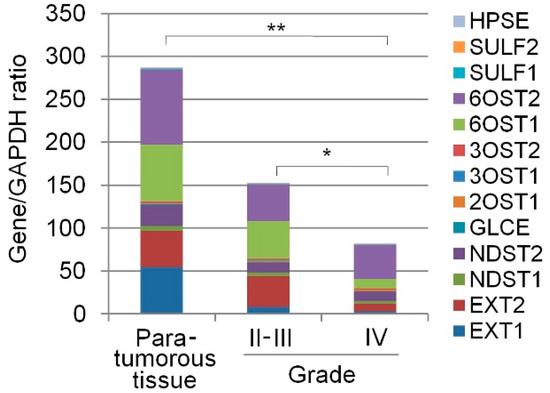 Figure 1
This is an open access article distributed under the
Creative Commons Attribution License
which permits unrestricted use, distribution, and reproduction in any medium, provided the original work is properly cited (CC BY 4.0).

Share & Cite This Article
MDPI and ACS Style
Ushakov, V.S.; Tsidulko, A.Y.; De La Bourdonnaye, G.; Kazanskaya, G.M.; Volkov, A.M.; Kiselev, R.S.; Kobozev, V.V.; Kostromskaya, D.V.; Gaytan, A.S.; Krivoshapkin, A.L.; Aidagulova, S.V.; Grigorieva, E.V. Heparan Sulfate Biosynthetic System Is Inhibited in Human Glioma Due to EXT1/2 and HS6ST1/2 Down-Regulation. Int. J. Mol. Sci. 2017, 18, 2301.
Note that from the first issue of 2016, MDPI journals use article numbers instead of page numbers. See further details here.
Related Articles
Comments
[Return to top]