Open Access This article is
freely available
re-usable
Review
Stress and the HPA Axis: Balancing Homeostasis and Fertility
Department of Obstetrics, Gynecology, and Reproductive Sciences, Yale School of Medicine, P.O. Box 208063, New Haven, CT 06520, USA
*
Author to whom correspondence should be addressed.
Received: 21 September 2017 / Accepted: 21 October 2017 / Published: 24 October 2017
Abstract
:
An organism's reproductive fitness is sensitive to the environment, integrating cues of resource availability, ecological factors, and hazards within its habitat. Events that challenge the environment of an organism activate the central stress response system, which is primarily mediated by the hypothalamic–pituitary–adrenal (HPA) axis. The regulatory functions of the HPA axis govern the cardiovascular and metabolic system, immune functions, behavior, and reproduction. Activation of the HPA axis by various stressors primarily inhibits reproductive function and is able to alter fetal development, imparting a biological record of stress experienced in utero. Clinical studies and experimental data indicate that stress signaling can mediate these effects through direct actions in the brain, gonads, and embryonic tissues. This review focuses on the mechanisms by which stress activation of the HPA axis impacts fertility and fetal development.
Keywords:
stress; fertility; reproduction; hypothalamic-pituitary-adrenal (HPA) axis; programming; glucocorticoids
Acknowledgments
Supported by an Albert McKern Scholar Award (Shannon Whirledge) and R00 ES022983 awarded by the NIH/NIEHS (Shannon Whirledge).
Author Contributions
Dana N. Joseph and Shannon Whirledge wrote and edited the manuscript.
Conflicts of Interest
The authors declare no conflict of interest.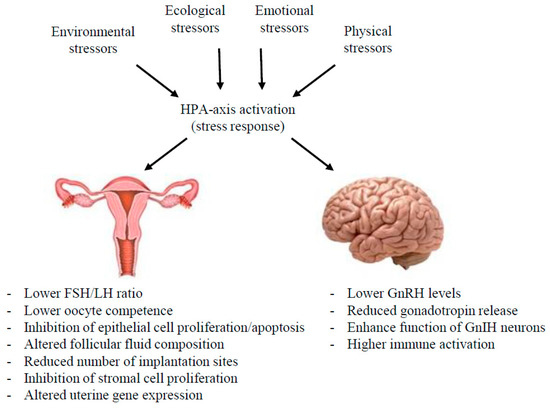 Figure 1.
HPA axis activation by various stressors alters the activity of the HPG axis. HPA-axis: hypothalamic-pituitary-adrenal axis, FSH: follicle stimulating hormone, LH: luteinzing hormone, GnRH: gonadotropin-releasing hormone, GnIH: gonadotropin-inhibitory hormone (
Rfrp3
).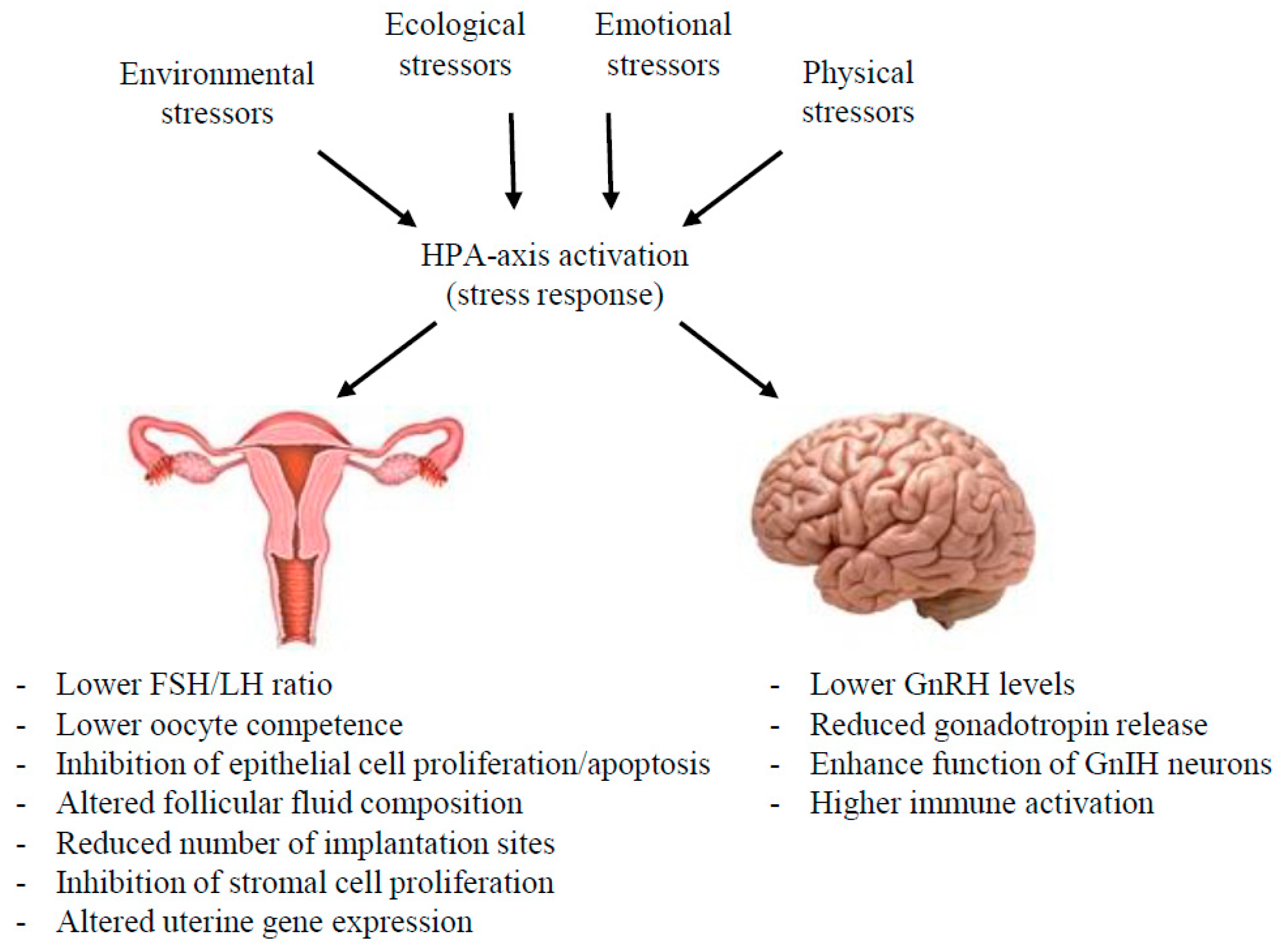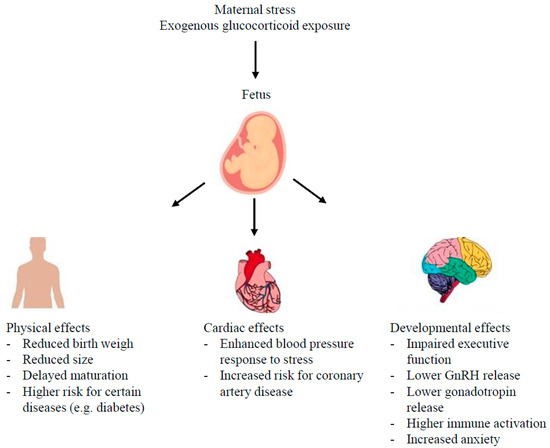 Figure 2. High levels of glucocorticoids experienced in utero through stress or exogenous administration can cause effects in the organ systems of offspring.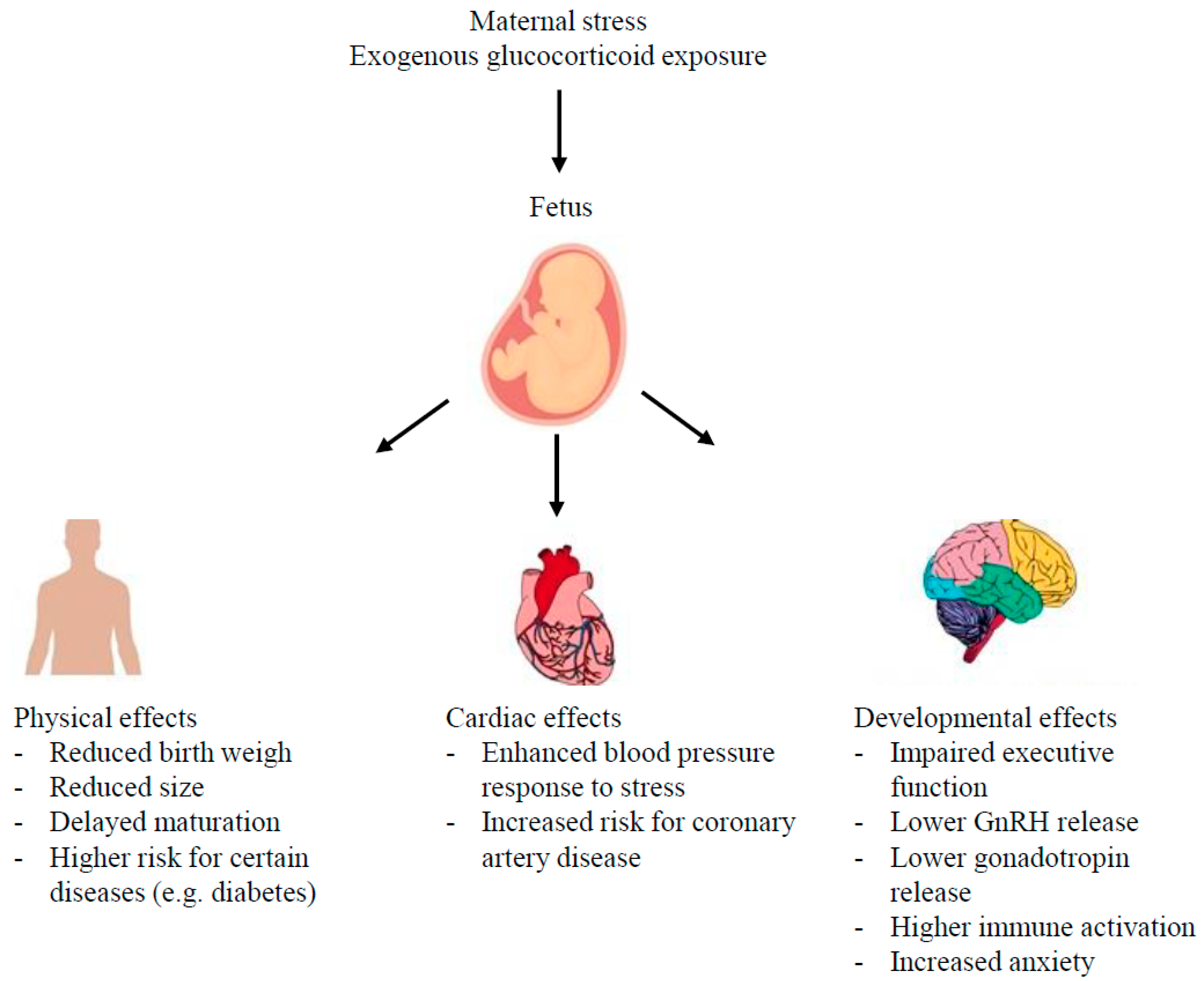 © 2017 by the authors. Licensee MDPI, Basel, Switzerland. This article is an open access article distributed under the terms and conditions of the Creative Commons Attribution (CC BY) license (http://creativecommons.org/licenses/by/4.0/).