Open Access This article is
freely available
re-usable
Article
Nrf2-Inducers Counteract Neurodegeneration in Frataxin-Silenced Motor Neurons: Disclosing New Therapeutic Targets for Friedreich's Ataxia
1
Unit of Neuromuscular and Neurodegenerative Diseases, IRCCS Bambino Gesù Children's Hospital, Viale San Paolo 15, 00146 Rome, Italy
2
Drexel University College of Medicine, 2900 Queen Lane, Philadelphia, PA 19129, USA
3
Laboratory of Biochemistry, IRCCS Bambino Gesù Children's Hospital, Viale San Paolo 15, 00146 Rome, Italy
4
Movement Analysis and Robotics Laboratory (MARLab), Neurorehabilitation Unit, Department of Neurosciences, IRCCS Bambino Gesù Children's Hospital, Via Torre di Palidoro, Passoscuro Fiumicino, 00050 Rome, Italy
†
These authors contributed equally to this work.

Received: 12 September 2017 / Accepted: 14 October 2017 / Published: 18 October 2017
Abstract
:
Oxidative stress is actively involved in Friedreich's Ataxia (FA), thus pharmacological targeting of the antioxidant machinery may have therapeutic value. Here, we analyzed the relevance of the antioxidant phase II response mediated by the transcription factor Nrf2 on frataxin-deficient cultured motor neurons and on fibroblasts of patients. The in vitro treatment of the potent Nrf2 activator sulforaphane increased Nrf2 protein levels and led to the upregulation of phase II antioxidant enzymes. The neuroprotective effects were accompanied by an increase in neurites' number and extension. Sulforaphane (SFN) is a natural compound of many diets and is now being used in clinical trials for other pathologies. Our results provide morphological and biochemical evidence to endorse a neuroprotective strategy that may have therapeutic relevance for FA. The findings of this work reinforce the crucial importance of Nrf2 in FA and provide a rationale for using Nrf2-inducers as pharmacological agents.
Keywords:
oxidative stress; Nrf2; Friedreich's Ataxia; sulforaphane; dimethyl fumarate; inducers
1. Introduction
Our findings indicate that both Nrf2-inducers significantly up-regulate Nrf2 and its target genes in frataxin-deficient motor neurons. This activation contributes to stabilizing the redox environment in FA by targeting the repletion of reduced glutathione (GSH) and mitigating reactive oxygen species (ROS)-related damage, thus ultimately counteracting the neurodegeneration.
3. Discussion
This study can be summarized as two main findings: (1) the Nrf2/ARE pathway is dysfunctional in shFxn neurons, creating a toxic oxidative stress environment; (2) SFN promotes activation of Nrf2/ARE signaling, reversing the oxidative stress environment and the neurodegenerative phenotype derived from frataxin deficiency.
In FA, the dys-regulation of cellular antioxidant defenses, due to frataxin deficiency, exacerbates oxidative stress, thus the Nrf2 activation becomes more and more of an attractive strategy for the treatment of this disease.
Overall, our findings support Nrf2 as a therapeutic target for FA, and its induction as a promising approach to prevent or slow the pathological changes observed in this disease. Furthermore, the Nrf2 impairment mirrored at the systemic level in PBMCs of patients may help to open new perspectives for biomarker research in FA, potentially useful for monitoring clinical trials.
4. Materials and Methods
SFN (LKT Laboratories, St. Paul, MN, USA) and DMF (Sigma-Aldrich, St. Louis, MO, USA) were prepared in DMSO. Lentiviral particles encoding short-hairpin RNA (shRNA) sequences have been purchased from Open Biosystem (Waltham, MA, USA).
4.1. Stable shFxn Cell Lines Generation and Treatments
Frataxin silencing and stable shFxn cell lines generation have been performed as described in Piermarini et al. [
14
]. Briefly, following the methodology used in Carletti et al. [
13
], we silenced the mouse NSC34 motor neurons for the frataxin gene with shFxn lentiviral vectors generating a cell line (called shFxn) displaying 40% residual frataxin levels. Cell sorting for GFP expression has been performed 96 h after infection with shRNA lentiviral particles by using a FACSAria II cell sorter (BD Biosciences, Franklin Lakes, NJ, USA). Positive cells have been collected and exposed to puromycin selection (10 µg/mL), which was maintained for 7 days to obtain a stable cell line that has been finally analyzed for frataxin silencing. Control cell lines (referred to as Mock) consist of cells infected with the GFP vector alone. For treatments, neurons were differentiated as in Carletti et al. [
21
], incubated for 24 h with 5 µM SFN or 30 µM DMF diluted in culture medium, pelleted by centrifugation and subjected to electrophoresis and HPLC analysis, as reported below.
4.2. Fibroblasts Cultures
Skin biopsies were taken from three clinically affected (and genetically proven) FRDA patients (two males and one female) (
Table 1
) and three age-matched controls. Fibroblasts were grown in Dulbecco's modified Eagle's medium supplemented with 10% fetal bovine serum, 50 units/mL penicillin, 50 µg/mL streptomycin, 0.4% (
v
/
v
), at 37 °C in 5% CO
2
. Fibroblasts were cultured to 70% confluence as reported in [
50
] and incubated for 24 h with 10 µM SFN diluted in culture medium. After washing, cells were lysated in 1 mL TRI Reagent (Sigma-Aldrich, St. Louis, MO, USA) for RNA extraction and subjected to quantitative Real-Time PCR. The assays were performed in triplicate and cells were used at similar passage numbers.
4.3. Blood Sample Collection
Blood samples from 4 patients (
Table 1
) were collected into EDTA Vacutainer Tubes (Becton Dickinson, Rutherford, NY, USA) and PBMC was isolated by adding 10% dextran. After 45 min at room temperature, the upper phase was centrifuged at 2600×
g
(5 min) and the pellet washed with 0.9% NaCl and stored at −20 °C until the analysis. All the participants signed an informed consent and the study was approved by the Ethics Committee of "Bambino Gesù" Children's Hospital (code 1166/2016; date of approval 08/06/2016).
4.4. Quantitative Real-Time PCR (qRT-PCR)
Total RNA was extracted from shFxn, fibroblasts and PBMC using TRI Reagent (Sigma-Aldrich, St. Louis, MO, USA), according to the manufacturer's protocol. An amount of 1 µg of each RNA samples was reverse transcribed with the SuperScript™ First-Strand Synthesis system and random hexamers as primers (Life Technologies, Carlsbad, CA, USA). The expression levels of FXN, NRF2, NQO1, HO-1, GCL were measured by qRT-PCR in an ABI PRISM 7500 Sequence Detection System (Life Technologies, Carlsbad, CA, USA) using Power SYBR Green I dye chemistry. Data were analyzed using the 2
−ΔΔ

C

t
method with TBP (TATA box binding protein) and GAPDH as housekeeping genes, and data are shown as fold change relative to controls. Primers used for qRT-PCR are reported in
Table 2
.
4.5. Immunoblot Analysis
Cells were homogenized and lysed on ice with RIPA buffer, including DTT and protease inhibitors. For Western blotting analysis, 40 μg of proteins was subjected to SDS PAGE on 4–12% denaturing gel and probed with the following antibodies: NRF2 (1:500, Abcam, Cambridge, UK), NQO1 (1:1000, Novus Biologicals, Minneapolis, MN, USA), SOD 1/2 (1:5000, Stressgen, Victoria, BC, Canada), Frataxin (1:500, Santa Cruz Biotechnology, Dallas, TX, USA) and GAPDH (1:15,000, Sigma Aldrich, St. Louis, MO, USA) as loading control. Immunoreactive bands were detected using the Lite Ablot Extend Long Lasting Chemiluminescent substrate (Euroclone, MI, Italy). Signals derived from appropriate HRP-conjugated secondary antibodies (Bethyl Laboratories, Montgomery, TX, USA) were captured by Chemi DocTM XRS 2015 (Bio-Rad Laboratories, Hercules, CA, USA) and densitometric analysis was performed using Image Lab software (Version 5.2.1; © Bio-Rad Laboratories).
4.6. HPLC Analysis of Reduced (GSH) and Oxidized (GSSG) Glutathione Forms
GSH and GSSG levels were measured as previously reported [
53
]. In brief, cells were sonicated and de-proteinized by adding 12% sulfosalicylic acid, and the acid-soluble fraction was used for GSH determination. For GSSG measurements, cell sonication was performed in buffer containing 10 mM
N
-ethylmaleimide. Derivatization and chromatography procedures were described in Pastore et al. [
54
].
4.7. Neurite Numbers' and Morphology
For the experiments, cells were cultured at a density of 2000 cell/cm
2
on poly-
d
-lysine (100 µg/mL) pre-coated tissue culture glass cover slips and differentiated as reported [
21
]. To measure neurites' number, shFxn neurons (7 days differentiation) were incubated for 24 h with 5 μM SFN and 30 μM DMF, and micrographs were acquired by Olympus IX 70 microscope (software I.A.S. 2000). Quantitative evaluations were made using the ImageJ software (1.47 v, Bethesda, MD, USA). We examined neurites of shFxn cultures (507 cells), SFN and DMF treatments (400 and 350 cells, respectively) from four independent experiments.
4.8. Statistical Analysis
Statistical analysis was performed using the GRAPHPAD/Prism 5.0 Software (San Diego, CA, USA). Statistically significant differences between groups were analyzed using Student's
t
-test for normally distributed variables. All data are presented as mean ± standard deviation. Statistical significance was defined as *
p
< 0.05, **
p
<0.01, ***
p
< 0.001, compared to healthy controls, and
#
p
< 0.05,
##
p
<0.01,
###
p
< 0.001, compared to untreated cells.
Acknowledgments
This work was supported by Ricerca Corrente of the Italian Ministry of Health.
Author Contributions
Fiorella Piemonte designed and supervised experiments, and wrote the manuscript. Sara Petrillo and Emanuela Piermarini performed experiments, contributed to designing the study and discussed the results. Anna Pastore performed HPLC analysis for GSH measurements. Enrico Bertini supervised the manuscript writing. Rosalba Carrozzo supervised experiments on fibroblasts, Gessica Vasco and Tommaso Schirinzi contributed with the acquisition of clinical data and patient enrollment. All authors read and approved the final manuscript.
Conflicts of Interest
The authors declare no conflict of interest.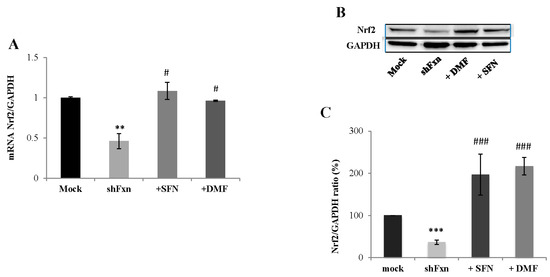 Figure 1.
Nrf2-inducers up-regulate the Nrf2 expression in frataxin silenced neurons (shFxn). (
A
) qRT-PCR of mRNA Nrf2 levels in shFxn and Mock after 5 µM (24 h) sulforaphane (SFN) and 30 µM (24 h) dimethyl fumarate (DMF) treatments. Glyceraldehyde 3-phosphate dehydrogenase (GAPDH) is used for normalization and relative quantification of gene expression was performed according to the 2
−ΔΔ

C

t
method; (
B
) Representative Western blot of DMF- and SFN-treated shFxn neurons; (
C
) Densitometry of Nrf2 protein amounts analyzed by Western Blot. Values represent the mean ± SD of three independent experiments (**
p
< 0.01 and ***
p
< 0.001, with respect to Mock;
#
p
< 0.05 and
###
p
< 0.001, with respect to untreated shFxn).

Figure 2.
Nrf2 inducers activate the phase II response in shFxn. (
A
) Representative Western blot of downstream Nrf2 target proteins. An amount of 40 µg Mock, shFxn 5 µM (24 h) SFN and 30 µM (24 h) DMF treatments were applied onto 4–12% Bis–Tris SDS-polyacrylamide gel electrophoresis and probed with anti-NQO-1 (1:1000), MnSOD (1:5000) and Cu/ZnSOD (1:5000) antibodies; (
B
) Densitometry of blots, normalized to GAPDH. Values represent the mean ± SD of three independent experiments (*
p
< 0.05, with respect to Mock;
#
p
< 0.05, with respect to untreated shFxn).

Figure 3.
HPLC analysis of GSSG (
A
) and GSH (
B
) in shFxn after treatments with 5 µM (24 h) SFN and 30 µM (24 h) DMF. Nrf2 inducers cause repletion of the oxidized (GSSG)/reduced (GSH) glutathione ratio (
C
). *
p
< 0.05, ***
p
< 0.001, with respect to Mock.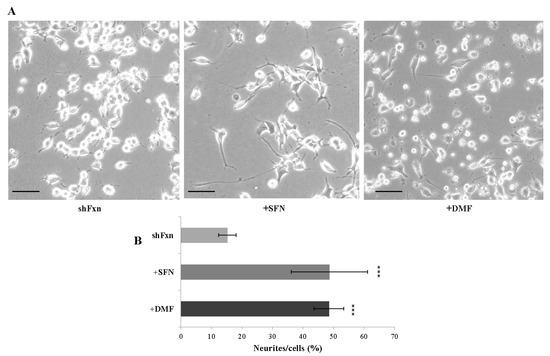 Figure 4.
Nrf2-inducers trigger axonal re-growth in the shFxn. (
A
) Bright field photographs of untreated shFxn, 5 µM (24 h) SFN and 30 µM (24 h) DMF treated cells. A re-organization of the neurites network is evident; (
B
) The number of neurites has been measured by ImageJ software and normalized for number of cells (***
p
<0.001; bar = 100 μm).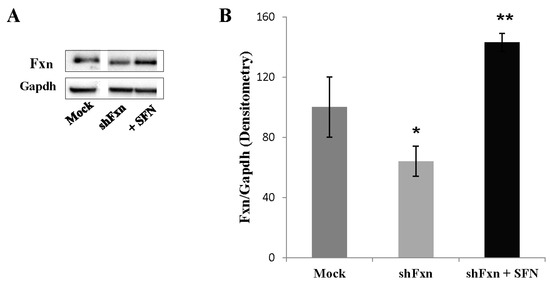 Figure 5.
The amount of frataxin increases after SFN treatment. (
A
) Representative Western blot of shFxn incubated for 24 h with 5 µM SFN; (
B
) Densitometry of blots normalized to GAPDH. Values represent the mean ± SD of three independent experiments (*
p
< 0.05, **
p
< 0.01, with respect to untreated shFxn).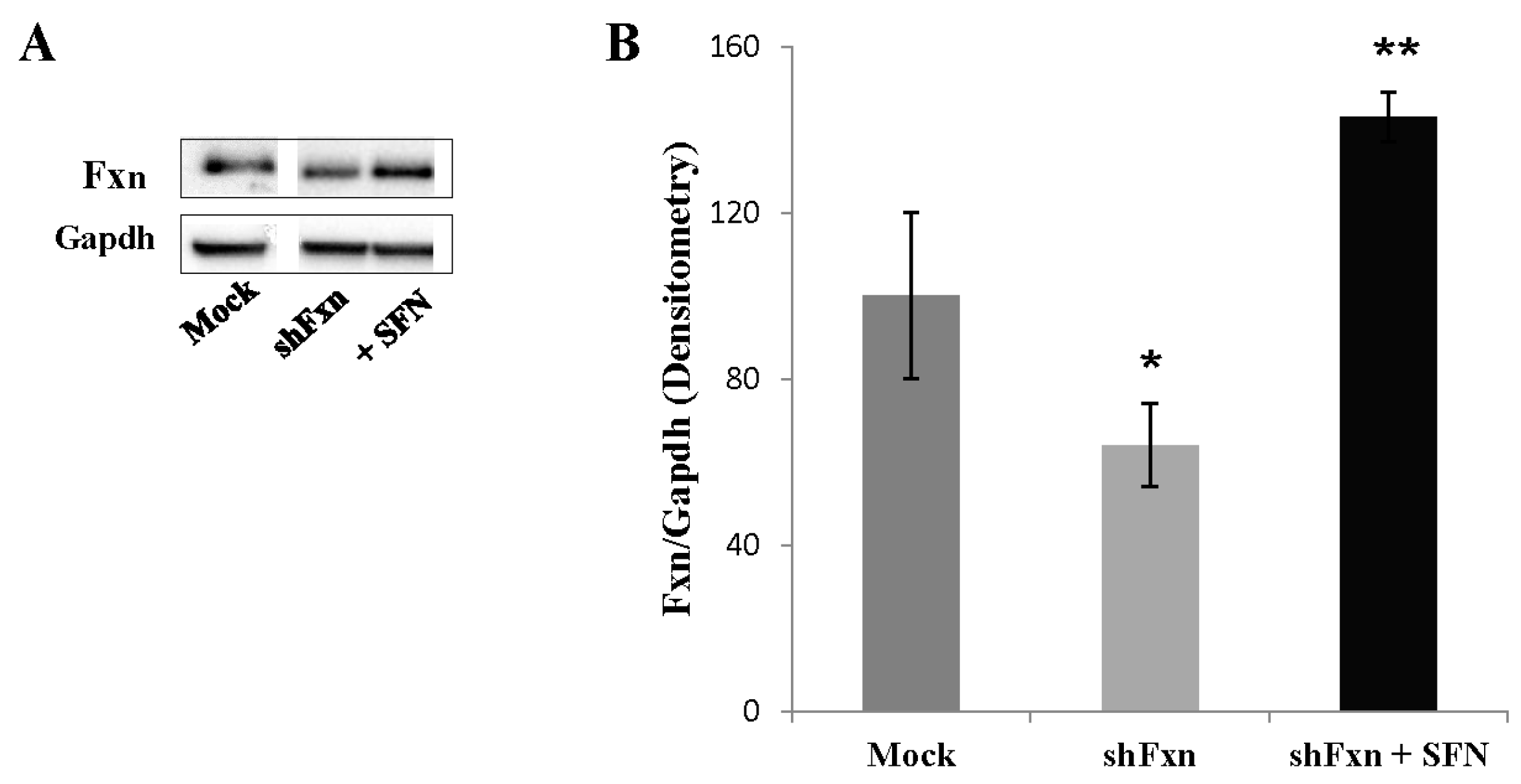 Figure 6.
Expression of NRF2 and its down-stream genes in fibroblasts of patients with FA. Fibroblasts of three patients expressing a 35% residual amount of frataxin and 65% of NRF2 (
A
), with respect to healthy subjects, were treated with 10 µM SFN (24 h), and mRNA levels of NRF2-downstream-genes were determined (
B
). *
p
< 0.05 and **
p
< 0.01, with respect to control fibroblasts;
#
p
< 0.05 and
##
p
< 0.01, with respect to untreated FA fibroblasts.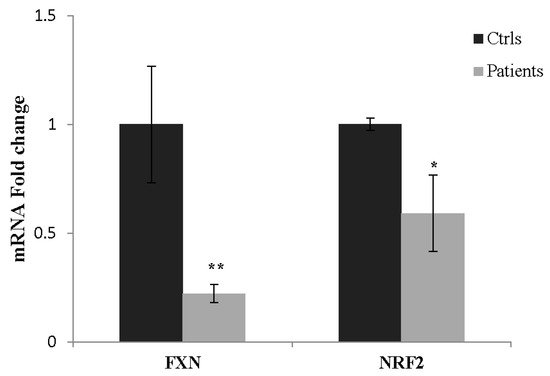 Figure 7.
Frataxin and NRF2 mRNA levels in blood of patients with FA. qRT-PCR performed on PBMCs isolated from blood of FA patients (
n
= 4) evidenced 35% and 59% residual amounts of Fxn and NRF2 expression, respectively, compared with healthy subjects (
n
= 5) (*
p
< 0.05,**
p
< 0.01, respect to healthy subjects).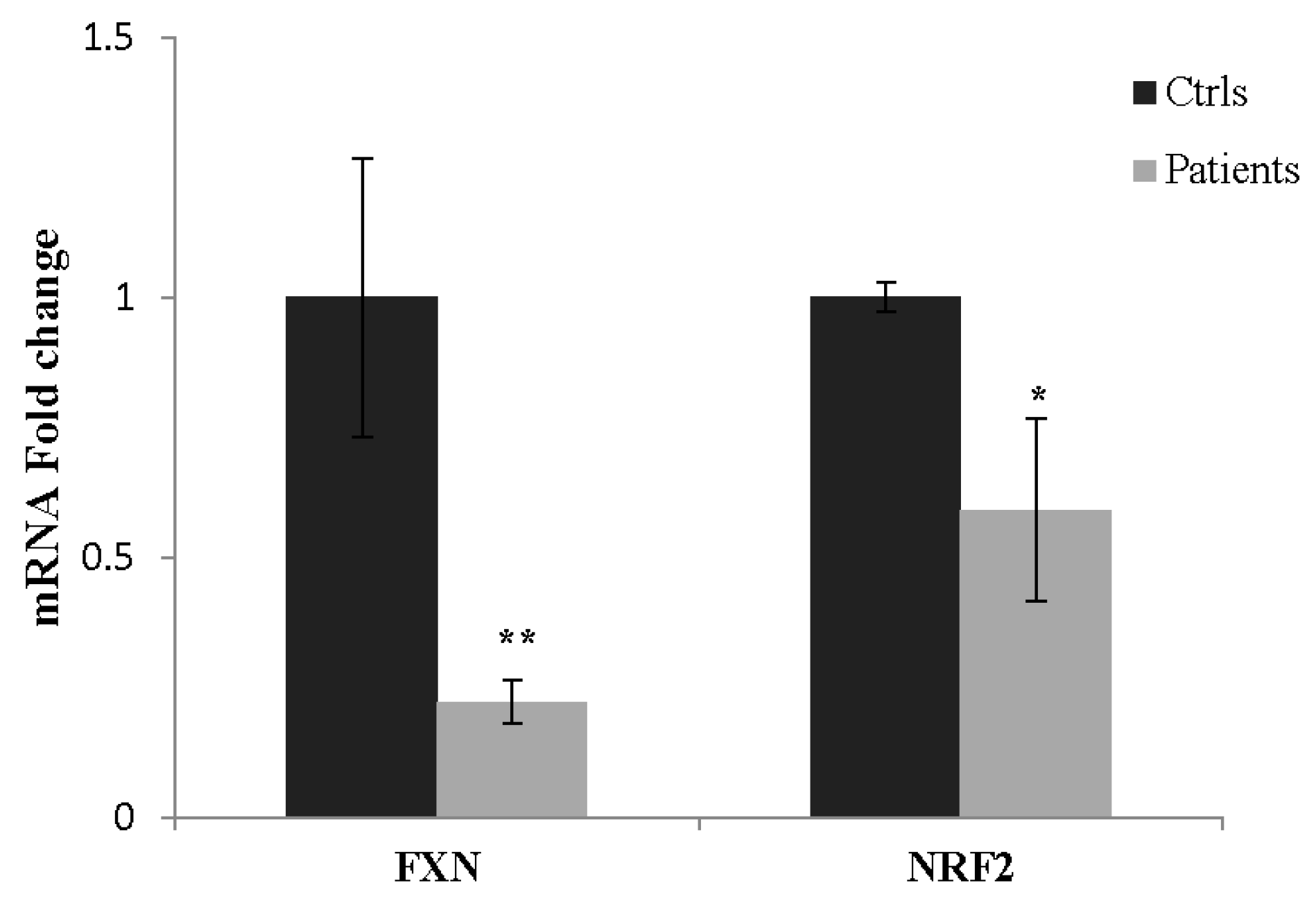 | Case | Age | Sex | Genetics | Onset | Duration | SARA | 8 m | 9HPTdom | PATA | Weight | Height |
| --- | --- | --- | --- | --- | --- | --- | --- | --- | --- | --- | --- |
| FV | 14 | F | 780/1114 | 5 | 9 | 12.5 | 6.9 | 48.0 | -- | 28 | 155 |
| BD | 9 | F | 1116/1116 | 1 | 8 | 10 | 6.8 | 44.0 | 17 | 30 | 130 |
| MA | 15 | M | 999/766 | 8 | 7 | 12 | 9.3 | 47.7 | 24 | 63 | 159 |
| DG | 32 | M | c.410G>T(p.Gly137Val)4/281 | 23 | 9 | 8.5 | 5.3 | 36.3 | 33 | 70 | 174 |
Mouse Genes
Sequence (5′→3′)

FXN

Fw-CCTGGCCGAGTTCTTTGAAG
Rv-GCCAGATTTGCTTGTTTGG

NRF2

Fw-TGGAGGCAGCCATGACTGA
Rv-CTGCTTGTTTTCGGTATTAAGACACT

TBP

Fw-CTCTGACCACTGCACCGTT
Rv-CTGCAGCAAATCGCTTGGG

GAPDH

Fw-CCTCGTCCCGTAGACAAAATG
Rv-TGAAGGGGTCGTTGATGGC
Human Genes
Sequence (5′→3′)

FXN

Fw-CCTTGCAGACAAGCCATACA
Rv-CCACTGGATGGAGAAGATAG

Nrf2

Fw-ACACGGTCCACAGCTCATC
Rv-TGTCAATCAAATCCATGTCCTG

GCL

Fw-TTGCCTCCTGCTGTGTGATG
Rv-ATCATTGTGAGTCAACAGCTGTATGTC

HO-1

Fw-CTCAACATCCAGCTCTTTGAG
Rv-AATCTTGCACTTTGTTGCTGGC

NQO1

Fw-GACATCACAGGTAAACTGAAGG
Rv-GCAGGGGGAACTGGAATATC

TBP

Fw-CCGAAACGCCGAATATAATCC
Rv-AAATCAGTGCCGTGGTTCGT

GAPDH

Fw-GATGACATCAAGAAGGTGGTG
Rv-GTCATACCAGGAAATGAGCTTG

© 2017 by the authors. Licensee MDPI, Basel, Switzerland. This article is an open access article distributed under the terms and conditions of the Creative Commons Attribution (CC BY) license (http://creativecommons.org/licenses/by/4.0/).