Anti-Adipogenic Effects on 3T3-L1 Cells and Zebrafish by Tanshinone IIA
1
Department of Molecular Medicine, College of Medicine, Keimyung University, 1095 Dalgubeoldaero, Dalseo-gu, Daegu 42601, Korea
2
Department of Food Nutrition, College of Natural Sciences, Keimyung University, 1095 Dalgubeoldaero, Dalseo-gu, Daegu 42601, Korea
3
Department of Chemistry, College of Natural Sciences, Keimyung University, 1095 Dalgubeoldaero, Dalseo-gu, Daegu 42601, Korea
4
Department of Microbiology, College of Medicine, Yeungnam University, 170 Hyeonchung-ro, Nam-gu, Daegu 42415, Korea
5
Bio & Drug Discovery Division, Korea Research Institute of Chemical Technology, 141 Gajeong-ro Yuseong-gu, Daejeon 34114, Korea
6
Biological Disaster Analysis Group, Division of Convergence Biotechnology, Korea Basic Science Institute, 169-148 Gwahak-ro, Yuseong-gu, Daejeon 34133, Korea
*
Author to whom correspondence should be addressed.
Received: 14 August 2017 / Revised: 15 September 2017 / Accepted: 22 September 2017 / Published: 27 September 2017
Abstract
Tanshinone IIA is a diterpene quinone isolated from the roots of
Salvia
miltiorrhiza
bunge that has traditionally been used in China for the treatment of cardiovascular and cerebrovascular disorders. Although there is recent evidence showing that tanshinone IIA has an anti-obesity effect, its underlying mechanism of anti-obesity effect is poorly understood. Here, we investigated the effect of tanshinone IIA on lipid accumulation in 3T3-L1 preadipocytes and zebrafish. Notably, tanshinone IIA at 10 μM concentration greatly reduced lipid accumulation and triglyceride (TG) contents during 3T3-L1 preadipocyte differentiation, suggesting its anti-adipogenic effect. On mechanistic levels, tanshinone IIA reduced the expression levels of CCAAT/enhancer-binding protein-α (C/EBP-α), peroxisome proliferator-activated receptor-γ (PPAR-γ), fatty acid synthase (FAS), and perilipin A but also the phosphorylation levels of signal transducer and activator of transcription-3/5 (STAT-3/5) in differentiating 3T3-L1 cells. In addition, tanshinone IIA strongly inhibited leptin and resistin mRNA expression in differentiating 3T3-L1 cells. Importantly, the tanshinone IIA's lipid-reducing effect was also seen in zebrafish. In sum, these findings demonstrate that tanshinone IIA has anti-adipogenic effects on 3T3-L1 cells and zebrafish, and its anti-adipogenic effect on 3T3-L1 cells is largely attributable to the reduced expression and/or phosphorylation levels of C/EBP-α, PPAR-γ, FAS, perilipin A, and STAT-3/5.
View Full-Text
►

▼

Figures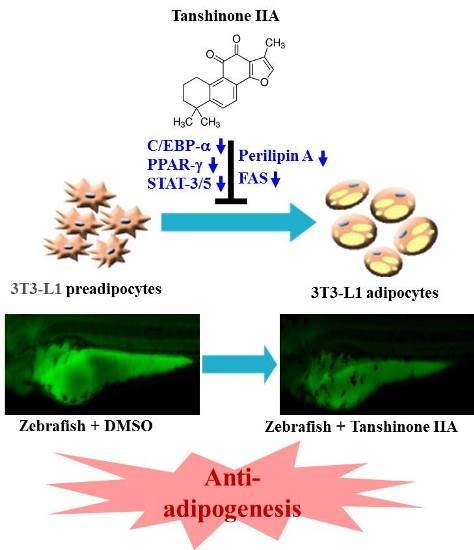 Graphical abstract
This is an open access article distributed under the
Creative Commons Attribution License
which permits unrestricted use, distribution, and reproduction in any medium, provided the original work is properly cited (CC BY 4.0).

Share & Cite This Article
MDPI and ACS Style
Park, Y.-K.; Obiang-Obounou, B.W.; Lee, J.; Lee, T.-Y.; Bae, M.-A.; Hwang, K.-S.; Lee, K.-B.; Choi, J.-S.; Jang, B.-C. Anti-Adipogenic Effects on 3T3-L1 Cells and Zebrafish by Tanshinone IIA. Int. J. Mol. Sci. 2017, 18, 2065.
Note that from the first issue of 2016, MDPI journals use article numbers instead of page numbers. See further details here.
Related Articles
Comments
[Return to top]