Role of the Genes of Type VI Secretion System in Virulence of Rice Bacterial Brown Stripe Pathogen
Acidovorax avenae

subsp.

avenae

Strain RS-2

1

State Key Laboratory of Rice Biology, Ministry of Agriculture Key Lab of Molecular Biology of Crop Pathogens and Insects, Institute of Biotechnology, Zhejiang University, Hangzhou 310058, China

2

Department of Plant Pathology, Bangabandhu Sheikh Mujibur Rahman Agricultural University, Gazipur 1706, Bangladesh

3

State Key Laboratory Breeding Base for Zhejiang Sustainable Pest and Disease Control, Institute of Plant Protection and Microbiology, Zhejiang Academy of Agricultural Sciences, Hangzhou 310021, China

*

Authors to whom correspondence should be addressed.

Received: 18 August 2017 / Revised: 9 September 2017 / Accepted: 19 September 2017 / Published: 21 September 2017
Abstract
The Type VI secretion system (T6SS) is a class of macromolecular machine that is required for the virulence of gram-negative bacteria. However, it is still not clear what the role of T6SS in the virulence of rice bacterial brown stripe pathogen
Acidovorax avenae
subsp.
avenae
(Aaa) is. The aim of the current study was to investigate the contribution of T6SS in Aaa strain RS2 virulence using insertional deletion mutation and complementation approaches. This strain produced weak virulence but contains a complete T6SS gene cluster based on a genome-wide analysis. Here we compared the virulence-related phenotypes between the wild-type (RS-2) and 25 T6SS mutants, which were constructed using homologous recombination methods. The mutation of 15 T6SS genes significantly reduced bacterial virulence and the secretion of Hcp protein. Additionally, the complemented 7 mutations Δ
pppA
, Δ
clpB
, Δ
hcp
, Δ
dotU
, Δ
icmF
, Δ
impJ
, and Δ
impM
caused similar virulence characteristics as RS-2. Moreover, the mutant Δ
pppA
, Δ
clpB
, Δ
icmF
, Δ
impJ
and Δ
impM
genes caused by a 38.3~56.4% reduction in biofilm formation while the mutants Δ
pppA
, Δ
clpB
, Δ
icmF
and Δ
hcp
resulted in a 37.5~44.6% reduction in motility. All together, these results demonstrate that T6SS play vital roles in the virulence of strain RS-2, which may be partially attributed to the reductions in Hcp secretion, biofilm formation and motility. However, differences in virulence between strain RS-1 and RS-2 suggest that other factors may also be involved in the virulence of Aaa.
View Full-Text
►

▼

Figures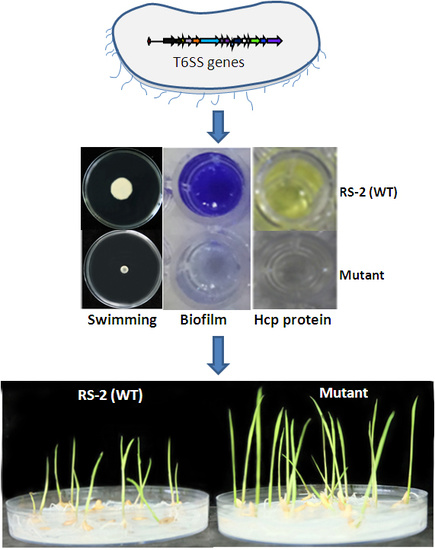 Graphical abstract
This is an open access article distributed under the
Creative Commons Attribution License
which permits unrestricted use, distribution, and reproduction in any medium, provided the original work is properly cited (CC BY 4.0).

Share & Cite This Article
MDPI and ACS Style
Masum, M.M.I.; Yang, Y.; Li, B.; Olaitan, O.S.; Chen, J.; Zhang, Y.; Fang, Y.; Qiu, W.; Wang, Y.; Sun, G. Role of the Genes of Type VI Secretion System in Virulence of Rice Bacterial Brown Stripe Pathogen Acidovorax avenae subsp. avenae Strain RS-2. Int. J. Mol. Sci. 2017, 18, 2024.
Note that from the first issue of 2016, MDPI journals use article numbers instead of page numbers. See further details here.
Related Articles
Comments
[Return to top]