Treating the Synapse in Major Psychiatric Disorders: The Role of Postsynaptic Density Network in Dopamine-Glutamate Interplay and Psychopharmacologic Drugs Molecular Actions
1
NHS, Department of Mental Health ASL Teramo, Psychiatric Service of Diagnosis and Treatment, Hospital "Maria SS dello Splendore", 641021 Giulianova, Italy
2
Laboratory of Molecular and Translational Psychiatry, Department of Neuroscience, Reproductive and Odontostomatogical Sciences, University of Naples "Federico II", 80131 Napoli, Italy
3
Polyedra Research Group, 64100 Teramo, Italy
4
NHS, Department of Mental Health ASL Teramo, Psychiatric Service of Diagnosis and Treatment, Hospital "G. Mazzini", 64100 Teramo, Italy
5
Department of Neuroscience and Imaging, University "G. d'Annunzio", 66100 Chieti, Italy
6
New York State Psychiatric Institute, Columbia University, New York, NY 10027, USA
7
Casa di Cura Villa San Giuseppe, 63100 Ascoli Piceno, Italy
*
Author to whom correspondence should be addressed.
Academic Editor: Katalin Prokai-Tatrai
Received: 27 November 2016 / Revised: 25 December 2016 / Accepted: 8 January 2017 / Published: 12 January 2017
Abstract
Dopamine-glutamate interplay dysfunctions have been suggested as pathophysiological key determinants of major psychotic disorders, above all schizophrenia and mood disorders. For the most part, synaptic interactions between dopamine and glutamate signaling pathways take part in the postsynaptic density, a specialized ultrastructure localized under the membrane of glutamatergic excitatory synapses. Multiple proteins, with the role of adaptors, regulators, effectors, and scaffolds compose the postsynaptic density network. They form structural and functional crossroads where multiple signals, starting at membrane receptors, are received, elaborated, integrated, and routed to appropriate nuclear targets. Moreover, transductional pathways belonging to different receptors may be functionally interconnected through postsynaptic density molecules. Several studies have demonstrated that psychopharmacologic drugs may differentially affect the expression and function of postsynaptic genes and proteins, depending upon the peculiar receptor profile of each compound. Thus, through postsynaptic network modulation, these drugs may induce dopamine-glutamate synaptic remodeling, which is at the basis of their long-term physiologic effects. In this review, we will discuss the role of postsynaptic proteins in dopamine-glutamate signals integration, as well as the peculiar impact of different psychotropic drugs used in clinical practice on postsynaptic remodeling, thereby trying to point out the possible future molecular targets of "synapse-based" psychiatric therapeutic strategies.
View Full-Text
►

▼

Figures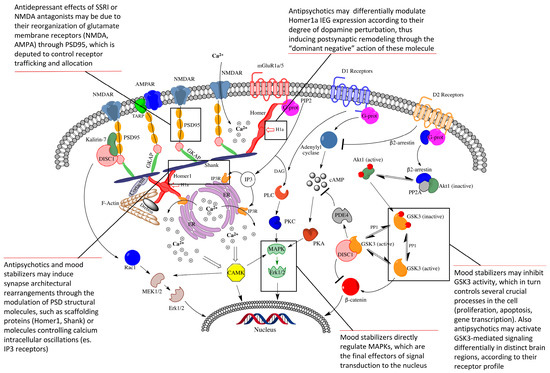 Figure 1
This is an open access article distributed under the
Creative Commons Attribution License
which permits unrestricted use, distribution, and reproduction in any medium, provided the original work is properly cited (CC BY 4.0).

Share & Cite This Article
MDPI and ACS Style
Tomasetti, C.; Iasevoli, F.; Buonaguro, E.F.; De Berardis, D.; Fornaro, M.; Fiengo, A.L.C.; Martinotti, G.; Orsolini, L.; Valchera, A.; Di Giannantonio, M.; De Bartolomeis, A. Treating the Synapse in Major Psychiatric Disorders: The Role of Postsynaptic Density Network in Dopamine-Glutamate Interplay and Psychopharmacologic Drugs Molecular Actions. Int. J. Mol. Sci. 2017, 18, 135.
Note that from the first issue of 2016, MDPI journals use article numbers instead of page numbers. See further details here.
Related Articles
Comments
[Return to top]