Ruscogenin Attenuates Cerebral Ischemia-Induced Blood-Brain Barrier Dysfunction by Suppressing TXNIP/NLRP3 Inflammasome Activation and the MAPK Pathway
1
Jiangsu Key Laboratory of Traditional Chinese Medicine Evaluation and Translational Research, Department of Complex Prescription of Traditional Chinese Medicine, China Pharmaceutical University, Nanjing 211198, China
2
Cellular and Molecular Biology Center, China Pharmaceutical University, Nanjing 211198, China
*
Authors to whom correspondence should be addressed.
Academic Editor: Paula Andrade
Received: 21 July 2016 / Revised: 19 August 2016 / Accepted: 23 August 2016 / Published: 29 August 2016
Abstract
Ruscogenin, an important steroid sapogenin derived from
Ophiopogon japonicus
, has been shown to inhibit cerebral ischemic injury. However, its potential molecular action on blood-brain barrier (BBB) dysfunction after stroke remains unclear. This study aimed to investigate the effects of ruscogenin on BBB dysfunction and the underlying mechanisms in middle cerebral artery occlusion/reperfusion (MCAO/R)-injured mice and oxygen–glucose deprivation/reoxygenation (OGD/R)-injured mouse brain microvascular endothelial cells (bEnd.3). The results demonstrated that administration of ruscogenin (10 mg/kg) decreased the brain infarction and edema, improved neurological deficits, increased cerebral brain flow (CBF), ameliorated histopathological damage, reduced evans blue (EB) leakage and upregulated the expression of tight junctions (TJs) in MCAO/R-injured mice. Meanwhile, ruscogenin (0.1–10 µM) treatment increased cell viability and trans-endothelial electrical resistance (TEER) value, decreased sodium fluorescein leakage, and modulated the TJs expression in OGD/R-induced bEnd.3 cells. Moreover, ruscogenin also inhibited the expression of interleukin-1β (IL-1β) and caspase-1, and markedly suppressed the expression of Nucleotide-binding domain (NOD)-like receptor family, pyrin domain containing 3 (NLRP3) and thiredoxin-interactive protein (TXNIP) in vivo and in vitro. Furthermore, ruscogenin decreased reactive oxygen species (ROS) generation and inhibited the mitogen-activated protein kinase (MAPK) pathway in OGD/R-induced bEnd.3 cells. Our findings provide some new insights into its potential application for the prevention and treatment of ischemic stroke.
View Full-Text
►

▼

Figures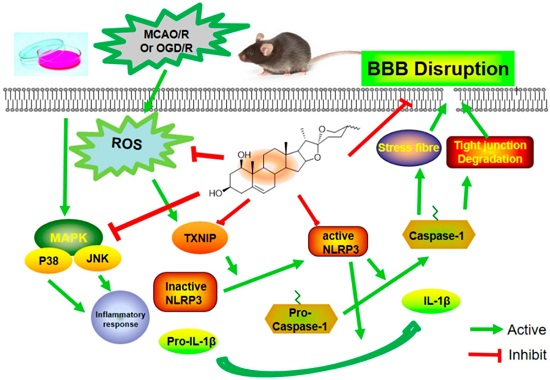 Graphical abstract
This is an open access article distributed under the
Creative Commons Attribution License
which permits unrestricted use, distribution, and reproduction in any medium, provided the original work is properly cited (CC BY 4.0).

Share & Cite This Article
MDPI and ACS Style
Cao, G.; Jiang, N.; Hu, Y.; Zhang, Y.; Wang, G.; Yin, M.; Ma, X.; Zhou, K.; Qi, J.; Yu, B.; Kou, J. Ruscogenin Attenuates Cerebral Ischemia-Induced Blood-Brain Barrier Dysfunction by Suppressing TXNIP/NLRP3 Inflammasome Activation and the MAPK Pathway. Int. J. Mol. Sci. 2016, 17, 1418.
Note that from the first issue of 2016, MDPI journals use article numbers instead of page numbers. See further details here.
Related Articles
Comments
[Return to top]