Detection of Natural Resistance-Associated Substitutions by Ion Semiconductor Technology in HCV1b Positive, Direct-Acting Antiviral Agents-Naïve Patients
1
Department of Health Sciences, Institute of Microbiology, School of Medicine, University of Magna Graecia, Viale Europa, Germaneto, 88100 Catanzaro, Italy
2
Katholieke Universiteit (KU) Leuven–University of Leuven, Department of Microbiology and Immunology, Rega Institute for Medical Research, Clinical and Epidemiological Virology, 3000 Leuven, Belgium
3
Department of Medical and Surgical Sciences, Unit of Infectious and Tropical Diseases, School of Medicine, University of Magna Graecia, Viale Europa, Germaneto, 88100 Catanzaro, Italy
4
Centro di Servizio Interdipartimentale (CIS)-Genomica funzionale e Patologia Molecolare, University of Magna Graecia, Viale Europa, Germaneto, 88100 Catanzaro, Italy
5
Department of Experimental and Clinical Medicine, University of Magna Graecia, Viale Europa, Germaneto, 88100 Catanzaro, Italy
6
Center for Global Health and Tropical Medicine, Institute for Hygiene and Tropical Medicine, University Nova de Lisboa, Rua da Junqueira 100, 1349-008 Lisbon, Portugal
*
Author to whom correspondence should be addressed.
Academic Editor: William Chi-shing Cho
Received: 7 July 2016 / Revised: 17 August 2016 / Accepted: 22 August 2016 / Published: 27 August 2016
Abstract
Naturally occurring resistance-associated substitutions (RASs) can negatively impact the response to direct-acting antivirals (DAAs) agents-based therapies for hepatitis C virus (HCV) infection. Herein, we set out to characterize the RASs in the HCV1b genome from serum samples of DAA-naïve patients in the context of the SINERGIE (South Italian Network for Rational Guidelines and International Epidemiology, 2014) project. We deep-sequenced the NS3/4A protease region of the viral population using the Ion Torrent Personal Genome Machine, and patient-specific majority rule consensus sequence summaries were constructed with a combination of freely available next generation sequencing data analysis software. We detected NS3/4A protease major and minor variants associated with resistance to boceprevir (V36L), telaprevir (V36L, I132V), simeprevir (V36L), and grazoprevir (V36L, V170I). Furthermore, we sequenced part of HCV NS5B polymerase using Sanger-sequencing and detected a natural RAS for dasabuvir (C316N). This mutation could be important for treatment strategies in cases of previous therapy failure.
View Full-Text
►

▼

Figures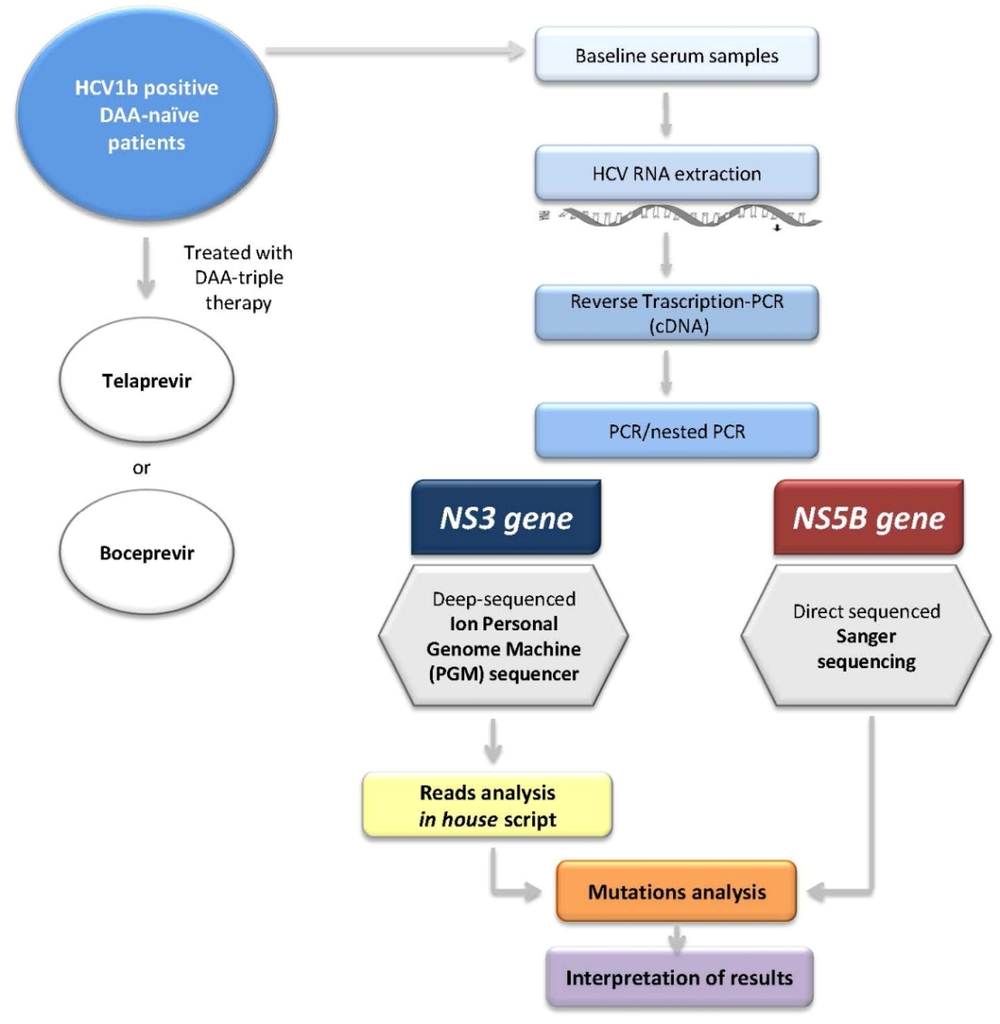 Graphical abstract
This is an open access article distributed under the
Creative Commons Attribution License
which permits unrestricted use, distribution, and reproduction in any medium, provided the original work is properly cited (CC BY 4.0).

Share & Cite This Article
MDPI and ACS Style
Marascio, N.; Pavia, G.; Strazzulla, A.; Dierckx, T.; Cuypers, L.; Vrancken, B.; Barreca, G.S.; Mirante, T.; Malanga, D.; Oliveira, D.M.; Vandamme, A.-M.; Torti, C.; Liberto, M.C.; Focà, A.; The SINERGIE-UMG Study Group. Detection of Natural Resistance-Associated Substitutions by Ion Semiconductor Technology in HCV1b Positive, Direct-Acting Antiviral Agents-Naïve Patients. Int. J. Mol. Sci. 2016, 17, 1416.
Note that from the first issue of 2016, MDPI journals use article numbers instead of page numbers. See further details here.
Related Articles
Comments
[Return to top]