Open Access This article is
freely available
re-usable
Review
Micronutrient Antioxidants and Nonalcoholic Fatty Liver Disease
Department of Cell Metabolism and Nutrition, Brain/Liver Interface Medicine Research Center, Kanazawa University, Kanazawa, Ishikawa 920-8640, Japan
*
Author to whom correspondence should be addressed.
Academic Editor: Maurizio Battino
Received: 26 July 2016 / Accepted: 17 August 2016 / Published: 23 August 2016
Abstract
:
Nonalcoholic fatty liver disease (NAFLD) is one of the most important chronic liver diseases worldwide and has garnered increasing attention in recent decades. NAFLD is characterized by a wide range of liver changes, from simple steatosis to nonalcoholic steatohepatitis, cirrhosis, and hepatocellular carcinoma. The blurred pathogenesis of NAFLD is very complicated and involves lipid accumulation, insulin resistance, inflammation, and fibrogenesis. NAFLD is closely associated with complications such as obesity, diabetes, steatohepatitis, and liver fibrosis. During the progression of NAFLD, reactive oxygen species (ROS) are activated and induce oxidative stress. Recent attempts at establishing effective NAFLD therapy have identified potential micronutrient antioxidants that may reduce the accumulation of ROS and finally ameliorate the disease. In this review, we present the molecular mechanisms involved in the pathogenesis of NAFLD and introduce some dietary antioxidants that may be used to prevent or cure NAFLD, such as vitamin D, E, and astaxanthin.
Keywords:
nonalcoholic fatty liver disease (NAFLD); nonalcoholic steatohepatitis (NASH); antioxidants; insulin resistance; inflammation; fibrosis; vitamin D; vitamin E; astaxanthin
Acknowledgments
This work was supported by the following grants: Grant-in-Aid for Young Scientists (B) (16K18700) (Yinhua Ni), Grant-in-Aid for Scientific Research (C) (15K00813) (Naoto Nagata), Grant-in-Aid for Scientific Research (B) (25282017, 16H03035) (Tsuguhito Ota), and Challenging Exploratory Research (15K12698) (Tsuguhito Ota) from the Ministry of Education, Culture, Sports, Science, and Technology of Japan; and Research Project on Development of Agricultural Products and Foods with Health-Promoting Benefits (NARO) (2013-A-10) (Tsuguhito Ota) from the Ministry of Agriculture, Forestry and Fisheries (MAFF).
Author Contributions
All authors contributed to the preparation of this review and approved the text.
Conflicts of Interest
The authors declare no conflict of interest.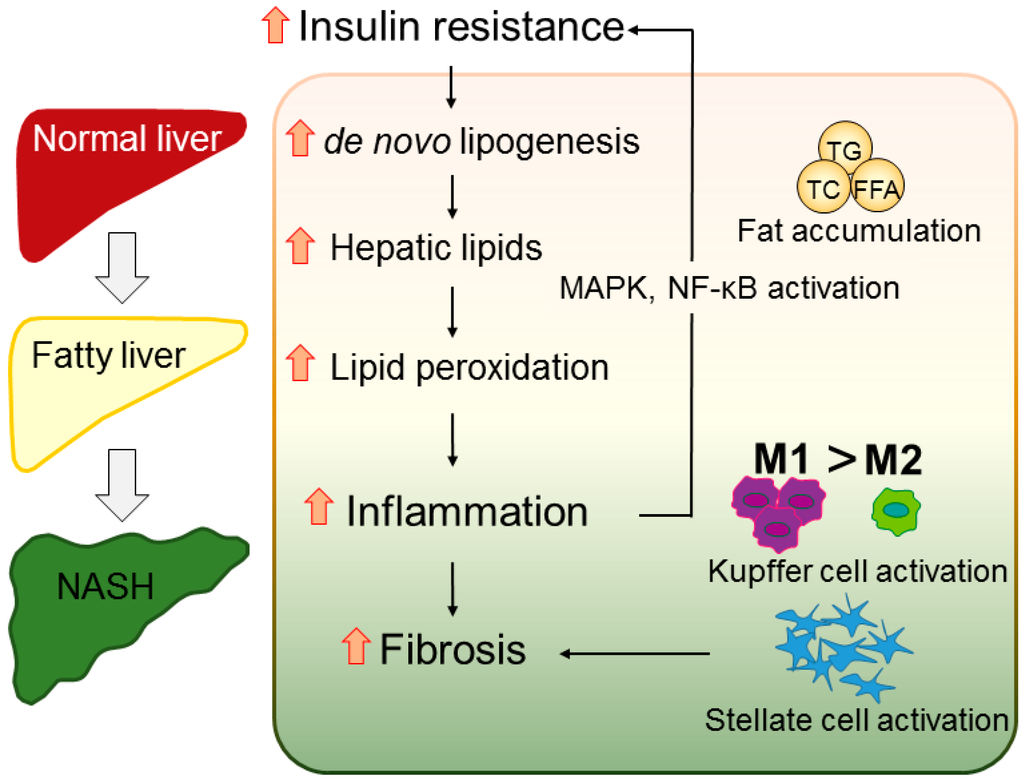 Figure 1. Hypothetic mechanism of nonalcoholic fatty liver disease/nonalcoholic steatohepatitis (NAFLD/NASH) progression. Excessive intake of excess calories and fat results in accumulation of triglycerides, total cholesterol, and free fatty acids, inducing hepatic steatosis. The overload of liver lipids enhances lipid peroxidation, which induces the production of reactive oxygen species and steatohepatitis. Hepatic inflammation activates the mitogen-activated protein kinase pathway and nuclear factor-κB, resulting in insulin resistance. Insulin resistance also promotes de novo lipogenesis, forcing the healthy liver to develop NASH. The inflammation also recruits Kupffer cells and polarizes M1 macrophages, activating hepatic stellate cells and finally leading to liver fibrosis. TG, triglycerides; TC, total cholesterol; FFA, free fatty acids; MAPK, mitogen-activated protein kinase; NF-κB, nuclear factor-κB.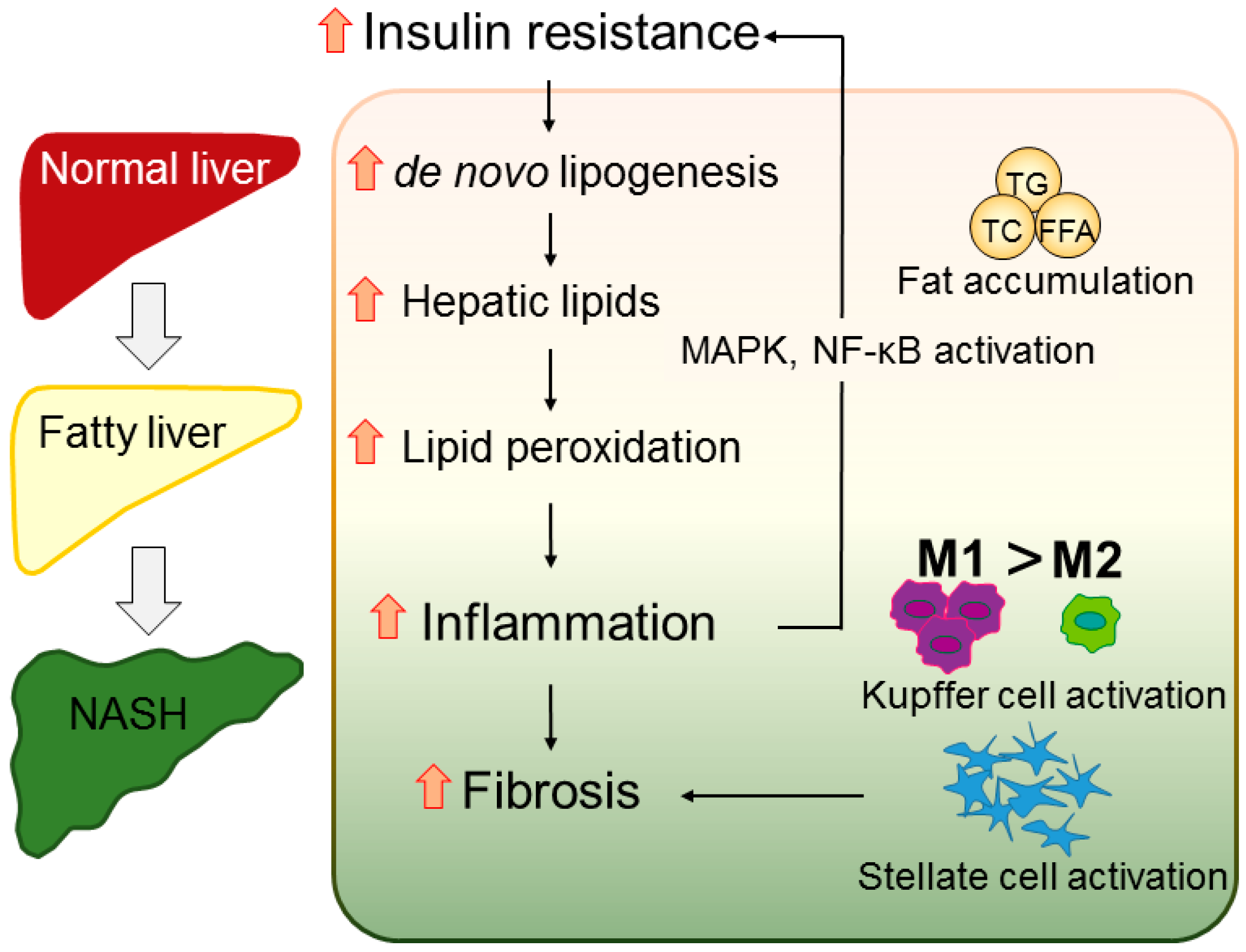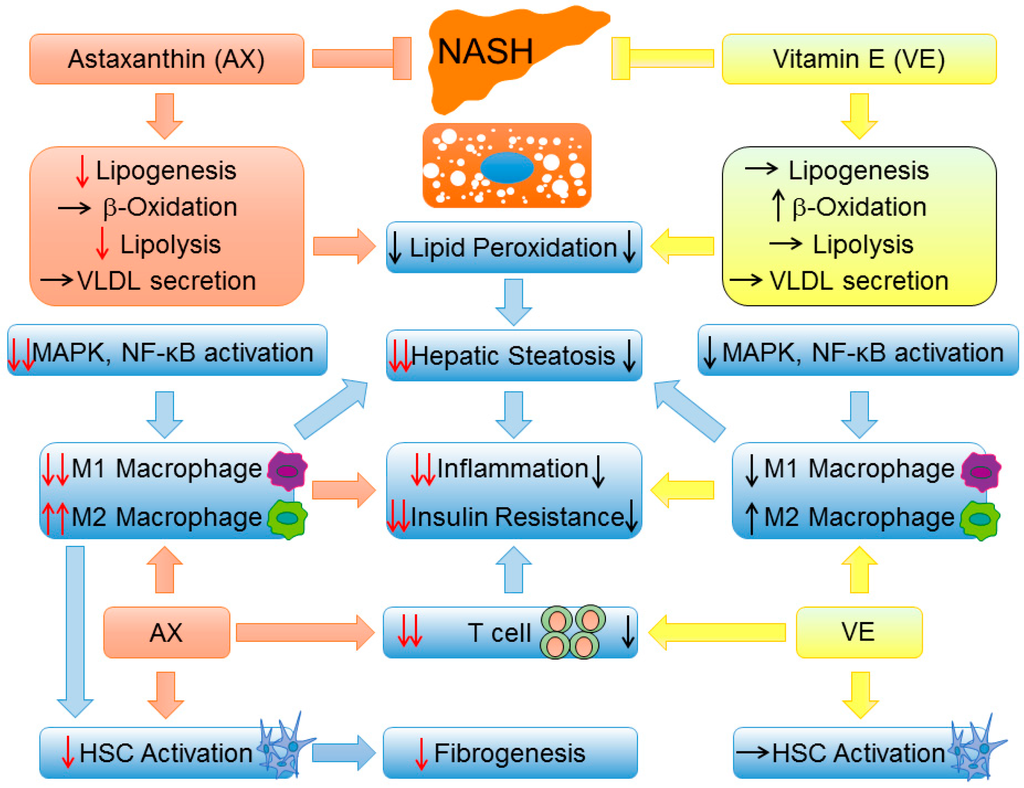 Figure 2. A brief comparison of NAFLD/NASH prevention and therapy between astaxanthin and vitamin E. First, astaxanthin is more effective than vitamin E in improving steatosis by suppressing lipid accumulation. Second, astaxanthin is superior to vitamin E with respect to suppressing the MAPK pathway and NF-κB activation and induces a strong shift of M2 macrophage polarization, which ultimately reverses hepatic steatosis, inflammation, and insulin resistance. Most importantly, as a result of M1/M2 transformation, astaxanthin can reduce hepatic stellate cell (HSC) activation and ameliorate hepatic fibrosis. Black arrow: : induction, : inhibition, : no change; Red arrow: : inhibition compared with vitamin E, : more significant induction/inhibition effect compared with vitamin E.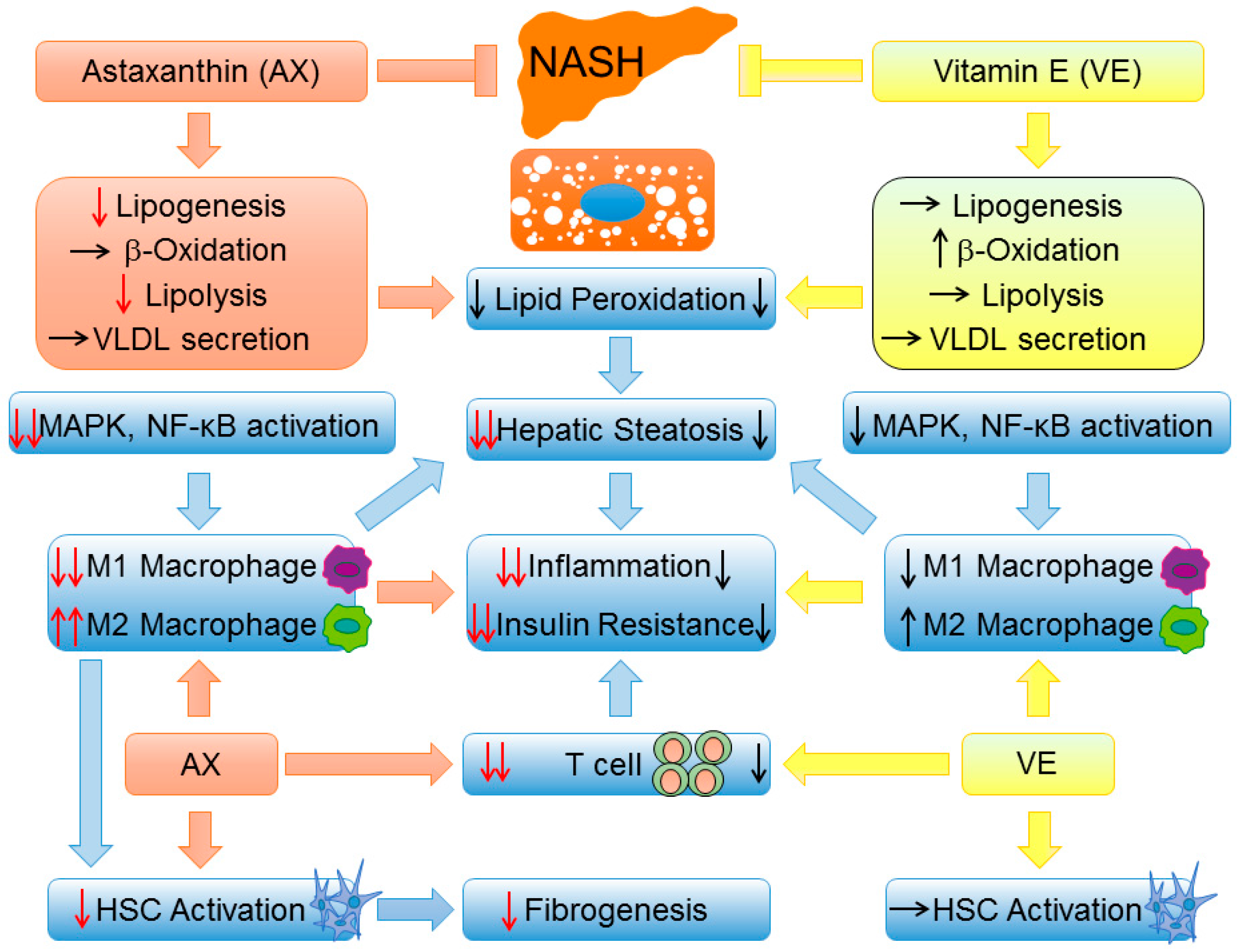 Table 1. Major adipokines involved in nonalcoholic fatty liver disease (NAFLD) pathogenesis.

| Adipokines | Function |
| --- | --- |
| Adiponectin | Anti-inflammatory, improve insulin sensitivity, prevent lipid accumulation, attenuate fibrosis, inhibit tumor necrosis factor (TNF-α) synthesis and/or release [36,37,38,39,40] |
| Leptin | Prevent lipid accumulation, amplify inflammation, induce fibrosis, increase TNF-α concentration [41,42,43,44] |
| TNF-α | Promote inflammation, induce lipid accumulation and insulin resistance, pro-fibrotic effect [45,46,47,48] |
| Resistin | Cause insulin resistance, reduce interleukin 6 (IL-6) secretion, participate in liver fibrogenesis [49,50,51,52,53] |
| IL-6 | Suppress oxidative stress and prevent mitochondrial dysfunction [54,55,56] |
© 2016 by the authors; licensee MDPI, Basel, Switzerland. This article is an open access article distributed under the terms and conditions of the Creative Commons Attribution (CC-BY) license (http://creativecommons.org/licenses/by/4.0/).