Spectrophotometric Determination of Phenolic Antioxidants in the Presence of Thiols and Proteins
1
Department of Chemistry, Faculty of Engineering, Istanbul University, 34320 Istanbul, Turkey
2
Turkish Academy of Sciences (TUBA) Piyade St. No. 27, 06690 Çankaya Ankara, Turkey
*
Author to whom correspondence should be addressed.
Academic Editor: Maurizio Battino
Received: 29 June 2016 / Revised: 4 August 2016 / Accepted: 5 August 2016 / Published: 12 August 2016
Abstract
Development of easy, practical, and low-cost spectrophotometric methods is required for the selective determination of phenolic antioxidants in the presence of other similar substances. As electron transfer (ET)-based total antioxidant capacity (TAC) assays generally measure the reducing ability of antioxidant compounds, thiols and phenols cannot be differentiated since they are both responsive to the probe reagent. In this study, three of the most common TAC determination methods, namely cupric ion reducing antioxidant capacity (CUPRAC), 2,2′-azinobis(3-ethylbenzothiazoline-6-sulfonic acid) diammonium salt/trolox equivalent antioxidant capacity (ABTS/TEAC), and ferric reducing antioxidant power (FRAP), were tested for the assay of phenolics in the presence of selected thiol and protein compounds. Although the FRAP method is almost non-responsive to thiol compounds individually, surprising overoxidations with large positive deviations from additivity were observed when using this method for (phenols + thiols) mixtures. Among the tested TAC methods, CUPRAC gave the most additive results for all studied (phenol + thiol) and (phenol + protein) mixtures with minimal relative error. As ABTS/TEAC and FRAP methods gave small and large deviations, respectively, from additivity of absorbances arising from these components in mixtures, mercury(II) compounds were added to stabilize the thiol components in the form of Hg(II)-thiol complexes so as to enable selective spectrophotometric determination of phenolic components. This error compensation was most efficient for the FRAP method in testing (thiols + phenols) mixtures.
View Full-Text
►

▼

Figures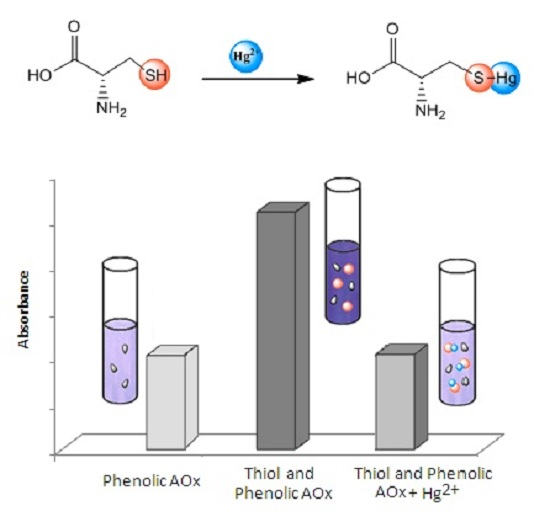 Graphical abstract
This is an open access article distributed under the
Creative Commons Attribution License
which permits unrestricted use, distribution, and reproduction in any medium, provided the original work is properly cited (CC BY 4.0).

Share & Cite This Article
MDPI and ACS Style
Avan, A.N.; Demirci Çekiç, S.; Uzunboy, S.; Apak, R. Spectrophotometric Determination of Phenolic Antioxidants in the Presence of Thiols and Proteins. Int. J. Mol. Sci. 2016, 17, 1325.
Note that from the first issue of 2016, MDPI journals use article numbers instead of page numbers. See further details here.
Related Articles
Comments
[Return to top]