Transcriptomic Insights into the Response of Placenta and Decidua Basalis to the CpG Oligodeoxynucleotide Stimulation in Non-Obese Diabetic Mice and Wild-Type Controls
1
International Peace Maternity and Child Health Hospital, the Institute of Embryo-Fetal Original Adult Disease, School of Medicine, Shanghai Jiao Tong University, Shanghai 200030, China
2
State Key Laboratory of Microbial Metabolism, School of Life Sciences and Biotechnology, Shanghai Jiao Tong University, Shanghai 200240, China
3
Department of Obstetrics and Gynecology, Renmin Hospital of Wuhan University, Wuhan 430060, China
*
Authors to whom correspondence should be addressed.
†
These authors contributed equally to this work.
Academic Editor: Alfredo Ciccodicola
Received: 21 June 2016 / Revised: 26 July 2016 / Accepted: 28 July 2016 / Published: 5 August 2016
Abstract
Intrauterine infection is one of the most frequent causes of miscarriage. CpG oligodeoxynucleotide (CpG ODN) can mimic intrauterine infection. CpG ODN-induced embryo-resorption was observed consistently in the NK-cell deficient non-obese diabetic (NOD) mice but not in the wild-type (WT) mice. To elucidate the molecular mechanisms of differential pregnancy outcomes, differentially expressed genes (DEGs) in the placenta and decidua basalis was revealed by RNA-Seq with CpG ODN or control ODN treatment. Common DEGs in the WT and NOD mice were enriched in antimicrobial/antibacterial humoral responses that may be activated as a primary response to bacterial infection. The susceptibility to CpG ODN-induced embryo-resorption in the NOD mice might mainly be attributed to M1 macrophage polarization and the immunodeficient status, such as the down-regulation in antigen processing and presentation, allograft rejection, and natural killer cell mediated cytotoxicity. In contrast, the WT mice with normal immune systems could activate multiple immune responses and be resistant to CpG ODN-induced embryo-resorption, such as M2 macrophage differentiation and activation regulated by complement component C1q and peroxisome proliferation-activated receptor (PPAR) signaling pathways. Collectively, this study suggests that the immunodeficient status of NOD mice and the macrophage polarization regulated by C1q and PPAR signaling might be the basis for differential pregnancy outcomes between the NOD and WT mice.
View Full-Text
►

▼

Figures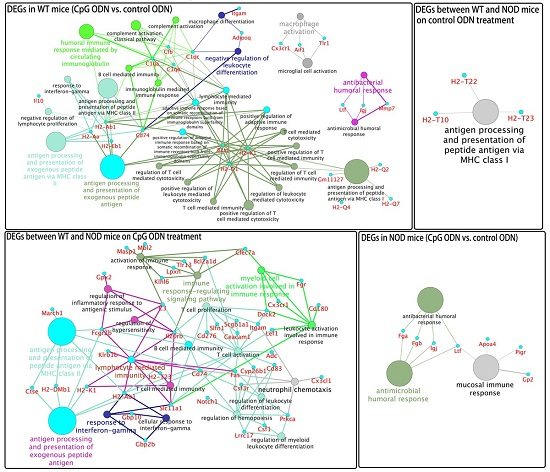 Graphical abstract
This is an open access article distributed under the
Creative Commons Attribution License
which permits unrestricted use, distribution, and reproduction in any medium, provided the original work is properly cited (CC BY 4.0).

Share & Cite This Article
MDPI and ACS Style
Liu, X.-R.; Guo, Y.-N.; Qin, C.-M.; Qin, X.-L.; Tao, F.; Su, F.; Tian, F.-J.; Zhang, Y.; Lin, Y. Transcriptomic Insights into the Response of Placenta and Decidua Basalis to the CpG Oligodeoxynucleotide Stimulation in Non-Obese Diabetic Mice and Wild-Type Controls. Int. J. Mol. Sci. 2016, 17, 1281.
Note that from the first issue of 2016, MDPI journals use article numbers instead of page numbers. See further details here.
Related Articles
Comments
[Return to top]