Open Access This article is
freely available
re-usable
Review
Antioxidant Activity of γ-Oryzanol: A Complex Network of Interactions
1
Department of Chemistry and Biochemistry, Institute of Bioscience, Sao Paulo State University, Botucatu 18618-689, Brazil
2
Department of Pathology, Botucatu Medical School, Sao Paulo State University, Botucatu 18618-970, Brazil
*
Author to whom correspondence should be addressed.
Academic Editors: Maurizio Battino and Esra Capanoglu
Received: 20 May 2016 / Accepted: 7 July 2016 / Published: 9 August 2016
Abstract
:
γ-oryzanol (Orz), a steryl ferulate extracted from rice bran layer, exerts a wide spectrum of biological activities. In addition to its antioxidant activity, Orz is often associated with cholesterol-lowering, anti-inflammatory, anti-cancer and anti-diabetic effects. In recent years, the usefulness of Orz has been studied for the treatment of metabolic diseases, as it acts to ameliorate insulin activity, cholesterol metabolism, and associated chronic inflammation. Previous studies have shown the direct action of Orz when downregulating the expression of genes that encode proteins related to adiposity (CCAAT/enhancer binding proteins (C/EBPs)), inflammatory responses (nuclear factor kappa-B (NF-κB)), and metabolic syndrome (peroxisome proliferator-activated receptors (PPARs)). It is likely that this wide range of beneficial activities results from a complex network of interactions and signals triggered, and/or inhibited by its antioxidant properties. This review focuses on the significance of Orz in metabolic disorders, which feature remarkable oxidative imbalance, such as impaired glucose metabolism, obesity, and inflammation.
Keywords:
γ-oryzanol; ferulic acid; antioxidant capacity; dyslipidemia; obesity; inflammation
2. Antioxidant Activity of γ-Oryzanol
In order to establish the beneficial effects of Orz in the antioxidant defense of cellular systems, it is important to consider that dietary antioxidants are essential for maintaining normal cellular functions and to ensure body homeostasis. Nevertheless, the regulation of a redox mechanism through dietary means is currently gaining considerable traction in the field of human and food sciences.
3. Relation between γ-Oryzanol and Glucose Metabolism
4. Anti-Obesity Effects of γ-Oryzanol
In the literature there are few articles that have investigated, in isolation, the anti-obesity effects of Orz or its metabolites. Nevertheless, the application of GBR and/or BR extract to assess this effect allows one to extrapolate some effects to Orz, particularly since this compound is certainly what differentiates between those health benefits that are attributed to rice and those not found in others grains.
5. γ-Oryzanol and Inflammation
The Orz components may be useful to prevent the installation of inflammatory process in allergic reaction, since the non-polar structure of cycloartenyl ferulate proved to be capable of sequestering the immunoglobulin E and inhibit the allergic reaction mediated by mast cell degranulation [
78
]. There are several health benefits attributed to Orz due to its anti-inflammatory and antioxidant activities. The presence of inflammation increases ROS production inside the cell, either through NADPH oxidase or the mitochondrial electron transport chain [
79
]. These reactive molecules are directly related to the progression of inflammatory processes, as they induce cell injury and/or lead to the activation of redox-sensitive transcription factors (
Figure 4
). Some ROS arising from the plasma or organelles membrane can influence transcription by regulating the phosphorylation of transcription factors, whereas ROS arising from the perinuclear mitochondria or from a nuclear flavoenzyme can participate in transcriptional control by directly targeting DNA [
23
]. In addition, inflammation can be exacerbated by an ER folding process (which produces ROS), or by a disruption in this process, leading to unfold protein release and cell damage [
80
].
Among the transcription factors, nuclear factor-kappa B (NF-κB) is involved in the regulation of proinflammatory genes, which represents a key step in the production of proinflammatory cytokines such as tumor necrosis factor-α (TNF-α), IL-1β, IL-6, and IL-8 [
81
]. The role of Orz in regulating these cytokines was verified in an experimental model of colitis. Significant reductions in the mRNA expression of TNF-α, IL-1β, IL-6, and cyclooxigenase-2 were observed in mice treated with Orz. The same author described a reduction in the tissue infiltration of inflammatory cells [
18
].
NF-κB is a member of the Rel family of proteins that can form homodimers or heterodimers. The activity of NF-κB is regulated by inhibitory IκB proteins [
81
]. Inflammatory or redox cell stimulation induces the IκB kinase (IKK) pathway and results in a cascade of activations, such as MAP kinase, c-Jun amino-terminal kinases (JNK), and TNF receptor associated factor 1 (TRAF1) and 2 (TRAF2) [
82
]. NF-κB is trapped in the cytoplasm in stimulated cells and it is translocated into the nucleus following the presence of stimuli that include oxidative stress [
82
]. Interestingly, Islam et al. (2009) reported that phytosteryl ferulates of Orz were able to inhibit the nuclear translocation of NF-κB in LPS-stimulated RAW 264.7 macrophages. The exact mechanism that allows Orz or its metabolites to inhibit NF-κB activity remains unclear; however, this inhibition appears to be induced by scavenging ROS or blocking molecules that active transcription factors such as TNF-α, IL-1β, IL-6, and cyclooxigenase-2 (
Figure 4
).
6. Conclusions
Orz plays an important role, at least in part, in preventing some lifestyle diseases related to oxidative stress and high fat intake. Before attributing some organ-specific effects to Orz, it is necessary to consider its variable uptake by cells, as well as its interactions with the transcription factors, ROS, and proteins/enzymes involved in specific health disorders. Orz's radical scavenging capacity triggers a complex network of interactions and culminates in organ-cell specific responses. These interactions are related to reducing the processes involved in ER stress, lipid intake, and peroxidation, as well as those related to improved glucose metabolism. Orz has attracted attention as a functional food with several beneficial interactions in organism, particularly given its antioxidant, anti-obesity, and anti-inflammatory properties, as well as its ability to improve insulin resistance and hepatic metabolism. All of these disorders exhibit a characteristic redox imbalance. However, it is certainly clear that much more research is required to recognize how Orz and its metabolites are required (and used) by organs or cells when they occur in association.
Acknowledgments
English-language editing of this manuscript was provided by Journal Prep. The authors gratefully acknowledge the financial support from the "Conselho Nacional de Desenvolvimento Científico e Tecnológico" (CNPq) (Project No. 478372/2013-2; 305177/2015-0).
Author Contributions
Igor Otavio Minatel and Giuseppina Pace Pereira Lima decided the topics, analyzed literature, designed and wrote the manuscript. Igor Otavio Minatel created the figures. Fabiane Valentini Francisqueti and Camila Renata Corrêa, helped to wrote and revised the manuscript.
Conflicts of Interest
The authors declare no conflict of interest.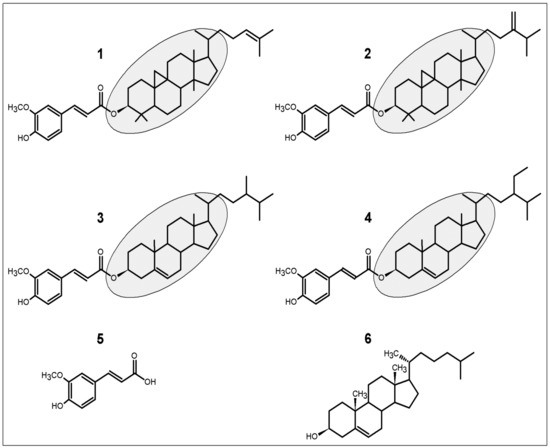 Figure 1. Molecular structures of the four main γ-oryzanol (Orz)'s components (1–4). Chemical structures are composed by ferulic acid and steryl ferulates (gray background). (1) cycloartenyl ferulate; (2) 24-methylenecycloartanyl ferulate; (3) campesteryl ferulate; and (4) sitosteryl ferulate. In the human body, Orz can be metabolized to (5) ferulic acid, and steryl ferulates closely similar to (6) cholesterol.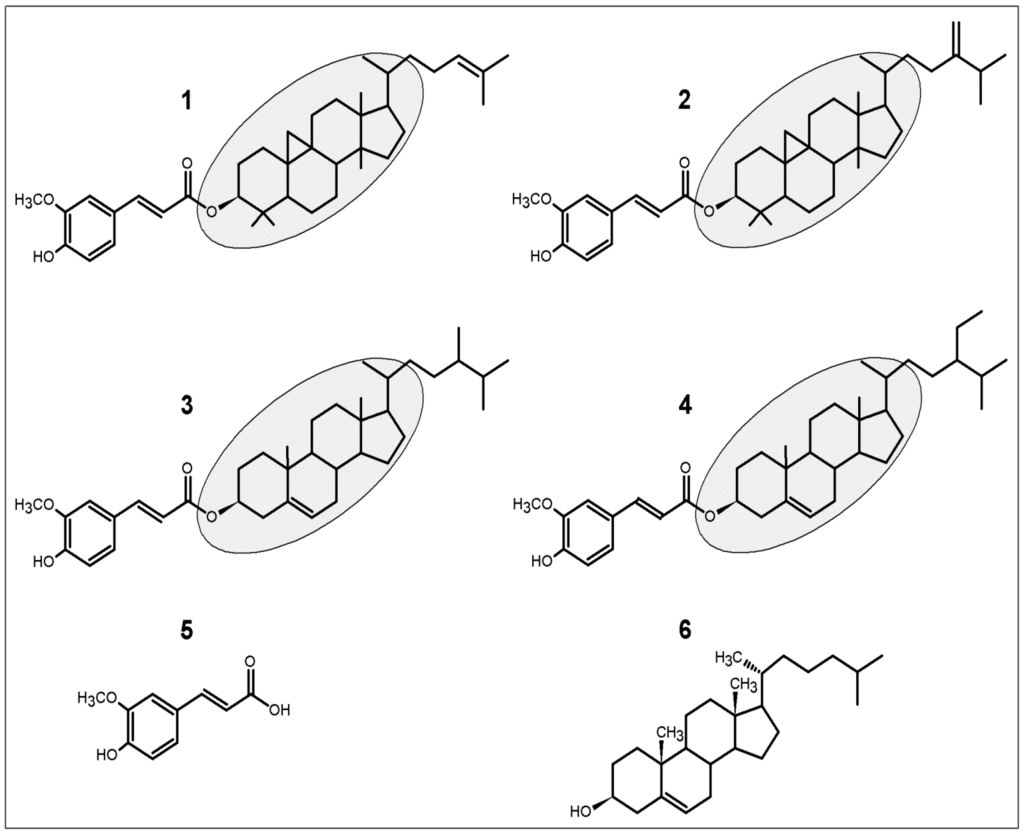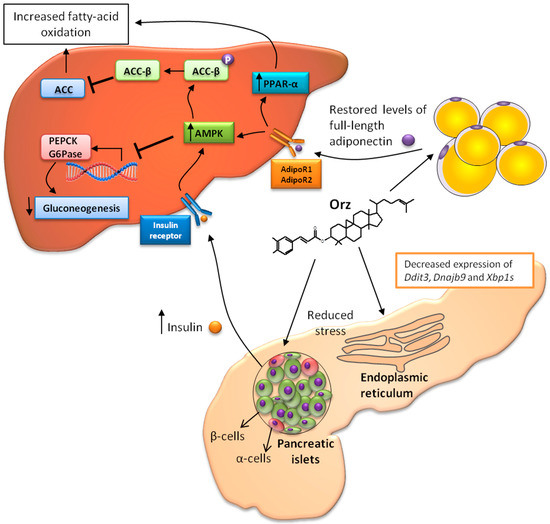 Figure 2.
Synergic interaction of Orz with organs-organelles. Endoplasmic reticulum (ER) stress results in misfolded protein accumulation and leads to pancreatic β-cell death by apoptosis. Orz decreases the expression of ER stress-responsive genes
Ddit3
,
Dnajb9
and
Xbp1s
, and it consequently enhances β-cell insulin production. In addition, Orz improves the adipocyte production of adiponectin. Increased levels of insulin and adiponectin can activate 5′-AMP-activated protein kinase (AMPK) (via AdipoR1), which reduces the expression of phosphoenolpyruvate carboxykinase (PEPCK) and G6Pase, and inhibits gluconeogenesis. Furthermore, AMPK induces β-isoform of coenzyme A carboxylase (ACC-β) phosphorylation, which inhibits acetyl coenzyme A carboxylase (ACC) and results in increased fatty-acid oxidation. Full-length adiponectin activates peroxisome proliferator-activated receptors (PPAR-α) (via AdipoR2) and, thereby stimulating fatty-acid oxidation and decreasing triglyceride content in the tissues.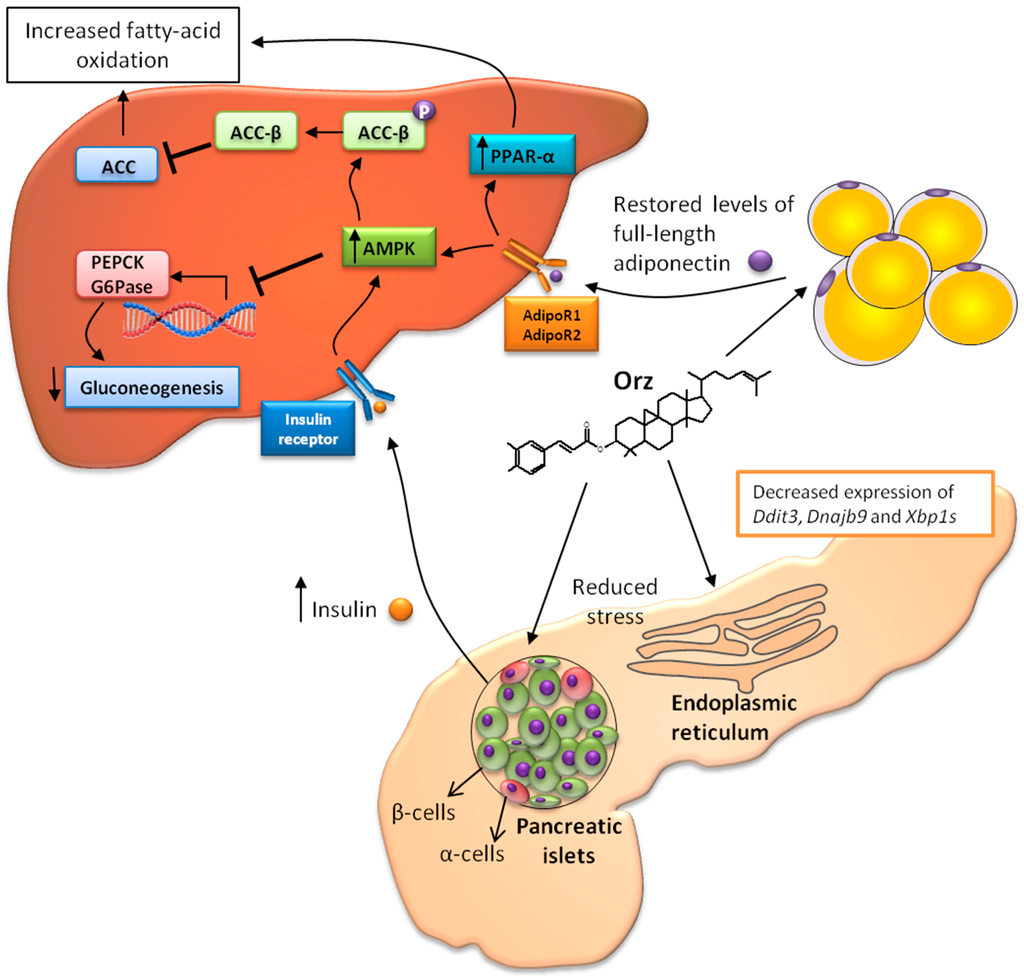 Figure 3. Steps of adipocytes differentiation and the possible effects of Orz. Adipose tissue stem cells (ASCs) are induced to differentiate into mature adipocytes through a complex network of signals. PPARγ and C/EBPα are the major regulators of this differentiation. By blocking PPARγ and C/EBPs expression, Orz exerts a direct influence on adipocytes differentiation. Immature adipocytes require lipid uptake, and Orz reduces the activities of glycerol-3-phosphate dehydrogenase (GPDH), fatty acid synthase (FAS), fatty acid binding protein 4 (Fabp4) and sterol regulatory element-binding protein-1c (SREBP-1c). This complex network is likely associated with systemic reduced insulin resistance, as well as to ameliorated ER stress and improved adiponectin secretion, as induced by Orz and its metabolites.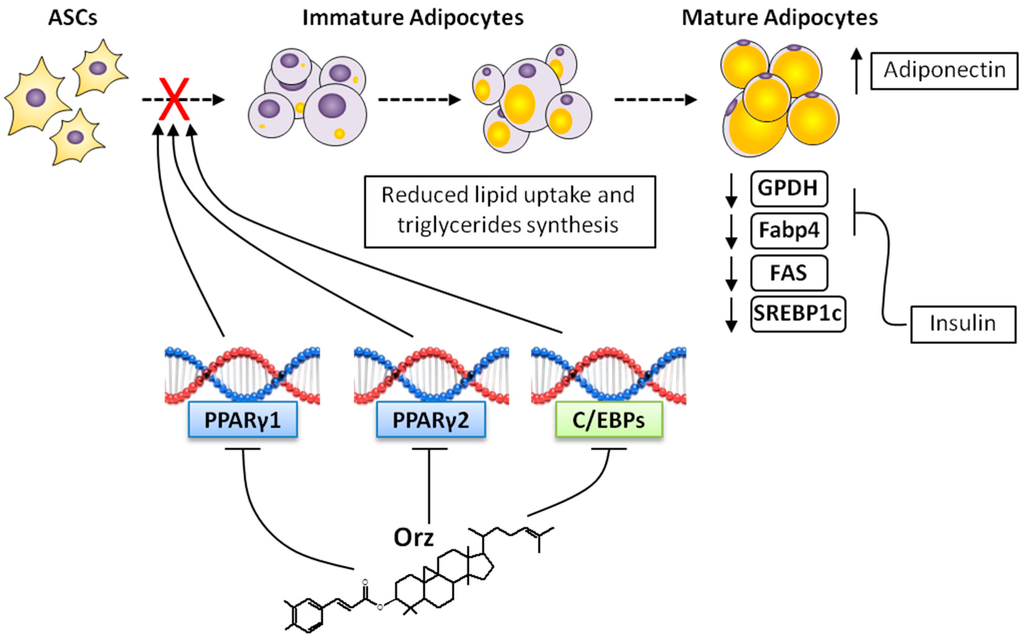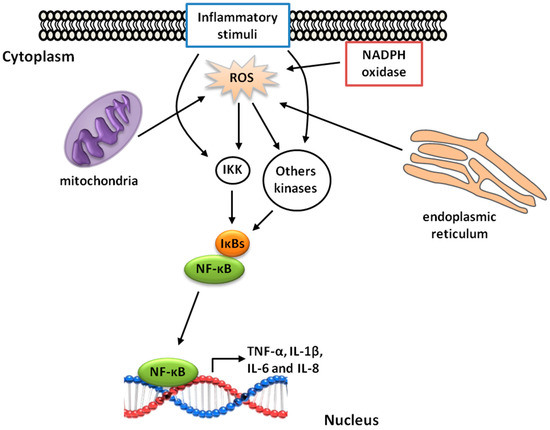 Figure 4. Signaling mechanisms of ROS-mediated nuclear factor kappa-B (NF-κB) activation. Inflammatory stimuli (proinflammatory cytokines, oxidative stress, etc.), and ROS produced by mitochondria, NADPH oxidase, and the endoplasmic reticulum triggers those kinase pathways that results in NF-κB activation. NF-κB can then translocate to the nucleus and induces target gene transcription, such as TNF-α, IL-1β, IL-6, and IL-8. Orz can reduce inflammation by scavenging ROS and consequently inhibiting the NF-κB pathways.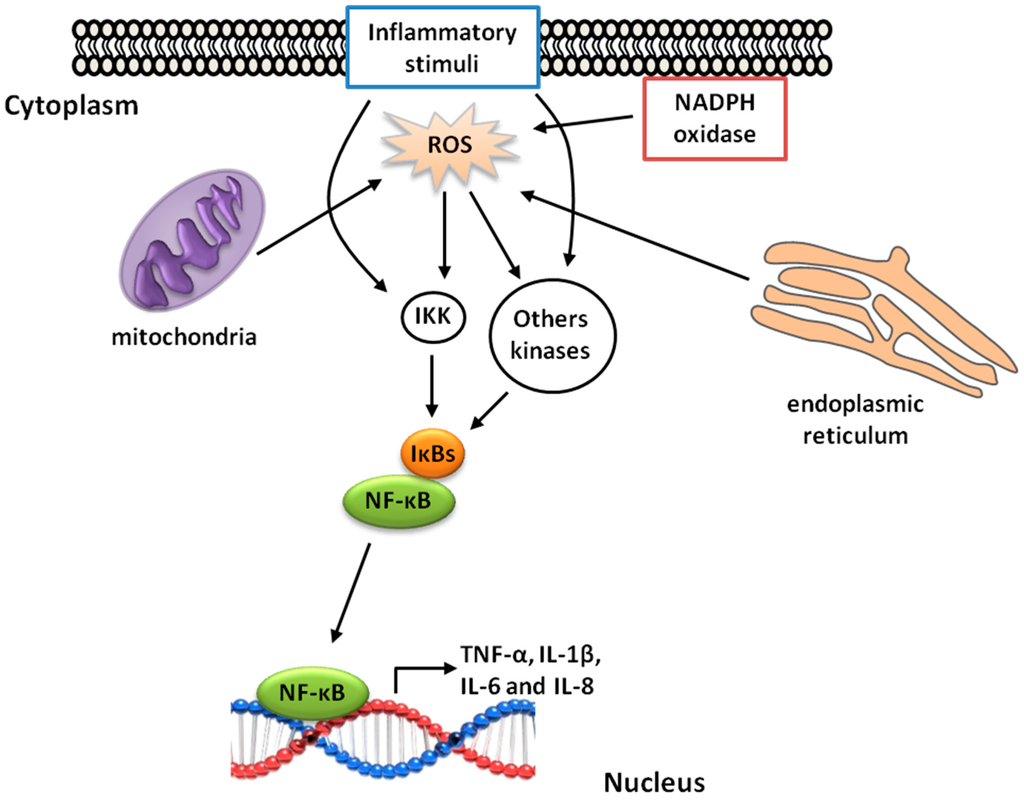 © 2016 by the authors; licensee MDPI, Basel, Switzerland. This article is an open access article distributed under the terms and conditions of the Creative Commons Attribution (CC-BY) license (http://creativecommons.org/licenses/by/4.0/).