Promotion of Survival and Engraftment of Transplanted Adipose Tissue-Derived Stromal and Vascular Cells by Overexpression of Manganese Superoxide Dismutase
1
Department of Research, Advanced Diagnostic, and Technological Innovation, Regina Elena National Cancer Institute, via E. Chianesi 53, Rome 00144, Italy
2
Department of Surgical Science, Policlinico Umberto I, University of Rome "La Sapienza", Viale Regina Elena 324, Rome 00161, Italy
3
Institute of General Pathology, Laboratory of Cell Signaling, Università Cattolica School of Medicine, Largo F. Vito 1, Rome 00168, Italy
*
Author to whom correspondence should be addressed.
†
These authors contributed equally to this work
Academic Editor: Maurizio Muraca
Received: 26 May 2016 / Revised: 17 June 2016 / Accepted: 28 June 2016 / Published: 7 July 2016
Abstract
Short-term persistence of transplanted cells during early post-implant period limits clinical efficacy of cell therapy. Poor cell survival is mainly due to the harsh hypoxic microenvironment transplanted cells face at the site of implantation and to anoikis, driven by cell adhesion loss. We evaluated the hypothesis that viral-mediated expression of a gene conferring hypoxia resistance to cells before transplant could enhance survival of grafted cells in early stages after implant. We used adipose tissue as cell source because it consistently provides high yields of adipose-tissue-derived stromal and vascular cells (ASCs), suitable for regenerative purposes. Luciferase positive cells were transduced with lentiviral vectors expressing either green fluorescent protein as control or human manganese superoxide dismutase (
SOD2
). Cells were then exposed in vitro to hypoxic conditions, mimicking cell transplantation into an ischemic site. Cells overexpressing
SOD2
displayed survival rates significantly greater compared to mock transduced cells. Similar results were also obtained in vivo after implantation into syngeneic mice and assessment of cell engraftment by in vivo bioluminescent imaging. Taken together, these findings suggest that ex vivo gene transfer of
SOD2
into ASCs before implantation confers a cytoprotective effect leading to improved survival and engraftment rates, therefore enhancing cell therapy regenerative potential.
View Full-Text
►

▼

Figures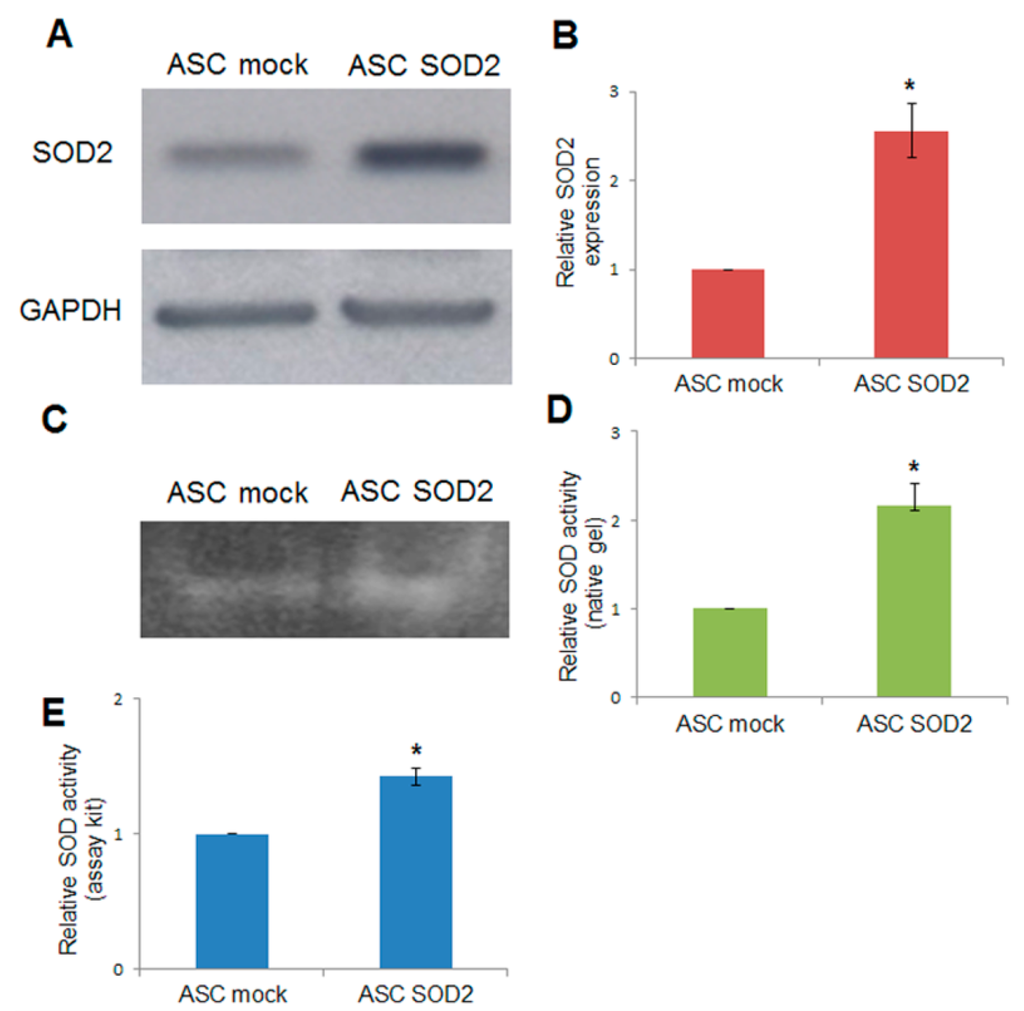 Figure 1
This is an open access article distributed under the
Creative Commons Attribution License
which permits unrestricted use, distribution, and reproduction in any medium, provided the original work is properly cited (CC BY 4.0).

Share & Cite This Article
MDPI and ACS Style
Baldari, S.; Di Rocco, G.; Trivisonno, A.; Samengo, D.; Pani, G.; Toietta, G. Promotion of Survival and Engraftment of Transplanted Adipose Tissue-Derived Stromal and Vascular Cells by Overexpression of Manganese Superoxide Dismutase. Int. J. Mol. Sci. 2016, 17, 1082.
Note that from the first issue of 2016, MDPI journals use article numbers instead of page numbers. See further details here.
Related Articles
Comments
[Return to top]