Open Access This article is
freely available
re-usable
Review
DNA Damage: A Main Determinant of Vascular Aging
1
Department of Internal Medicine, Division of Vascular Medicine and Pharmacology, Erasmus Medical Center, Rotterdam 3015 CN, The Netherlands
2
Department of Epidemiology, Erasmus Medical Center, Rotterdam 3015 CN, The Netherlands
3
Department of Medicine & Feinberg Cardiovascular Research Institute, Northwestern University Feinberg School of Medicine, Chicago, IL 60611, USA
*
Author to whom correspondence should be addressed.
Academic Editor: Anastasia Susie Mihailidou
Received: 1 April 2016 / Accepted: 10 May 2016 / Published: 18 May 2016
Abstract
:
Vascular aging plays a central role in health problems and mortality in older people. Apart from the impact of several classical cardiovascular risk factors on the vasculature, chronological aging remains the single most important determinant of cardiovascular problems. The causative mechanisms by which chronological aging mediates its impact, independently from classical risk factors, remain to be elucidated. In recent years evidence has accumulated that unrepaired DNA damage may play an important role. Observations in animal models and in humans indicate that under conditions during which DNA damage accumulates in an accelerated rate, functional decline of the vasculature takes place in a similar but more rapid or more exaggerated way than occurs in the absence of such conditions. Also epidemiological studies suggest a relationship between DNA maintenance and age-related cardiovascular disease. Accordingly, mouse models of defective DNA repair are means to study the mechanisms involved in biological aging of the vasculature. We here review the evidence of the role of DNA damage in vascular aging, and present mechanisms by which genomic instability interferes with regulation of the vascular tone. In addition, we present potential remedies against vascular aging induced by genomic instability. Central to this review is the role of diverse types of DNA damage (telomeric, non-telomeric and mitochondrial), of cellular changes (apoptosis, senescence, autophagy), mediators of senescence and cell growth (plasminogen activator inhibitor-1 (PAI-1), cyclin-dependent kinase inhibitors, senescence-associated secretory phenotype (SASP)/senescence-messaging secretome (SMS), insulin and insulin-like growth factor 1 (IGF-1) signaling), the adenosine monophosphate-activated protein kinase (AMPK)-mammalian target of rapamycin (mTOR)-nuclear factor kappa B (NFκB) axis, reactive oxygen species (ROS)
vs.
endothelial nitric oxide synthase (eNOS)-cyclic guanosine monophosphate (cGMP) signaling, phosphodiesterase (PDE) 1 and 5, transcription factor NF-E2-related factor-2 (Nrf2), and diet restriction.
Keywords:
vascular; aging; endothelium; genomic instability; DNA damage; senescence; PAI-1; eNOS; phosphodiesterase; dietary restriction
Abbreviations
AMPK
adenosine monophosphate-activated protein kinase
APE-1/Ref1
Apurinic/apyrimidinic endonuclease 1/redox factor 1
ApoE
ApoE, Apolipoprotein E
ARE
antioxidant response element
ATM
ataxia telangiectasia mutated
BER
base excision repair
CAD
coronary artery disease
CDNK2
cyclin-dependent kinase inhibitor 2
cGMP
cyclic guanosine monophosphate
cIMT
carotid intima media thickness
CVD
cardiovascular diseases
DDB2
Damage-Specific DNA Binding Protein 2
DNA-PK
DNA-dependent protein kinase
DR
dietary restriction
eNOS
endothelial nitric oxide synthase
EPC
endothelial progenitor cells
Ercc1
excision repair cross-complementation group 1
GH
growth hormone
GTF2H
general transcription factor IIH
HGPS
Hutchinson-Gilford progeria syndrome
HMBG-1
high mobility group box 1
hMSC
human mesenchymal stem cells
HR
homologous recombination
IGF1
insulin-like growth factor 1
IGFBP3
insulin-like growth factor-binding protein 3
INK-ATTAC mice
genetically modified mice in which cells expressing the cyclin-dependent kinase inhibitor p16INK4A are being removed by apoptosis due to caspase 8 activation
LMNA
lamin A gene
MMR
mismatch repair
MtDNA
mitochondrial DNA
mTOR(C1)
mammalian target of rapamycin (complex 1)
NADPH
nicotinamide adenine dinucleotide phosphate
NER
nucleotide excision repair
NHEJ
non-homologous end joining
NfkB
nuclear factor kappa B
NO
nitric oxide
Nrf2
transcription factor NF-E2-related factor-2
PAI-1
plasminogen activator inhibitor-1
PARP-1
poly [ADP-ribose] polymerase 1
PDE
phosphodiesterase
POLG
polymerase gamma
RecQ

Escherichia coli

recQ-like helicase
ROS
reactive oxygen species
SASP
senescence-associated secretory phenotype
(s)GC
(soluble) guanylyl cyclase
SIRT-1
sirtuin-1
SMS
senescence-messaging secretome
SNP
single nucleotide polymorphism
T2DM
type 2 diabetes mellitus
TERC
RNA template of telomerase
TERT
telomerase reverse transcriptase
TRF2
telomeric repeat-binding factor 2
TTD
trichothiodystrophy
VSMC
vascular smooth muscle cell
WRN
Werner gene
WS
Werner Syndrome
XP
xeroderma pigmentosum
XRCC3
gene coding for x-ray repair cross-complementing protein 3
Acknowledgments
Paula K. Bautista-Niño is supported by Colciencias Colombia, a grant under Call 617 of 2013. Douglas E. Vaughan thanks the National Institutes of Health for funding his research, grant #RO1 HL51387.
Author Contributions
The authors jointly wrote, checked and corrected the article. Paula K. Bautista-Niño, Eliana Portilla-Fernandez, A. H. Jan Danser and Anton J. M. Roks focused on the genomic instability models and vasomotor signaling part, and Douglas E. Vaughan on the PAI-1 and senescence sections.
Conflicts of Interest
The authors declare no conflict of interest.
Figure 1.
Etiology of vascular aging based on genomic instability as a causal factor. Classical and unidentified risk factors contribute to various types of DNA lesions. Unrepaired lesions accumulating during life lead to a growing set of pathophysiological changes that, either independently or in mutual interaction, lead to progressive vascular aging. The putative role of transcriptional problems or mutations herein needs to be established. The survival response may have beneficial (increased Nrf2-regulated antioxidants) as well as detrimental (decreased IGF-1 signaling, pro-inflammatory status) effects (see text and Ref. [
8
]).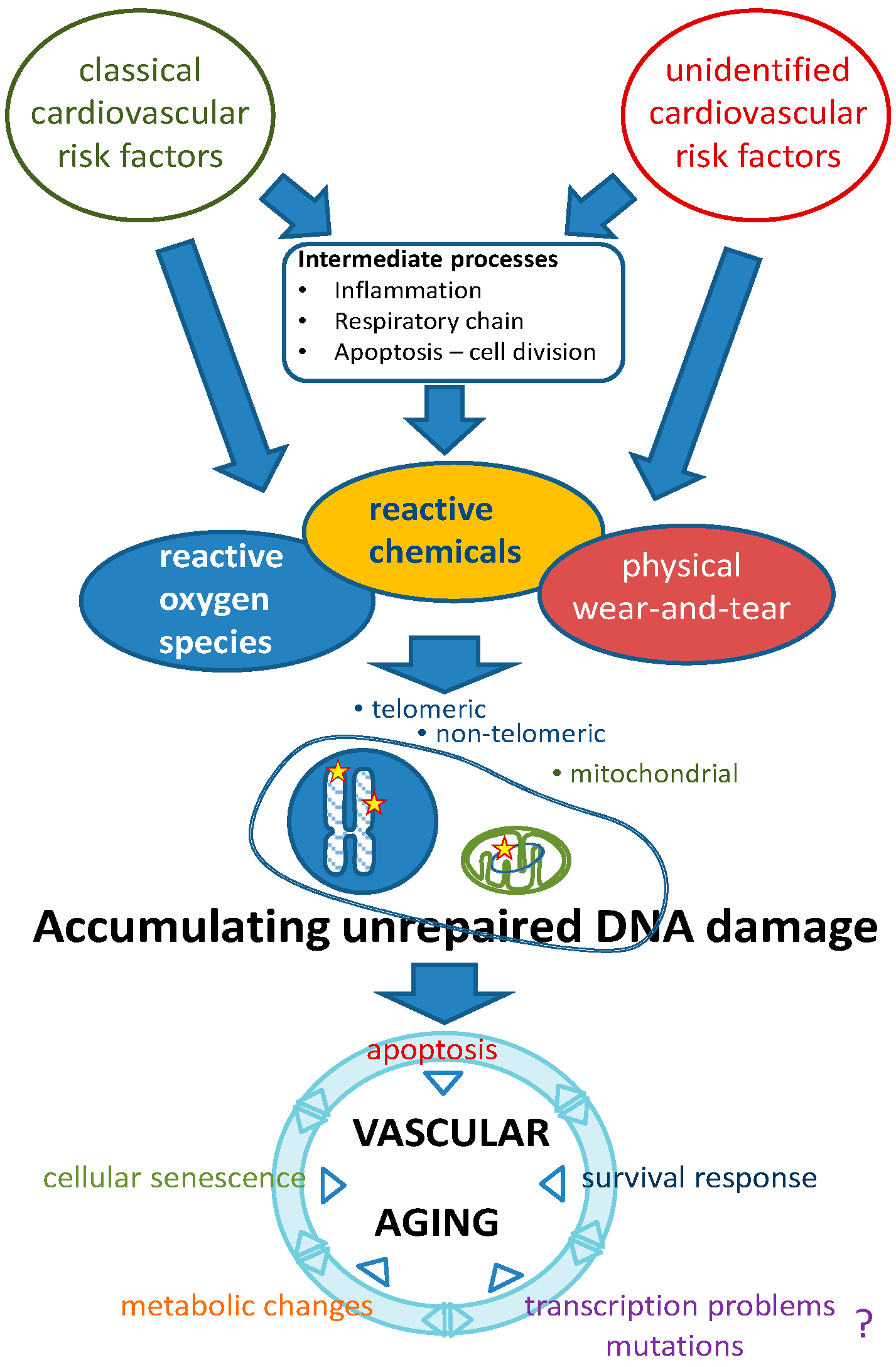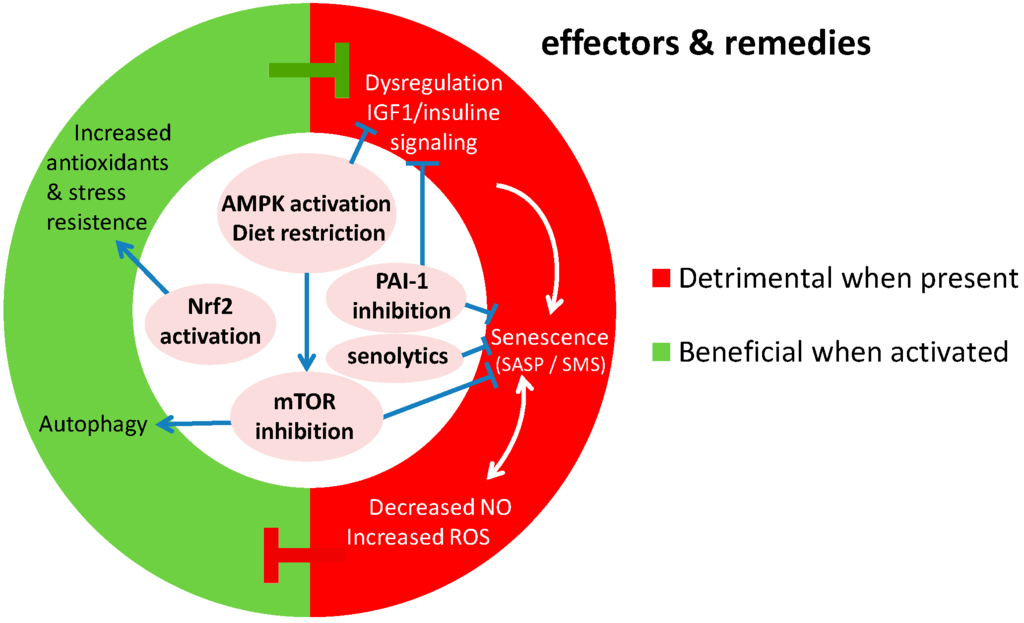 Figure 2.
Molecular effectors of genomic instability that contribute to vascular aging, and the potential remedies (center of the chart) against that currently under development. Senescence, imbalanced NO
vs.
ROS production, inflammation and changes in insulin signaling are detrimental when present while autophagy, apoptosis and stress resistance have a beneficial contribution to vascular aging. IGF-1 putatively has a detrimental effect, although this needs further scrutiny (Ref. [
8
]). Pointed arrows indicate stimulatory processes, while blunted arrows indicate inhibitory processes.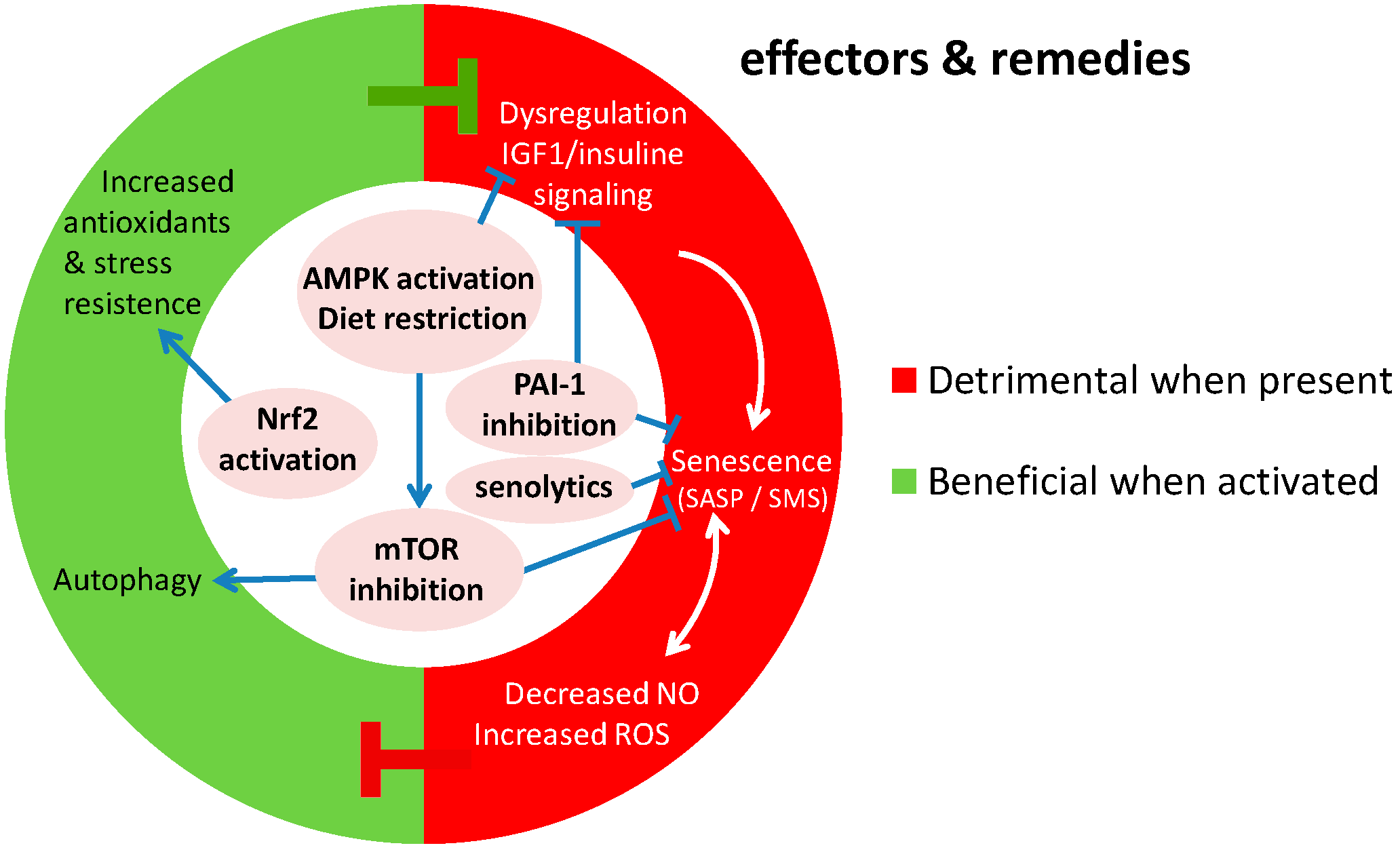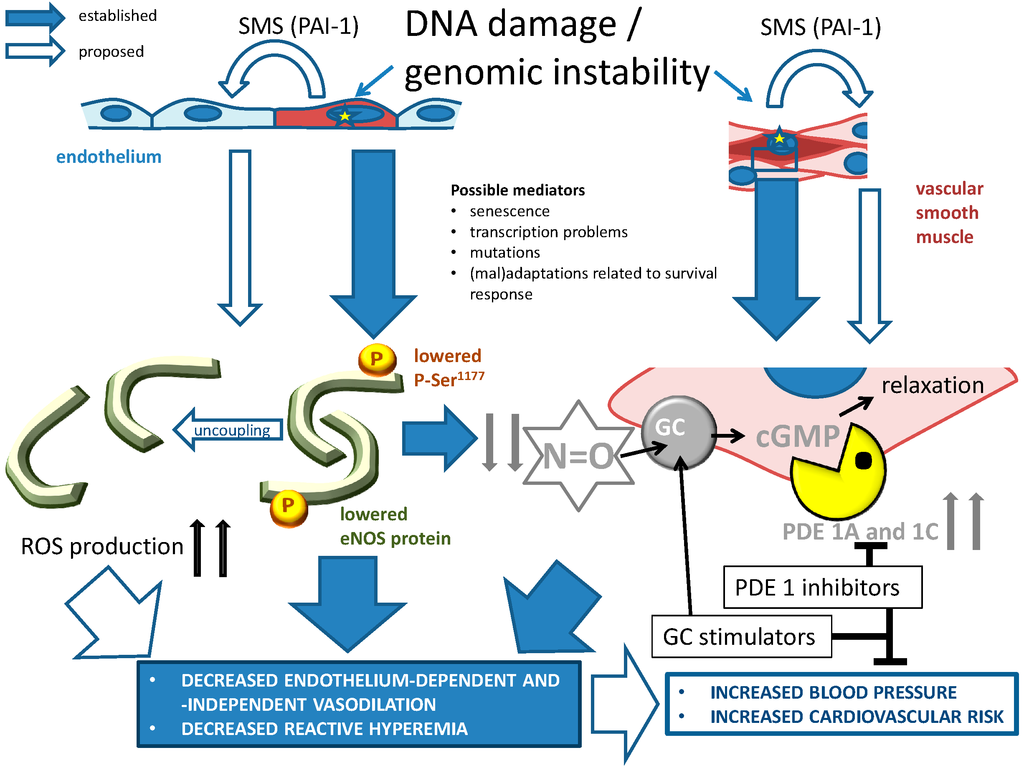 Figure 3.
The role of genomic instability (indicated by yellow stars) on NO-cGMP signaling, and its consequences for age-related cardiovascular disease. Large, blue closed arrows indicate established relationships: genomic instability primarily leads to endothelial eNOS dysfunction in endothelial cells and to increased cGMP metabolism by PDE1A and 1C (
Section 4.5.1
). Large, blue open arrows refer to proposed mechanisms that were not fully explored: cellular senescence caused by unrepaired DNA could affect healthy cells through SASP/SMS, in which PAI-1 potentially plays a central role (
Section 3.4.1
and
Section 5.2.2
.). The affected cells in turn might worsen vascular function through changes in eNOS-cGMP signaling. PDE1 subtype inhibitors and guanylyl cyclase (GC) stimulators are promising drugs to at least acutely improve vascular function. Their value for prevention of genomic instability and vascular aging needs to be assessed. PDE1A and 1C have a putative role in atherosclerosis, arteriosclerosis, reduced blood flow and hypertension (see
Section 4.5.1
and
Section 5.4
). Their expression is strongly related to cellular senescence, and genetic variables of the PDE1A gene affect blood pressure and vascular hypertrophy (
Section 4.5.1
). Thus, both PDE1 subtypes appear to be central in vascular aging-related disease. Small, thick arrows pointing up or down indicate up- and down-regulation respectively. Blunt arrows indicate inhibition, pointed thine arrow indicate stimulation.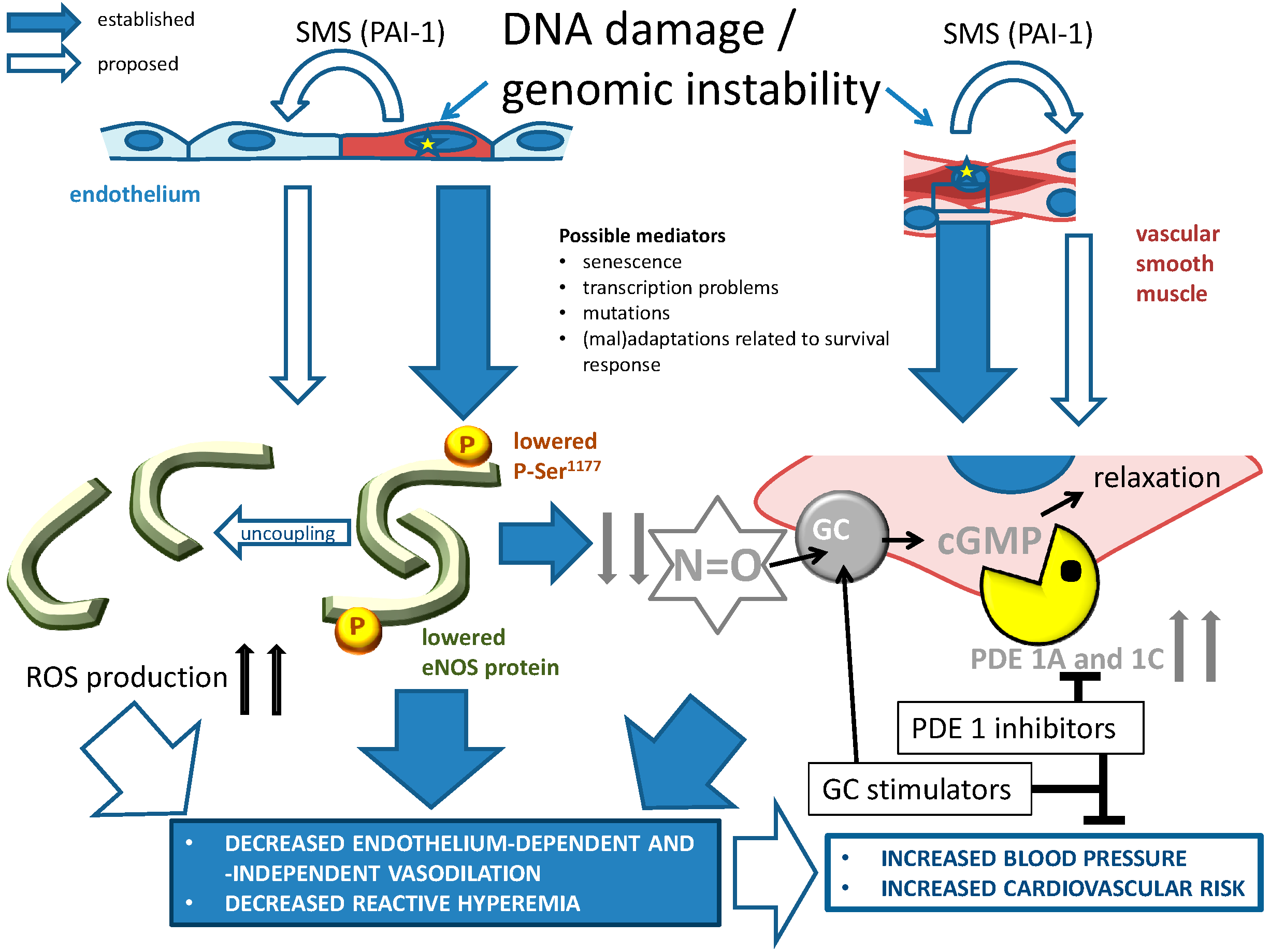 © 2016 by the authors; licensee MDPI, Basel, Switzerland. This article is an open access article distributed under the terms and conditions of the Creative Commons Attribution (CC-BY) license (http://creativecommons.org/licenses/by/4.0/).