Alcohol Consumption during Pregnancy: Analysis of Two Direct Metabolites of Ethanol in Meconium
1
Departments of Internal Medicine, Hospital Universitari Germans Trias i Pujol, Universitat Autònoma de Barcelona, 08916 Badalona, Spain
2
Emergency Medicine, Hospital Universitari Germans Trias i Pujol, Universitat Autònoma de Barcelona, 08916 Badalona, Spain
3
Proteomic and Metabolomic Unit, Fundació Institut d'Investigació Germans Trias i Pujol, 08916 Badalona, Spain
4
Clinical Pharmacology, Hospital Universitari Germans Trias i Pujol, Universitat Autònoma de Barcelona, 08916 Badalona, Spain
5
Paediatrics, Hospital Universitari Germans Trias i Pujol, Universitat Autònoma de Barcelona, 08916 Badalona, Spain
6
Obstetrics and Gyneacology, Hospital Universitari Germans Trias i Pujol, Universitat Autònoma de Barcelona, 08916 Badalona, Spain
*
Author to whom correspondence should be addressed.
†
These authors contributed equally to this work.
Academic Editor: Ashok K. Singh
Received: 29 December 2015 / Revised: 7 March 2016 / Accepted: 16 March 2016 / Published: 22 March 2016
Abstract
Alcohol consumption in young women is a widespread habit that may continue during pregnancy and induce alterations in the fetus. We aimed to characterize prevalence of alcohol consumption in parturient women and to assess fetal ethanol exposure in their newborns by analyzing two direct metabolites of ethanol in meconium. This is a cross-sectional study performed in September 2011 and March 2012 in a series of women admitted to an obstetric unit following childbirth. During admission, socio-demographic and substance use (alcohol, tobacco, cannabis, cocaine, and opiates) during pregnancy were assessed using a structured questionnaire and clinical charts. We also recorded the characteristics of pregnancy, childbirth, and neonates. The meconium analysis was performed by liquid chromatography—tandem mass spectrometry (LC-MS/MS) to detect the presence of ethyl glucuronide (EtG) and ethyl sulfate (EtS). Fifty-one parturient and 52 neonates were included and 48 meconium samples were suitable for EtG and EtS detection. The median age of women was 30 years (interquartile range (IQR): 26–34 years); EtG was present in all meconium samples and median concentration of EtG was 67.9 ng/g (IQR: 36.0–110.6 ng/g). With respect to EtS, it was undetectable (<0.01 ng/g) in the majority of samples (79.1%). Only three (6%) women reported alcohol consumption during pregnancy in face-to-face interviews. However, prevalence of fetal exposure to alcohol through the detection of EtG and EtS was 4.2% and 16.7%, respectively. Prevention of alcohol consumption during pregnancy and the detection of substance use with markers of fetal exposure are essential components of maternal and child health.
View Full-Text
►

▼

Figures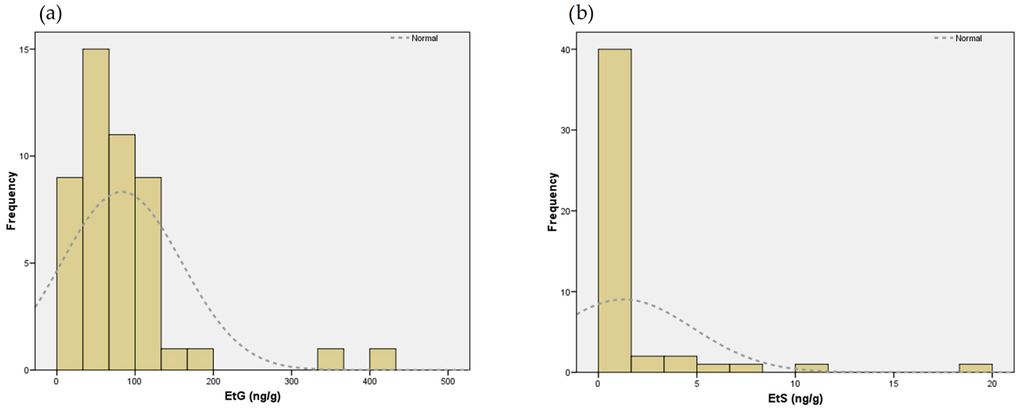 Figure 1
This is an open access article distributed under the
Creative Commons Attribution License
which permits unrestricted use, distribution, and reproduction in any medium, provided the original work is properly cited (CC BY 4.0).

Share & Cite This Article
MDPI and ACS Style
Sanvisens, A.; Robert, N.; Hernández, J.M.; Zuluaga, P.; Farré, M.; Coroleu, W.; Serra, M.; Tor, J.; Muga, R. Alcohol Consumption during Pregnancy: Analysis of Two Direct Metabolites of Ethanol in Meconium. Int. J. Mol. Sci. 2016, 17, 417.
Note that from the first issue of 2016, MDPI journals use article numbers instead of page numbers. See further details here.
Related Articles
Comments
[Return to top]