Open Access This article is
freely available
re-usable
Review
Biomaterials with Antibacterial and Osteoinductive Properties to Repair Infected Bone Defects
1
School of Stomatology, Zhejiang Chinese Medical University, Hangzhou 310053, China
2
Department of Oral Implantology and Prosthetic Dentistry, Academic Center for Dentistry Amsterdam (ACTA), University of Amsterdam and VU University Amsterdam, MOVE Research Institute, Amsterdam 1081LA, The Netherlands
3
The First Affiliated Hospital, Medical School, Zhejiang University, Hangzhou 310003, China
4
The First Affiliated Hospital, Wenzhou Medical University, Wenzhou 325000, China
*
Authors to whom correspondence should be addressed.
†
These authors contributed evenly to this work.
Academic Editor: Már Másson
Received: 12 February 2016 / Accepted: 29 February 2016 / Published: 3 March 2016
Abstract
:
The repair of infected bone defects is still challenging in the fields of orthopedics, oral implantology and maxillofacial surgery. In these cases, the self-healing capacity of bone tissue can be significantly compromised by the large size of bone defects and the potential/active bacterial activity. Infected bone defects are conventionally treated by a systemic/local administration of antibiotics to control infection and a subsequent implantation of bone grafts, such as autografts and allografts. However, these treatment options are time-consuming and usually yield less optimal efficacy. To approach these problems, novel biomaterials with both antibacterial and osteoinductive properties have been developed. The antibacterial property can be conferred by antibiotics and other novel antibacterial biomaterials, such as silver nanoparticles. Bone morphogenetic proteins are used to functionalize the biomaterials with a potent osteoinductive property. By manipulating the carrying modes and release kinetics, these biomaterials are optimized to maximize their antibacterial and osteoinductive functions with minimized cytotoxicity. The findings, in the past decade, have shown a very promising application potential of the novel biomaterials with the dual functions in treating infected bone defects. In this review, we will summarize the current knowledge of novel biomaterials with both antibacterial and osteoinductive properties.
Keywords:
co-delivery; antibacterial; osteoinductive; antibiotics; bone morphogenetic protein2 (BMP2); infected bone defect; bone regeneration
Acknowledgments
This work was supported by National Natural Science Foundation of China (Grant No. 81400475 and No. 81470724) and ITI Research Grant (Grant No. 868_2012).
Author Contributions
Jing Guo, Huiling Wu, Jingxiao Wang and Gang Wu conceived the review; Haiping Lu, Yi Liu, Jing Guo and Gang Wu did the literature review; Haiping Lu, Yi Liu, Jing Guo, Huiling Wu, Jingxiao Wang and Gang Wu wrote the manuscript; Huiling Wu, Jingxiao Wang and Gang Wu gave the final approval.
Conflicts of Interest
The authors declare no conflict of interest.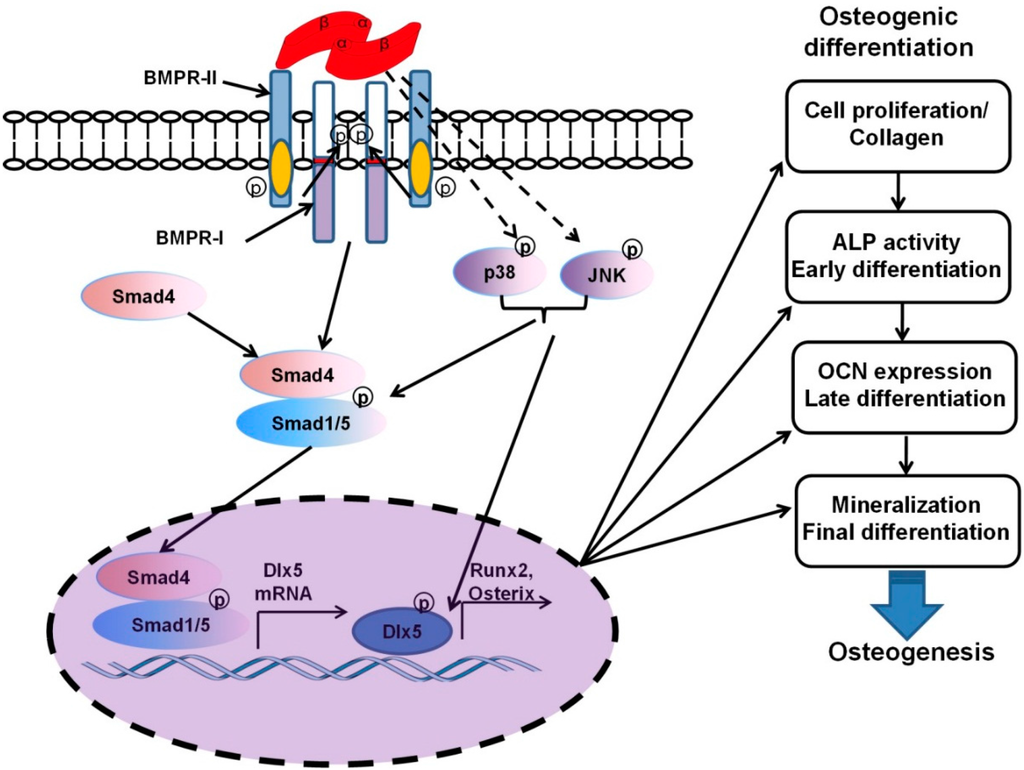 Figure 1.
Schematic graphs depicting the signaling pathways of bone morphogenetic proteins (BMPs) and its-induced osteogenic activities. BMPR-I: BMP type I receptors; BMPR-II: BMP type II receptors; Runx2: runt-related transcription factor 2; ALP: alkaline phosphatase; OCN: osteocalcin; Dlx5: distal-less homeobox 5; JNK: c-Jun N-terminal kinase;

: clarified mechanisms;

: unclarified mechanisms.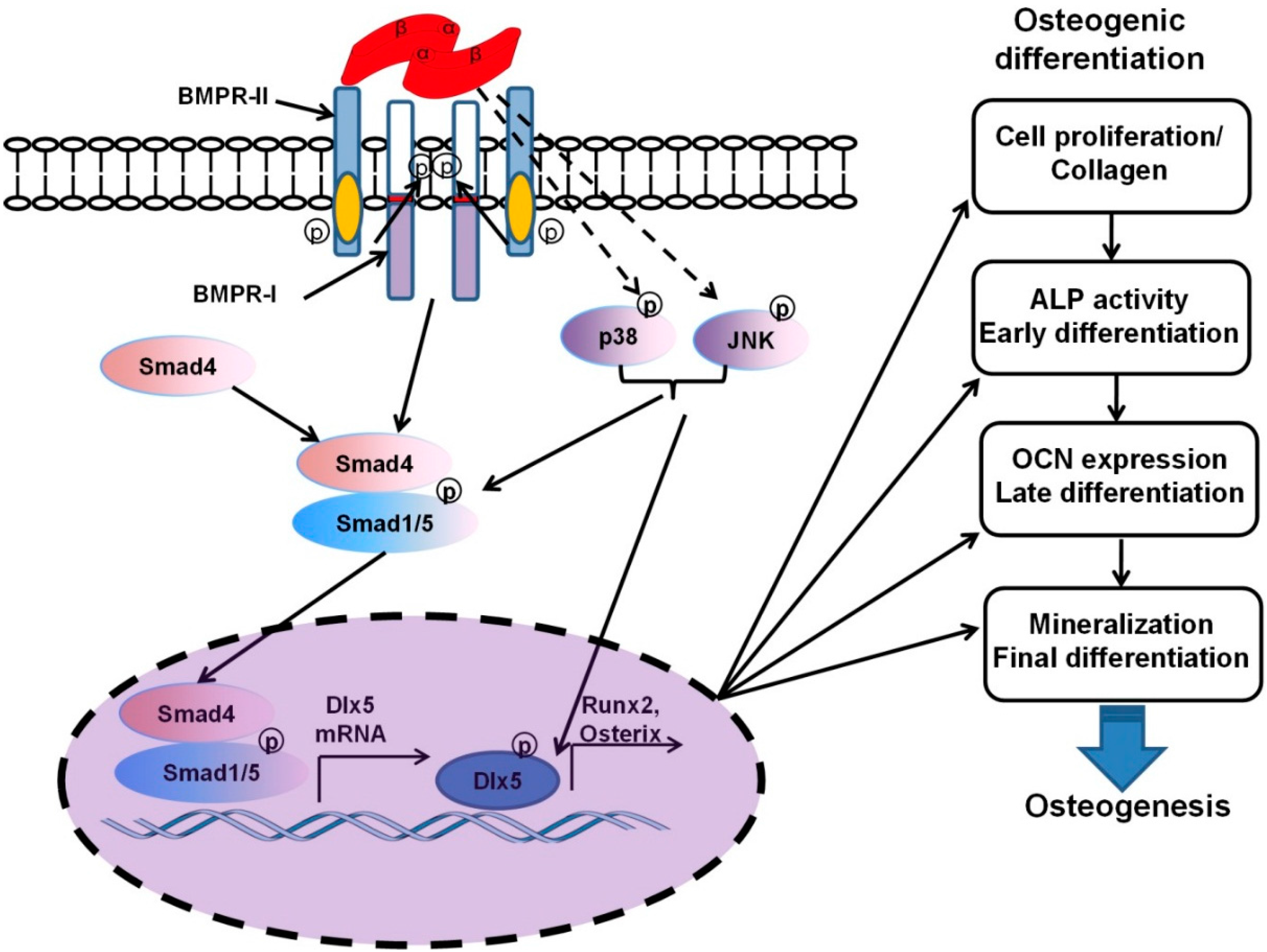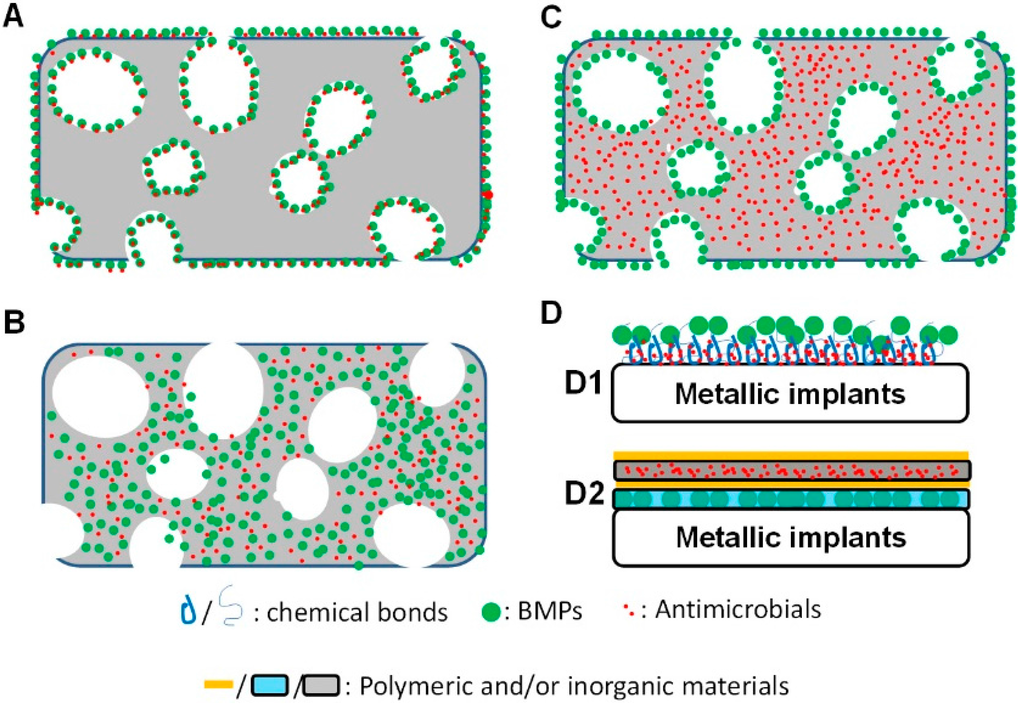 Figure 2. Schematic graph depicting the four different carrying modes of both antibacterial and osteoinductive drugs in biomaterials aiming to treat infected bone defects. (A) Superficial adsorption with or without physicochemical bonds; (B) A co-encapsulation; (C) A mixed carrying mode with encapsulated antibacterial drugs and superficially adsorbed BMPs; (D) surface coatings: (D1) both drugs are immobilized by chemical bonds; (D2) both drugs are encapsulated in coating layers with separation layers for a controlled release.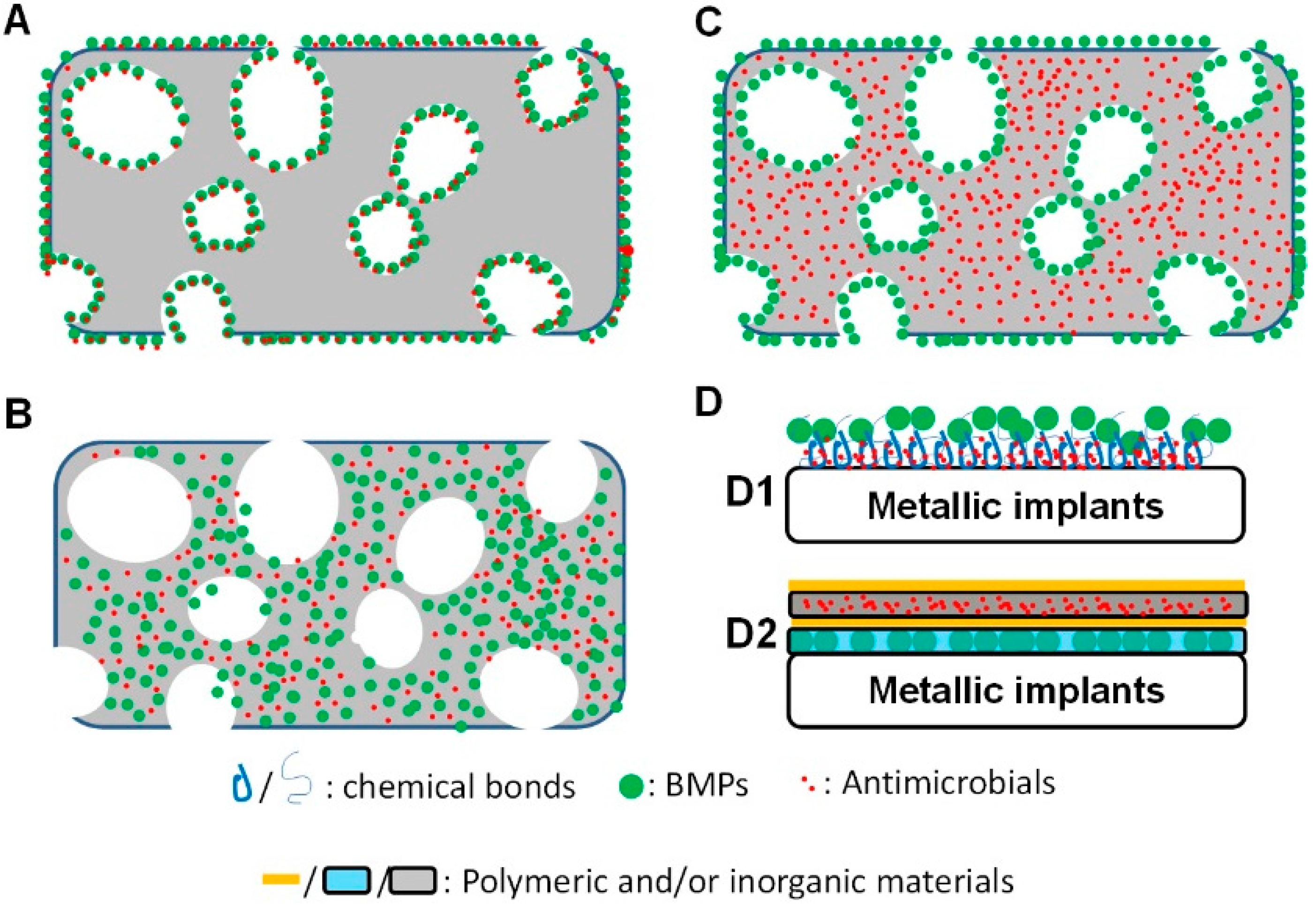 © 2016 by the authors; licensee MDPI, Basel, Switzerland. This article is an open access article distributed under the terms and conditions of the Creative Commons by Attribution (CC-BY) license (http://creativecommons.org/licenses/by/4.0/).