Open Access This article is
freely available
re-usable
Review
Gut Microbiota and Nonalcoholic Fatty Liver Disease: Insights on Mechanism and Application of Metabolomics
1
Center for Chinese Medical Therapy and Systems Biology, Shanghai University of Traditional Chinese Medicine, Shanghai 201203, China
2
Institute of Digestive Disease, Longhua Hospital, Shanghai University of Traditional Chinese Medicine, Shanghai 201203, China
3
Center for Translational Medicine, and Shanghai Key Laboratory of Diabetes Mellitus, Department of Endocrinology and Metabolism, Shanghai Jiao Tong University Affiliated Sixth People's Hospital, Shanghai 200233, China
*
Authors to whom correspondence should be addressed.
Academic Editor: Ting-Li (Morgan) Han
Received: 11 December 2015 / Accepted: 17 February 2016 / Published: 15 March 2016
Abstract
:
Gut microbiota are intricately involved in the development of obesity-related metabolic diseases such as nonalcoholic fatty liver disease (NAFLD), type 2 diabetes, and insulin resistance. In the current review, we discuss the role of gut microbiota in the development of NAFLD by focusing on the mechanisms of gut microbiota-mediated host energy metabolism, insulin resistance, regulation of bile acids and choline metabolism, as well as gut microbiota-targeted therapy. We also discuss the application of a metabolomic approach to characterize gut microbial metabotypes in NAFLD.
Keywords:
gut microbiota; NAFLD; obesity; insulin resistance; bile acids; choline
Acknowledgments
Houkai Li was financially supported by The Program for Professor of Special Appointment (Eastern Scholar) at Shanghai Institutions of Higher Learning from Shanghai Municipal Education Commission, Shanghai Pujiang Program (14PJD031) from the Science and Technology Commission of Shanghai Municipality and the Shanghai Creative Research Fund (ZYX-CXYJ-017) of Higher Education.
Conflicts of Interest
The authors declare no conflicts of interest.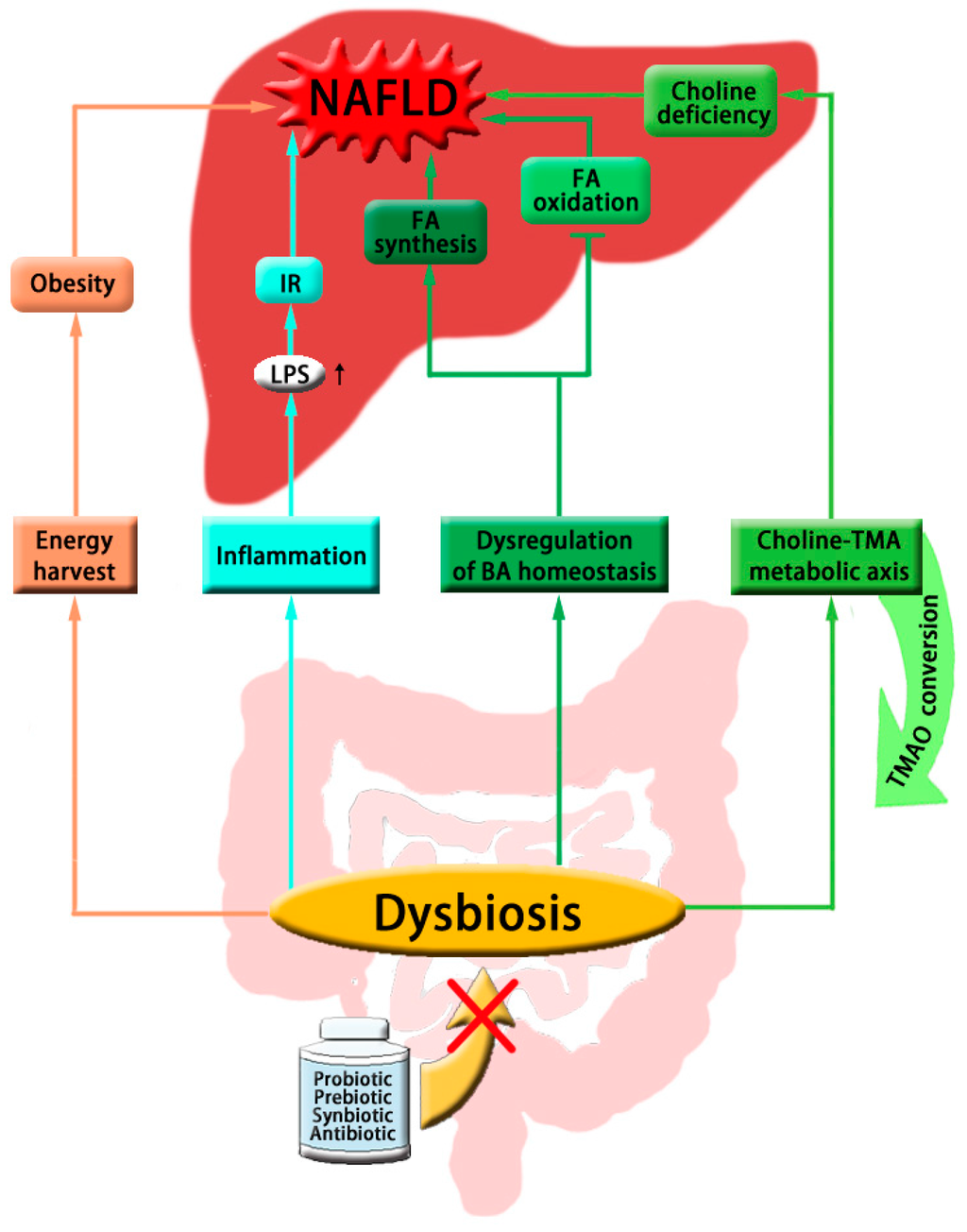 Figure 1.
Schematic summary of the gastrointestinal microbial contribution to the development of NAFLD. The colored arrows represent stimulated effect, as well as the inhibitory effect shown with cross line. The arrows with identical color means same pathway involved, and the black arrow indicates increased secretion of LPS. Abbreviations: NAFLD: nonalcoholic fatty liver disease; FA: fatty acid; IR: insulin resistance; LPS: lipopolysaccharide; BA: bile acid; TMA: trimethylamine; TMAO: trimethylamine-
N
-oxide.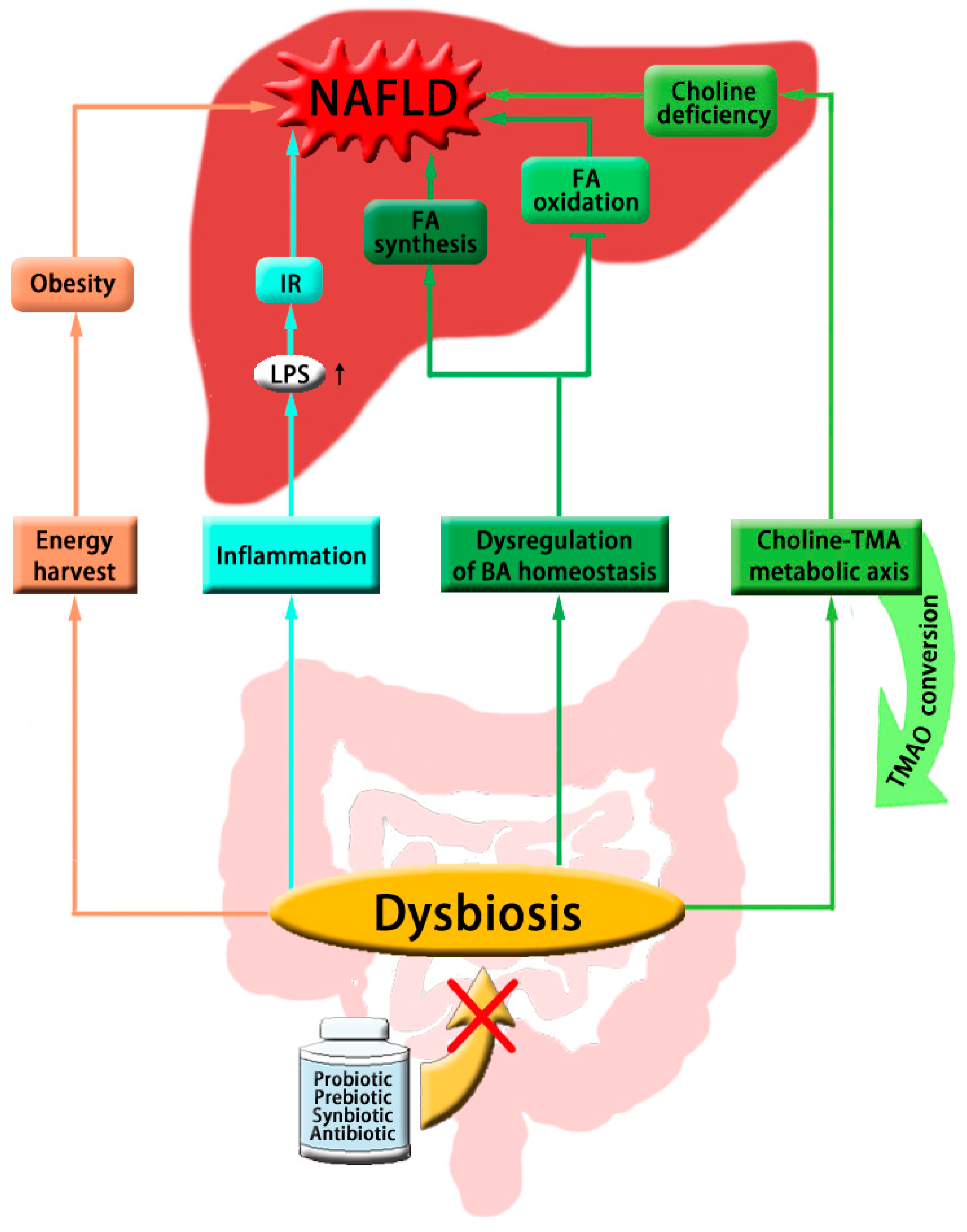 Table 1. Microbial metabolites and their implicated diseases.
Type of Metabolites
Representative Microbial Metabolites
Biological Functions
Implicated Diseases
Ref.
Short chain fatty acids
Butyrate, acetate, propionate
Anti-inflammatory, induce apoptosis and suppress histone deacetylase; provide energy for gastrointestinal tract epithelial cells; inhibit fatty acid and cholesterol synthesis
Colorectal cancer, diabetes mellitus, insulin resistance and lipid disorders
[21,101,102,103,104]
Bile acids
UDCA
Suppresses bile-induced pancreatic ductal injury by reducing apoptosis and mitochondrial damage; inhibits DCA-induced apoptosis and its signaling pathway in oesophageal cancer cells
Cancer, gallstone disease, primary biliary cirrhosis
[105,106]
DCA
Involved in senescence-associated secretory phenotype that facilitates hepatocellular carcinoma development in mice; contributes to the development of colorectal cancer by decreasing miR-199a-5p expression, or upregulating invasive and angiogenic potentials of human colon cancer cells
Hepatocellular carcinoma and colorectal cancer
[107,108,109]
Choline
TMAO, TMA, DMA
Elevated plasma levels of TMAO positively correlated with increased risk of major adverse cardiovascular events and colorectal cancer; impairs reverse cholesterol transportation; contributes to renal fibrosis and dysfunction in animals
Cardiovascular diseases, cancers, kidney disease
[110,111,112,113]
betaine
Regulates the LXRα/PPARα pathway and alleviates ER stress; predictor of cardiovascular outcomes
NAFLD, diabetes
[114,115]
Phenyl derivatives
hippuric acid, hydroxyhippuric acid, benzoic acid,

p

-cresol, phenylacetylglycine, phenylacetylglutamine
Biomarkers for the involvement and variation of gut microbiota in diseases; detoxification of xenobiotics
Obesity, metabolic diseases, cancers, pancreatitis
[116,117,118,119,120]
Indole derivatives

N

-acetyltryptophan, indoleacetate
Indicates the defect in tryptophan metabolism; uremic toxins;
Chronic renal failure
[121,122]
serotonin, melatonin
Involved in brain-gut axis function; reduce inflammatory infiltration, regulate adipokine secretion and energy expenditure, improve insulin sensitivity
Anxiety, depression, gastrointestinal dysfunction, obesity, metabolic syndrome
[123,124,125,126,127]
Polyamines
putrescine, spermidine, spermine
Stabilize DNA, RNA and protein molecules, regulate cell proliferation and differentiation; biomarkers of human diseases
Cancer, stroke, renal failure, obesity and diabetes
[128,129,130]
Lipids
LPS
Impairs intestinal permeability, induces systemic inflammation and insulin resistance
obesity, diabetes
[131,132]
phosphatidylcholines
Altered in patients with Alzheimer's disease or esophageal squamous cell carcinoma
Alzheimer's disease, patients with esophageal squamous cell carcinoma
[133,134]
© 2016 by the authors; licensee MDPI, Basel, Switzerland. This article is an open access article distributed under the terms and conditions of the Creative Commons by Attribution (CC-BY) license (http://creativecommons.org/licenses/by/4.0/).