Association of Plasminogen Activator Inhibitor-1 (
PAI-1

) Gene Polymorphisms with Osteoporotic Vertebral Compression Fractures (OVCFs) in Postmenopausal Women

1

Department of Biomedical Science, College of Life Science, CHA University, Seongnam 13488, Korea

2

Department of Orthopedics, CHA Bundang Medical Center, CHA University, Seongnam 13496, Korea

3

Department of Neurosurgery, CHA Bundang Medical Center, CHA University, Seongnam 13496, Korea

4

Department of Neurosurgery, Konkuk University Chungju Hospital, Chungju 27376, Korea

5

Fertility Center of CHA Gangnam Medical Center, CHA University, Seoul 06135, Korea

*

Authors to whom correspondence should be addressed.

†

These authors contributed equally to this work.

Academic Editor: Stephen A. Bustin

Received: 15 October 2016 / Revised: 2 December 2016 / Accepted: 4 December 2016 / Published: 9 December 2016
Abstract
Osteoporosis and osteoporotic fractures are strongly associated with mortality and morbidity, both in developing and developed countries. Menopause accelerates bone loss due to estrogen deficiency and age-related linear bone loss. We investigated plasminogen activator inhibitor-1 (
PAI-1
) gene polymorphisms in postmenopausal women with osteoporotic vertebral compression fractures (OVCFs). In this case-control study, 355 postmenopausal women were genotyped for the presence of
PAI-1
gene polymorphisms −844A > G, −675 4G > 5G, 43G > A, 9785A > G, and 11053T > G. Genetic polymorphisms of
PAI-1
were analyzed by the polymerization chain reaction restriction fragment length polymorphism assay, and their association with disease status and folate and homocysteine levels was determined in 158 OVCF patients and 197 control subjects. The
PAI-1
−675 5G5G (adjusted odds ratio (AOR), 3.302;
p =
0.017) and 43GA + AA (AOR, 2.087;
p =
0.042) genotype frequencies showed significant association with the increased prevalence of OVCFs in postmenopausal women. In addition, we performed gene–environment interaction studies and demonstrated an association between
PAI-1
gene polymorphisms and OVCF prevalence. Our novel finding is the identification of several
PAI-1
genetic variants that increase susceptibility to OVCF. Our findings suggest that polymorphisms in
PAI-1
may contribute to OVCF, and that they can be developed as biomarkers for evaluating OVCF risk.
View Full-Text
►

▼

Figures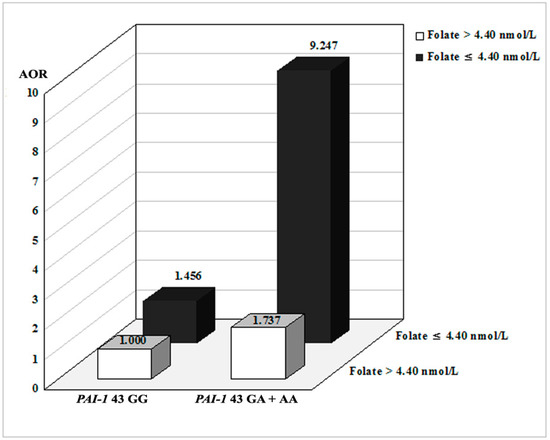 Figure 1
This is an open access article distributed under the
Creative Commons Attribution License
which permits unrestricted use, distribution, and reproduction in any medium, provided the original work is properly cited (CC BY 4.0).

Share & Cite This Article
MDPI and ACS Style
Kim, J.O.; Han, S.H.; Lee, Y.H.; Ahn, T.K.; Lim, J.J.; Chung, Y.S.; Shin, D.E.; Lee, W.S.; Han, I.B.; Kim, N.K. Association of Plasminogen Activator Inhibitor-1 (PAI-1) Gene Polymorphisms with Osteoporotic Vertebral Compression Fractures (OVCFs) in Postmenopausal Women. Int. J. Mol. Sci. 2016, 17, 2062.
Note that from the first issue of 2016, MDPI journals use article numbers instead of page numbers. See further details here.
Related Articles
Comments
[Return to top]