Characterization of Chemically-Induced Bacterial Ghosts (BGs) Using Sodium Hydroxide-Induced
Vibrio parahaemolyticus

Ghosts (VPGs)

1

Department of Biology & Medicinal Science, Pai Chai University, Daejeon 35345, Korea

2

Cheongshim International Academy, Gapyeong-gun, Gyeonggi-do 12461, Korea

*

Author to whom correspondence should be addressed.

†

These authors contributed equally to this work.

Academic Editor: Terrence Piva

Received: 16 August 2016 / Revised: 1 November 2016 / Accepted: 10 November 2016 / Published: 15 November 2016
Abstract
Acellular bacterial ghosts (BGs) are empty non-living bacterial cell envelopes, commonly generated by controlled expression of the cloned lysis gene
E
of bacteriophage PhiX174. In this study,
Vibrio parahaemolyticus
ghosts (VPGs) were generated by chemically-induced lysis and the method is based on minimum inhibitory concentration (MIC) of sodium hydroxide (NaOH), acetic acid, boric acid, citric acid, maleic acid, hydrochloric acid, and sulfuric acid. The MIC values of the respective chemicals were 3.125, 6.25, <50.0, 25.0, 6.25, 1.56, and 0.781 mg/mL. Except for boric acid, the lysis efficiency reached more than 99.99% at 5 min after treatment of all chemicals. Among those chemicals, NaOH-induced VPGs appeared completely DNA-free, which was confirmed by quantitative real-time PCR. Besides, lipopolysaccharides (LPS) extracted from the NaOH-induced VPGs showed no distinctive band on SDS-PAGE gel after silver staining. On the other hand, LPS extracted from wild-type bacterial cells, as well as the organic acids-induced VPGs showed triple major bands and LPS extracted from the inorganic acids-induced VPGs showed double bands. It suggests that some surface structures in LPS of the NaOH-induced VPGs may be lost, weakened, or modified by the MIC of NaOH. Nevertheless,
Limulus amoebocyte
lysate assay revealed that there is no significant difference in endotoxic activity between the NaOH-induced VPGs and wild-type bacterial cells. Macrophages exposed to the NaOH-induced VPGs at 0.5 × 10
6
CFU/mL showed cell viability of 97.9%, however, the MIC of NaOH did not reduce the cytotoxic effect of wild-type bacterial cells. Like
Escherichia coli
LPS, the NaOH-induced VPGs are an excellent activator of pro-inflammatory cytokines (IL-1β and iNOS), anti-inflammatory cytokine (IL-10), and dual activities (IL-6) in the stimulated macrophage cells. On the other hand, the induction of TNF-α mRNA was remarkable in the macrophages exposed with wild-type cells. Scanning electron microscopy showed the formation of trans-membrane lysis tunnel structures in the NaOH-induced VPGs. SDS-PAGE and agarose gel electrophoresis also confirmed that cytoplasmic proteins and genomic DNA released from the VPGs to culture medium through the lysis tunnel structures. Taken together, all these data indicate that the NaOH-induced VPGs show the potency of a safe, economical, and effective inactivated bacterial vaccine candidate.
View Full-Text
►

▼

Figures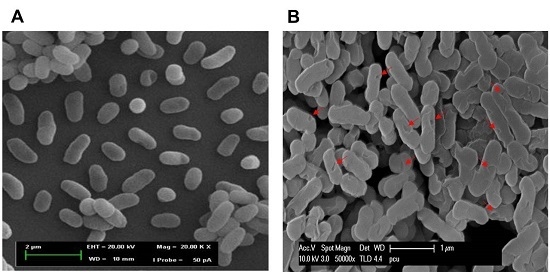 Graphical abstract
This is an open access article distributed under the
Creative Commons Attribution License
which permits unrestricted use, distribution, and reproduction in any medium, provided the original work is properly cited (CC BY 4.0).

Share & Cite This Article
MDPI and ACS Style
Park, H.J.; Oh, S.; Vinod, N.; Ji, S.; Noh, H.B.; Koo, J.M.; Lee, S.H.; Kim, S.C.; Lee, K.-S.; Choi, C.W. Characterization of Chemically-Induced Bacterial Ghosts (BGs) Using Sodium Hydroxide-Induced Vibrio parahaemolyticus Ghosts (VPGs). Int. J. Mol. Sci. 2016, 17, 1904.
Note that from the first issue of 2016, MDPI journals use article numbers instead of page numbers. See further details here.
Related Articles
Comments
[Return to top]