Open Access This article is
freely available
re-usable
Review
Lipidomics—Reshaping the Analysis and Perception of Type 2 Diabetes
1
Institute for Clinical Diabetology, German Diabetes Center, c/o Auf'm Hennekamp 65, D-40225 Düsseldorf, Germany
2
German Center for Diabetes Research (DZD e.V.), München, D-85764 Neuherberg, Germany
3
Institute for Clinical Biochemistry and Pathobiochemistry, German Diabetes Center, c/o Auf'm Hennekamp 65, D-40225 Düsseldorf, Germany
*
Author to whom correspondence should be addressed.
Academic Editor: David Arráez-Román
Received: 28 September 2016 / Accepted: 31 October 2016 / Published: 4 November 2016
Abstract
:
As a consequence of a sedentary lifestyle as well as changed nutritional behavior, today's societies are challenged by the rapid propagation of metabolic disorders. A common feature of diseases, such as obesity and type 2 diabetes (T2D), is the dysregulation of lipid metabolism. Our understanding of the mechanisms underlying these diseases is hampered by the complexity of lipid metabolic pathways on a cellular level. Furthermore, overall lipid homeostasis in higher eukaryotic organisms needs to be maintained by a highly regulated interplay between tissues, such as adipose tissue, liver and muscle. Unraveling pathological mechanisms underlying metabolic disorders therefore requires a diversified approach, integrating basic cellular research with clinical research, ultimately relying on the analytical power of mass spectrometry-based techniques. Here, we discuss recent progress in the development of lipidomics approaches to resolve the pathological mechanisms of metabolic diseases and to identify suitable biomarkers for clinical application. Due to its growing impact worldwide, we focus on T2D to highlight the key role of lipidomics in our current understanding of this disease, discuss remaining questions and suggest future strategies to address them.
Keywords:
lipidomics; lipid metabolism; metabolic disorder; diabetes; type 2 diabetes; lipid induced insulin resistance; diacylglycerol (DAG); ceramide (CER)
Acknowledgments
The authors work is supported by the Ministry of Science and Research of the State of North Rhine-Westphalia, the German Federal Ministry of Health (BMG) and by grants of the Federal Ministry of Research (BMBF) to the German Center for Diabetes Research (DZD e.V.). We thank Vesna Markgraf for support with the artwork.
Author Contributions
Daniel F. Markgraf and Stefan Lehr wrote the paper. Conceptual guidance for all aspects of the review was given by Hadi Al-Hasani. All authors read and approved the final manuscript.
Conflicts of Interest
The authors declare no conflict of interest.
Abbreviations
| | |
| --- | --- |
| ACC | Acylcarnitine |
| ACS | Acyl-CoA synthase |
| AD | Alzheimer's disease |
| AGPAT | 1-Acylglycerol-3-phosphate acyltransferase |
| AKT | Protein kinase B (PKB) |
| APCI | Atmospheric pressure chemical ionization |
| ATGLCE | Adipose triglyceride lipase Cholesterolester |
| CER | Ceramide |
| CID | Collision induced dissociation |
| CoA | Coenzyme-A |
| DAG | Diacylglycerol |
| DGAT | Diacylglycerol acyltransferase |
| DGK | Diacylglycerol kinase |
| ESI | Electrospray ionization |
| ER | Endoplasmic reticulum |
| FA | Fatty acid |
| FAHFA | Fatty acid hydroxyl fatty acid |
| GC | Gas chromatography |
| GL | Glycerophospholipids |
| GPAT | Glycerol-3-phosphate-o-acyltransferase |
| HFA | Hydroxy fatty acid |
| HPLC | High performance liquid chromatography |
| IP3 | Inositol-1,4,5-Trisphosphate |
| IR | Insulin resistance |
| IRS | Insulin receptor substrate |
| LC | Liquid chromatography |
| LCFA | Long chain fatty acid |
| LD | Lipid droplet |
| LPA | Lysophosphatidic acid |
| MTBE | Methyl-tert-butyl ether |
| MPIS | Multiple precursor ion scanning |
| MRM | Multiple reaction monitoring |
| MS | Mass spectrometry |
| NL | Neutral loss |
| PA | Phosphatidic acid |
| PAHSA | Palmitic acid hydroxyl stearic acid |
| PAP | Phosphatidic acid phosphatase |
| PIS | Precursor ion scanning |
| PIP2 | Phosphatidylinositol 4,5-bisphosphate |
| PI3K | Phosphoinositide-3 kinase |
| PKC | Protein kinase C |
| PLC | Phospholipase C |
| PP2AQqQ | Protein phosphatase 2 ATriplequadrupole |
| SCFA | Short chain fatty acid |
| SFA | Saturated fatty acid |
| SP | Sphingolipid |
| SPT | Serine palmitoyl transferase |
| ST | Sterol lipids |
| TAG | Triacylglycerol |
| TLC | Thin layer chromatography |
| TLR4 | Toll-like receptor 4 |
| TOF | Time-of-flight |
| T2D | Type 2 diabetes |
| SIMPLEX | Simultaneous metabolite, protein, lipid extraction |
| SPE | Solid phase extraction |
| SRM | Selected reaction monitoring |
| TNF-α | Tumor necrosis factor α |
| UFA | Unsaturated fatty acid |
| UHPLC | Ultra high performance liquid chromatography |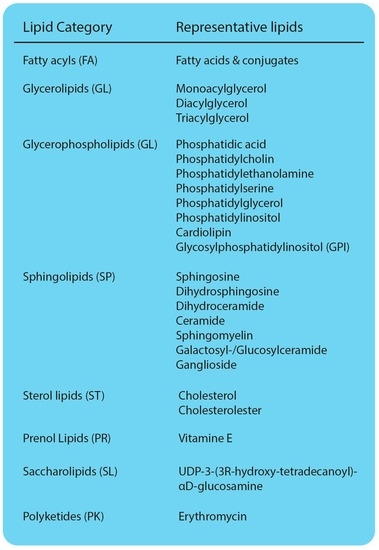 Figure 1.
Lipid classes and representative lipids. Classification according to LIPID MAPS
®
[
1
].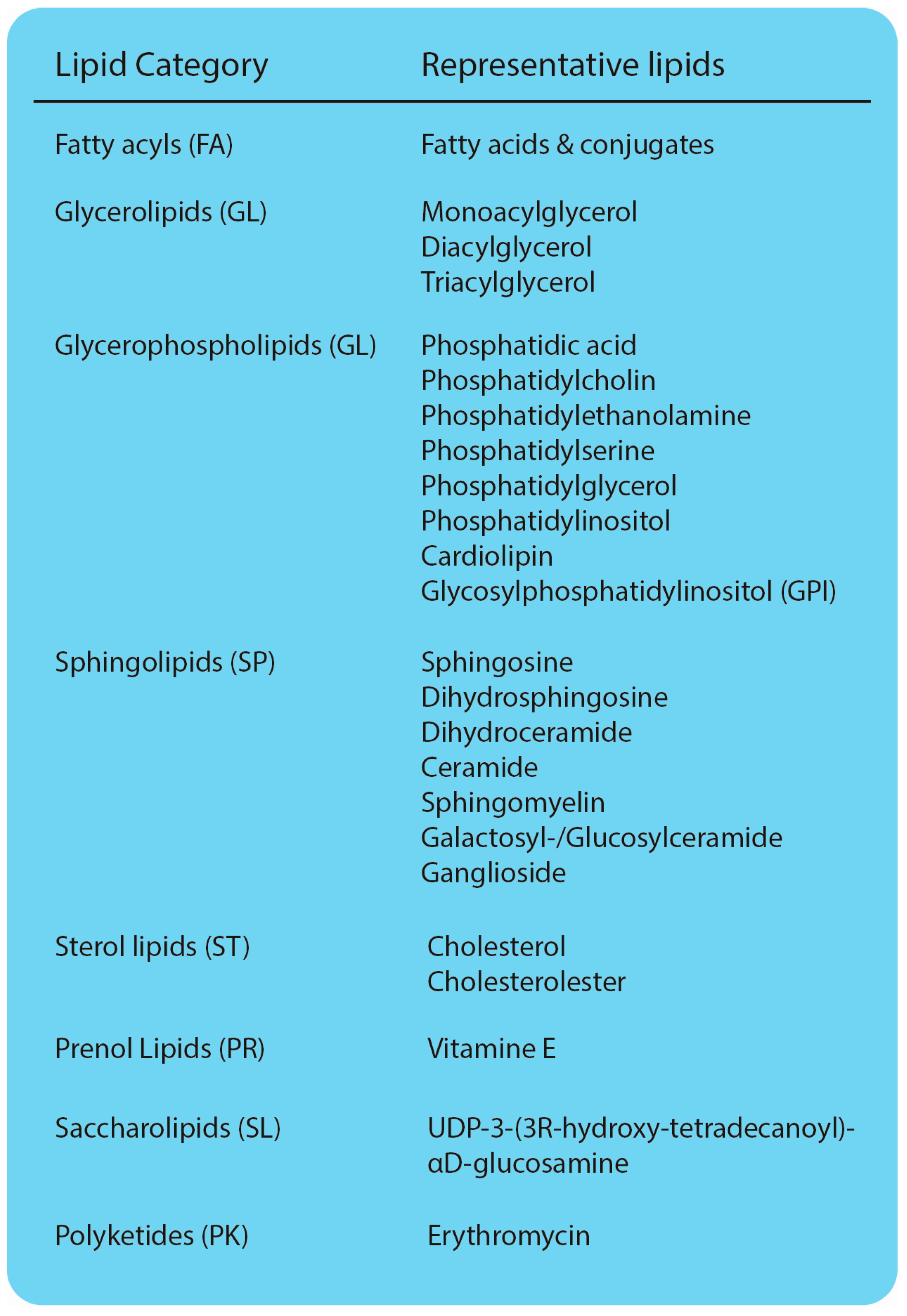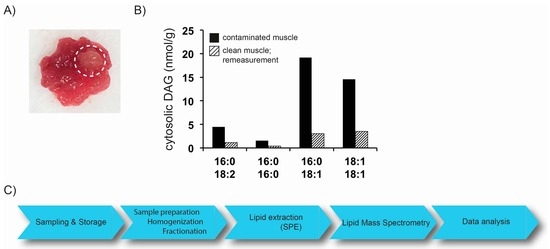 Figure 2. (A) Representative image of human muscle (musculus vastus lateralis) biopsy sample. Biopsy was taken using a Bergstrom needle. White circle highlights aggregates of adipocytes; (B) analysis of cytosolic DAG concentration using LC-MS/MS. Human muscle biopsy sample with extramyocellular fat contamination was homogenized, fractionated and DAG in the cytosolic fraction were analyzed. A sample from the same biopsy, without any visible extramyocellular fat contamination was processed and analyzed the same way (Interassay variation coefficient of the applied LC-MS/MS method: maximum 4.8%, for the indicated DAG species); (C) schematic illustration of lipidomics workflow.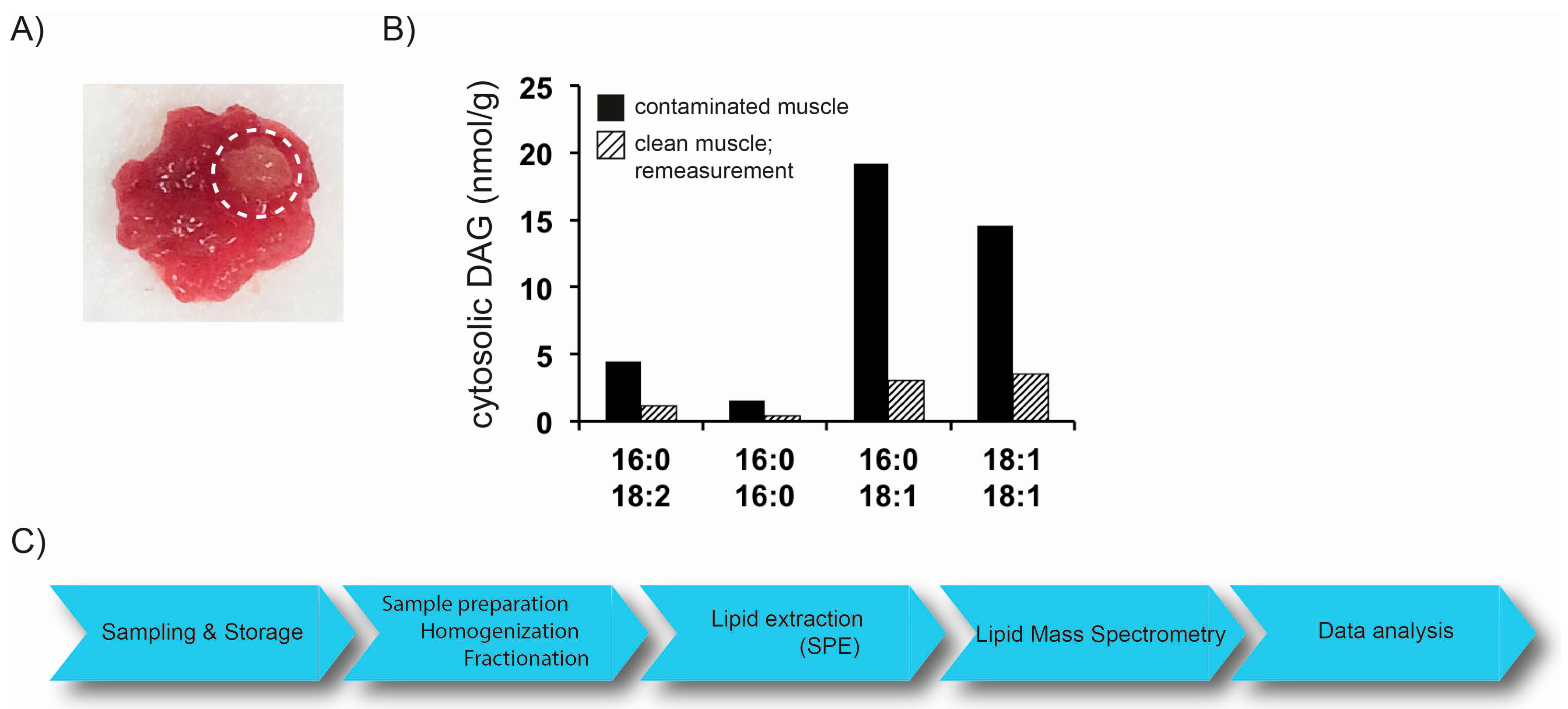 Figure 3. Schematic illustration of scan modes used on triple quadrupole mass spectrometers. Q, Quadrupole; CID, collision induced dissociation.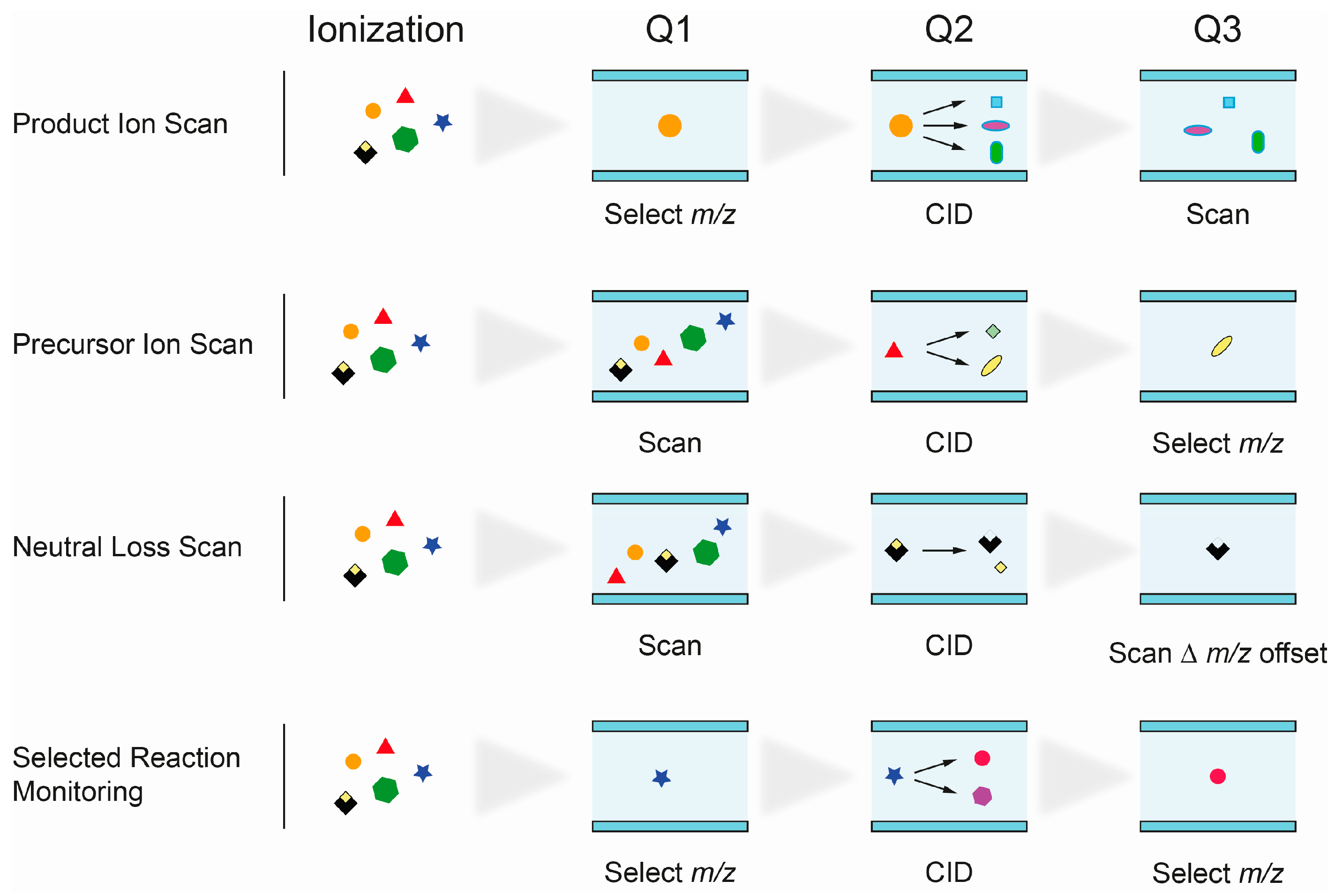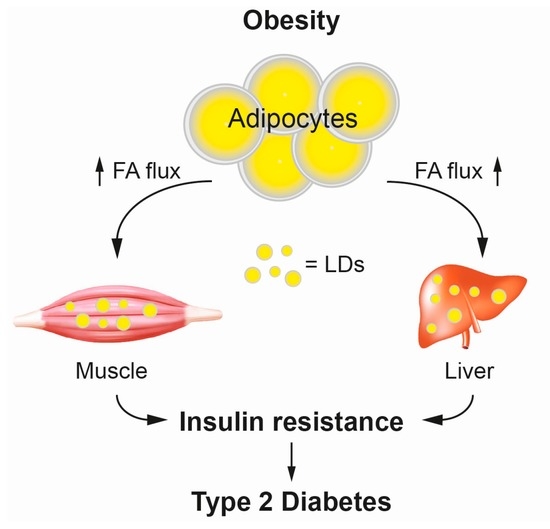 Figure 4. Schematic illustration of the relationship between obesity, ectopic accumulation of fat, insulin resistance and type 2 diabetes. Excessive metabolic energy is stored as TAGs in lipid droplets (LDs) in adipocytes. Extended exposure to high fat environment compromises storage capacity of adipocytes and leads to increased FA flux (upward arrows) and redirection of lipidstowards peripheral tissues, such as muscle and liver. Lipids exceeding the oxidative capacity of ectopic tissue are stored as TAG in LDs. Specific lipids trigger insulin resistance underlying type 2 diabetes. FA, Fatty acids.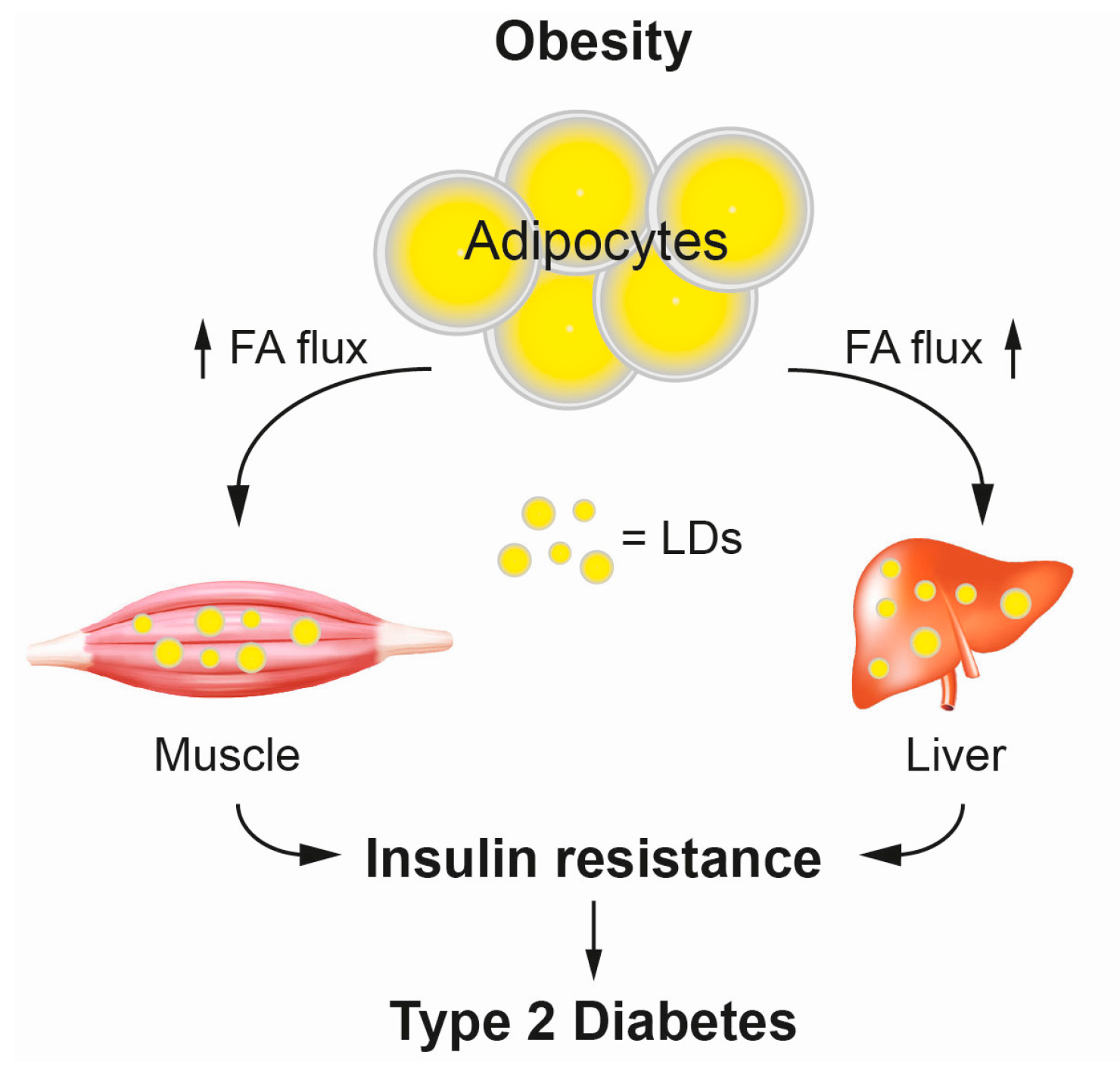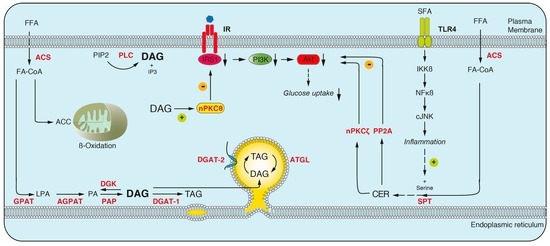 Figure 5. Lipid intermediates and their interactions with insulin signaling pathways in muscle. Free fatty acids (FFA) are transported into the cell, activated by acyl-CoA-synthase (ACS), and channeled into different pathways: (i) TAG synthesis occurs in four sequential reactions, catalyzed by members of the glycerol-3-phosphate-o-acyltransferase (GPAT), 1-acylglycerol-3-phosphate (AGPAT), phosphatidic acid phosphatase (PAP) and diacylglycerolacyl-transferase (DGAT) enzyme families in the ER and/or LDs. DAG, a key intermediate in TAG synthesis, can alternatively be generated by stimulus-dependent cleavage of phosphatidylinositol 4,5-bisphosphate (PIP2) by phospholipase C (PLC) at the plasma membrane. The lipolysis of TAG by adipose triacylglycerol lipase (ATGL) generates DAG on LDs. Accumulated DAG species recruit and activate nPKCθ which leads to inhibitory phosphorylation of IRS1, downregulation of phosphatidylinositol-kinase 3 (PI3K), AKT and ultimately glucose uptake (indicated by downward arrows); (ii) FA-CoAs are converted to acylcarnitines (ACC) for shuttling and subsequent β-oxidation in mitochondria. Decreased or incomplete oxidation leads to their accumulation and affects insulin sensitivity; (iii) Ceramide synthesis is initiated by serine palmitoyl transferase (SPT) in the ER. Binding of saturated FA (SFA) to toll-like receptor 4 (TLR4) induces an inflammatory response, contributing to increased ceramide synthesis. Ceramides inhibit insulin signaling by decreasing the activity of AKT via protein phosphatase 2A (PP2A) or atypical PKCζ. Lysophosphatidic acid (LPA); Phosphatidic acid (PA); Diacylglycerol kinase (DGK); Inositol-1,4,5-Trisphosphate (IP3).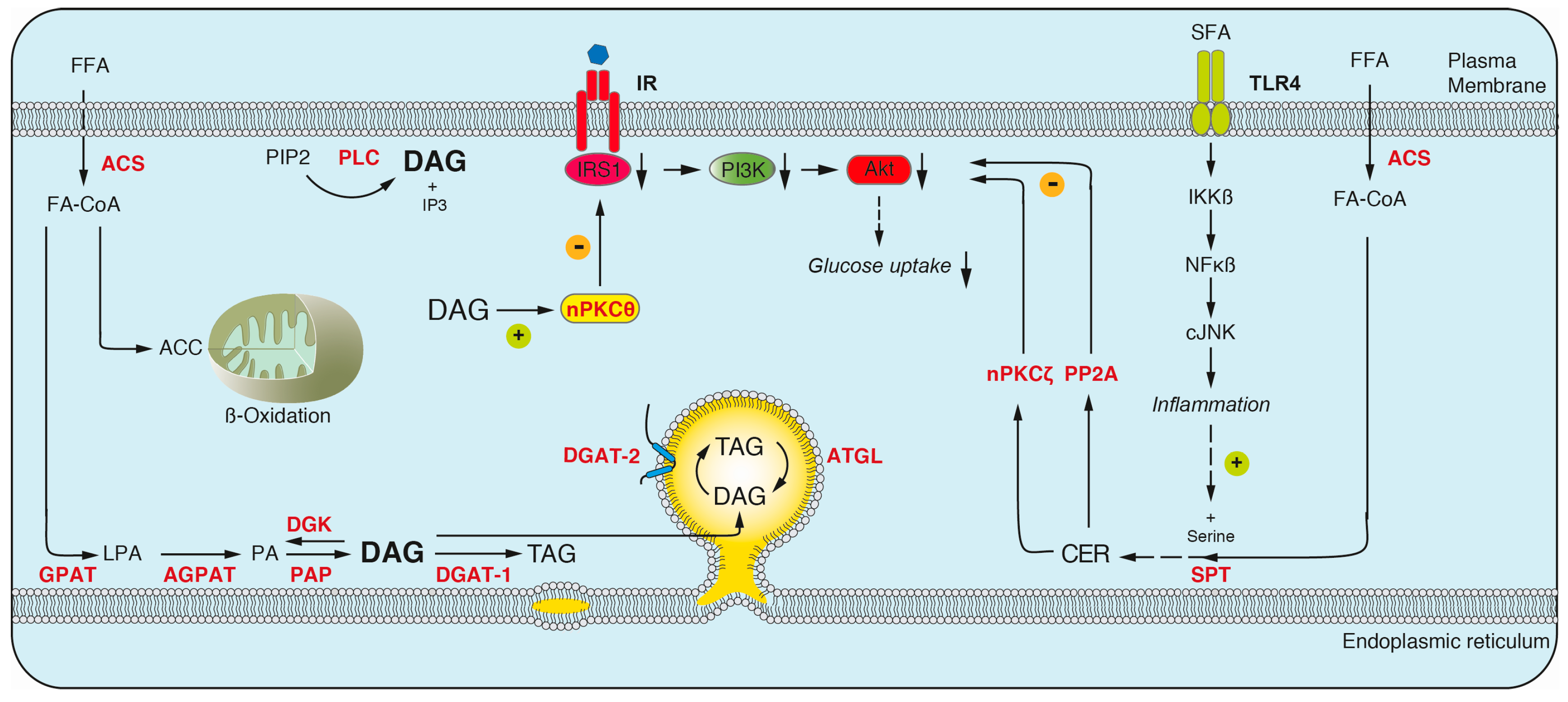 Table 1. Lipid biomarker discovery in T2D and obesity.
Reference
Volunteer
Sample
Increase
Decrease
[48]
OIR vs. OIS
Serum
LacCer(22:0) SPM(18:1) SPM(24:1)
–
[39]
Obese vs. lean (m/f)
Plasma
dCer(d18:0/22:0) TAG(16:0/18:1/18:1) DAG(18:0/20:4)
PC(32:0) PC(34:2) PC(36:2) lyso-alkyl-PC(24:2) lysoPE(16:0) acyl-alkyl-PC
OIR vs. OIS (m/f)
Plasma
DAG(14:1/16:0) CE(22:4) lyso-alkyl-PC(35:4)
Hex2-Cer(d18:1/22:0) Hex2-Cer(d18:1/24:0) lysoPC(22:0)
[47]
T2D vs. Ctr (m/f)
Plasma
CE(23:2) CE(23:3) CE(23:4)
PE(36:4) PE(36:5) PE(36:6)
[111]
T2D vs. NGT
Plasma
dCer, Cer, PE, PI, PG, CE, DAG, TAG
acyl-alkyl-PC
Prediabetes vs. NGT
Plasma
dCer, Cer, PE, PI, PG, CE, DAG, TAG, free cholesterol
acyl-alkyl-PC
[112]
T2D prospective study, maximum 23.35 year follow-up (m/f)
Plasma
dCer(d18:0/18:0) lysoalkyl-PC(22:1) TAG(16:0/18:0/18:1)
–
[113]
T2D prospective study, 7 year follow-up (m/f)
Serum
PC(32:1) PC(36:1) PC(38:3) PC(40:5)
SPM(16:1) lysoPC(18:2) acyl-alkyl-PC (34:3; 40:6; 42:5; 44:4; 44:5)
[42]
T2D < 1 year diagnosis vs. Ctr (m/f)
Plasma
FFAs: (18:1w9, 18:4w3, 20:4w6, 22:4w6) ACC(C3) ACC(C4) ACC(18:2)
FFAs: (10:0; 13:0,; 14:1w5) SPM(16:1) SPM(OH)(14:1) PC(38:3) PC(44:3) PC(42:1) PC(42:2) lysoPC(28:1)
[114]
T2D prospective study, 12 year follow-up (m/f)
Plasma
TAG (low carbon & double bond number)
TAG (high carbon & double bond number)
OIR, Obese insulin resistant; OIS, Obese insulin sensitive; LacCer, Lactosylceramide; SPM, Sphingomyelin; Cer, Ceramide; dCer, Dihydroceramide; PC, Phosphatidylcholine; PE, Phosphatidylethanolamine; CE, Cholesterolester; Hex2-Cer Dihexosylceramide; FFA, free fatty acid; AAC, Acylcarnitine; PI, Phosphatidylinositol; PG, Phosphatidylglycerol; NGT, Normal glucose tolerant, m, male; f, female; Ctr, control.
© 2016 by the authors; licensee MDPI, Basel, Switzerland. This article is an open access article distributed under the terms and conditions of the Creative Commons Attribution (CC-BY) license (http://creativecommons.org/licenses/by/4.0/).