The Compositional HJ-Biplot—A New Approach to Identifying the Links among Bioactive Compounds of Tomatoes
1
Aula Dei Scientific Technological Park Foundation, Av. Montañana 930, 50059 Zaragoza, Spain
2
Department of Chemical Engineering and Pharmaceutical Technology, Food Science and Nutrition Area, University of La Laguna, 38206 La Laguna, Santa Cruz de Tenerife, Spain
3
Plant Biology, Ecology and Earth Sciences Department, Extremadura University, Av. Elvas s/n, 06071 Badajoz, Spain
4
Statistics Department, University of Salamanca, c/Alfonso X El Sabio s/n, 37008 Salamanca, Spain
5
Higher Polytechnic School of the Litoral, Campus Gustavo Galindo, 09-01-5863 Guayaquil, Ecuador
*
Author to whom correspondence should be addressed.
Academic Editor: Maurizio Battino
Received: 28 July 2016 / Revised: 27 October 2016 / Accepted: 28 October 2016 / Published: 2 November 2016
Abstract
Tomatoes have been described as a functional food because of their particular composition of different bioactive compounds. In this study, the proximate composition, minerals and trace elements, and antioxidant compounds were determined in two tomato cultivars (Mariana and Dunkan) that were grown in Gran Canaria (Spain) either conventionally or hydroponically. Although compositional data of this type require being subjected to the specific statistical techniques of compositional analysis, this approach has not usually been considered in this context. In the present case, a compositional Mann–Whitney U test of the data showed significant differences for each factor (cultivar and cultivation system) in several of the compositional variables studied. For the differences between cultivars, these parameters were the protein, Mg, lycopene, ascorbic acid, citric acid, and fumaric acid contents. For the differences between cultivation systems, they were mainly those of the mineral and trace elements group. Although one-year data are insufficient to make clear relationship among compounds because more repetitions in several localities and years are necessary, the compositional HJ-biplot (in which the links provide estimates of the linear relationship among variables) results agreed with other scientific results about linear relationship among some compounds analyzed.
View Full-Text
►

▼

Figures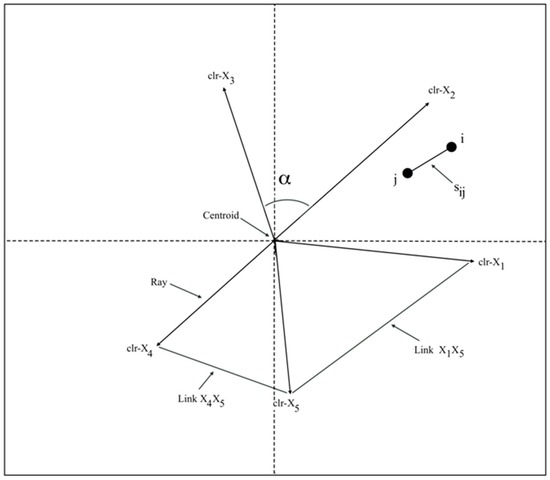 Figure 1
This is an open access article distributed under the
Creative Commons Attribution License
which permits unrestricted use, distribution, and reproduction in any medium, provided the original work is properly cited (CC BY 4.0).

Share & Cite This Article
MDPI and ACS Style
Hernández Suárez, M.; Molina Pérez, D.; Rodríguez-Rodríguez, E.M.; Díaz Romero, C.; Espinosa Borreguero, F.; Galindo-Villardón, P. The Compositional HJ-Biplot—A New Approach to Identifying the Links among Bioactive Compounds of Tomatoes. Int. J. Mol. Sci. 2016, 17, 1828.
Note that from the first issue of 2016, MDPI journals use article numbers instead of page numbers. See further details here.
Related Articles
Comments
[Return to top]